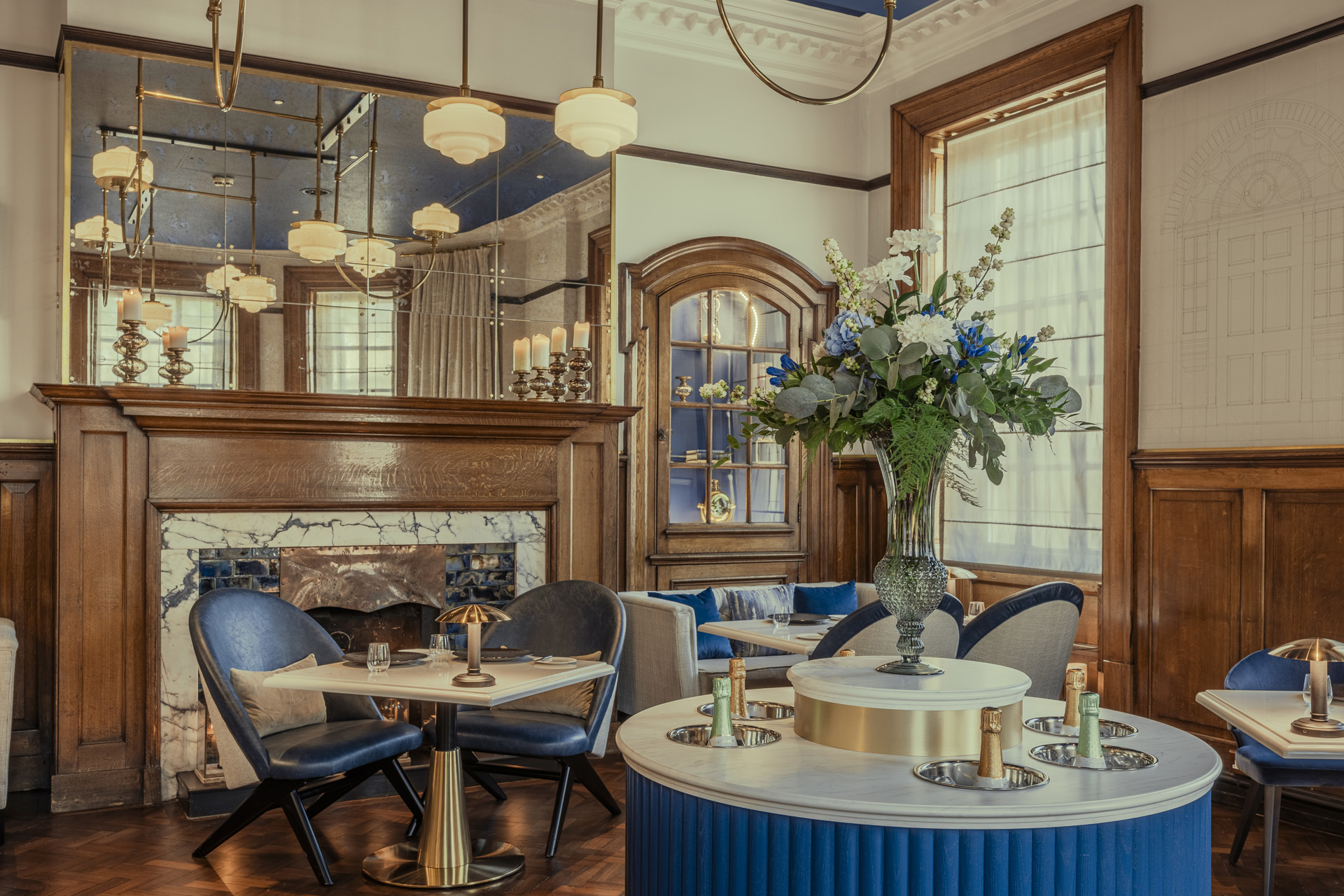 Restaurant of the Week: Legacy at The Grand, York
---
The Grand's new destination restaurant is a must-eat
There's a new restaurant in town: Legacy at The Grand, York is looking to add a dose of creative but traditional fine dining to the city's budding food scene. Nestled at the end of a long, ornate corridor with plush carpet, flanked by the buzzy 1906 Bar at York's preeminent luxury hotel, it's making an impeccable start.
Restaurant Review: Legacy at The Grand, York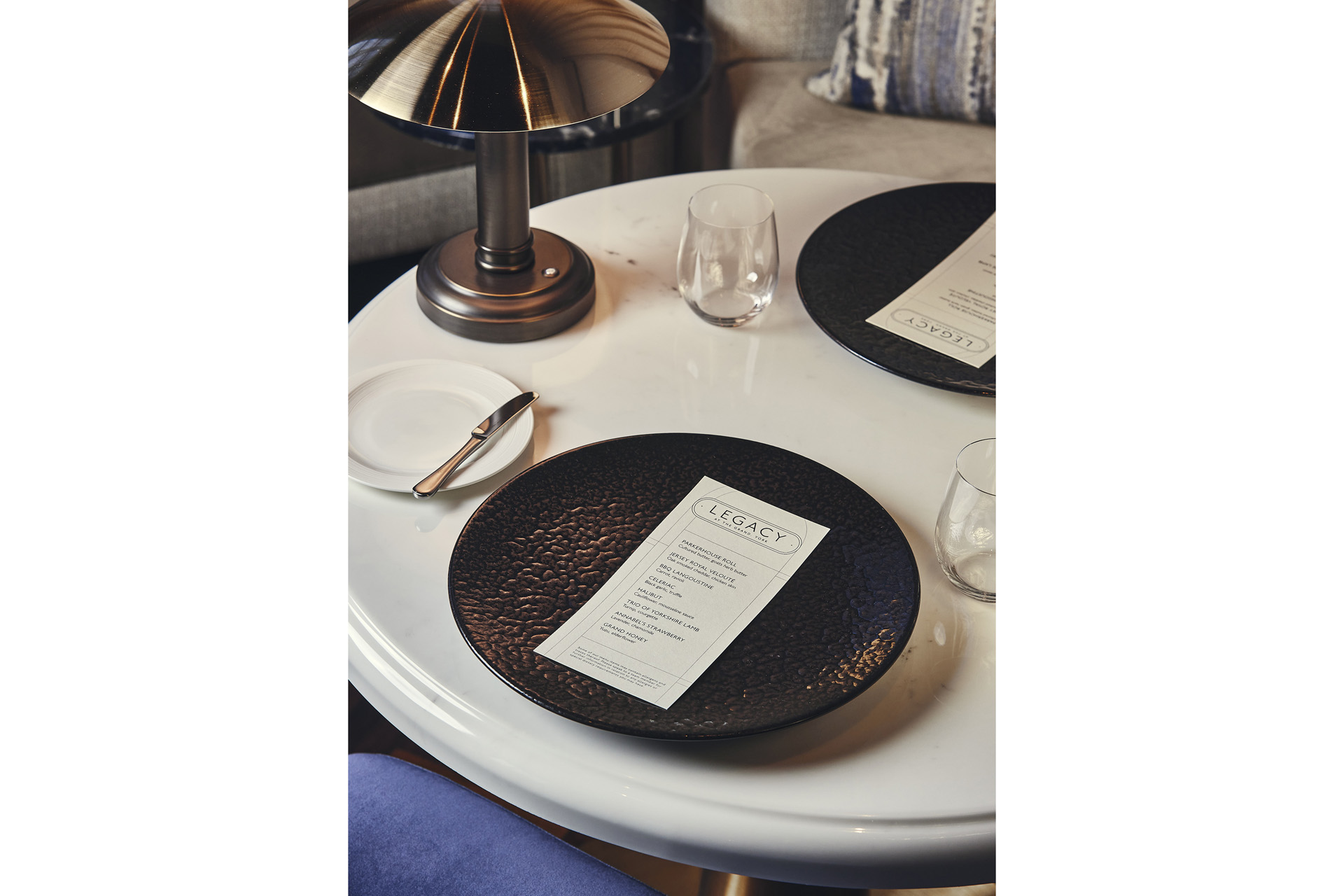 The Grand: it's a York stalwart. Visitors have checked in for decades, drawn by the unparalleled northern friendliness of staff dressed in their traditional hotelier outfits; think bowler hats, red blazers, smart shoes. Welcomed into the balmy warmth from the outdoor chill, there's a fear that it's about to get quite stuffy: this is an old hotel, after all, with thick runner carpets and wainscoting.
Tradition is at the centre, yes, but The Grand sets itself apart by continually modernising without reinvention. Bedrooms and suites are spacious and comfortably designed with all the modcons of modernity – coffee machine, shower speakers, high tech lighting – without feeling gimmicky. And now, Legacy: a new restaurant that reaches back to the past to inform the present, not linger in it.
The light is moody – emanating from modern gold ceiling installations and globular floor lamps and table lights – but the vibe is undeniably airy and light. Designed by Faber, there's wainscoting here, too, in a light oak, breaking up the towering white walls that join at a deep blue ceiling emulating the night sky. The soft chairs are a rich blue with cream leather sofas complementing the gold finishes and lengthy, heavy white curtains.
Hanging from a traditional picture rail, framed portraits adorn the back wall, featuring pioneering individuals who played a role in shaping the York we know today: George Hudson, Joseph Barnby, Anne Lister, Joseph Rowntree, Joseph Terry, Sir S Gibb. 'I am inspired by the processes of the pioneers of York's past,' says head chef Ahmed Abdalla, 'those individuals who turned their imagination into reality, which can now be seen in iconic buildings, revolutionary railways and the heritage of this great city.' 
And now can be seen in Ahmed's plates, too. He welcomes us into his restaurant with a tasty glass of English sparkling wine and a series of tempting amuse-bouche: a delicate oyster, a crunchy fishy cone with roe, and a delicately earthy and satisfyingly crispy squash tart. As well as York's history, Yorkshire's eminent produce is utilised where possible across creative dishes. First up on the tasting menu is a satisfyingly rounded Jerusalem artichoke soup with Wensleydale and parsley root with a leaf-shaped topper, accompanied by a fluffy parker house bread roll and moreish cultured butter and goats herb butter.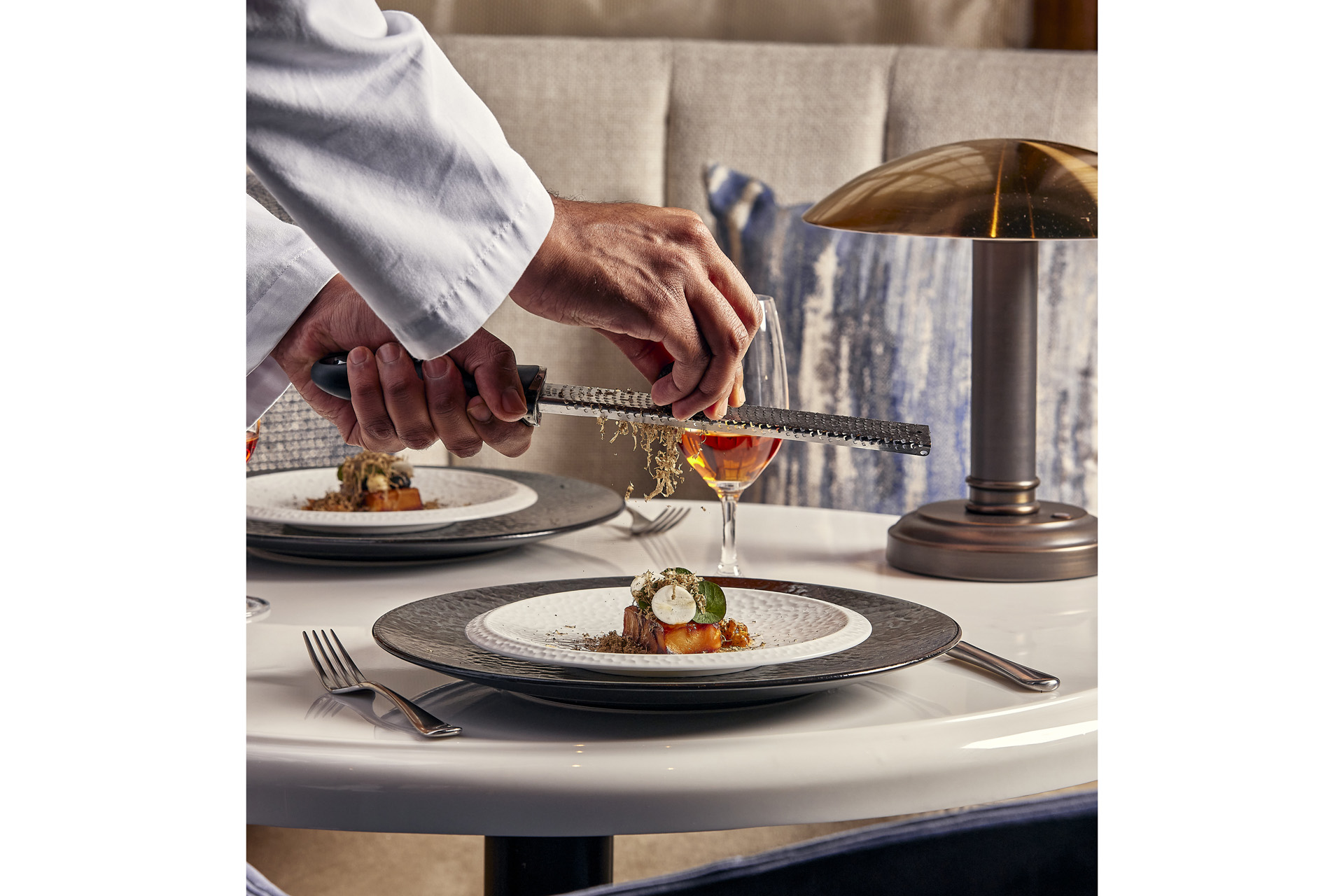 Perfectly paired wine is poured by the friendly restaurant manager, Derek Scaife, who brims with northern friendliness, intricate wine details and stories from his previous posts if prompted (the likes of Chewton Glen, The Chester Grosvenor, and Rockliffe Hall Hotel). As the courses progress, accompanied by sips of the wine, Ahmed's cooking comes into its own, with hand dived Orkney scallops (with smoked eel and verjus) and celeriac (with black garlic and truffle) helping the chef flex the talents that have been nurtured at York's Skosh, the Dales' Yorebridge House, and Lucknam Park's Restaurant Hywel Jones. Expect the likes of halibut and venison to follow, each delicious and perfectly accompanied by seasonal flavours – like sharp blackberry cutting through the gamey meat.
Each of the eight tasting menu dishes – changing with the season – is delicate and considered, right up to the wintery spiced plum dessert with earl grey and a sweet gingerbread sugary shard, easing you toward the end-of-meal coffee/tea culture. And then Grand Honey: a soft and sweet ending utilising honey from the hotel's rooftop beehives.
End by sinking into a cosy armchair at the 1906 Bar down the hall – if you can manage a nightcap after the wine pairing journey – if only for a moment of pause to mull over the night's delicious journey.
The Final Word
Drawing on York's history, Legacy at The Grand leans on York's storied history to tell a new tale: one of refined cuisine and immaculate (but friendly) service – one that is destined for immense popularity.
BOOK IT: The eight course tasting menu is £120 per person, plus £60 for the Classical wine flight or £90 for the Prestige wine flight. The five course tasting menu is £95 per person, plus £45 for the Classical wine flight. Vegetarian menus are available. thegrandyork.co.uk