People are getting geeky over their Mexican food, specifically tacos. In 2016, taquerias opened all over London. A Taco Cleanse diet book was even released in September, and Jennifer Aniston is said to be a fan (it beats kale, I suppose). From Soho to Southwark, see the best new spots to get your taco fill for 2017.
The important element to note in these luxe tacos is the taco shells or tortillas. Neil Rankin's Temper London has a very special corn that he imports. He has gone through six cast iron presses, and nine different tortilla recipes to get the tacos at Temper London just right. Looks like it's time to update your Mexican order in town…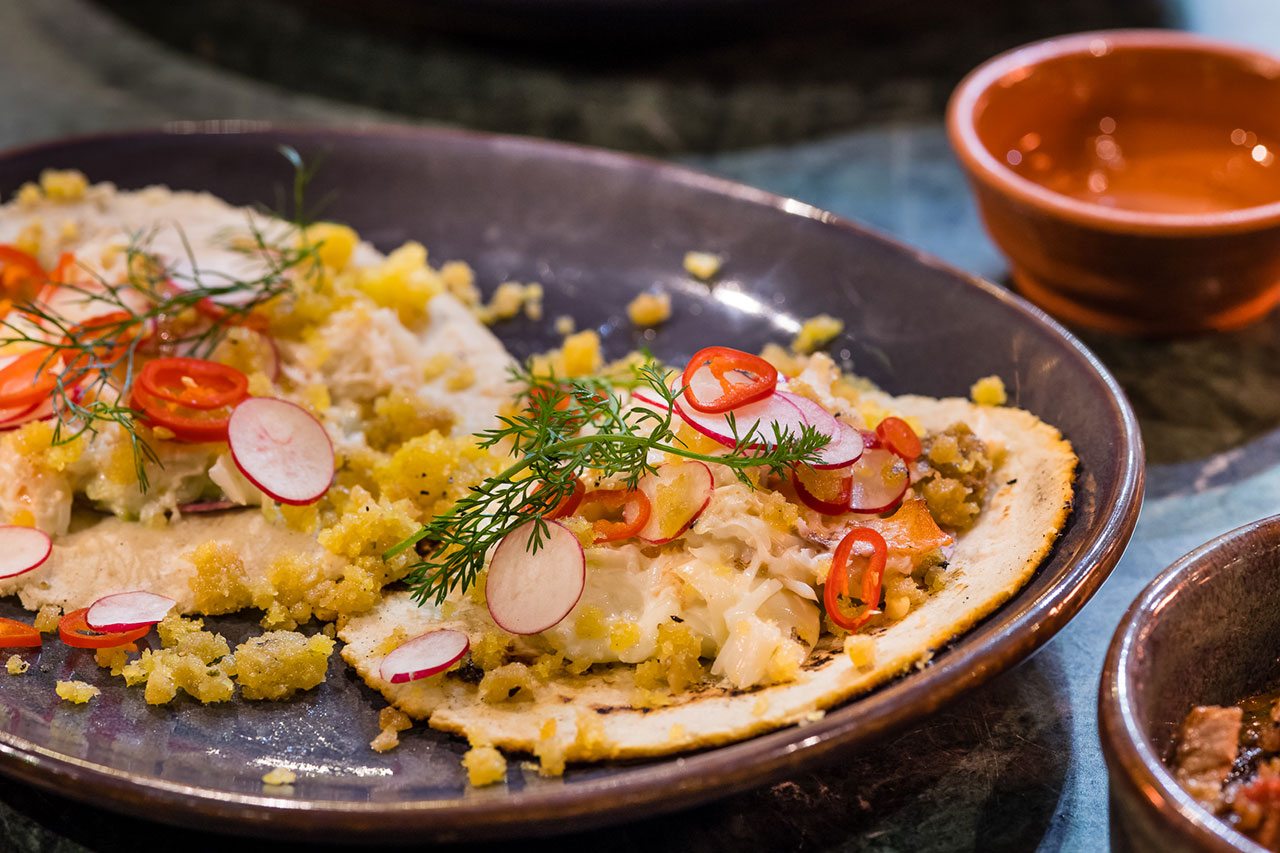 'The aim at temper is to offer delicious and expertly cooked cuts of meat, tempered for optimal taste, and offset with a range of inventive side dishes.' There's a significance on nose-to-tail eating, which was an emerging trend of 2016. Now, that has been taken and put into taco recipes by the head chef, Neil Rankin.
Neil's travels and experiences inspired the main dining room menu, featuring animals selected from small hand-picked UK producers, in a variety of specialist breeds including Beer Fed Dexter, Longhorn and Highland Beef, Saddleback, Middle White, Old Spot and Berkshire Pork, lamb, goat and mutton.
These are not your typical Mexican tacos – Neil plays around with variations such as his aged burger taco, soy cured beef, crab and picked onion pork skin.
What to eat?
The crab and picked onion pork skin tacos made with pickled onion Monster Munch. The soft corn tacos are made in house using corn (that they grind themselves) imported from Masienda.
House Drink?
The De Pêche Mode cocktail – made with vodka, crème de peche, grapefruit.
25 Broadwick St, Soho, London W1F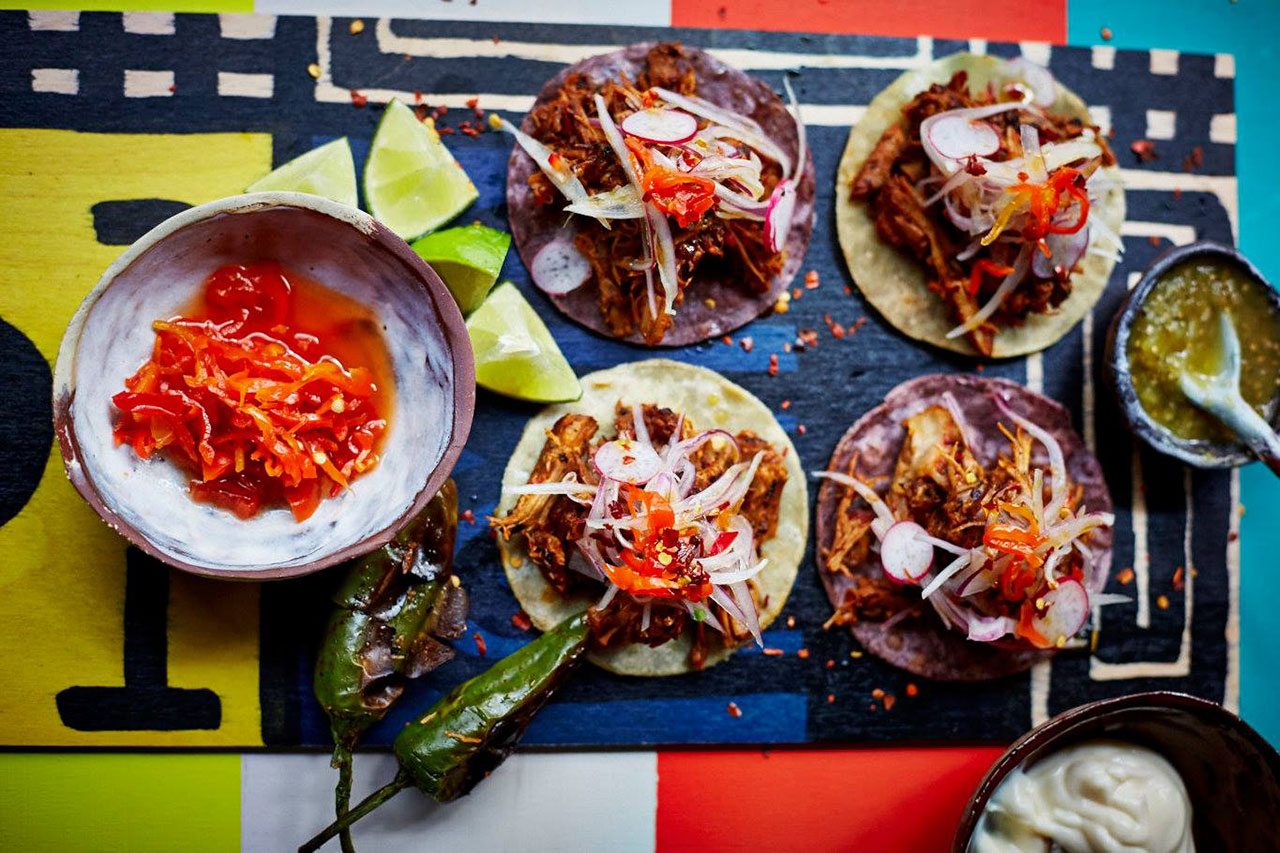 Breddos London began life in 2011 as a taco shack in Hackney. Now the restaurant can be found in the trend foodie destination, Clerkenwell. Nud Dudhia and Chris Whitney are the chefs behind the 'unspeakably delicious tacos" (according to Marina O'Laughlin). Creativity is their game, and it is evident in their unusual flavour combinations and ingredients.
The website states that the food at Breddos 'is influenced by the hundreds of roadside taquerias and restaurants we have encountered on our travels throughout America and Mexico, whilst utilising the best of British produce from passionate producers such as Phillp Warren and Son and Wild Harbour in Cornwall.'
What to eat?
All of the tacos are served on house nixtamalised 12cm corn tortillas. With interesting ingredients from sweetbreads, baja fish and pigs head, you are  spoilt for choice. The organic egg and macadamia nut mole tacos are amazing and vegetarian too.
House Drink?
A seasonal fruit margarita for a twist on the classic.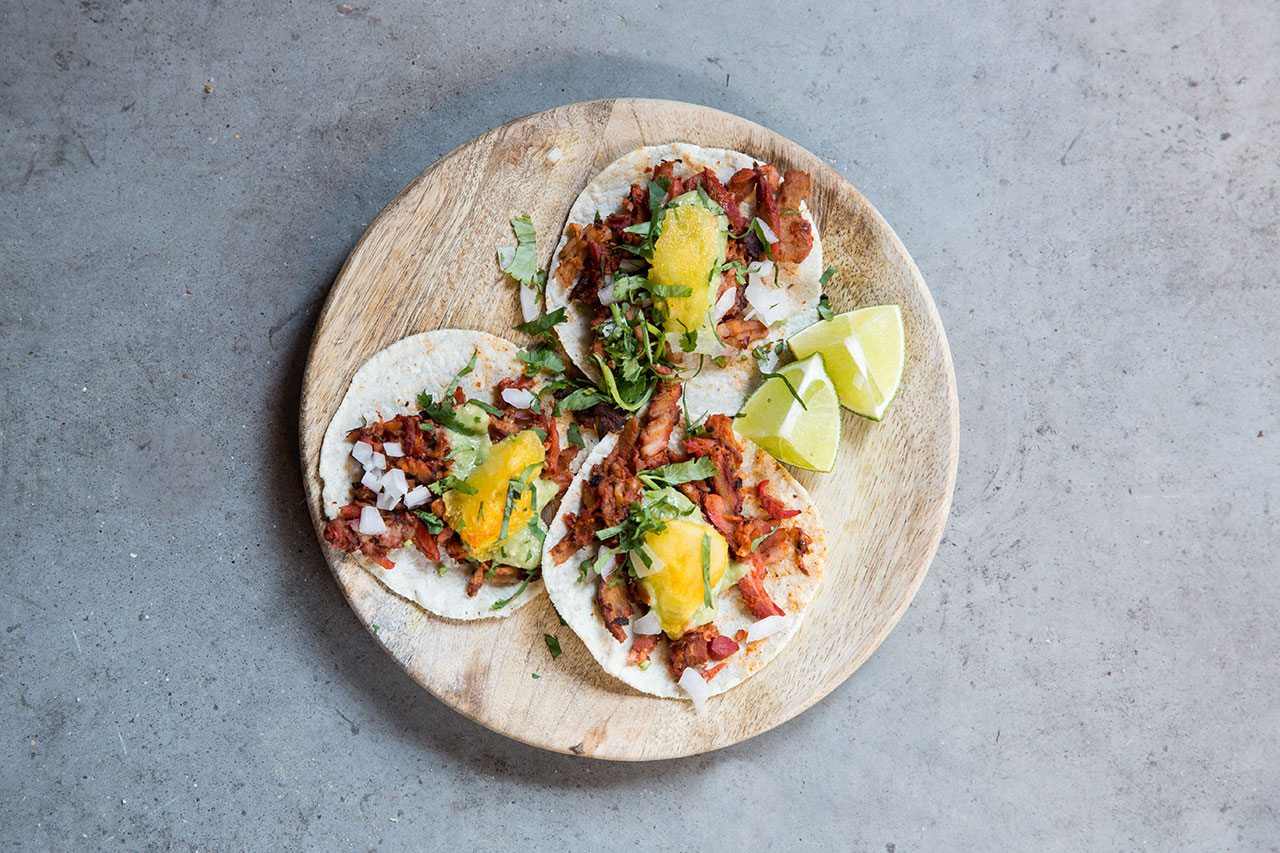 The team that brought us Barrafina opened a taco restaurant opposite the foodie mecca, Borough Market, at the end of last year. Leaving their Spanish cuisine behind, the boys embarked on a Mexican restaurant, and have succeeded.
'From the Hart Brothers and Crispin Somerville, the name is taken from the mighty 'al pastor' taco, ubiquitous on the streets of Mexico City and enjoyed immensely by Sam and Crispin when they ran nightclub El Colmillo there during the 90s and 00s.'
James Hart, director of Hart Brothers says, 'We believe that a great taco begins with the tortilla (like a good sandwich starts with proper bread) and so we make all of our tortillas in house in our mezzanine tortilla factory. The tortilleros produce fresh corn tortillas made from scratch using heritage Criollo corn; grinding, nixtamalising and baking it on site daily.' 
What to eat?
The taco al pastor is what Sam and Crispin (who founded the restaurant along with James Hart) fell in love with during their years in Mexico and inspired the restaurant in the first place (£2.50). The pork shoulder is marinated for 24 hours in our own house pastor marinade and then cooked on an upright trompo grill. The meat is then sliced directly onto a warm tortilla and served with caramelised pineapple, guacamole taquero, white onion and coriander.
House Drink?
There's a great selection of tequila and mezcal based cocktails but we particularly love mezcal straight – depending on your taste we have a list of over 15 meszcals identified by their flavours, smooth and silky, dark and smoky, fresh and green. Served straight up with a slice of orange.
6-7A Stoney St, London SE1 9AA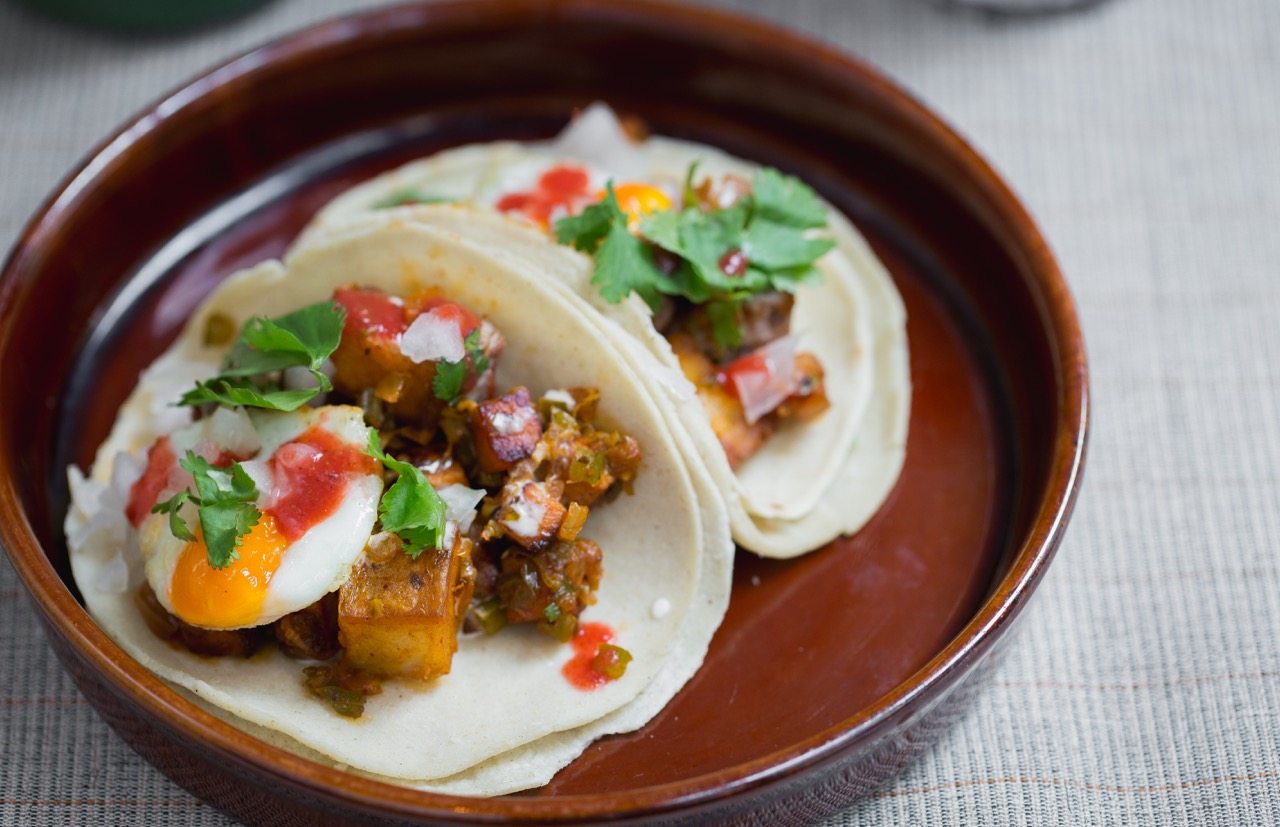 You'll get the freshest ingredients, bold flavours, painstaking preparations, and a cracking playlist at Corazón Taqueria. Laura Sheffield is the founder and owner of the taqueria, while former Sartoria chef, Paul Daniel heads up the food. 
Sheffield told the Guardian: "This is the food I grew up eating. I felt there was room for someone to do it with a little more style; stripping away the Chihuahuas and sombreros and tapping into a part of Mexico that's beautiful in a way Londoners will appreciate."
Corazon's tortillas are freshly prepared, within view of the diners, from the in-house tortilla machine. Filled with a range of vegetable, meat and fish options they are the ultimate comfort food. At brunch they even serve breakfast tacos with bacon, egg and cheese (above).
What to eat?
For meat lovers the BARBACOA with lamb shoulder rubbed in housemade adobo, wrapped in banana leaf & cooked 7 hours, tomatillo salsa & lambs lettuce
THE GUV'NOR king prawns & baby shrimps grilled with mixed peppers, tomatoes & onions; garlic, butter, cream & oaxacan cheese goodness is also a winner. Don't miss the incredibly sweet but deliciously dense tres leche cake, but be warned, you'll want to share…
House Drink?
One of the specialist margaritas – including pomegrante, forzen jasmine, or orange and black pepper. If you're feeling more adventurous the spicy ACHIOTE cocktail is definitely worth a try. 
29 Poland Street, London, W1F 8QR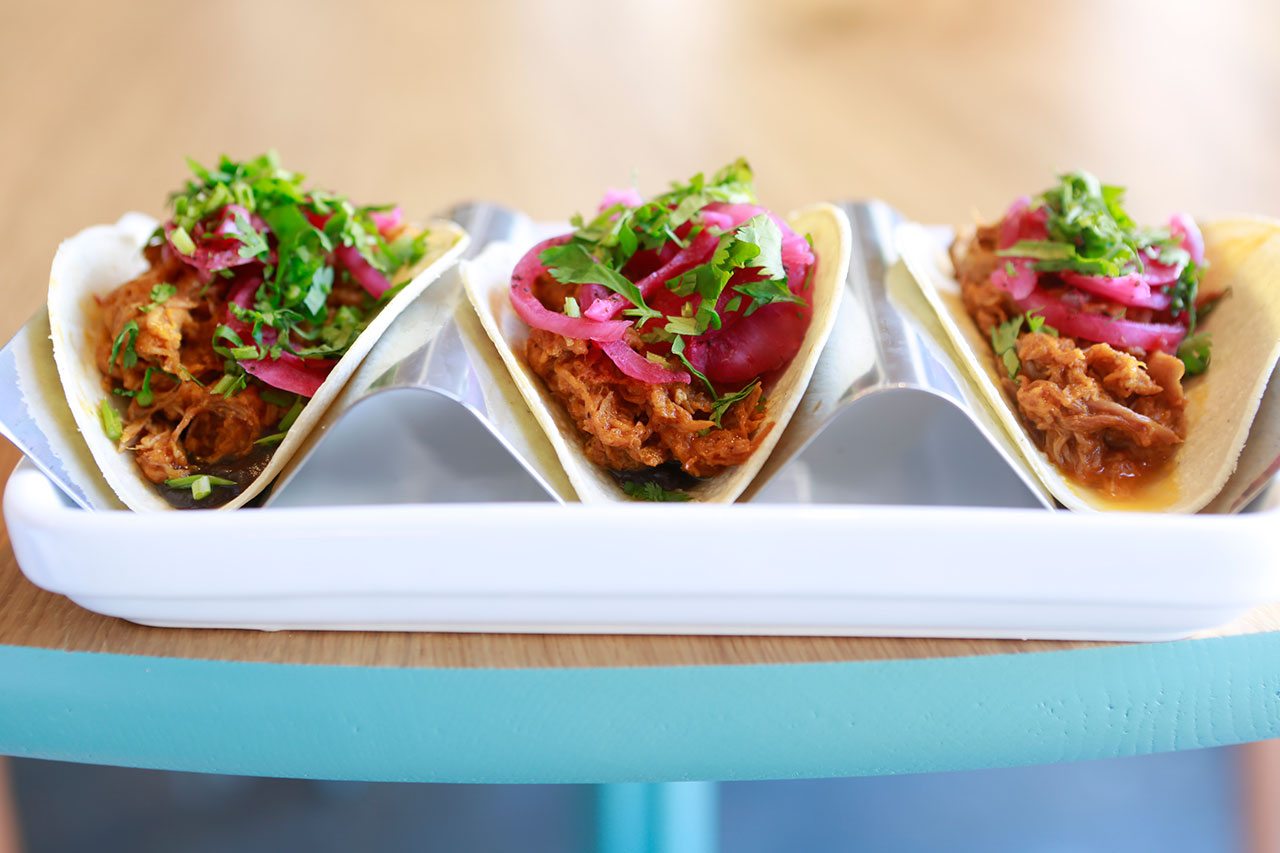 We have all come to know and love Wahaca, for easy, affordable Mexican food. What's still great about the restaurants is their authentic flavours and a seasonally changing specials menu. All of the ingredients are sourced as locally as possible, or grown and transported with care for the environment. 
What to eat?
The pork pibil taco, a 5-hour-braised shoulder of pork taco,  cooked in a special Yucatecan marinade with fiery pink pickled onions– this iconic dish has been on their menu since day one.
House Drink?
The classic margarita, is there anything else when eating tacos?
This month, Wahaca is offering Taco Tuesday, where every Tuesday in January, you can get a plate of tacos for just £1. 
MORE FOOD INSPIRATION: Drinks Trends 2017: Gin, Vodka and non-alcoholic spirits / The C&TH guide to the healthy food scene in London
---