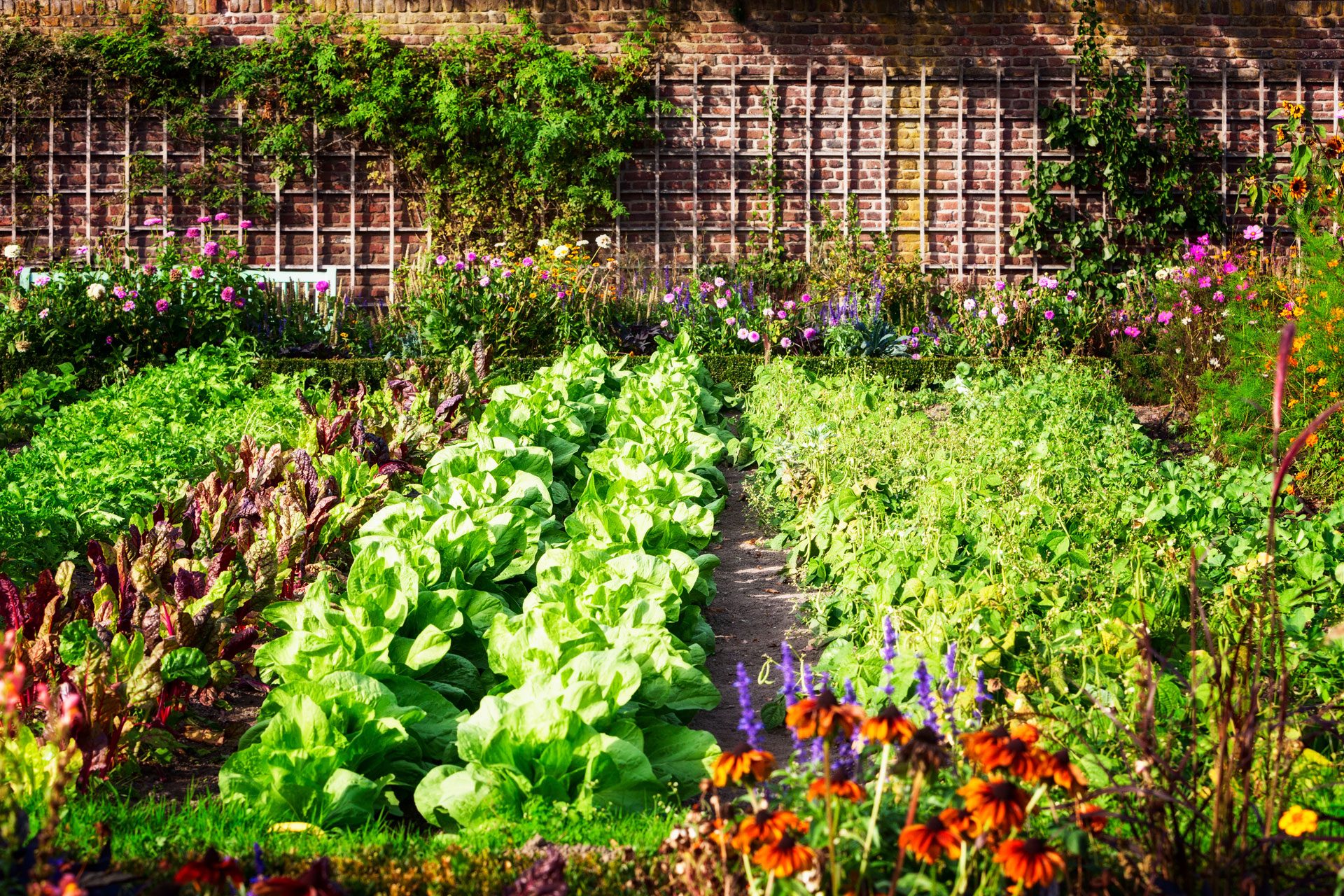 Make Your Own Kitchen Garden: 10 Top Tips
---
How to grow vegetables from home
Leading landscape and garden designer and former RHS Chelsea Flower Show gold-medallist Jo Thompson has some sage advice when it comes to planting vegetables. Read on for her 10 top tips on creating your own kitchen garden.
How To Make Your Own Kitchen Garden
Don't overthink a vegetable garden. It's easy to be tempted by an array of seeds, but slow down and think about the veg you eat, e.g. – how often do you eat salad? If it's every day, definitely plant lots of that. If it's once a week, perhaps plant a few pots of salad leaves. If you only eat it once every two months, don't plant it!
Think about what you can't get hold of easily. I am currently growing lovage as I can never find that in shops; the same goes for sorrel, which can be considered a bit of a weed but adds the most fabulous lemon flavour to sauces and soups.
If you are starting from scratch, go for easy varieties: 'cut and come again' salad leaves are really easy, they grow quickly, and you literally take the outer leaves as you need them, and the salad leaves continue to grow. I love to grow the lettuce 'Black Seeded Simpson' as it tastes delicious as well as looking lovely.
Other easy things to grow are potatoes – you can get small 'potato bags' which you half-fill with compost and then bury your potato, which you need to have 'chitted' (this basically means allowing a potato to grow those small sprouts by leaving a few in the light for a couple of weeks – you may even find one nicely chitted in the back of a cupboard!).
Onions from sets (baby onions) are really easy to grow, just pop them in the ground (again easier than growing from seed), as is Italian parsley, perpetual spinach, chard. We have some fabulously decorative chard at Chelsea Barracks called chard 'Bright Lights'.
Freshly podded peas are unbeatable – I grow Hurst Green Shaft; again super-easy, just make sure that there is something for them to grow up.
Carrots are also easy; I use a variety called 'Flyaway' which tends to repel the dreaded carrot fly. Top tip: I plant rows of marigolds either side of the carrots, as the fly hates the scent. These flowers are actually edible and look great on a salad plate too, otherwise you can of course cut them to use in a vase in your home.
Don't sweat the small stuff – it's perfectly allowable to buy small veg plants from nurseries and transplant them into your own garden. I often do this with things like tomatoes and strawberries, which need to be started off in a warmer environment and I don't have that facility.
Nice straight lines always set off veg beautifully – edging with something useful like rosemary, thyme, and spring onions always looks smart. Veg like being in planters – when I worked on the planting at Chelsea Barracks, we used one huge long planter for the veg, which worked well. At home, I have been putting in quite a few 2ft by 8ft beds which are easy to manage in a town garden, obviously the more space you have, the more fruit and veg you can have. However, if you don't have space for a planter, you can grow your crops in the smallest of spaces with an array of pots.
Avoiding the dreaded pests: I don't use chemicals in the garden as I want to eat things knowing that they are full only of goodness. Slugs and snails will head for anything lush and leafy, so I have many defences… I edge my beds/pots with copper tape, I line the inside edges of the beds with wool pellets which slugs hate, and I also use a little copper mesh 'snail fence'. I've also got beer traps – I'm not taking any chances!
Featured image: GettyImages
Eat The Seasons: Fruit & Veg In Season Now / Sustainable Gardening Guide / More on Gardening