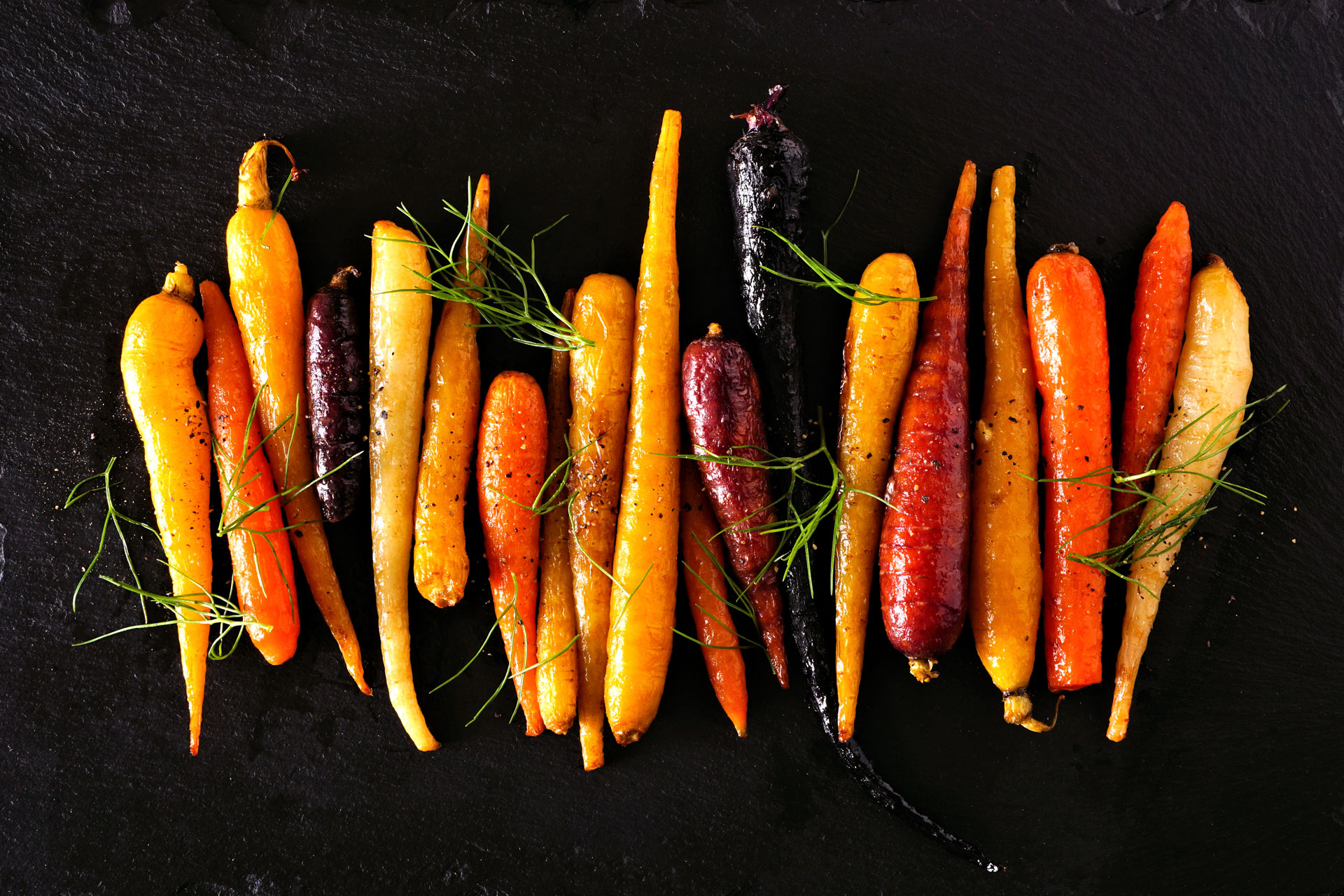 Vegetable of the Week: Carrots
---
Brighten up January with Bettina's colourful carrot recipe
Each week plant-based cook Bettina Campolucci Bordi, founder of Bettina's Kitchen, gives us the lowdown on a particular seasonal vegetable or ingredient, offering cooking tips and a recipe. This week it's carrots.
Carrots are one of the nation's favourite vegetables, with 75 per cent of Britons saying they regularly eat carrots and more than 10 billion eaten every year. British grown carrots are available all year round, with 93 per cent of the ones we consume currently grown in the UK.
Cultivation of carrots was greatly encouraged by the British and American governments during World War II for several reasons, including the fact that they are easy to grow and keep for many months. Not only that, but they have a high sugar content which makes them tasty even when eaten raw. All those facts remain the same today – and are excellent reasons for growing carrots in your garden or allotment.
Carrots are crunchy, tasty and highly nutritious. They are packed with a nutrient called beta-carotene, which is converted into vitamin A in the body. Of all fruit and vegetables, carrots are actually the best source of beta-carotene. Carrots are one of the easiest vegetables to get your kids (the picky ones) to eat at dinnertime too, as they are sweet, tasty and have great texture. My daughter loves hers dolloped in hummus.
When you think of this common root vegetable, what comes to mind first is probably the bog-standard orange variety – but there are others too, ranging from purple to white. You won't usually find the rainbow varieties in supermarkets, so they are worth including in your veggie garden or can often be found in veggie boxes.
My favourite way to eat them is roasted, eaten as a side dish or as the hero main. I also love them raw, quick pickled in a salad. My Grandma used to roughly grate them, add a bit of sugar and vinegar and serve as a side dish. I also love them as dipping vessels for hummus or other dips. They make a fantastically moist carrot cake too, and work well in soup.
I love this recipe topped off on a bed of hummus or butter bean mash and greens for good measure.
Recipe: Tarragon Roasted Carrots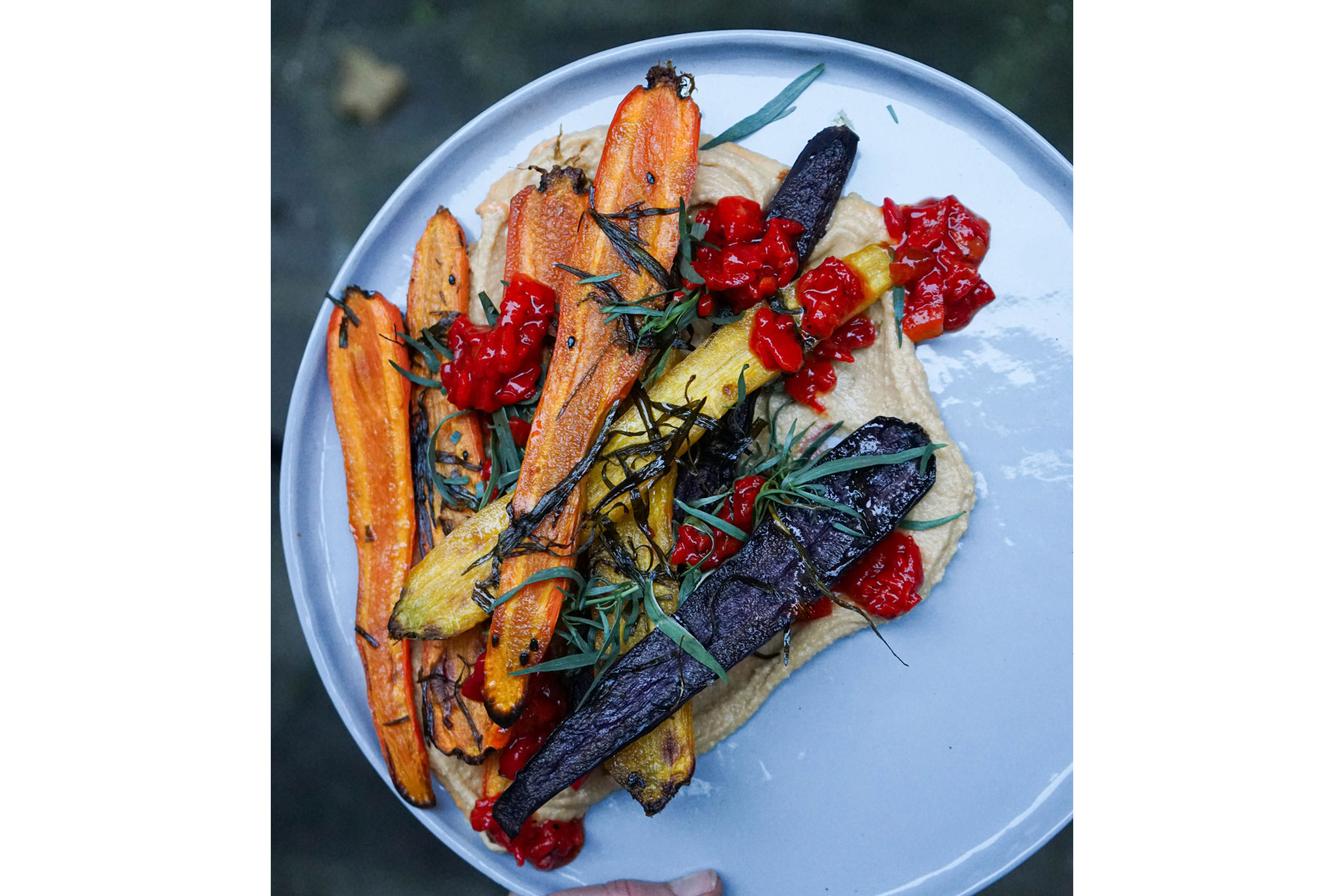 Serves 4
Ingredients:
4-6 carrots (multicoloured)
3-4 tbsp olive oil
1 tsp maple syrup
1 tsp dijon mustard
10g fresh tarragon leaves, torn
Method:
Preheat the oven to 200oC.
Wash, peel and halve the carrots lengthways. Place on a baking tray lined with greaseproof paper.
Make the marinade by mixing the olive oil, maple syrup & dijon mustard together in a bowl. Baste the carrots all over with this marinade, sprinkle the tarragon over the top of the carrots, and cook in the oven for 30 mins.
Once out of the oven add sesame seeds and more fresh herbs. Perfect as a side or on top of a bed of chickpea or butter bean hummus.
MORE VEG OF THE WEEK: