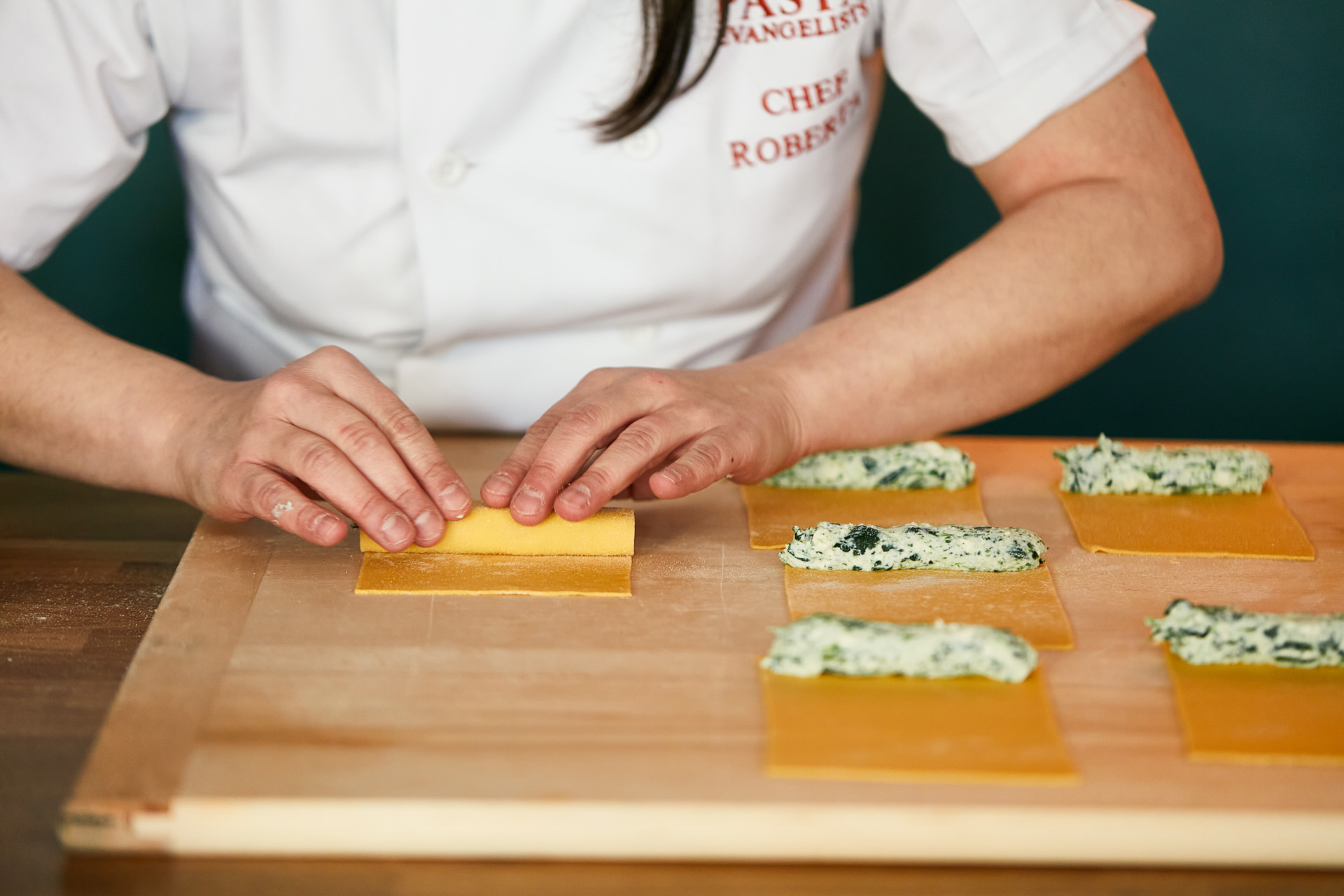 Pasta Evangelists' Pasta Academy – Review
Learning the art of fatto a mano
Pasta Evangelists has rapidly transformed from an unknown company into a household name in the last few years, with at-home pasta making kits to their Harrods Pasta Bar to their coveted (and highly in-demand) Pasta Academy classes. Olivia Emily visited the Farringdon Pasta Academy to learn pasta fresca (fresh pasta) fatto a mano (made by hand) at the Beginners Class – to delicious results.
Review: Pasta Evangelists' Pasta Academy
Friendliness floods out of the light-filled Pasta Academy on Long Lane as soon as you open the door. Step inside, check off your name, don your linen apron and tuck yourself in at one of the beechwood benches, where a tasty starter of mozzarella and tomatoes awaits your devouring, placed atop your giant wooden chopping board. It's a homely space, with Mediterranean tiled floors, terracotta orange walls, floating wood shelves brimming with potted plants, amber light emanating from gilded overhead lampshades, and sideboards lined with tomatoes, eggs, bags of flour, more potted plants, and branded recipe books.
View this post on Instagram
Out come the drinks – unlimited prosecco at standard classes, but we visited for a special collaboration with Craft Gin Club – as conversation bubbles across and between tables. On one side of the room, a big table has a spacious family-style feel while, on the other side, guests gather around more intimate tables of six. From couples to groups of friends to mother-daughter pairings, the Pasta Academy attracts anyone and everyone, united by a love of pasta, a desire to learn how to make it and, in our case, a penchant for gin, too.
If you haven't tried the delicious creations of Pasta Evangelists before (where have you been?), you can sample the goods at their Harrods Pasta Bar, M&S stores in Kensington and Clapham, delivered via the likes of Deliveroo, UberEats and Just Eat and directly on their website, or you can order a pasta making kit to be delivered to your door (a popular one in lockdown). At Harrods and via delivery, Pasta Evangelists offers a weekly-changing menu, focussing on the freshest seasonal ingredients; sample dishes include Lobster & Crab Ravioli,  Black Truffle & Burrata Ravioloni and Pappardelle with Wild Boar Ragu.
At the company's heart is that freshness: it's all about restaurant-quality pasta that is quick and simple to make – which is, in turn, what authentic Italian pasta boils down to. In fact, pasta making has hardly changed in decades. Roberta, the vivacious class leader who hails from Puglia, tells us about learning to make pasta growing up in Italy – how it's an art passed through the family, how women are expected to master it to feed their family.
She claps to command our attention, silencing chatter and summoning us to her workbench at the centre of the room. As we sip on our gin cocktails, provided by two smiling Gin Craft Club ambassadors, Roberta's teaching is spliced with funny stories, all declared in a commanding yet charming voice. A beginners class, we are learning to make egg pasta, and we talk about using high quality ingredients; with only three ingredients total, it's best to invest in the good stuff. We also talk about cooking pasta – how Brits never use enough water and are frightened of using too much salt. Amenable nods from the audience; some classmates jot short notes into their phones. Then, Roberta mixes all the ingredients together and commences her adept rolling, giant rolling pin moving smoothly and efficiently across her wooden workspace.
Naturally, Roberta makes it look easy. When we're left to our own devices – dispersed again across our tables – the strength of pasta makers is underscored by our aching forearms. (Why not just use a pasta machine? 'Because then it's no longer fatto a mano,' Roberta declares.) But we're safe at Pasta Academy, surrounded by willing helpers who nudge us in the right direction when our mixture looks a little too wet or dry, or too thick as we tentatively hold our fragile dough to the light, hoping it's finally slender enough to see the shadow of our fingers through.
Then, it's time to select our shape. Roberta teaches us three options: a simple tagliatelle, farfalle, and another complex option I don't catch the name of. Two gin cocktails in, we play it safe with tagliatelle, creating long wiggly pasta pieces with our zig-zag cutting tool. It's quite therapeutic. All done, it's into the paper bowl the raw pasta goes. Your name is written on the side, along with your order – meat (a rich beef shin ragu) or veggie (a simple but effective basil pesto). Back to Roberta, who cooks your fresh pasta up in a giant vat of boiling water, douses it in your preferred topping and invites you back to her workbench to claim your creation. Add a healthy sprinkling of parmesan and return to your own workbench to eat with your friends and classmates. Bellissima.
View this post on Instagram
Is It Worth It?
Over the course of a two hour class at Pasta Evangelists' Pasta Academy, you receive friendly guidance and authentic instruction from passionate pasta makers. You are encouraged to take notes so you can carry your newfound skills with you, and taught how best to recreate your experience at home (in short, using the highest quality ingredients and materials). Better still, you get to eat your pasta at the end, with a delicious topping courtesy of the Pasta Evangelists team.
To learn invaluable tips – and to discover whether pasta making is, in fact, something you enjoy before you invest in your own giant wooden board and rolling pin – the Beginners Class, priced at £65, is definitely worth it, especially if you are marking an occasion like a birthday, anniversary or engagement. If you already know how to make pasta, this probably isn't the class for you – but you can learn all about different regional styles at the Pasta Academy's special 'Taste of' classes, including Venice, Puglia and Sardinia.
BOOK IT
Classes from £65 per person. pastaevangelists.com