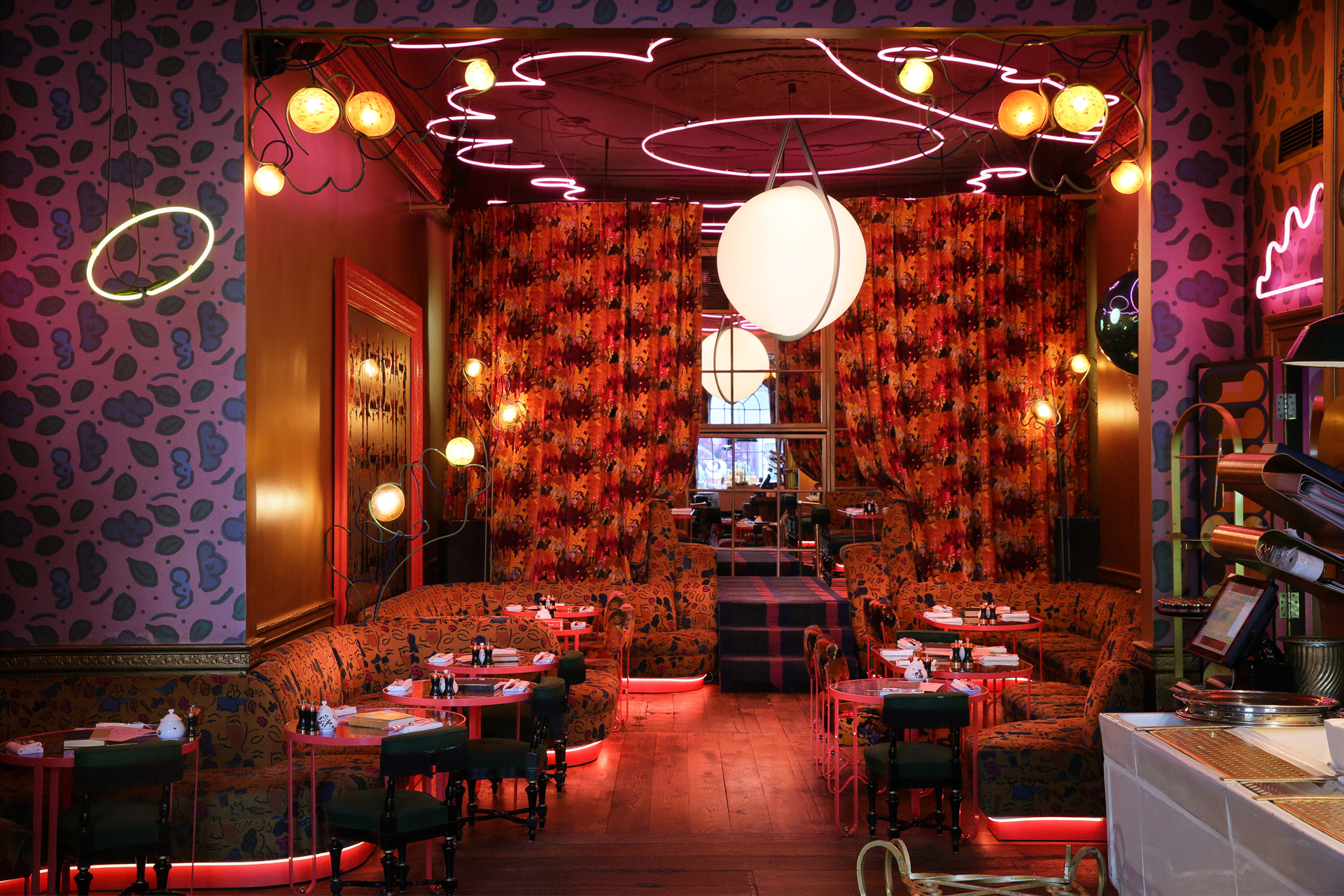 These Are the 11 Most TikToked Restaurants in London
Which of London's eateries are TikTok famous?
Nowadays, many of us turn to TikTok to discover cool new places to eat. If you're a foodie, no doubt your For You page will be filled with quick videos of the latest openings, offering a snapshot of the interiors and the food. And, naturally, it's the aesthetically pleasing restaurants that tend to blow up on the platform. So which ones have garnered the most fame?
A recent report from Betway has revealed the most TikToked restaurants in the UK, based on their number of hashtag views. The top 10 are all in London – we've listed them below.
These 11 Restaurants Are Famous On TikTok
1. Circolo Poplare
Of course one of the Big Mamma Group hotspots was going to top the list: the restaurant group is famed for its ostentatious venues. Circolo Poplare was one of the group's earlier openings, launching in Fitzrovia in the summer of 2019. It features striking interiors by Studio Kiki, who aimed to recreate the feel of a typical Sicilian wedding – think wisteria, festoon lights and whitewashed booths, with a display of over 20,000 bottles lining the walls. bigmammagroup.com
2. London in the Sky
This is not a restaurant per se, but a pop-up that allows diners to dine 100ft in the sky. It's set to return to the 02 for its third residency this summer, offering lunch, afternoon tea, cocktails and sunset dinners while soaking up spectacular views of the city. TikTok gold dust – just don't drop your phone… londoninthesky.co.uk
3. Ave Mario
Another Big Mamma Group number, Ave Mario in Covent Garden is typically larger-than-life, inspired by Italian churches (with a fun twist). Décor is bold, with red banquettes, black and white striped walls and a myriad of bottles lining the walls of the main dining room. And food is equally extravagant, with a dedicated list of Venetian caviar dishes alongside sharing pizzas made using the 'Biga' technique, a 24-hour process that ensures the dough is extra pillowy. bigmammagroup.com
4. sketch
Mourad Mazouz's dining emporium sketch is famous for its artistic spaces, with perhaps the most well-known area being the white pod loos. From its copper-walled Gallery restaurant to the palatial Michelin-starred dining room and colourful Parlour cocktail bar, the TikTok potential here is endless. sketch.london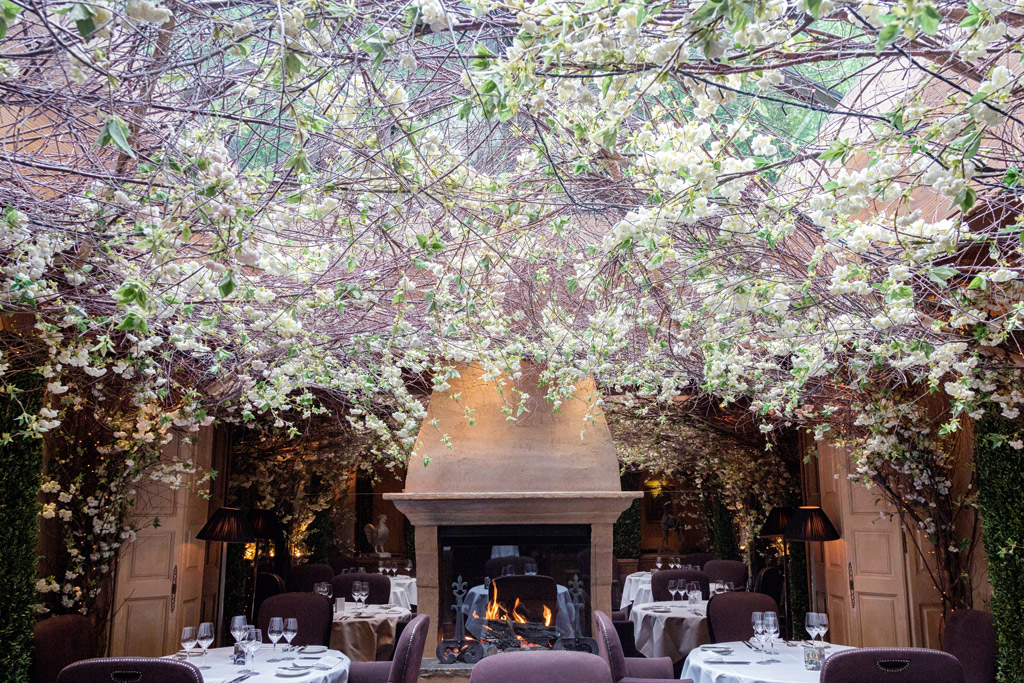 5. Clos Maggiore
This chic French-inspired spot is set in a conservatory beneath a ceiling of hanging flowers, with a glass roof looking up to the night sky. No surprise it's often billed as London's most romantic restaurant, with several marriage proposals happening there every week. closmaggiore.com
6. Bacchanalia
Anyone who has TikTok will no doubt have seen Bacchanalia popping up on the platform recently. The Greek-inspired dining room is an otherworldly space designed by industry maverick Martin Brudnizki, featuring marble sculptures by Damien Hirst alongside a particularly striking bathroom, which is inspired by the Garden of Hesperides. bacchanalia.co.uk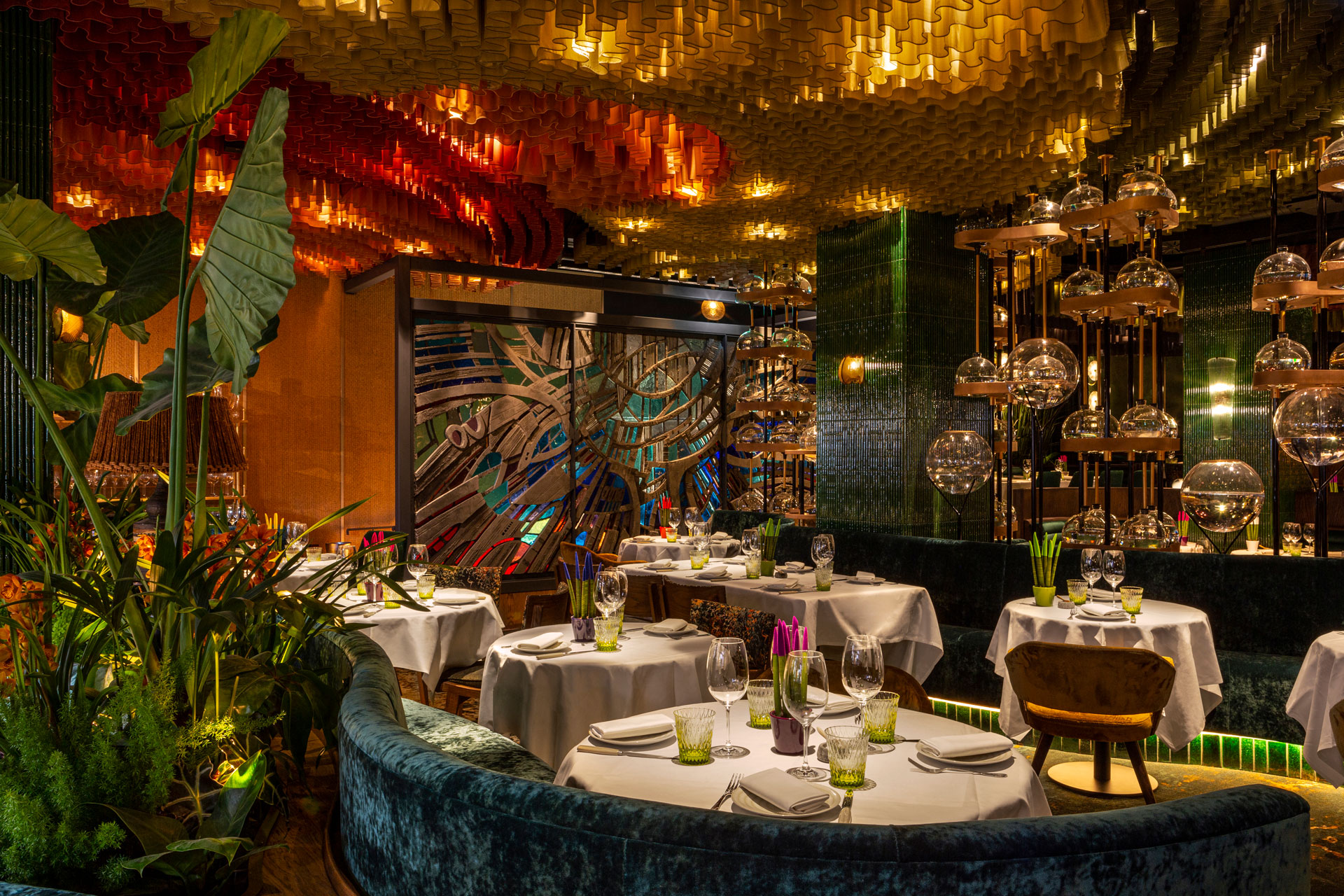 7. Amazónico
With its rainforest-themed decor, killer cocktails and live music offering, it makes sense that Berkeley Square hotspot Amazónico has amassed over 1,800,000 views on TikTok. The restaurant serves a vibrant Latin American-inspired menu, with an aquarium-themed sushi counter and a jungle-inspired private dining room giving it extra brownie points. amazonicorestaurant.com
8. Jolene
London's cinnamon bun fiends will no doubt be familiar with Jolene, a bakery and restaurant in Newington Green. A quick search on TikTok brings up endless videos of its mouth-watering pastries and small plates, plus the trendy industrial-chic interiors. jolenen16.com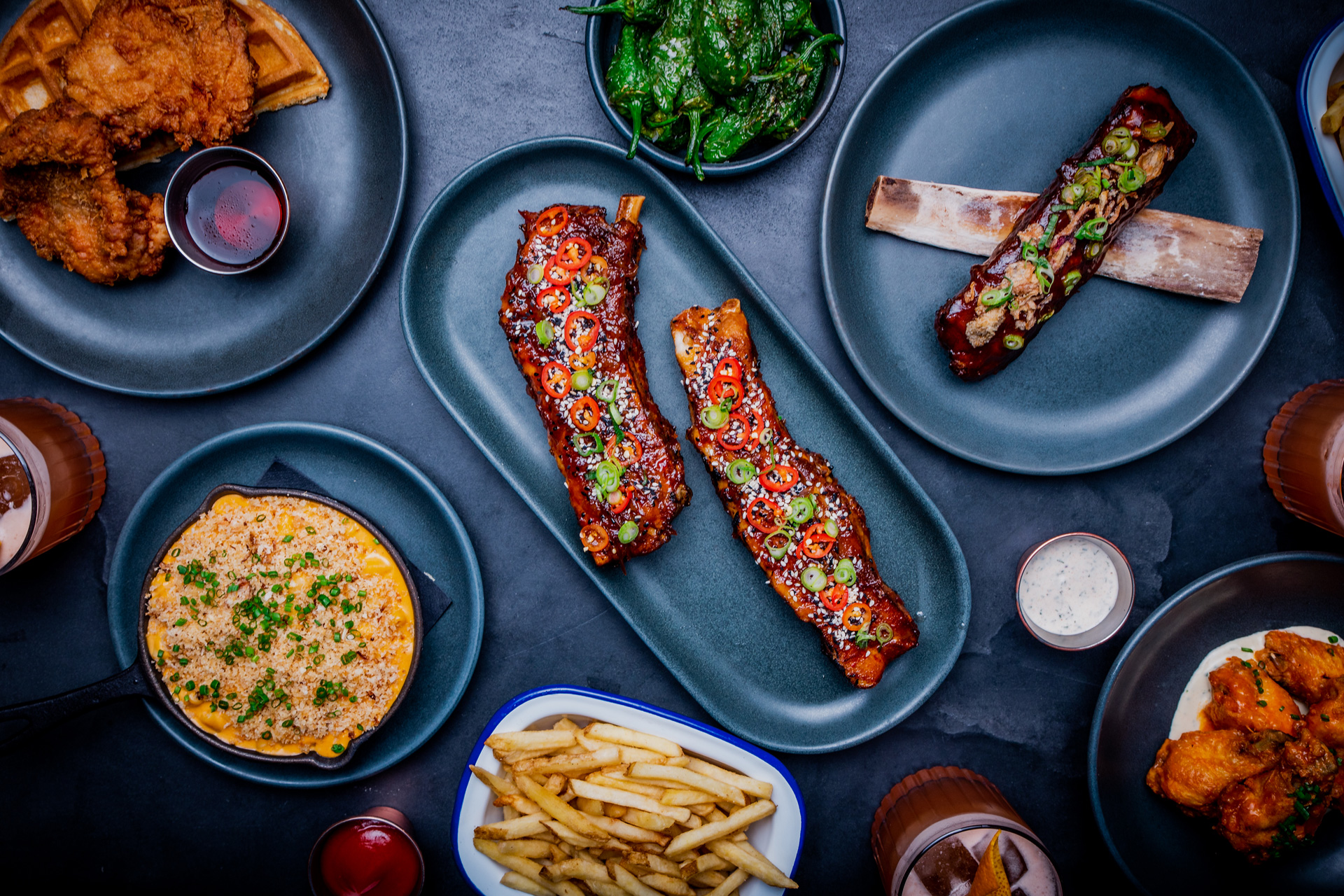 9. Dirty Bones
This New York-inspired spot has three restaurants dotted around the capital in Carnaby, Shoreditch and Soho. TikToks here tend to focus on the indulgent American comfort food: think mac 'n' cheese burgers, crispy fried chicken and ice cream doughnut sandwiches. The Dirty Bones hashtag has had over 1,600,000 views, making it ninth place along with EL&N below. dirtybones.com
9. EL&N
This millennial dreamworld bills itself as the 'most Instagrammable cafe in the world', complete with a flower wall, pink interiors and a ceiling display made with disco lights. There's a dedicated section on the menu for Instagrammable lattes, plus some of the prettiest cakes you'll ever see (and eat). Need we say more? elnlondon.com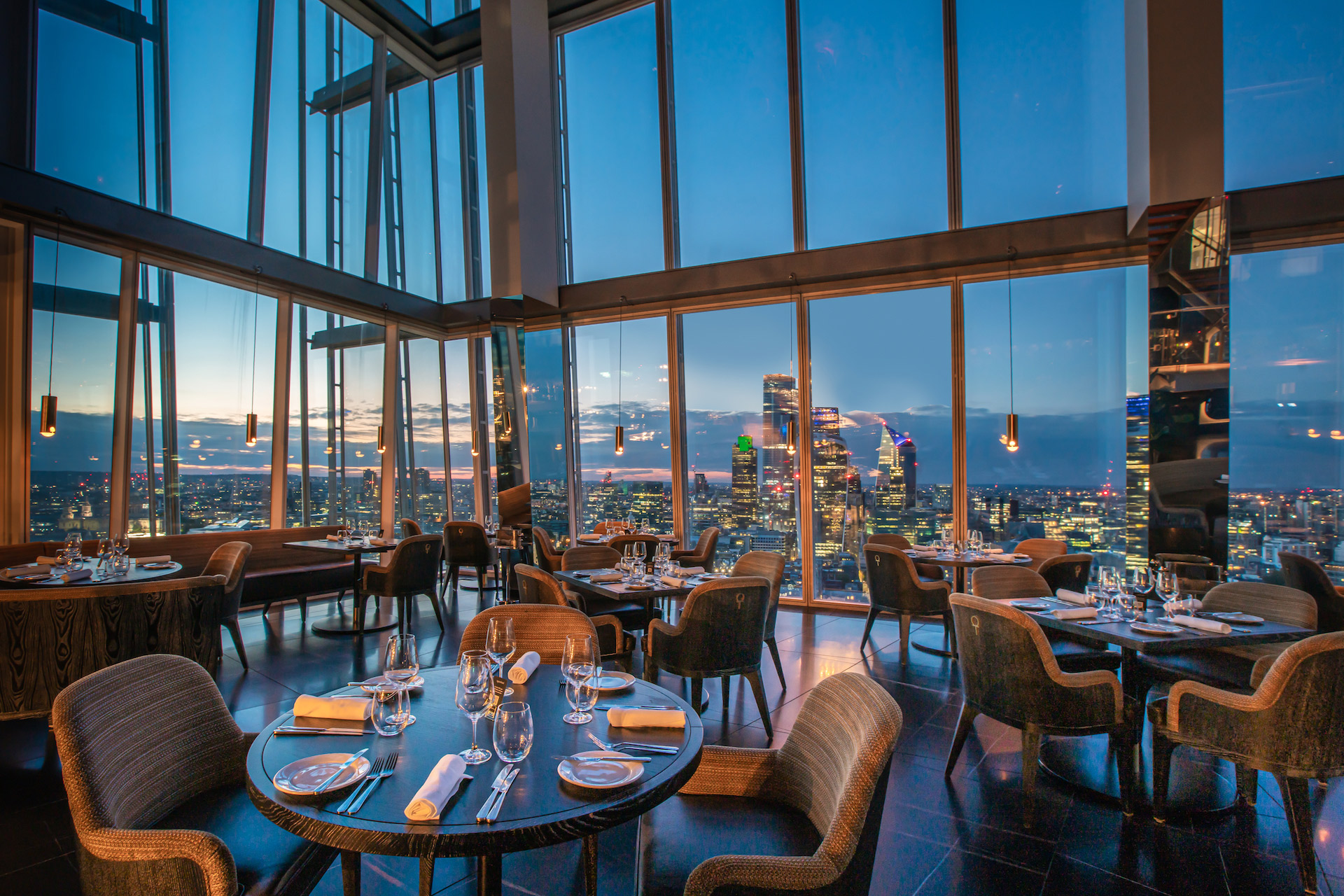 10. Aqua Shard
We all love a good view – and when it comes to London, it doesn't get much better than The Shard, which towers 306 metres into the sky. The iconic landmark is home to a number of restaurants and bars, but the most popular spot for TikTok videos is Aqua Shard, found on the 31st floor and open for lunch, dinner and a particularly photogenic afternoon tea. aquashard.co.uk