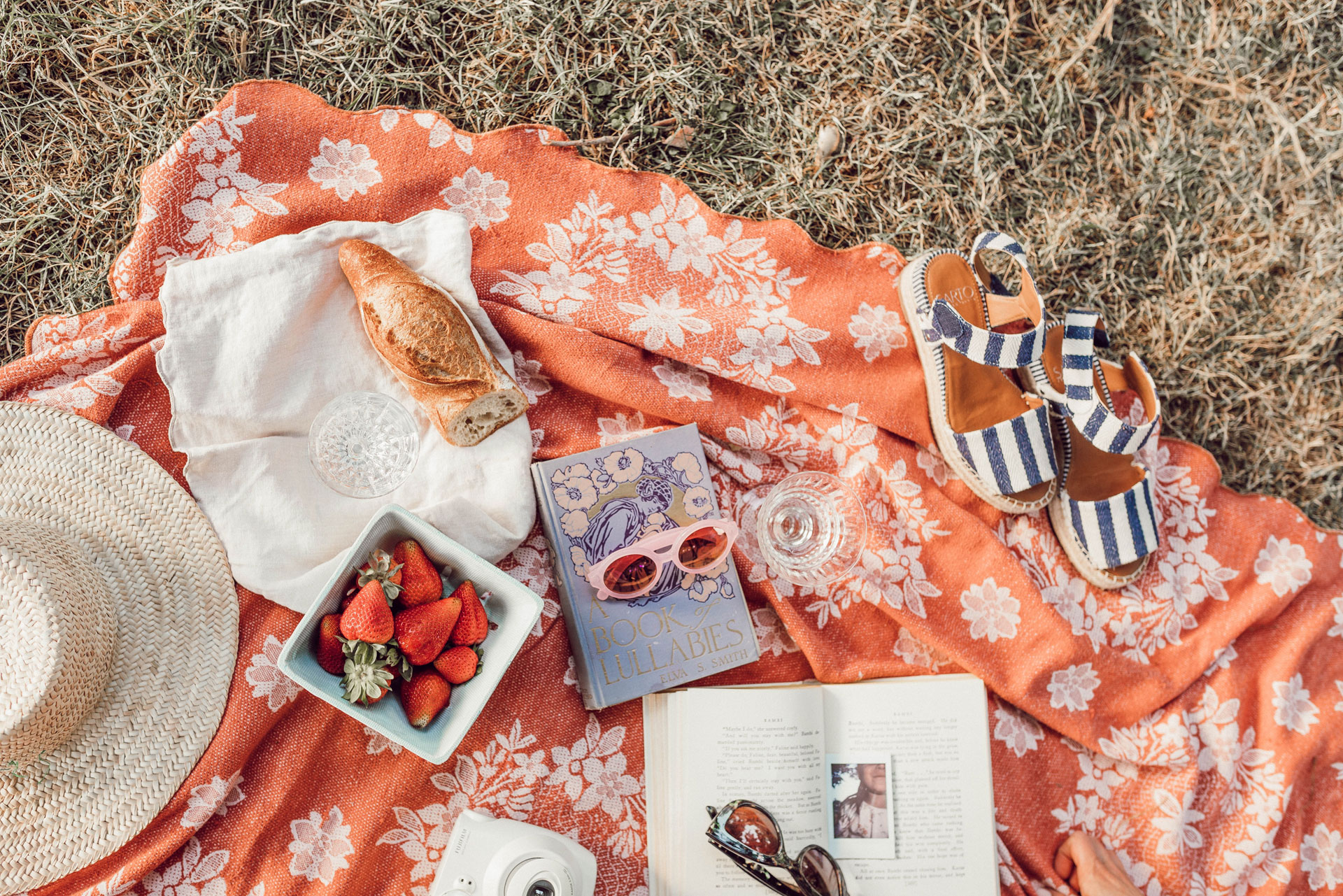 How to Host the Perfect Picnic
---
How to step your al fresco feast up a notch
Looking to host the perfect picnic this summer? Up your al fresco dining game with these top tips and recipes from Adam Smith, executive chef at Coworth Park. 
How to Host the Perfect Picnic
Adam Smith's Picnic Tips
When it comes to a good picnic, it's helpful to have something to carry and store items in. I have even been known to pack my grocery trolley similar to what my granny used to use and wheel it on to my favourite beach down on the Kent coast – I may look a little silly, but is the perfect way to take the stress away from the journey.
You need to have the right tools to do the job. Take a cool box to transport your lovely prepared food and keep it cool, and ensure you have all the things you need to be comfortable like a good ground covering and pillows to rest on. Remember a thermos flask is great for keeping things hot but just as great at keeping things cold – whatever your tipple of choice! A chopping board is an essential for me, along with wet wipes for cleaning those messy fingers after lunch, and a bin bag to take all your rubbish away. Lastly, an umbrella is always a great tip – after all, we are in the UK and one thing we can never judge is the weather.
Take some pomegranate seeds, a sliced lime and mint. Add these to some lemonade with ice for the family and the adults can add a good splash of vodka as long as you aren't driving.
Sandwiches, rolls and wraps are a picnic staple; I like to take a whole French stick made with a filling of choice, then cut into desired size, wrap in baking paper and tie with a little string. This saves a lot of time making individual ones and when you get to your destination it's still perfect no matter how bumpy the ride. For if your more adventurous option just take a selection of fillings and build your own.
When it comes to salads – which are a staple and a must for a picnic – I would suggest to never dress your salad at home. Take the dressing in an old jam jar or sealed tub, give it a good shake up and dress just before you eat, otherwise the salad will be all bruised and soggy if it is done too early. I would also say, forget any delicate salad leaves as these will just wilt on what is hopefully a sunny day. I always enjoy a good chopped salad or even crudités with homemade dips like guacamole, hummus or a simple mayonnaise. Take two or three dressings so people can build their own salad when they get there.
Something sweet is always good to finish the afternoon. As ice creams and fancy cakes are out of the question for such an occasion, I would recommend a good old tray bake, such as a chocolate brownie, flap jacks or even millionaire shortbread – these will all survive the sun and are easy to make, transport and serve. Even some simple fresh fruit is nice, I often take wedges of melon, apple and mango or even some frozen grapes which make for a nice cool snack. Just pick them from the vine and place in a sealed bag, put in the freezer the night before and on your way out the door place them in your cool box.
Recipe: Heritage Tomato, Crab, Avocado and Basil Tart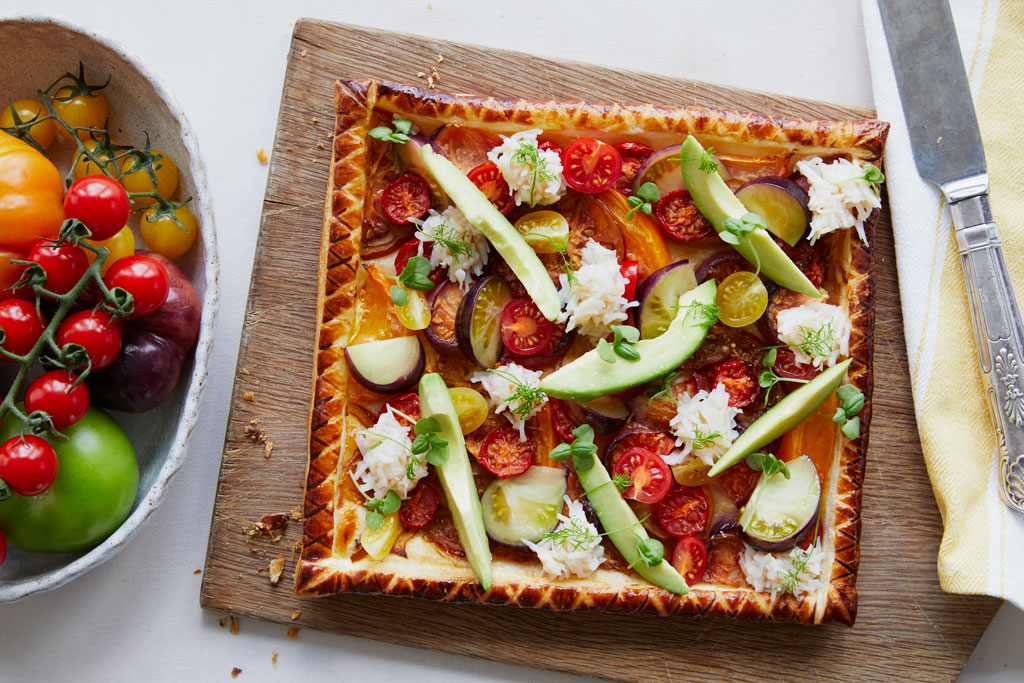 Serves 4
Ingredients
4 banana shallots
1 pre-rolled puff pastry 500g
Selection of heritage tomatoes
50g basil leaves
2 thyme sprigs
100g grated parmesan
Splash of olive oil
1 ripe avocado
½ lemon
200g fresh white crabmeat
1 lime
10g coriander leaves
Sea salt to season
Pinch smoked paprika
Method
Thinly slice the banana shallots and cook at a low heat until soft without any colour.
Roll out the puff pastry to your desired shape; roll over the edges to create a thin crust.
Spread the cooked shallots in the middle of the tart and brush the edges with olive oil.
Slice 2/3 of the tomatoes and lay with ½ the basil leaves on the onions within the folded edge.
Sprinkle over the picked thyme and grated parmesan.
Bake the tart at 180°c for 18 minutes in the oven, and then allow to cool.
Cut the remaining tomatoes into even wedges and slices. Season with olive oil, salt, pepper and the remaining basil leaves, which should be roughly torn.
Cut the avocado in half, removing the stone and the skin, cut into wedges and season with salt, juice of ½ lemon and a drizzle of olive oil.
Season the crabmeat with the zest and juice of the lime, picked coriander leaves, salt and smoked paprika.
Arrange the marinated tomatoes, avocado and crab evenly on the cooked and cooled tart.
Drizzle with the juices from the tomatoes and garnish with the basil leaves and herbs.
Cut into wedges and serve!
Recipe: Egg and Cress Sandwich
Ingredients 
8 slices of your preferred bread
Butter
8 free range eggs
2 tbsp mayonnaise
1 small banana shallot
Watercress
Salt and pepper
Method
Place the eggs into a suitable sized sauce pan and cover in cold water, make sure the eggs are flat on the bottom and not stacked.
Place onto a high heat and bring to the boil as quick as you can and cook for 8 minutes.
Remove the eggs and place into ice cold water.
Once cold, peel the shell and rinse the eggs.
I find the best way is to chop the eggs with a knife, as it gives a better texture rather than grating.
Peel and finely dice the shallot.
Add the shallot to the chopped egg, along with the mayonnaise.
Season generously with salt and pepper.
Butter your preferred bread, I personally love a nice seeded bread for this.
Generously spread on the egg mixture and cover with the washed and picked watercress to taste (I like loads).
Cut into triangles or rectangles (whichever you prefer) and enjoy!