3 Pumpkin Spice Recipes For Autumn
How to cook with everyone's favourite autumn spice
What better way to ring in the new season than with a sprinkling of pumpkin spice? The autumn flavour is perhaps best known for its use in PSLs (pumpkin spiced lattes, of course), but there's plenty more you can do with it – as shown by Heather Thomas in her new book The Pumpkin Spice Cookbook. We share three recipes from it below, plus how to make the pumpkin spice mix.
3 Pumpkin Spice Recipes For Autumn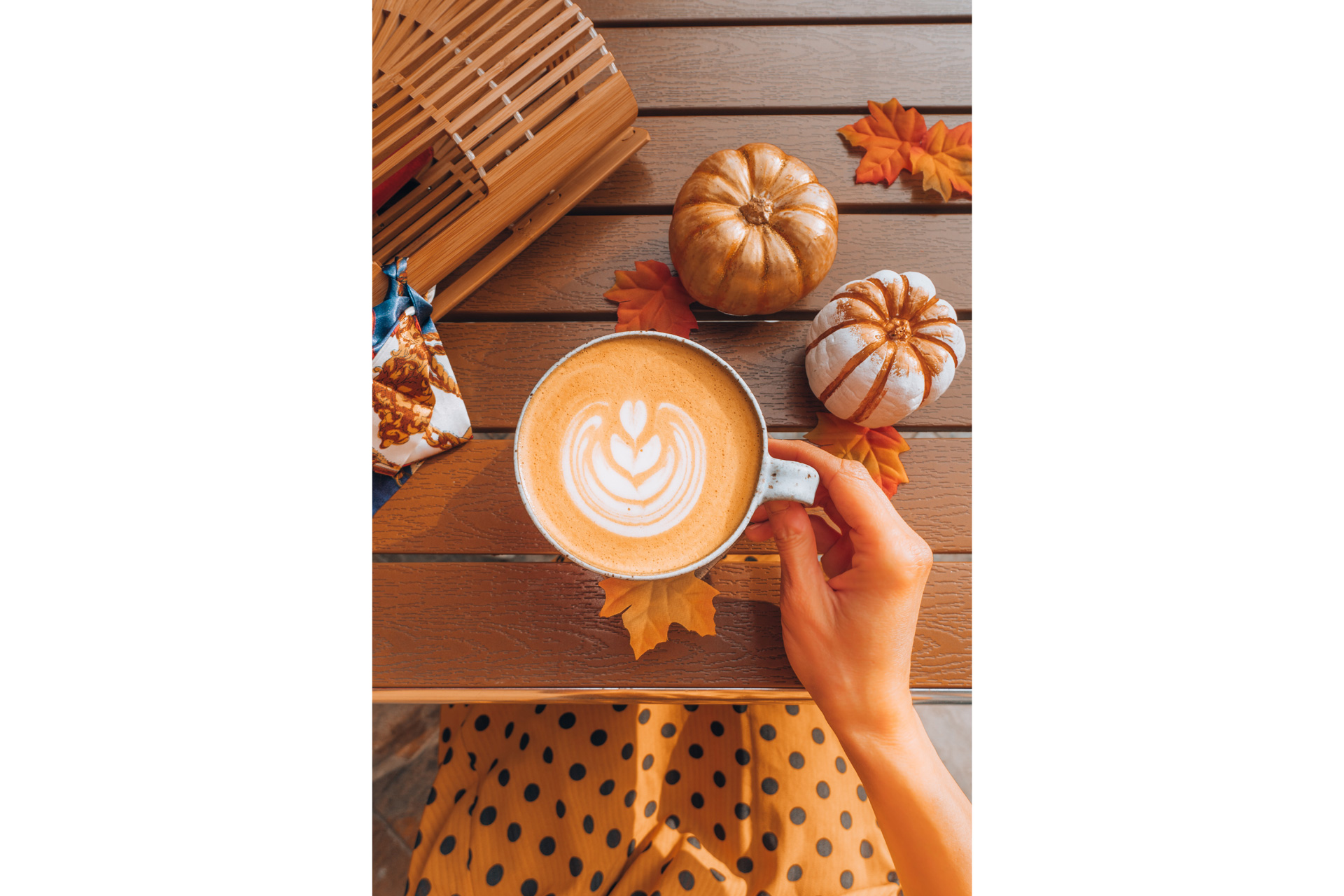 Pumpkin Spice Mix
The classic pumpkin spice is made with ground cinnamon, nutmeg, ginger and cloves. Of course, you can buy it ready-made but making it yourself will create a fresher tasting and more aromatic mixture for flavouring drinks, cakes, desserts, snacks and even savoury dishes. This recipe is not made in tablets of stone, so feel free to adjust the ratio of spices or even to substitute one for another (but not the cinnamon) according to your personal preferences.
Makes about 3 tbsp

Prep: 5 minutes
Ingredients:
6 tsp ground cinnamon

2 tsp ground (or finely grated) nutmeg

2 tsp ground ginger 

1 tsp ground cloves
Method:
Put all the ingredients in a small bowl and mix together well. The ginger sometimes has a tendency to clump but using a wire whisk and then sifting the mixture through a fine sieve will prevent this.
Variations:
Add ½ teaspoon ground allspice to the mix.

Add ½ teaspoon ground cardamom.

For a pungent spice mix, add a pinch of

ground black pepper.

Add a pinch of ground mace or star anise.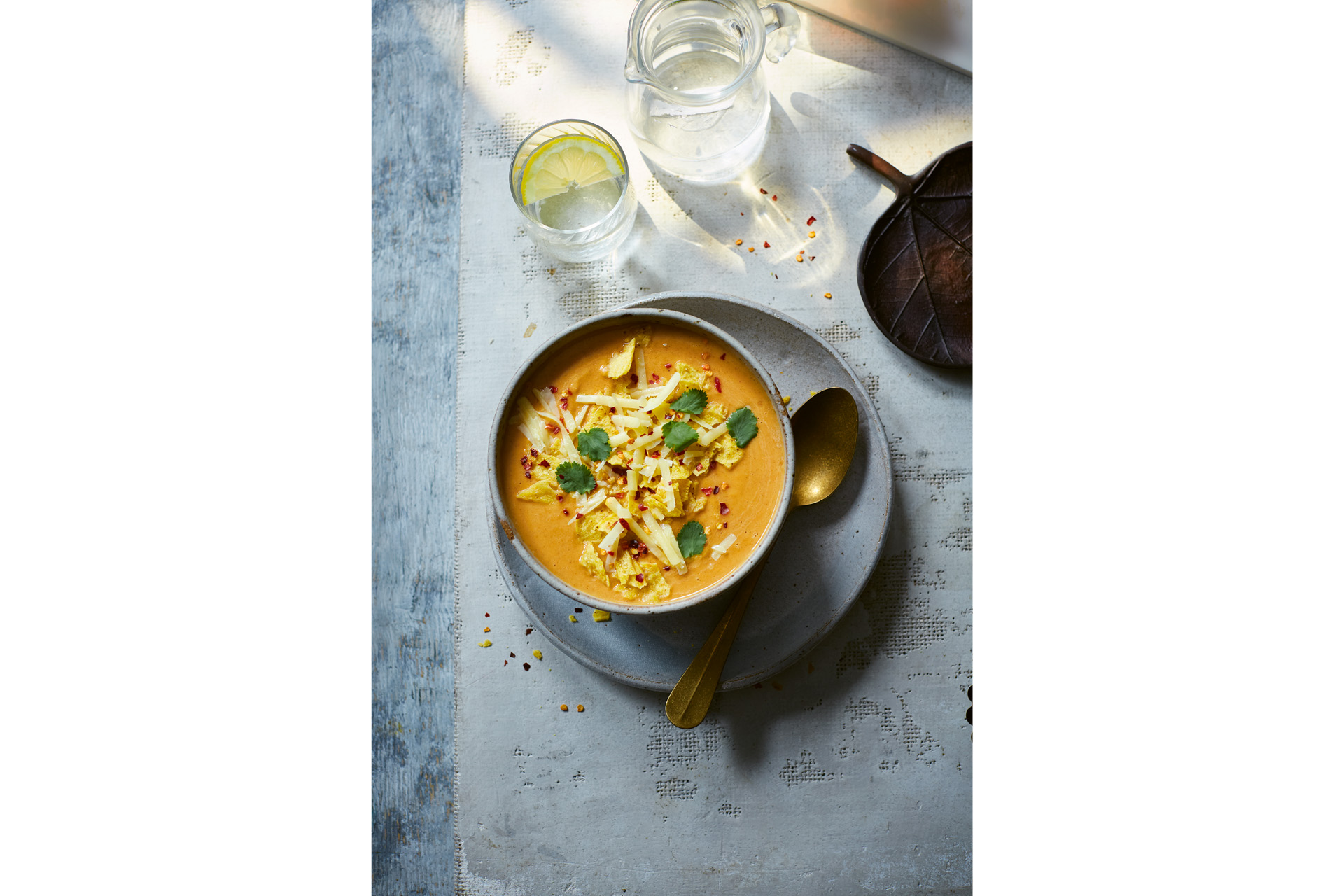 Halloween Pumpkin Soup with Cheesy Tortillas
Serve this smooth and velvety soup in a hollowed-out pumpkin as the centrepiece for Halloween or bonfire night parties. You can make the soup in advance for reheating later, just before filling the pumpkin shell.
Serves 4 – 6

Prep: 20 minutes

Cook: 40 – 45 minutes
Ingredients:
3 tbsp olive oil

2 large red onions, thinly sliced

2 tsp brown sugar

3 garlic cloves, crushed

1 red chilli, deseeded and diced

2 tsp Pumpkin Spice Mix (see page 15)

½ tsp sweet or smoked paprika 1kg (2¼lb) pumpkin, peeled, deseeded and cubed

900ml (1½ pints/3¾ cups) hot vegetable stock

200ml (7fl oz/scant 1 cup) reduced-fat crème fraîche

Sea salt and freshly ground black pepper
To serve
1 x 2kg (4½lb) pumpkin, hollowed out (optional)

Chopped coriander (cilantro), for sprinkling

Crushed dried chilli flakes, for sprinkling

100g (3½oz) tortilla chips, coarsely crushed

100g (3½oz/1 cup) grated Cheddar or Gruyère cheese
Method:
Heat the oil in a large saucepan set over a low heat. Add the onion and stir in the sugar. Cook gently, stirring occasionally, for 12–15 minutes, or until golden brown

and starting to caramelize.

Add the garlic and chilli and cook for 2 minutes. Stir in the ground spices and pumpkin, pour in the stock and bring to the boil. Reduce the heat and simmer for 20 minutes, or until the pumpkin is cooked.

Blitz in a blender or food processor until smooth.

Alternatively, leave in the pan and, off the heat, use a hand-held stick blender.

Gently reheat the soup over a low heat and stir in the crème fraîche. Season to taste with salt and pepper.

Pour the hot soup into the hollowed-out pumpkin shell or ladle into bowls. Sprinkle lightly with coriander and chilli flakes and scatter the tortilla chips and grated cheese over the top.
Tip: if you can't get reduced-fat crème fraîche, just use regular or single (light) cream.
Variations:
Use coconut or almond milk instead of crème fraîche.

Roast the pumpkin before adding it to the soup.

Vary the spices: try ground cumin, coriander or turmeric.
Autumn Plum Traybake
This moist traybake-style cake made with autumnal fruit and seasoned with pumpkin spice mix makes a great seasonal treat. Serve it with some ice cream, crème fraîche or whipped cream.
Serves 8 – 10

Prep: 20 minutes

Cook: 35 – 40 minutes
Ingredients:
175 (6oz/¾ cup) butter, plus extra for greasing

175g (6oz/generous ¾ cup) soft light brown sugar

3 free-range eggs

85g (3oz/scant 1 cup) plain (all-purpose) flour

1 tsp baking powder

2 tsp Pumpkin Spice Mix

115g (4oz/¾ cup) ground almonds (almond flour) grated zest and juice of 1 orange seeds of 1 vanilla pod (bean)

2–3 tbsp milk

12 ripe plums, halved and stoned (pitted)

85g (3oz/generous ½ cup) whole hazelnuts 

Icing (confectioner's) sugar for dusting
Method:
Preheat the oven to 180°C (160°C fan)/350°F/gas 4. Grease and line a shallow 30 x 20cm (12 x 8 inch) cake tin (baking pan) with baking parchment.

In a stand food mixer, beat the butter and sugar until soft and fluffy. Add the eggs, one at a time, beating well between each addition. Add a spoonful of flour with them, if wished, to prevent

the mixture from curdling.

Sift in the flour, baking powder and pumpkin spice mix, then add the ground almonds. Mix on a slow speed until well combined.

Add the orange zest and juice, vanilla seeds and enough milk to slacken the mixture.

Transfer to the prepared cake tin and level the top, pushing the mixture into the corners of the tin. Arrange the plums, cut-side up, in neat lines on top of the cake, then press them down slightly into the mixture. Press the hazelnuts into the cake around them.

Bake for about 35–40 minutes, or until the cake rises around the fruit and a skewer inserted into the centre comes out clean.

Leave to cool in the tin and then lightly dust with icing sugar.

Serve the cake cut into squares or slices. If wrapped in kitchen foil, it will keep in the refrigerator for up to 3 days. Bring to room temperature before serving.
Variations:
Use pears, greengages or cherries instead of plums.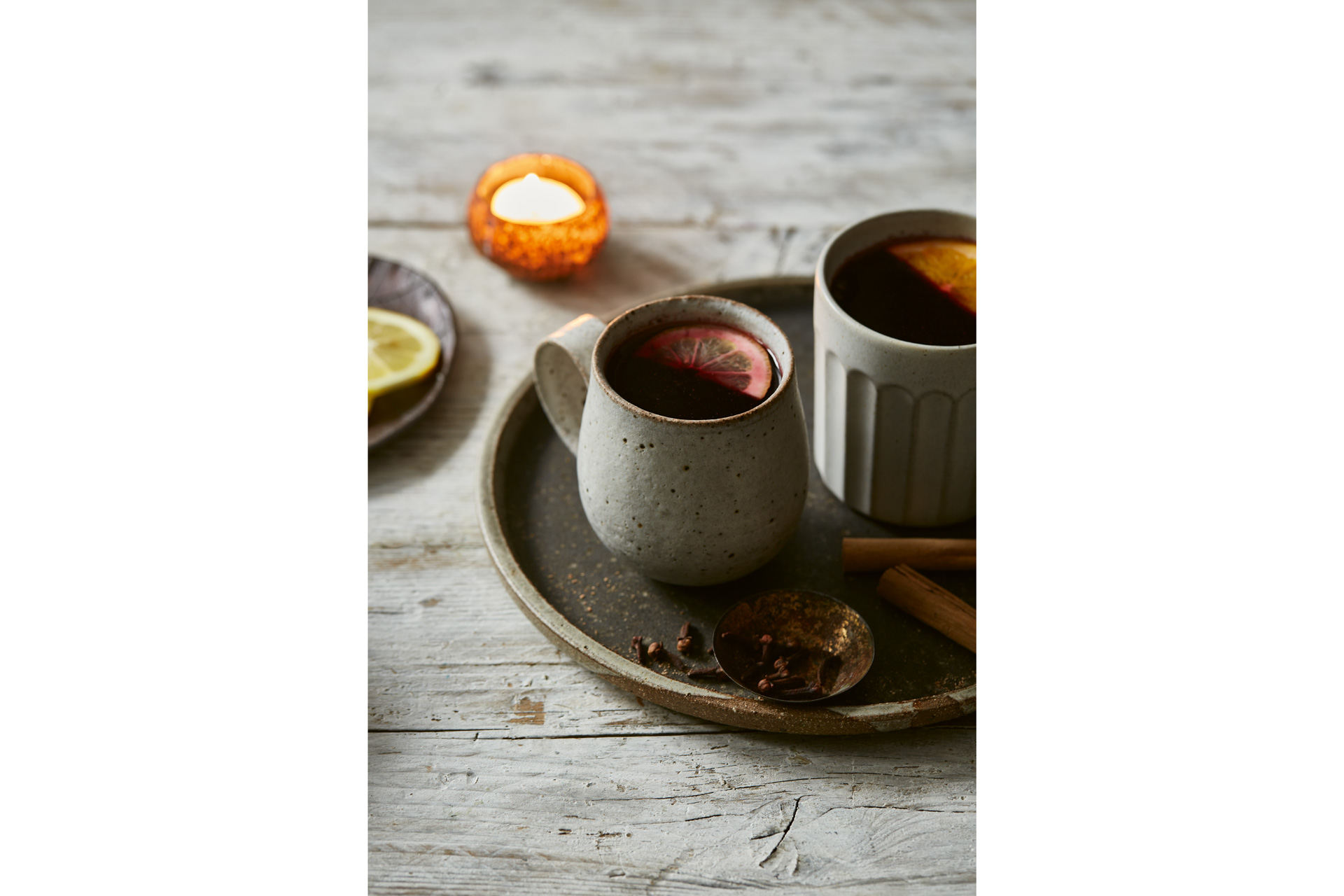 Mulled Wine with Pumpkin Spice
For many of us, a glass of mulled wine is the taste of Christmas. Serve it to family and friends as a warming, welcoming drink. It's perfect for festive and New Year's Eve parties. If possible, pour the hot mulled wine into a jug to serve and use heatproof glasses with long stems or handles.
Makes about 2 litres

Prep: 5 minutes

Cook: 20 minutes
Ingredients:
2 oranges

1 lemon

2 cinnamon sticks

6 whole cloves

1 tsp whole allspice berries 2–3 tsp

Pumpkin Spice Mix

115g (4oz/½ cup) white sugar 

300ml (½ pint/1¼ cups) water 

2 x 750ml (25fl oz) bottles full-bodied fruity red wine 

100ml (3½floz/scant 1/2 cup) brandy, rum or port (optional)
Method:
Peel a large strip of rind off one of the oranges and another strip off the lemon. Place in a

large saucepan with the cinnamon, cloves, allspice berries and pumpkin spice mix. Add

the sugar, water and red wine and set over a low to medium heat.

Stir gently until the sugar dissolves, then continue to heat thoroughly for 15 minutes –

taking care not to allow it to boil – until the spicy flavours develop and infuse the wine.

Cut the lemon and oranges into thin slices.

Add to the mulled wine with the brandy, rum or port (if using) and simmer for 5 more minutes.
Variations:
Add ground ginger or grated fresh root ginger tied up in a muslin (cheesecloth) bag.

Add a star anise or cardamom pods or even a stalk of lemongrass.

Substitute light muscovado sugar for the white sugar.
Extracted from The Pumpkin Spice Cookbook by Heather Thomas, (HarperNonFiction, £12.99 Hardback). Photography by Sophie Fox.