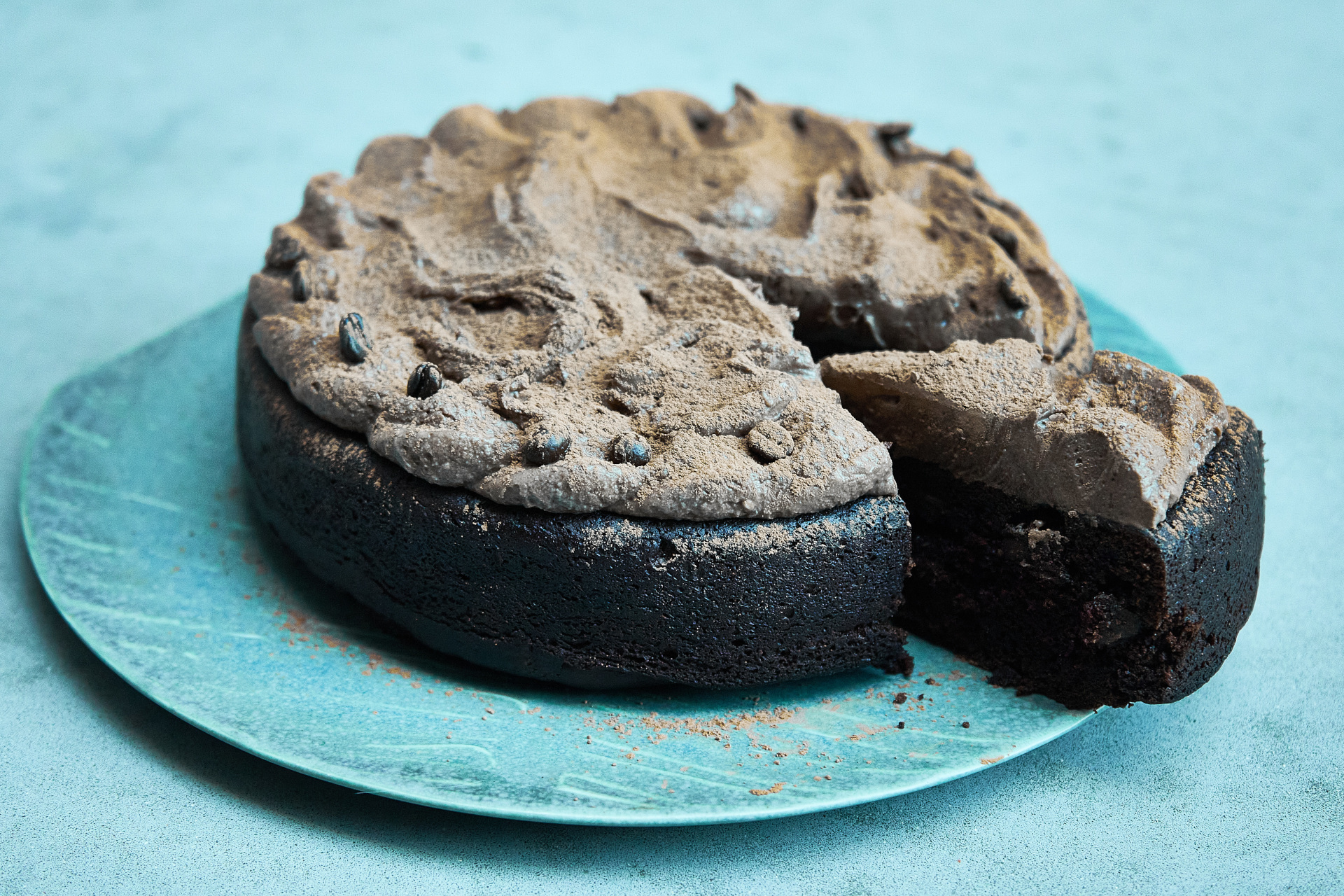 Dessert of the Week: Espresso Chocolate Cake
Decadently rich
By Bettina Campolucci Bordi | 1 year ago
Our dessert of the week is Bettina Campolucci Bordi's Espresso Chocolate Cake.
This week's desert contains my favourite thing: coffee. I am not a huge drinker but my one strong espresso cup everyday is my morning joy. One of the best ways to use coffee, aside from in your cup, is to turn it into a delicious dessert. The complex taste of coffee, including bitterness and acidity, make it a perfect partner for a sweet treat, as it helps to balance out the sugary flavours.
There are hundreds of different ways you can use coffee in desserts, from flavouring a cream to incorporating it into a bake. This Espresso Chocolate Cake recipe is my take on my two favourite combinations; it's decadently rich and slightly grown up with the addition of coffee. This is an easy cake that you make in the blender and takes no time at all. You can make both the cake and the icing ahead of time and serve it up for dinner.  The espresso part has been reserved for the icing only, so that if you want to keep this cake child friendly, or caffeine free, you can just leave it out. A recipe that is very much kid-approved!
Recipe: Espresso Chocolate Cake
Makes 6-8 servings
Ingedients
For the Chocolate Cake
180g plain flour
160g brown sugar
50gf cacao powder
1½ tsp bicarbonate of soda
1 tsp baking powder
pinch of sea salt
165g plant yoghurt
120g plant milk
100g plant butter
1½ tbsp of apple cider vinegar
½ tsp vanilla paste or powder
½ tsp linseeds
150g dark chocolate chips
For the Icing
280ml coconut cream or coconut whipping cream
50g icing sugar
40g cacao powder
1 heaped tbsp peanut butter
1 shot strong espresso coffee (leave this out for a child friendly option)
For the Topping
Coffee beans
Fresh cherries
Shavings of dark chocolate
Cocoa powder
Method
Preheat the oven to 180ºC.
Either grease or line a 20x20cm cake tin with greaseproof paper.
Add all ingredients for the chocolate cake (except the chocolate chips) to a blender and blitz to combine.
Empty into a bowl, stir through the chocolate chips and pour into the cake tin.
Place in the oven for 25 minutes.  Once ready, remove and allow to cool completely.
Meanwhile, make the icing by mixing all the ingredients together in a bowl, then put into a piping bag.  Let this set in the fridge for at least three to five hours. This is a great cake to make in the morning and serve in the evening!
Pipe the icing onto the cake and smooth over with a palette knife. Top with coffee beans (if using), fresh cherries, shaved chocolate and you can also add some cocoa powder on top.
MORE RECIPES
Semla Cupcakes / Upside Down Vanilla Rhubarb Brûlée Cake / Sticky Toffee Pudding