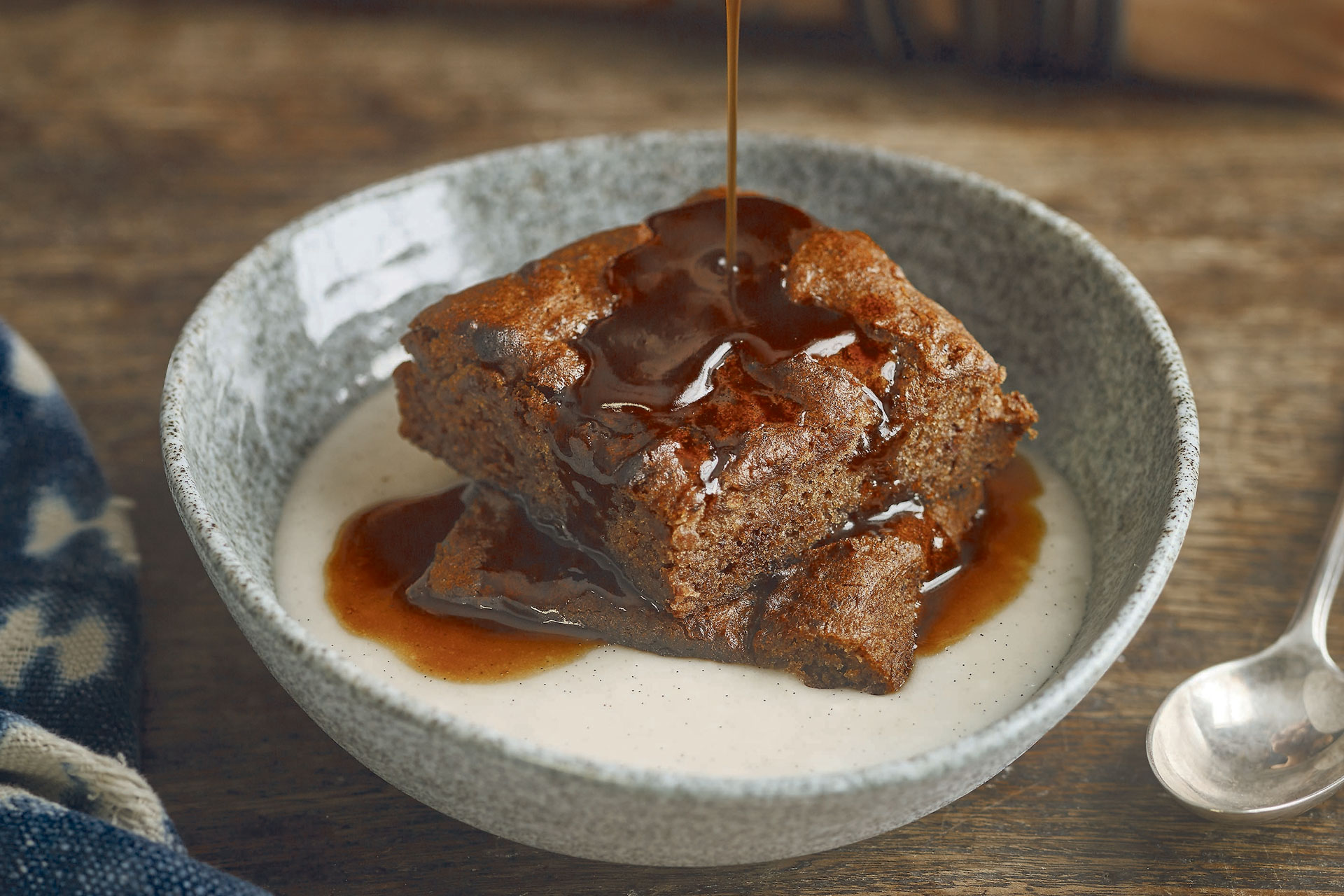 Dessert of the Week: Sticky Toffee Pudding With Salted Caramel Sauce & Custard
An anti-January pudding
By Bettina Campolucci Bordi | 1 year ago
Our dessert of the week is Bettina Campolucci Bordi's plant-based sticky toffee pudding – the perfect antidote to January diets
January can be an overwhelming month, with so much talk of fresh starts and pressure to improve. Yet I see it as a time to look back at all the amazing memories of the past year and to look forward to the year ahead. Nowadays I feel many of us are living at a slower pace – things are shifting for the better.
In the spirit of comfort and kindness, I would like to offer you one of my all-time favourite recipes: Sticky Toffee Pudding with custard. This recipe is an original from my first book Happy Food that has recently had a makeover and been re-released into the world as Happy Vegan Food.
The recipe also happens to be plant-based and gluten-free. I was gluten-free for many years until I re-introduced it a few years ago. It upset me for a long time when I discovered I was intolerant to gluten, particularly when I realised I would not be able to enjoy my favourite desserts. But I promise you, this version of sticky toffee pudding is better than the original, especially when it's topped with sticky toffee sauce and vanilla vegan custard.
The spices here are essential and will warm you from the inside out. Not only will they add taste and flavour, but cinnamon, cardamom and clove have a history of amazing properties. More on that in next week's column – for now the proof is in the pudding and I urge you to make this one.
Recipe: Sticky Toffee Pudding With Salted Caramel Sauce & Custard
Ingredients
250ml almond milk or other plant milk
300g medjool dates, stoned
80g coconut sugar
125ml coconut oil
1 teaspoon bicarbonate of soda
95g gluten free flour
1 vanilla pod, scraped
1 teaspoon ground cinnamon
1/2 teaspoon ground cardamom
1/2 teaspoon ground clove
Pinch of pink Himalayan salt
For the sticky toffee sauce
140g coconut sugar
250ml coconut milk
1/2 teaspoon salt
For the custard
2 tablespoons very fine cornflour
500 ml coconut milk
3 tablespoons maple syrup
1 whole vanilla pod, scraped
Method
Preheat the oven to 190 degrees. Line a 20cm square cake tin with greaseproof paper or use a good quality silicone mould.
In a small saucepan gently heat the milk and dates for 5-10 minutes until the dates have softened. Once softened, set aside.
In a blender, blitz the coconut sugar and coconut oil until the sugar has mostly disintegrated.Add the bicarbonate of soda to the milk and date mix. It will start to fizz and bubble, but that is okay.
In a bowl, combine the flour, vanilla, spices, pinch of salt, coconut oil and sugar along with the date and milk mixture and give everything a good stir.
Pour into the cake tin and bake for 30 minutes.
Once done, transfer to a wire rack to cool.
For the sticky toffee sauce
While the pudding is cooking, make the sauce. Heat a pan over a medium heat, add the coconut sugar and coconut milk and let it heat through.
Add the salt and bring to a boil, then reduce to a simmer. Let it simmer for 20 minutes until the caramel has thickened. Stir occasionally to make sure it doesn't burn. A great way of knowing if it is ready is to see if it sticks to the back of your spoon.
Stir in a little more salt if desired and either use it straight away drizzled over your cake, or let it cool before storing in a glass jar – it will become even thicker as it cools.
For the custard
Blend the cornflour with a little coconut milk in a medium pan over a medium heat. Whisk until you have an even consistency.
Add the rest of the ingredients including the scraped vanilla pod. Whisk until the cornflour and vanilla are fully incorporated into the milk.
Whisk until the custard starts to thicken and then, as soon as the mixture begins to boil, take off the heat and let it cool.
Image by Nassima Rothacker
MORE DESSERT OF THE WEEK:
Chocolate Pantry Bites / Ris A Lamande