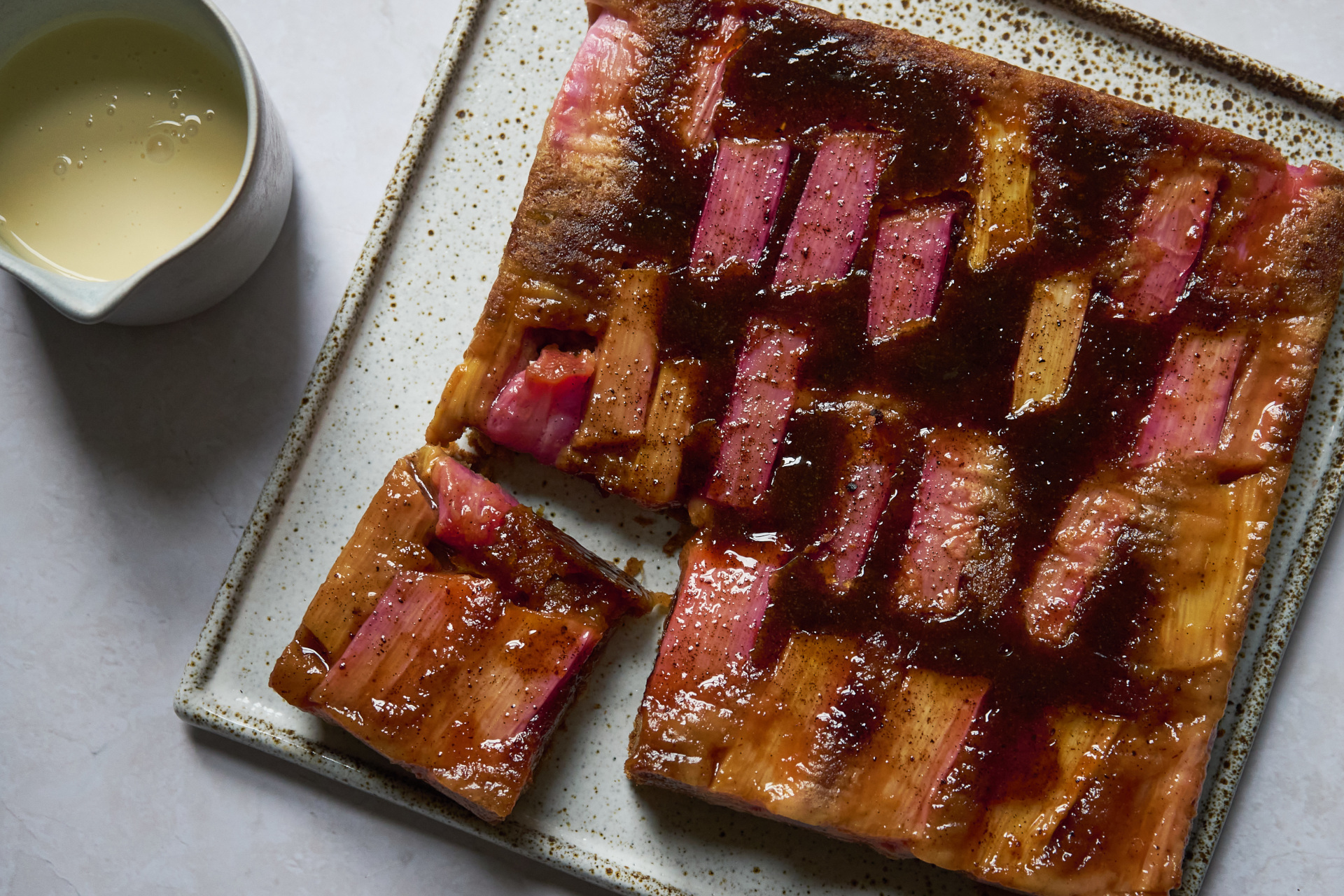 Dessert of the Week: Upside Down Vanilla Rhubarb Brûlée Cake
Stunning seasonal rhubarb at its best
By Bettina Campolucci Bordi | 2 years ago
Our dessert of the week is Bettina Campolucci Bordi's upside down vanilla rhubarb brûlée cake.
Rhubarb season is upon us. Known for its luscious, delicious pink stems, rhubarb is often mistaken for fruit but is actually part of the short-season vegetable family. The neon pink Yorkshire Forced Rhubarb is especially prized because of its unusual growing season between January and March, when there aren't too many seasonal British ingredients vying for our attention. Those wanting the best out of the ingredient should look to the Rhubarb Triangle – between Bradford, Leeds and Wakefield – where the famous vegetable is harvested in winter and early spring.
While it was once confined to pies, jams, jellies or a stem dunked into a bag of sugar, rhubarb is now the life of the party. It's added to everything, from soups, salads, gravies and desserts to elevated gins, cocktails, cheeses, beers, pickles, ice creams and pies.
I love it roasted with a bit of sugar and a sprinkling of vanilla, made in a big batch to serve as toppings on sweet toasts or warming winter bowls of porridge. My latest recipe for you features an incredibly decadent upside down cake with a crunchy brûlée-like brown sugar topping. I am so excited about this one – it's easy and features stunning seasonal rhubarb at its best.
Upside Down Vanilla Rhubarb Brûlée Cake
Makes 6-8 servings
Ingredients
30g plant butter
1 tsp vanilla paste or powder
4 stalks of rhubarb, sliced into 3-4cm chunks
1 apple, washed, cored and grated
190g brown sugar
180g plain flour
½ tsp bicarbonate of soda
½ tsp baking powder
1 tsp cinnamon
1 tsp cardamom
90ml olive oil
1 tsp apple cider vinegar
juice and zest of 1 lemon
plant custard, to serve
Method
Preheat the oven to 180ºC and line the base of a square cake tin (approx 21 x 21cm) with greaseproof paper.
Melt 80g of the sugar along with ½ tsp vanilla and the plant butter in a pan, then pour into the prepared tin. Top with the sliced rhubarb in a single layer.
Combine the oil, remaining 110g sugar, lemon juice and apple cider vinegar in a mixing bowl.
Then add the flour, ½ tsp vanilla, bicarbonate of soda, baking powder, cinnamon, cardamom, apple and lemon zest, and mix well to combine.
Pour the cake batter into the pan over the rhubarb and spread with a palette knife to form an even layer.
Bake in the oven for 30 minutes, or until a skewer comes out clean. Leave the cake to cool for 20 minutes before turning out.
Turn upside down onto a serving plate and gently peel off the greaseproof paper to reveal your beautiful brulee cake.
Pour a drizzle of plant custard over each serving, and enjoy!
How to choose the best rhubarb
When choosing rhubarb, make sure to look for firm, crisp stalks and shiny skins. Avoid stalks that are limp with blemishes and split ends. Look for small leaves, which indicate a younger plant, but don't eat them, the green leaves contain oxalic acid – which is toxic!
MORE DESSERTS
Ris A Lamande / Sticky Toffee Pudding / Chocolate Pantry Bites