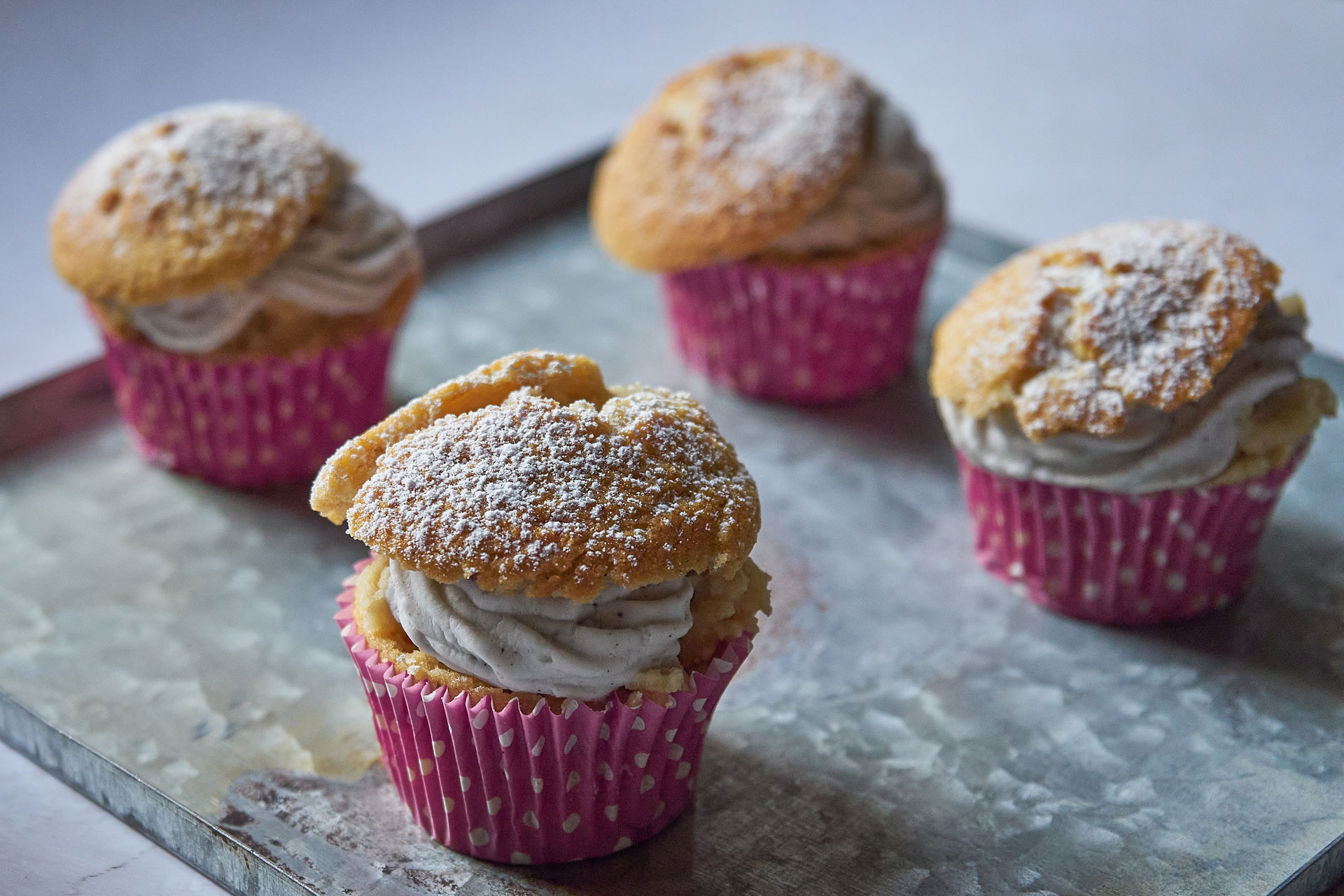 Dessert of the Week: Semla Cupcakes
A plant-based take on the traditional Swedish treat
By Bettina Campolucci Bordi | 1 year ago
Our dessert of the week is Bettina Campolucci Bordi's semla cupcakes
Growing up in Sweden, I used to love eating semla buns, a small cardamom bun filled with whipped cream and almond paste. At first, a semla was simply a bun, eaten soaked in hot milk (known as hetvägg). At some point Swedes grew tired of the strict observance of Lent, added cream and almond paste to the mix and started eating semla every Tuesday between Shrove Tuesday and Easter.
A Swedish semla, or Fat Tuesday-bun, is made from wheat and filled with cream and almond paste. It has existed in Sweden since the 16th century and was originally eaten before fasting. The tradition surrounding them remains – but you can now get your hands on semlas all year round. There is one particular tiny Swedish bakery just off Covent Garden in London that does them along with other amazing Swedish baked goods.
This recipe is a take on a semla bun, but plant-based and done as a cupcake. Some people use the lid to scoop up the cream and almond paste, some others (me) like to mix the cream and almond paste together first. There are many ways to consume these little bites of deliciousness. How will you eat yours?
Recipe: Semla Cupcakes
Makes 12
Ingredients
For the cupcakes:
100g coconut oil, melted
310ml of plant milk
200g caster sugar
1 tbsp apple cider vinegar
220g plain flour
2 tsp baking powder
½ tsp bicarbonate of soda
½ tsp salt
½ tsp cardamom
1¼ tsp vanilla paste or powder
For the almond filling:
160g blanched almonds
2 tbsp brown sugar
100ml plant milk
For the cream filling:
400ml plant whipping cream
1 tbsp icing sugar
½ tsp vanilla paste or powder
Method
Preheat the oven to 170ºC.
Mix the melted coconut oil, sugar and plant milk together in a bowl until the sugar is dissolved, mix for a few minutes. Then stir in the apple cider vinegar.
Now add the flour, baking powder, bicarb of soda, cardamom, vanilla and salt, and whisk to combine into a smooth texture.
Using a large ice cream scoop, divide the mixture into 12 cupcake holders and place into the oven for 25 minutes.
Meanwhile, make the fillings.  For the almond filling, add the ingredients to a blender and blitz until combined into a paste-like consistency.
For the cream filling, whip the ingredients together in a bowl, put them into a piping bag and set aside in the fridge.
Once the muffins are ready, remove from the oven and allow to cool.
When cooled, slice off the top of the muffin, leaving the base in the paper cupcake holder, spoon 1 tsp almond filling onto the base, then pipe 1-2 tsp of cream filling on top, and place the muffin lid on top of this, and enjoy!
MORE RECIPES:
Upside Down Rhubarb Cake / Sticky Toffee Pudding