Looking for Indian recipes to cook at home? Kricket founder Will Bowlby shares his recipe for Hyderabad baby aubergine.
This is a dish common to Hyderabad. It has a lovely creamy texture with a spicy, slightly nutty taste. I love to serve this with a sprinkling of fried onions as pictured, but you can also top it with freshly grated coconut.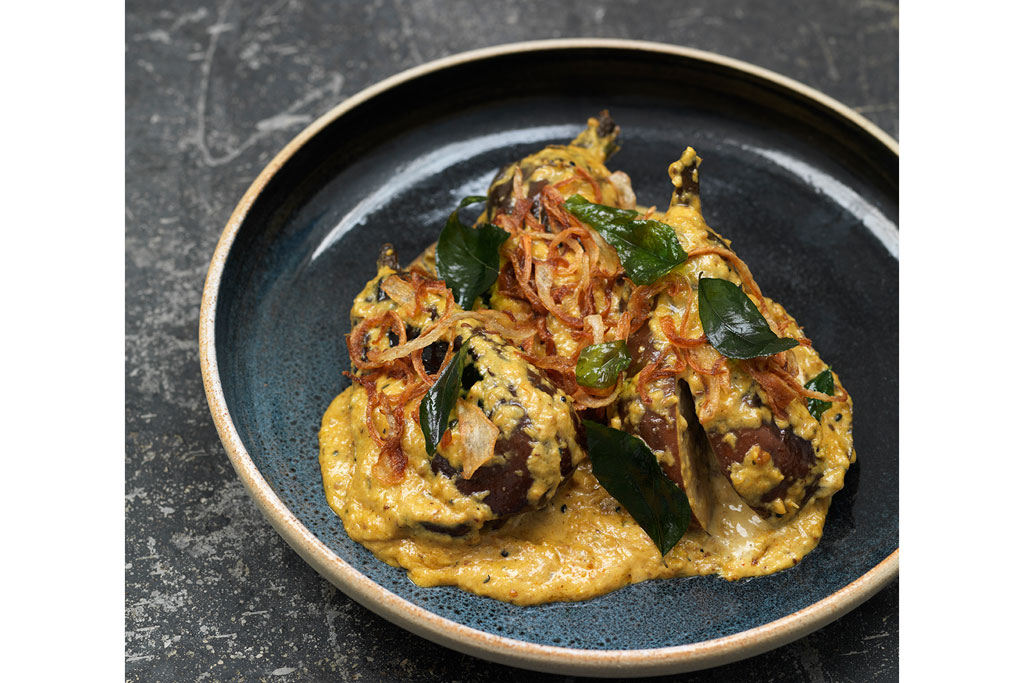 Ingredients
Serves 4
8 baby aubergines (eggplants)
Sea salt, to taste
A sprinkle of fried onions, to garnish
A few fried curry leaves, to garnish
FOR THE MASALA
2 tablespoons vegetable oil
100 g (31/2 oz/generous 1 cup) desiccated coconut
50 g (2 oz/1/3 cup) unsalted peanuts
40 g (11/2 oz/1/4 cup) white sesame seeds
4 teaspoons coriander seeds
4 teaspoons cumin seeds
2 green chillies
1 small bunch of fresh coriander
1 teaspoon black mustard seeds
80g (3 oz) packet of fresh curry leaves
2 brown onions, finely chopped
2 tablespoons Ginger & Garlic Paste
1 teaspoon ground turmeric
1 tablespoon Kashmiri red chilli powder
500 ml (17 fl oz/2 cups) coconut milk
Sea salt, to taste
100 ml (31/2 fl oz/scant ½ cup) Tamarind & Date
Chutney
Method
Prepare the aubergines by making a deep cross with a knife at the base of each one. Soak them in heavily salted water for 30 minutes, then drain. The salt water will extract any excess water within the aubergine.
Heat 1 tablespoon of the oil in a large frying pan (skillet) and fry the aubergines for about 5 minutes until just cooked. Drain and set aside to be added to the masala later.
Wipe the oil residue from the pan and dry-toast the desiccated coconut, peanuts, sesame, coriander and cumin seeds for 30 seconds or so until fragrant. Leave to cool, then blitz in a food processor with the green chillies, fresh coriander and a little water, if necessary, to form a paste.
Heat the remaining oil in the same pan, over a medium heat, add the mustard seeds and curry leaves and fry for 30 seconds or so until they start so splutter, then add the onions and cook for 10 minutes until translucent. Add the ginger and garlic paste, turmeric and chilli powder, followed by the coconut milk. Bring to the boil, then turn down to a simmer, cover and cook for around 20 minutes until everything is soft and well blended. Season to taste with salt and the tamarind chutney.
Add the aubergines to the sauce and cook for a further 10 minutes. Just before serving, garnish with the fried onions and a few fried curry leaves.
MORE RECIPES:
Vegan Curry Recipes / Thomasina Miers' Californian Cornbread
---