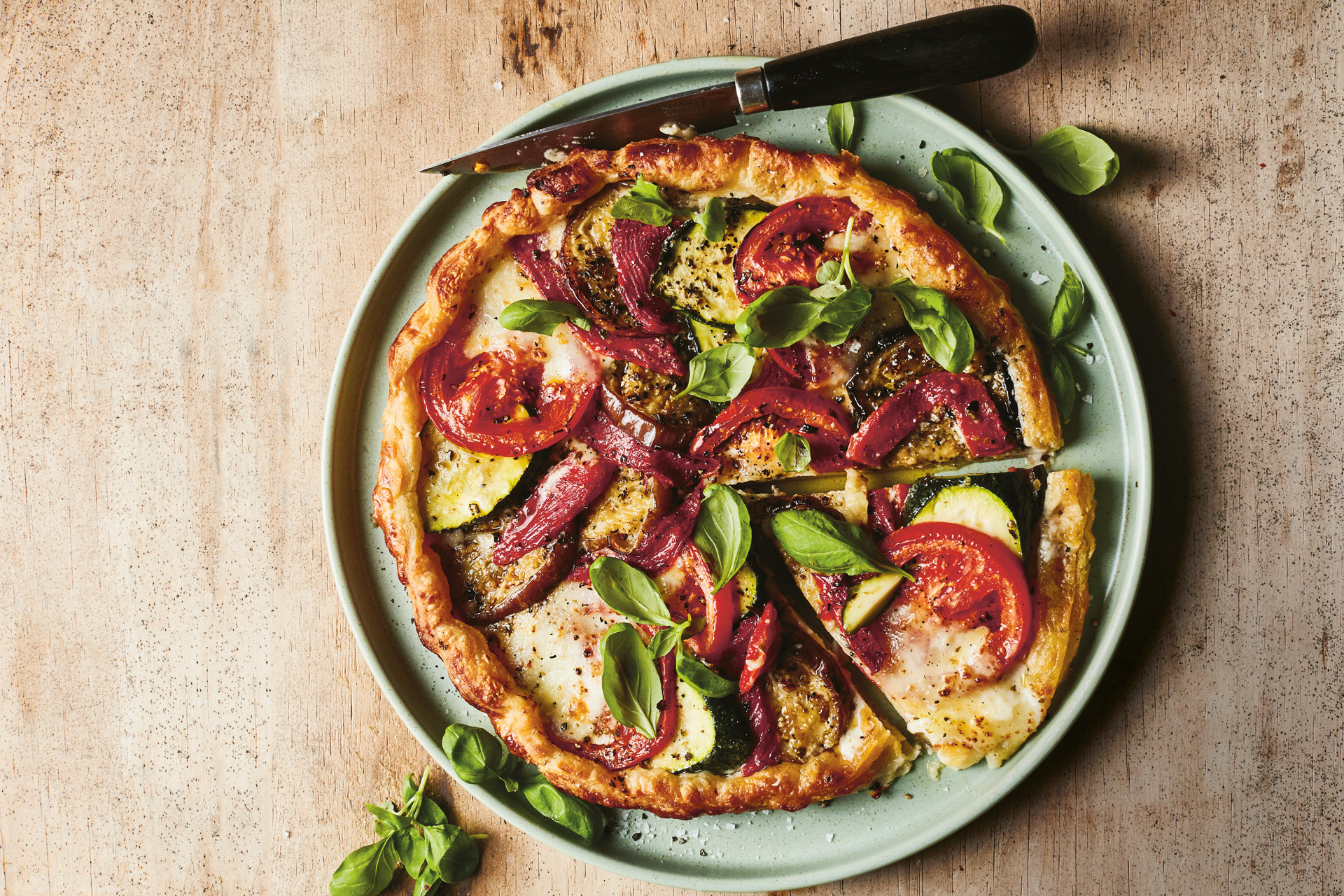 Recipe: Kathy Kordalis's Ratatouille Tart with Mascarpone, Mozzarella & Basil
A Mediterranean-inspired tart to make this summer
Raised in Australia by Greek parents, Kathy Kordalis brings a light touch to her Med-inspired dishes. Here we share one of the recipes from her cookbook Mediterranean Summer Table: a ratatouille tart with mascarpone, mozzarella and basil, plus an interview with Kathy.
Recipe: Kathy Kordalis's Ratatouille Tart with Mascarpone, Mozzarella & Basil 
Ingredients:
2 courgettes, cut into 5mm slices

1 aubergine, cut into 5mm slices

3 tablespoons olive oil, plus extra for drizzling

3 large tomatoes (a mixture of different colours looks nice), cut into 5mm slices

320g sheet of ready-rolled puff pastry

4 tablespoons mascarpone

2 mozzarella balls, sliced

1 egg, beaten to glaze

Fresh basil leaves, to garnish

100g roasted red (bell) peppers from a jar, sliced

Sea salt and black pepper  
Method:
Preheat the oven to 220°C fan/240°C. Lay the courgette and aubergine slices out on a couple of large baking sheets and brush them on both sides with two tbsps of the olive oil. Season, roast in the preheated oven for ten mins until starting to soften, then leave to cool for ten mins. Meanwhile, pat the tomato slices dry and leave to drain on paper towels. 

Put a large baking sheet on the top shelf of the oven to heat up. Unroll the puff pastry sheet on a floured work surface and roll out further in one direction to make a square about 3mm thick, then trim off the corners to make a 30cm round disc. Transfer the pastry circle to a large piece of non-stick baking paper so that it's easier to move once it's assembled. 

Spread the mascarpone over the centre of the pastry, leaving a 5cm border round the edge. Season with salt and pepper. Layer up slices of courgette, aubergine, tomato, red peppers and mozzarella and arrange on top of the mascarpone in a spiral or concentric circles. Drizzle with another tbsp of oil and fold in the sides to overlap the filling slightly, making a 3-4cm wide crust. Brush the crust with egg, sprinkle with salt and slide the tart, on its paper, onto the hot baking skeet in the oven. 

Bake for 20-25 mins until the pastry is puffed and golden, and the vegetables have softened. Leave to rest for at least 20 mins. Serve warm or at room temp, scattered with basil and drizzled with oil.
Q&A with Kathy Kordalis
What's your food philosophy? 
It is Mediterranean-based – all the foods I grew up with in my Greek family, with an Australian sensibility: light, relaxed, approachable and easy. 
First dish you learnt to cook? 
Spanakopita with homemade filo. It was my grandmother's treat for us on a weekly basis, and as young children we all played with the dough and rolled out our mini versions. 
Favourite in-season ingredient? 
There are so many fabulous ingredients available in May and June, it's when the sun is out after a long winter and the end of spring. For me, it's the time of salads, with charred asparagus, new potatoes, green leaves and a simple vinaigrette. 
Biggest food mistake? 
For an early date with my now-husband, I decided to treat him to a nice home-cooked meal: a salt-crusted roast chicken that was so salty it was completely inedible, followed by a pink blancmange that looked like something the cat brought up. Even though the food was a disaster, we had a good laugh and it's a happy memory to this day! 
Most memorable meal out? 
I had a wonderful afternoon-long lunch at The Ledbury, pre-lockdown, so it seems a lifetime ago. It epitomised everything that fine-dining should be: a fantastic culinary experience complemented by a welcoming, relaxed environment and top-notch service. I haven't been back since it reopened, I really hope that the old magic has not been lost. 
When you're not in the kitchen, where are you? 
Exploring London by foot. People watching, discovering new food haunts, little markets, greengrocers and new friends. 
Do you have any unique cooking rituals? 
Ultra-strong coffee. I love to add it to a stew or a chilli – just a drizzle for depth of flavour. 
What's in your fridge? 
Feta, olives, chorizo and batch roasted vegetables. This combination itself makes a lovely meal, but you can add these to almost any type of salad, or with soup as a side… the list is endless. 
Dream dinner date? 
I still dream of my husband surprising me with a lovely meal one day. Even a baked potato would be nice, sometimes! 
What is one piece of sustainable food advice you'd give to our readers? 
Buy fresh and local produce – especially honey, where foreign sourced blends are all-to-often adulterated with sugar syrup.
Mediterranean Summer Table by Kathy Kordalis (Ryland, Peters & Small Ltd, £20) is out now