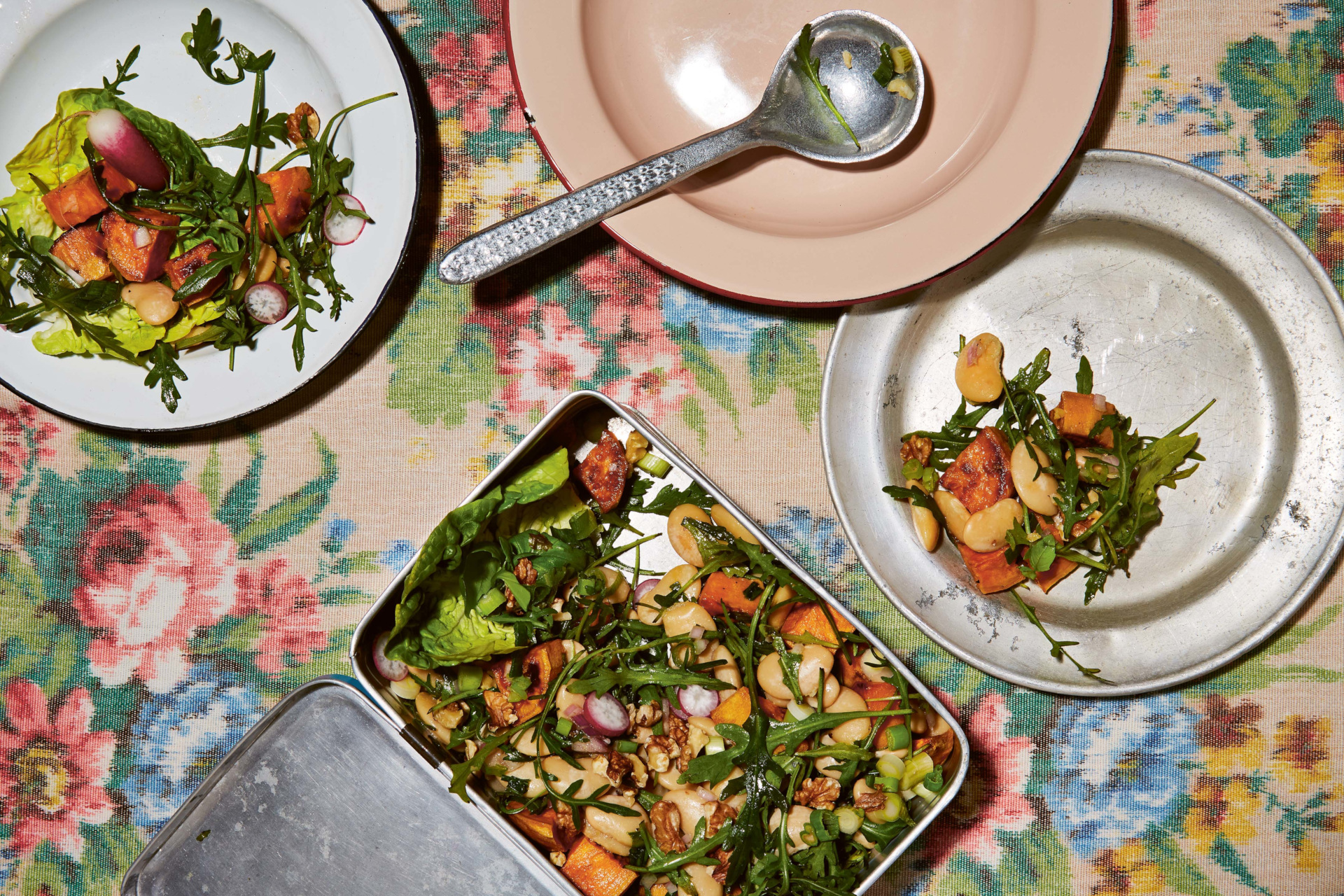 Recipe: Roasted Sweet Potato and Butter Bean Salad
This feel-good dish is perfect for those embarking on Veganuary
By Bettina Campolucci Bordi | 1 year ago
Bettina Campolucci Bordi shares her recipe for roasted sweet potato and butter bean salad from her latest cookbook, Celebrate: Plant Based Recipes for Every Occasion.
Recipe: Roasted Sweet Potato and Butter Bean Salad
A moveable feast that ticks all the boxes: protein, carbs, greens, flavour and comfort. It's a dish that's feel-good for both you and the planet.
Serves 6
Ingredients
For the base:
2 medium sweet potatoes, peeled and cut into medium-size chunks
2 tablespoons olive oil
pinch of salt
480 g (1 lb 1 oz) tinned or jarred
butter (lima) beans, drained and rinsed
1 shallot, sliced
2 handfuls of salad greens, such as rocket (arugula) and watercress 30 g (1 oz) parsley leaves, chopped 30 g (1 oz) basil leaves, chopped
For the dressing:
2 tablespoons olive oil
2 tablespoons apple cider vinegar 1 tablespoon maple syrup or honey 1 teaspoon miso paste
1 teaspoon Dijon mustard
2–3 pinches of salt and pepper
To serve:
A handful of toasted walnuts
Method
Preheat the oven to 200°C (400°F/gas 6). Line a medium baking tray (pan) with baking parchment.
Spread the chunks of sweet potato over the base of the baking tray, drizzle with the olive oil and season with salt. Roast in the oven for 30 minutes, then turn the potato over and return to the oven for a further 30 minutes, or until crisp and golden. Set aside to cool.
Mix all the ingredients for the dressing together in a large bowl, then add the butter beans, shallot and roasted sweet potatoes.
Chop the salad greens and add to the bowl along with the parsley and basil.
Just before serving, mix well and serve with toasted walnuts sprinkled over the top.
COOK'S TIP
If you are making the salad in advance, don't mix the ingredients in the big bowl until the last minute. This way, the greens won't spoil and will be freshly dressed. If you are making the salad for a picnic, layer the ingredients in a large, lidded container instead of a bowl, and shake upside down before serving.
MORE RECIPES
Chocolate, Orange and Amaretto Mousse / Spiced Pumpkin Pie