This gluten-free, vegan and sugar-free colourful abundance bowl will be sure to tickle your taste buds and jazz up your health game this summer. Recipe from Pollen + Grace…
The Ultimate Abundance Bowl Recipe
Serves 4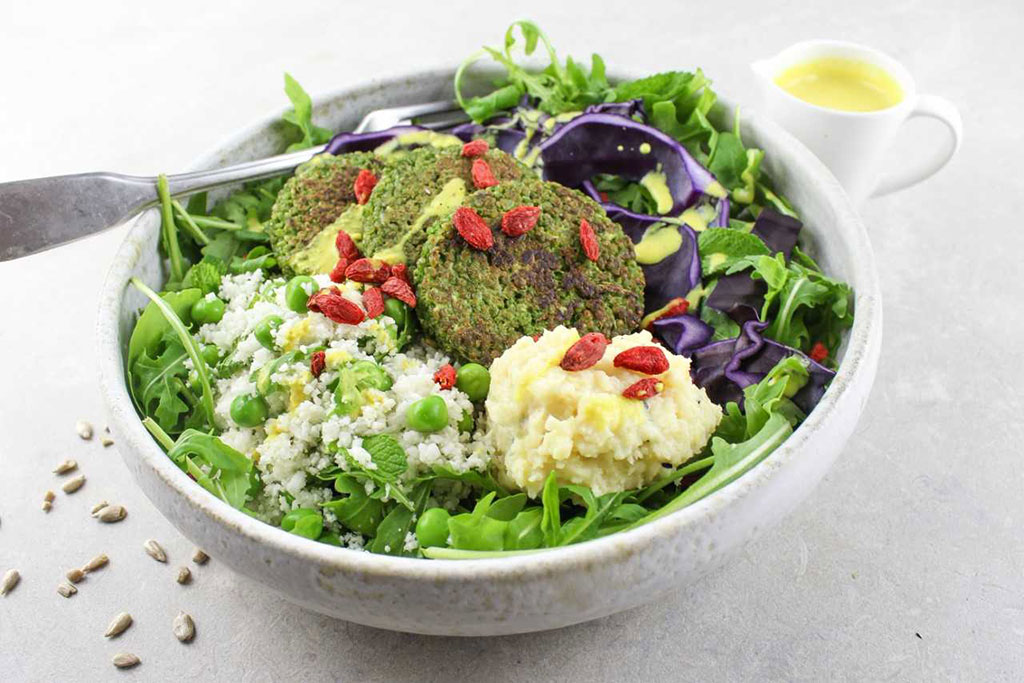 Ingredients:
For the spinach and quinoa cakes
85g raw white quinoa
70g fresh spinach, chopped
200g chickpeas
1/4 tsp Himalayan salt
A pinch of cayenne pepper
Either 1/2 clove of fresh garlic or 1/4 tsp garlic powder
1 bunch (about 6 individual) spring onions, chopped
A handful of Nigella seeds for garnish
For the lemon hummus
500g chickpeas, cooked
2 cloves garlic
40g tahini
80ml olive oil
Juice and zest of 2 large lemons
1 tsp Himalayan salt
For the turmeric dressing
1 tsp honey
1 tsp salt
40ml filtered water
40ml coconut milk
20g tahini
20ml olive oil
1 tsp turmeric
20ml apple cider vinegar
For the salad
½ Cauliflower, raw
1 cup petit pois
zest of 1 lemon
1 handful mint leaves
2 generous handfuls rocket
½ red cabbage, shredded
Handful of goji berries
Method:
For the spinach and quinoa cakes
Place the quinoa in a pot with 150ml water. Place on the hob, on a medium heat and cook until the water has completely evaporated. Take the pot off the heat and put the lid on for 5 minutes – this helps the quinoa to become light and fluffy. Leave the cooked quinoa to cool. Meanwhile, add the spinach and spring onions to a food processor and blitz until it forms a rough paste. Add the chickpeas and blitz again. Add all the remaining ingredients, except for the quinoa, and blitz again. Transfer the mix into a large bowl and mix in the quinoa. Place a non-stick frying pan on a medium heat, and add 1tsp rapeseed oil. Spoon 1 tablespoon of mix into the pan at a time and press down to form a cake shape. Fry for 4 minutes before flipping and cooking for another 2 – 3 minutes.
For the lemon hummus
Weigh out all other ingredients and put into the food processor or blender. Blitz the mix well until it is completely smooth.
For the turmeric dressing
Mix all ingredients together until well combined. Use a blender if available, but it will also work by hand.
For the salad 
Blitz the cauliflower in a food processor until it resembles a couscous consistency. In a bowl combine the cauliflower, petit pois, lemon zest, mint leaves, rocket and red cabbage.
To Serve:
Per person
1 large spoonful of the salad mix
1 heaped spoonful of lemon hummus
3 spinach + quinoa cakes
Top with turmeric dressing
There are countless benefits to eating a more plant-based diet. Pollen + Grace vegan products are available from Ocado, Whole Foods Market, Planet Organic and As Nature Intended – including the Abundance Bowl if you'd rather leave the prep to the experts. pollenandgrace.com
READ MORE:
Recipe: The Hangover Sandwich / Recipe: Gordon Ramsay's Borlotti Bean Minestrone / Recipe: The Dorchester's Chestnut and Cherry Yule Log / Recipe: Killian Crowley's Turbot, Kohlrabi, and Sea Purslane
---