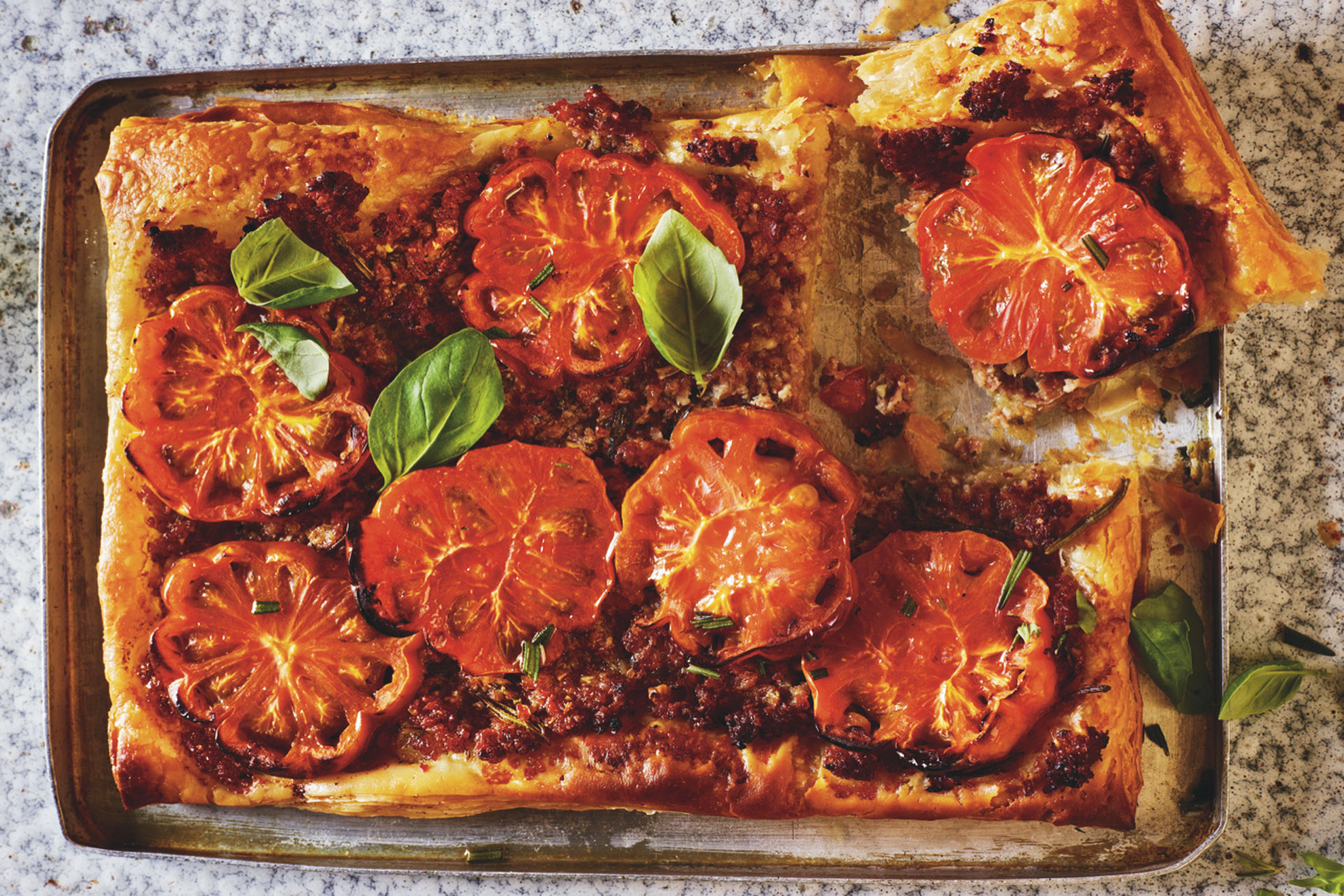 3 Recipes from Le Rouzet: An English Cook in France
The story behind Cathy Gayner's new cookbook
Wondering what to cook for your next garden gathering? New book Recipes from Le Rouzet: An English Cook in France by Cathy Gayner is filled with 125 recipes that evoke memories of lazy summer days with friends. Not only is it a beautiful book, all proceeds go towards Age Unlimited, a charity dedicated to supporting vulnerable people. Here Fiona Duncan, a trustee of Age Unlimited, gives us some background and shares a few of her favourite recipes from the book.
I may be a hotel critic by trade (the 2021 edition of our Great British Hotels Guide, which I edit, will be out with the September issue of the magazine, and online) and I may be bursting for hotels to reopen, but in truth my happiest times away have been spent, not in hotels, but with good friends lucky enough to have homes across the Channel, whether in France, Italy or Spain. One such is Le Rouzet, the French home of Richard and Cathy Gayner, close to the village of Montcuq in the Lot.
Richard and Cathy met and fell in love some 50 years ago, when Richard was restoring the ramshackle farm buildings at Le Rouzet, and Cathy arrived as a teenager with a bunch of his friends who wanted to help out. "Back then, I couldn't cook for love nor money" she says, but as the years passed and Le Rouzet transformed into a gracious, sunny home filled with a constant stream of children and friends, she became legendary amongst her legions of happy guests for her wonderful cooking and her ability to produce a constant supply of delicious food without apparently turning a hair or even being in her kitchen very much.
In 2007 Cathy and her friend Henrietta Nettlefold founded a charity, Age Unlimited, which provides support for the disadvantaged young and the vulnerable elderly, and I became a trustee a few years later. Lockdown having put paid to our normal fundraising events, we persuaded Cathy to create a compendium of all her brilliant shortcuts and ideas for simple, delicious dishes that can be prepared in advance. The result is Recipes from Le Rouzet: An English Cook in France, with all proceeds going to Age Unlimited, much helped by the generosity of top food photographer James Murphy, who donated his work for free. Endorsed by none other than Rick Stein, Alain Roux and Thomasina Miers, Recipes from Le Rouzet seems to have struck an instant chord, with so many of us preparing to host our friends and family this summer after such a long and dismal enforced break. And if Cathy's very English attributes of charm, kindness, warmth and generosity can't be bottled in the same way that her French inspired recipes can be reproduced, they do at least shine through the book, both in the forward written by her nephew, Justin Gayner, and in her recipe introductions.
All Cathy's recipes are family favourites and can be scaled up or down to suit supper at home for two or a dinner for 26 under the stars. Here are a handful of my favourites.
Asparagus Tart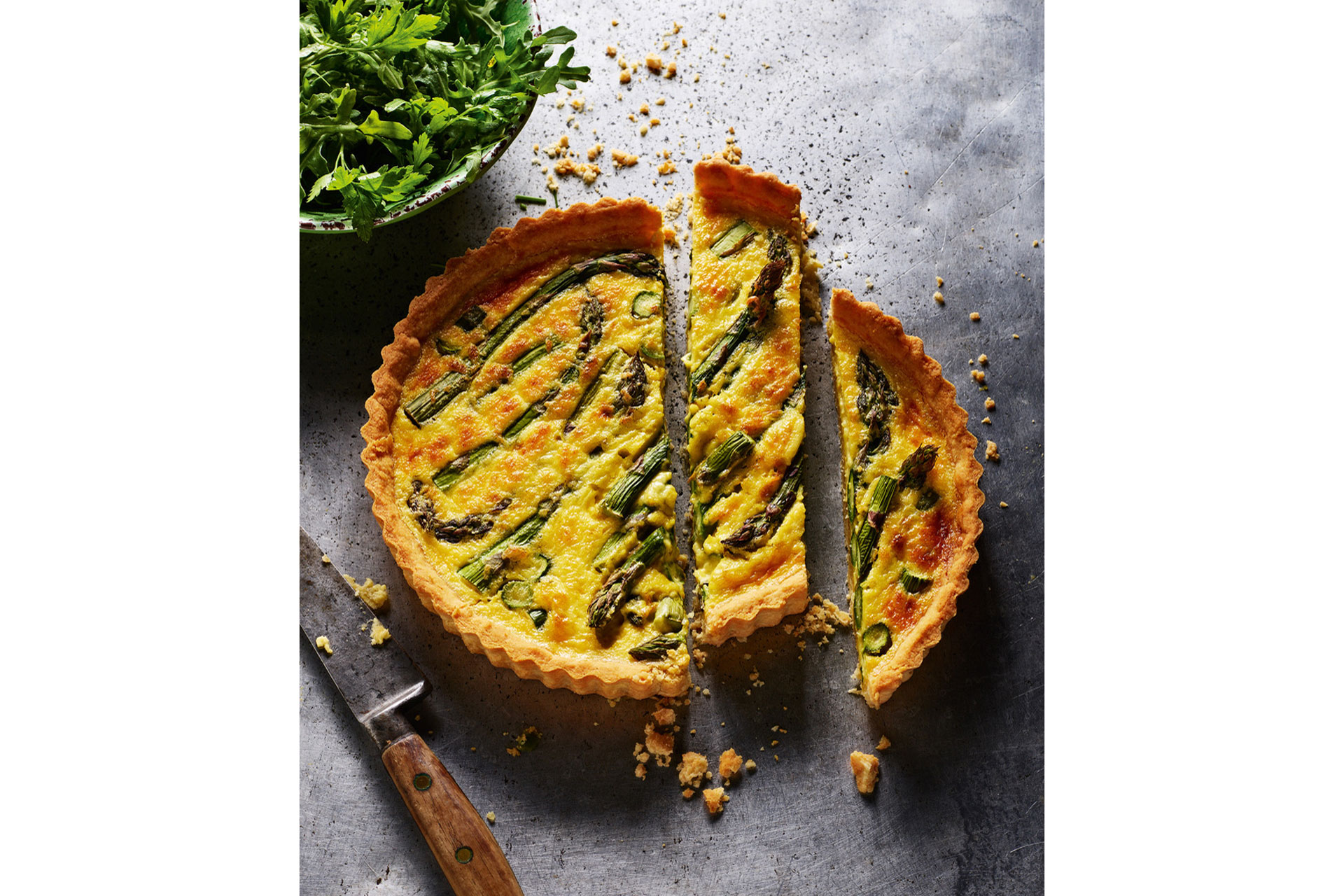 Serves 4
This is the quickest, easiest tart ever; you don't even have to pre-cook the asparagus.
Ingredients:
Cheese pastry
110g unsalted butter
140g plain flour
30g strong Cheddar or Parmesan, grated
Filling
1 bunch of asparagus, with the woody stems cut off
100g Parmesan, grated
200ml double cream
2 whole eggs, plus 2 extra yolks
Salt and pepper
Method:
Put all the ingredients for the pastry into a food processor and mix until the dough forms a ball. Press the dough into a 20cm tart tin with a removable base. Prick really thoroughly all over, even up the sides (this will prevent shrinkage), then chill in the fridge.
Cook the pastry in an oven preheated to 200°C/180°C Fan/Gas 6 for 15 minutes or until pale gold in colour.
Mix the cream, eggs and cheese in a bowl and season well.
Arrange the uncooked asparagus in the tart tin. I do it in a wheel shape, cutting the tops off so that the stems fit, and then sprinkling the tops amongst the 'spokes', but you can place the asparagus in rows if you prefer.
Pour over the cream mixture and bake the tart at 180°C/160°C Fan/Gas 4 for about 40 minutes.
Baked Chocolate Mousse
Serves 6
Our elder son John and his wife Tessa chose this pudding, a delicious and easy recipe I have been making at Le Rouzet for years, for their wedding dinner. I always used to serve it with crème fraîche but they vastly improved it by serving it with Honeycomb Ice Cream (see page 156). The two together make a wonderful combination.
Ingredients:
150g butter, plus extra for greasing
150g caster sugar
3 large eggs, separated
150g dark chocolate (70%)
icing sugar, to serve
Method:
Grease a 20cm loose-bottomed cake tin.
Beat 150g of the butter and sugar till pale. Beat in the egg yolks.
Melt the chocolate in a bowl placed over a pan of simmering water. When the chocolate has cooled slightly, add it to the butter mixture.
Beat the egg whites until they are stiff and fold them gently into the chocolate mixture.
Pour the mixture into the cake tin and bake for an hour at 170°C/150°C Fan/C3. Leave it to cool in the tin on a rack and when ready to serve, turn it out and dust it with icing sugar.
Tomato & Proscuitto Tart
Serves 6
The starting point for this recipe was one by Tamasin Day-Lewis but my version – if it's possible – was even simpler. To me, it has every advantage: it's quick to make, redolent of summer, and the kitchen smells wonderfully while it cooks. And everyone of every age seems to love eating it.
Ingredients:
500g block of all-butter puff pastry (don't use ready rolled as it's not strong enough for this recipe)
10 slices jambon de Bayonne or Serrano ham (it's not worth using expensive Parma ham for this)
2 garlic cloves
1 tbsp chopped rosemary leaves
100ml olive oil
4 large tomatoes, sliced
a handful of basil leaves, torn
Pepper
Method:
Roll the pastry out to about 30 x 18cm and put it on a baking tray lined with baking parchment.
Whizz up the ham, garlic, rosemary and some pepper with 50ml of olive oil until you have a rough paste.
Spread this mixture evenly over the pastry, leaving a margin of about 2cm all round. Then arrange the tomatoes on top, drizzle over the remaining oil and bake for 30 minutes at 200°C/180°C Fan/Gas 6.
Scatter over the torn basil leaves and then serve.
Recipes from Le Rouzet: An English Cook in France by Cathy Gayner (Age Unlimited £16.99, available from cathygayner.com and Amazon)
READ MORE:
Vegetable of the Week: Asparagus / Spring Cocktail Recipes