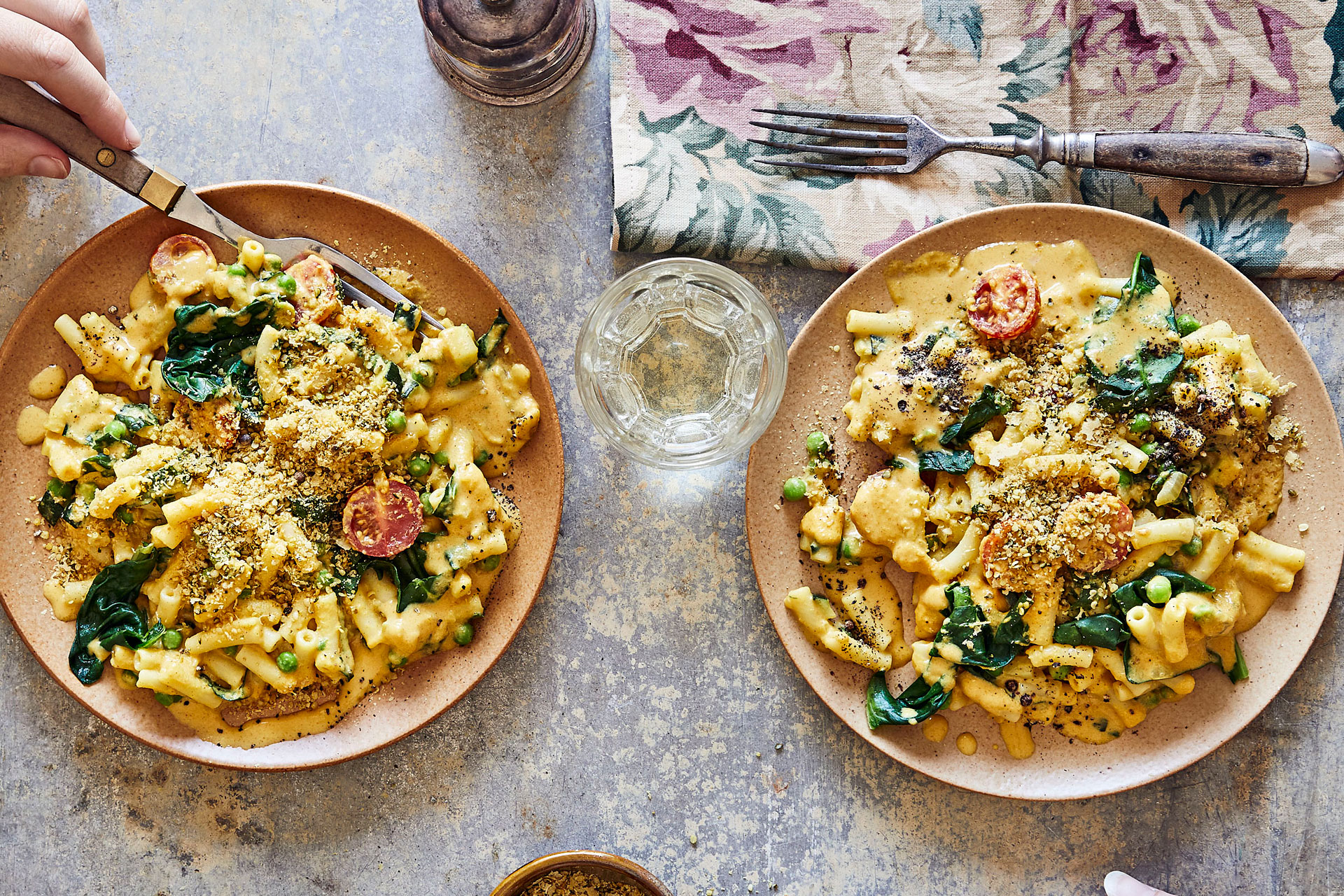 Recipe: Amy Lanza's Butternut Squash Mac 'n' Cheese
---
A plant-based alternative for a comforting classic
How to make Amy's butternut squash mac 'n' cheese, taken from the exciting charity cookbook From Beder's Kitchen, that is softly raising awareness around mental health.
Recipe: Butternut Squash Mac 'n' Cheese
A warming, comforting bowl of the classic with a plant-based and healthier twist. The sauce is thick, creamy and flavoursome with added vegetables; a great meal to show off how vibrant, wholesome and delicious vegan food can be.
Serves 2 
Ingredients 
For the sauce
½ a butternut squash (200-250g flesh)
4 tbsp plant-based milk
2 tbsp tahini or olive oil
2 tbsp nutritional yeast
½ tsp each of smoked paprika, ground turmeric and Dijon mustard
For the pasta
Olive oil
½ a white onion, finely diced
1 small courgette, finely diced
2 cloves of garlic, crushed
1 tbsp tamari
180g pasta of your choice
160g frozen peas
1 handful of spinach, chopped
10 cherry tomatoes, halved
For the 'cheesy' topping
1 tbsp shelled hemp seeds
1 tbsp nutritional yeast
¼ tsp turmeric
Method
For the sauce
Preheat the oven to 180°c fan and line a tray with baking parchment.
Place the butternut squash cut side up on the tray and drizzle with a bit of olive oil. Roast in the oven for 40 to 50 minutes or until tender and starting to brown at the sides. Remove from the oven and allow to cool.
Scoop out and discard the seeds, then scoop out the flesh and place it in a food processor with the remaining ingredients. Blend until smooth, scraping down the sides as necessary and seasoning to taste.
You may need to add a splash more milk to make a runnier sauce. This can be made up to 2 days in advance when kept cool in an airtight container in the fridge.
For the pasta
Heat a good drizzle of olive oil in a saucepan and fry the onion for 10 minutes until caramelising and translucent. Now add the courgette and garlic and continue to fry for 5 to 7 minutes until cooked through, adding the tamari for the last minute.
Meanwhile, cook the pasta according to the packet instructions, adding the peas for the final 5 minutes. Drain, reserving some of the cooking water, and leave to one side.
For the 'cheesy' topping
Make the topping by mixing all the ingredients together in a bowl. Season to taste.
Return the cooked pasta to the saucepan then add the onion and courgette mixture, chopped spinach, tomatoes, butternut sauce and four tablespoons of the cooking water. Stir the pasta over a low heat until creamy and well coated in sauce, adding more cooking water if required.
To serve
Divide the pasta between two bowls and sprinkle over the 'cheesy' hemp topping.
MORE RECIPES:
Naomi Buff's Raw Chocolate Cheesecake / Parmesan, Oregano and Onion Baked Pumpkin