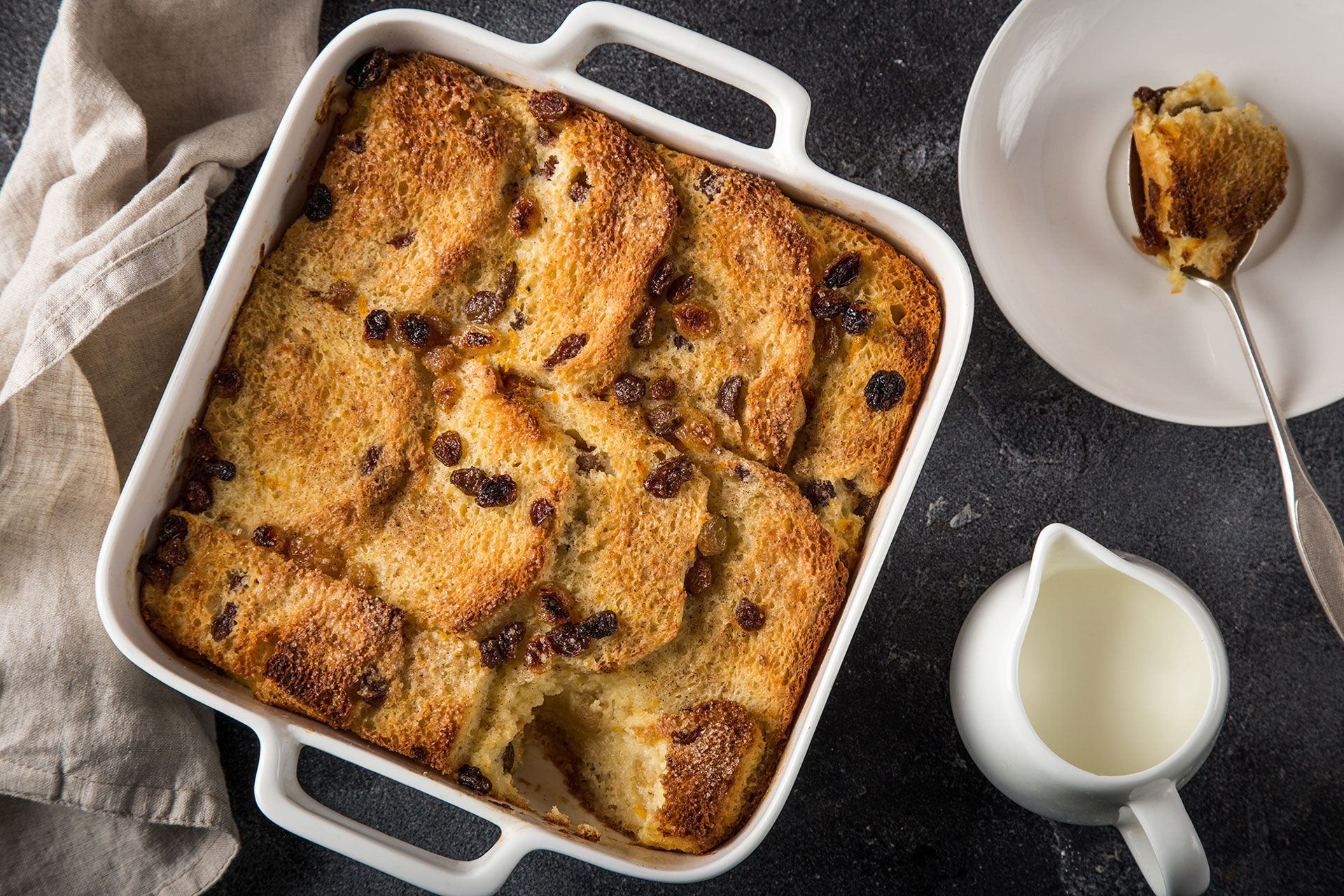 St Patrick's Day Recipe: Ashford Castle's Bread and Butter Pudding
---
Best enjoyed with a pint of Guinness
Wondering how to celebrate St Patrick's Day at home this year? Try your hand at this bread and butter pudding recipe from Philippe Farineau, executive chef at Ashford Castle in Ireland.
Recipe: Ashford Castle's Bread and Butter Pudding
Ingredients
500ml cream
1 vanilla pod or 1 tsp of vanilla extract
3 whole eggs
3 egg yolks
3 tbsp of golden sugar
500g of 2-day old brioche
75g butter
75g peanut butter
3 bananas (sliced)
75g currants
1 measure of Baileys Irish Cream
Zest of ½ lemon
2x tbsp of demerera sugar
Method
Preheat the oven to 160°C.
Pour the Baileys over the currants to soak.
Heat the milk with vanilla and lemon to just off the boil and remove from the heat. Leave to infuse .
Slice the brioche into 1cm slices and spread the butter on one side and peanut butter on the other and set to one side.
Next, make your custard by whisking together the eggs, yolks and golden sugar and then slowly whisk in the infused milk.
Grease an oven-friendly dish or four ramekins with some butter.
Press a slice of bread firmly into the bottom of the dish or ramekin and arrange the bananas on top of the bread, followed by a sprinkling of Baileys, currants and a ladle of custard.
Repeat step seven until the bowl is almost full.
Sprinkle with demerara sugar and cook in a bain-marie for 20 minutes.
Serve with generous lashings of vanilla ice cream or lemon curd.
TOP TIP: Treat yourself to a chilled glass of Baileys Irish Cream on the rocks to wash it down – St. Paddy's Day style!