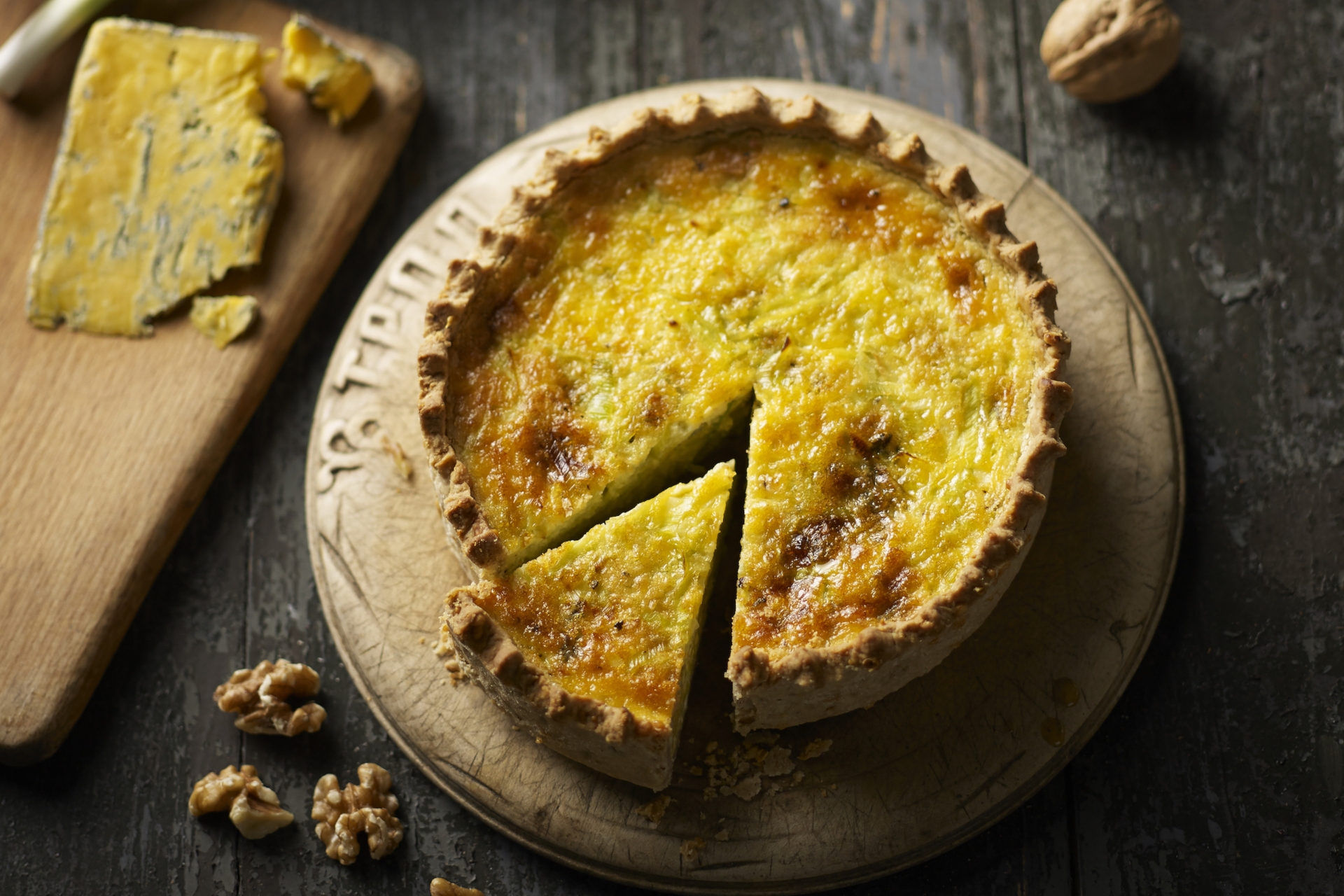 Betty's Leek & Harrogate Blue Cheese Tart
---
The perfect addition to your summer picnic
Hailing from Harrogate, Yorkshire, Betty's is known as the purveyor of fine baked goods. Right in time for picnic season, the café shares its leek and cheese tart recipe. Expect a flavourful creamy filling thanks to the blue cheese, leeks to cut through the richness, and that's all housed within a walnut short crust pastry. Just add a side salad for the ideal summer lunch, and pair with a Sauternes or a classic Côtes du Rhône wine.
Recipe: Betty's Leek & Harrogate Blue Cheese Tart
Ingredients
200g plain flour
Pinch of salt
1 tsp mustard powder
100g butter
50g walnuts, finely ground
30g Parmesan cheese
2-4 tbsp cold water
2 egg yolks
Salt and white pepper
For the filling
30g butter
2 leeks, washed and finely chopped
2 eggs (medium)
100ml double cream
100g Harrogate Blue cheese
Salt and freshly ground black pepper
Special equipment
18cm pastry ring
Baking tray
Method
For the short crust pastry
Preheat the oven to 175ºC (fan assisted).
In a large bowl, mix together the flour, salt and mustard powder.
Cut the butter into small pieces and rub into the flour using your fingertips until the mixture resembles fine breadcrumbs. Stir in the ground walnuts and grated parmesan cheese.
In a small measuring jug, mix together two tablespoons of the cold water with 2 egg yolks. Pour over the ingredients in the bowl and bring together so that it comes away cleanly from the bowl to form a ball of pastry. If needed add the remaining two tablespoons of water.
Turn out on to a floured surface and bring gently together to form a smooth dough.
Wrap tightly in cling film and allow to rest in a cool place for 20-30 minutes before using.
Roll out the pastry and line the 18cm baking ring. Trim the edges of the pastry and crimp.
Line the pasty with a paper disc and fill with baking beans and bake blind in the preheated oven for 10-15 minutes. Remove the paper and beans and bake again for 8-10 minutes. Allow to cool slightly.
For the filling
Melt the butter in a saucepan, add the leeks and soften but do not colour. Place the leeks into the prepared pastry case and set to one side.
Using your fingers, break up the Harrogate Blue cheese and dot on top of the leeks.
In a small jug, whisk the eggs and cream together, season with salt and ground white pepper. Pour the egg mixture into the pastry case and bake in the oven for 15-20 minutes or until the mixture has begun to set.
By Felicity Carter
Beef Carpaccio With Heritage Beetroots, Horseradish And Crème Fraîche / Foraged Ground Elder and Nettle Soup