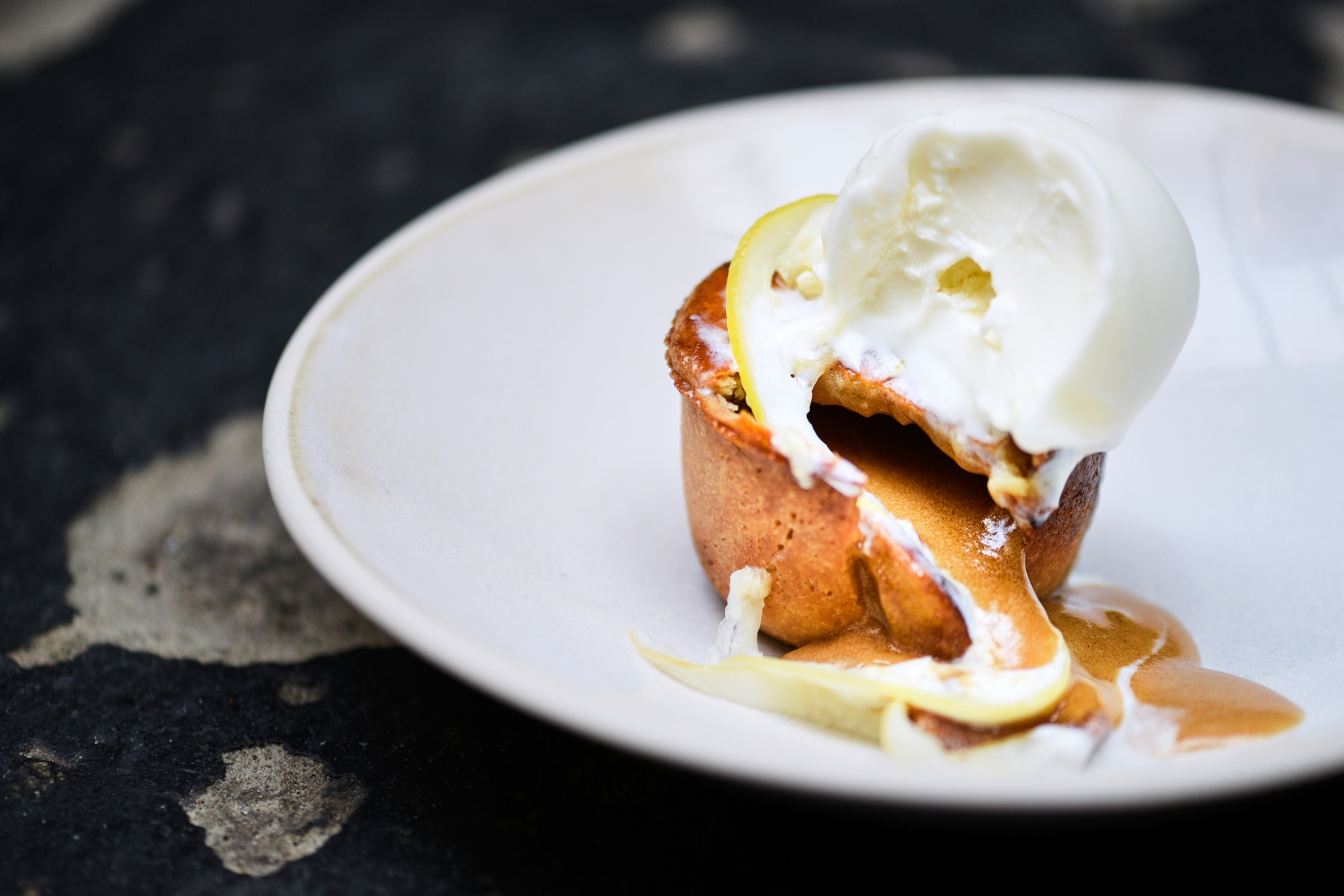 Fallow's Lemon Peel Pudding
---
It doesn't get much more decadent than Fallow's oozy lemon peel pudding
For thoroughly delicious, sustainable dining in Mayfair, Fallow restaurant is the place to visit. Its Insta-famous lemon peel pudding is one of the most popular dishes on the menu – and now you can recreate it yourself at home. Undoubtedly, this one is for decadent dessert lovers, as it features a gooey caramel centre that's housed within perfectly browned pastry, topped with thin slices of zingy lemon peel, and finished off with a spoonful of malty ice cream. It'll provide a sumptuous end to any supper. 
Recipe: Fallow's Lemon Peel Pudding
Ingredients
250g plain flour
5g baking powder
100g vegetable or beef suet
100ml warm milk
50ml egg yolk
1tsp fine sea salt
60g caster sugar
For the lemon curd
300g whole pre-juiced lemon peel (blanched 3 times)
150ml lemon juice
160g butter
240g whole eggs
40g egg yolk
220g caster sugar
For the salted caramel
207g caster sugar
56g water
120ml whipping cream
1tsp vanilla extract
1tsp fine sea salt
Method
Combine flour, baking powder and fine salt in a stand up mixer.
Gently melt the suet then add the milk and once the mixture has cooled add the egg yolks and sugar.
Gradually add the wet ingredients into the dry then combine until the mixture just comes together. Be really careful not to overwork the mix at this point.
Wrap in a clean tea towel and rest whilst you prepare the filling.
For the lemon curd
For the curd, melt the butter then combine all ingredients and blitz for 2 minutes in a food processor.
Place the mixture in a pan and gently heat whilst constantly stirring until the mixture thickens. This should take 15 minutes.
Set aside to cool at room temperature.
For the salted caramel
Now for the caramel, combine water, sugar and butter in a pan and melt.
Boil the mixture until it turns a deep caramel colour at 156 degrees.
Bring the whipping cream, vanilla extract and the salt to the boil.
Add the hot cream to the caramel in three stages and set aside to cool at room temperature.
For the filling and casing
Mix both the curd and the salted caramel mixture together in equal quantities and combine thoroughly.
To bake the pastry, grease your small dariole moulds with butter.
Cut out a circle at least double the total circumference of your mould.
Line the mould, cover with baking beans, rest in the fridge for 30 minutes.
Bake at 160 degrees for 25 minutes.
Remove the baking beans then add the filling right to the top of the mould.
Cut out a lid for the top and egg wash on both sides to ensure it sticks.
Bake the pudding immediately at 180 degrees for 10 minutes or store in the fridge.
Serve them piping hot with yoghurt or lemon sorbet to cut through the richness of the pastry and sweetness of the caramel filling.
By Felicity Carter
Recipe: Jessie Ware's Triple Threat Chocolate Brownies / Recipe: Wild By Tart's Strawberry Sorbet