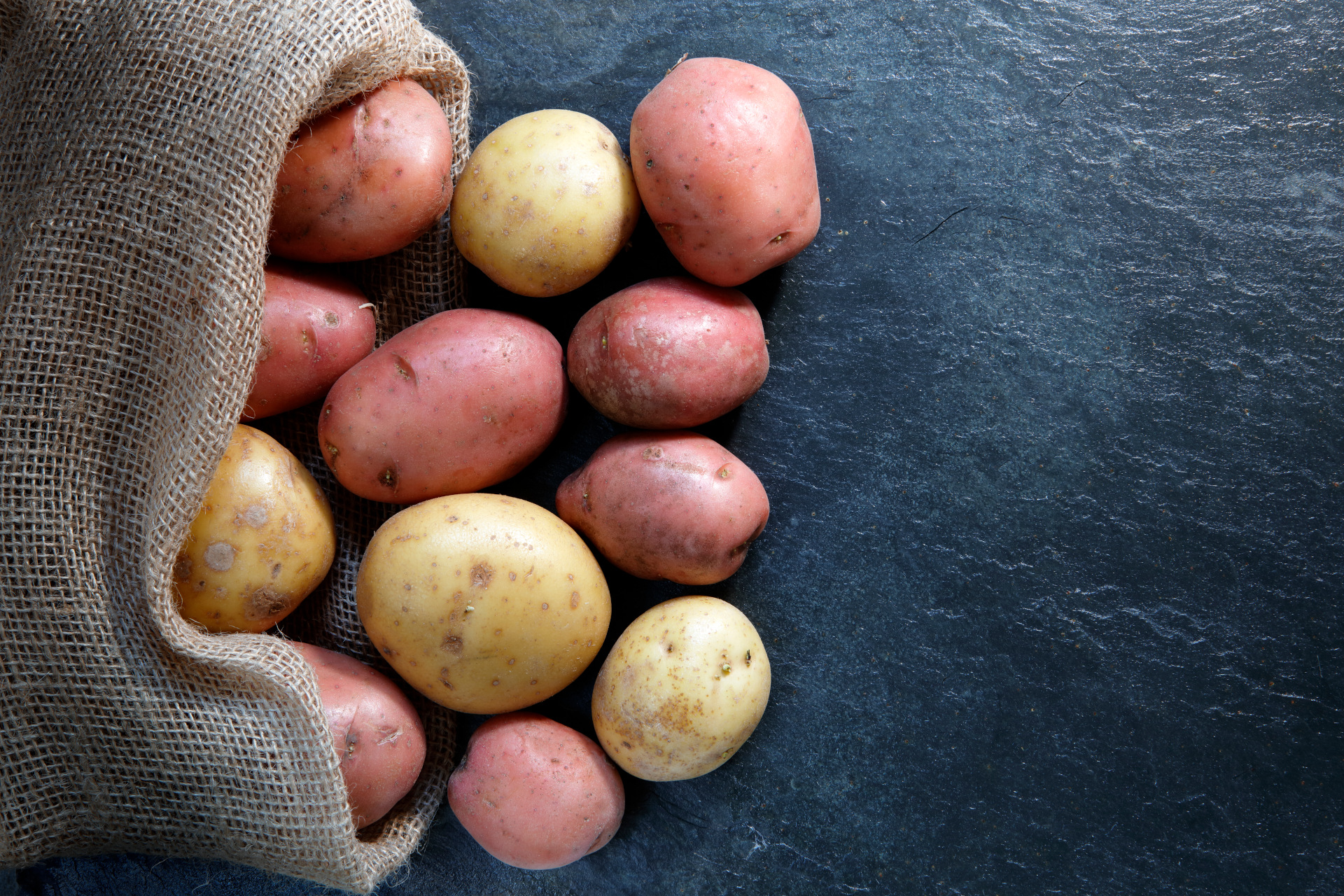 Ingredient of the Week: Potatoes
A nostalgic recipe sure to become a firm favourite
Each week plant-based cook Bettina Campolucci Bordi, founder of Bettina's Kitchen, gives us the lowdown on a particular seasonal fruit, vegetable or ingredient, offering cooking tips and a recipe. This week it's potatoes. 
Ingredient of the Week: Potatoes
Pink Fir Apple is an unusual variety and a very delicious one too. This easy to grow second early potato is extremely productive, with huge harvests of up to 40-45 – or more – evenly sized tubers from each plant.
These lovely potatoes have an unusual elongated shape, pink skins, tender creamy yellow flesh and a nutty flavour. Their waxy texture remains firm during cooking, making them both a perfect choice for potato salad, and for boiling and chipping. There is absolutely no need to peel them unless you are using them for mash. My recipe here makes them shine in all of their glory.
I have a favourite crisp flavour and that has always been sour cream and onion crisps. Perhaps it's the onion flavour and slight acidity that is so good or just the saltiness and tang! I love pink fir potatoes: they roast up beautifully. And, in another nod to my childhood, I have made this recipe for a sour cream and onion dip/topping – a healthier version of one that we used to dip crisps into.
This is a great dish to put in the middle of the table at a dinner, they are so moreish, I'd be surprised if there are any left by the end of dinner. And if there are, you can easily chop up any leftovers and add to a curry or soup.
Recipe: Sour Cream and Onion Pink Fir Potatoes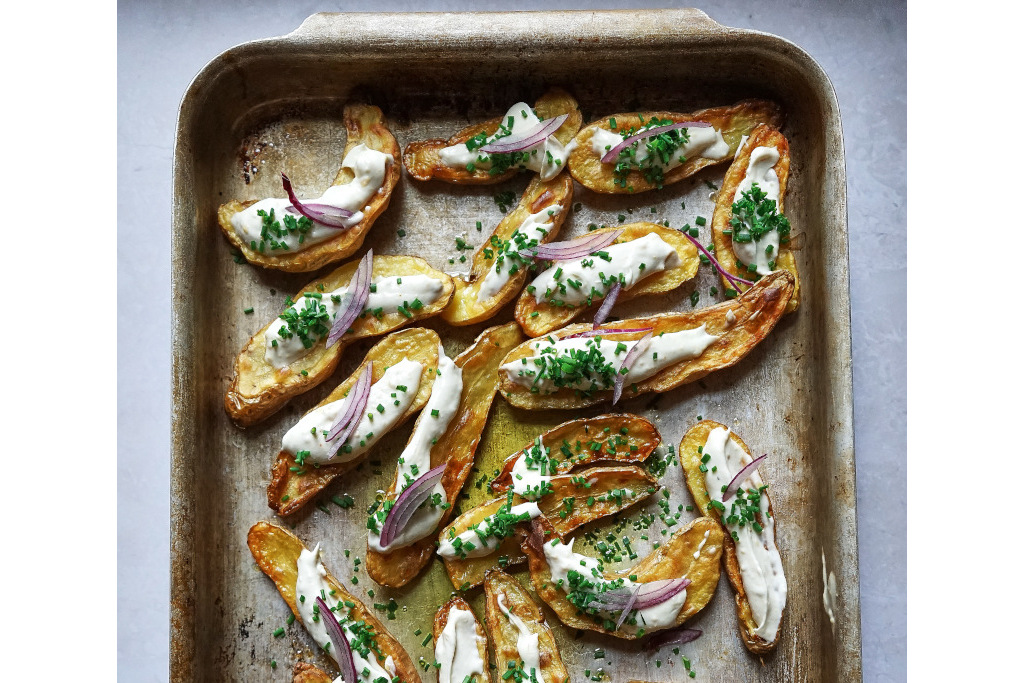 Makes 4 servings as a side
Ingredients:
650g pink fir potatoes
30ml olive oil
generous pinch of salt
For the Sour Cream and Onion:
100g oat creme fraiche
1 tsp onion powder
1 tsp nutritional yeast
pinch of salt
For the Topping:
1 tbsp chives, finely chopped
1 tbsp red onion, finely sliced in half moons
Method:
Preheat the oven to 200ºC.
Wash the potatoes well and slice them in half horizontally.
Coat the potatoes with olive oil and salt by adding to a bowl and tossing until covered.  Then spread them out on a baking tray lined with baking paper.
Put in the oven for 45 minutes until golden and crispy.
Meanwhile make the creme fraiche by mixing the oat creme fraiche, onion powder, nutritional yeast and salt.  Set aside in the fridge until the potatoes are ready.
Remove the potatoes from the oven and either transfer to a nice serving platter, or serve them in the baking tray.  Top each potato with a dollop of sour cream, then sprinkle with chives and red onion, and enjoy!
More Ingredient of the Week: