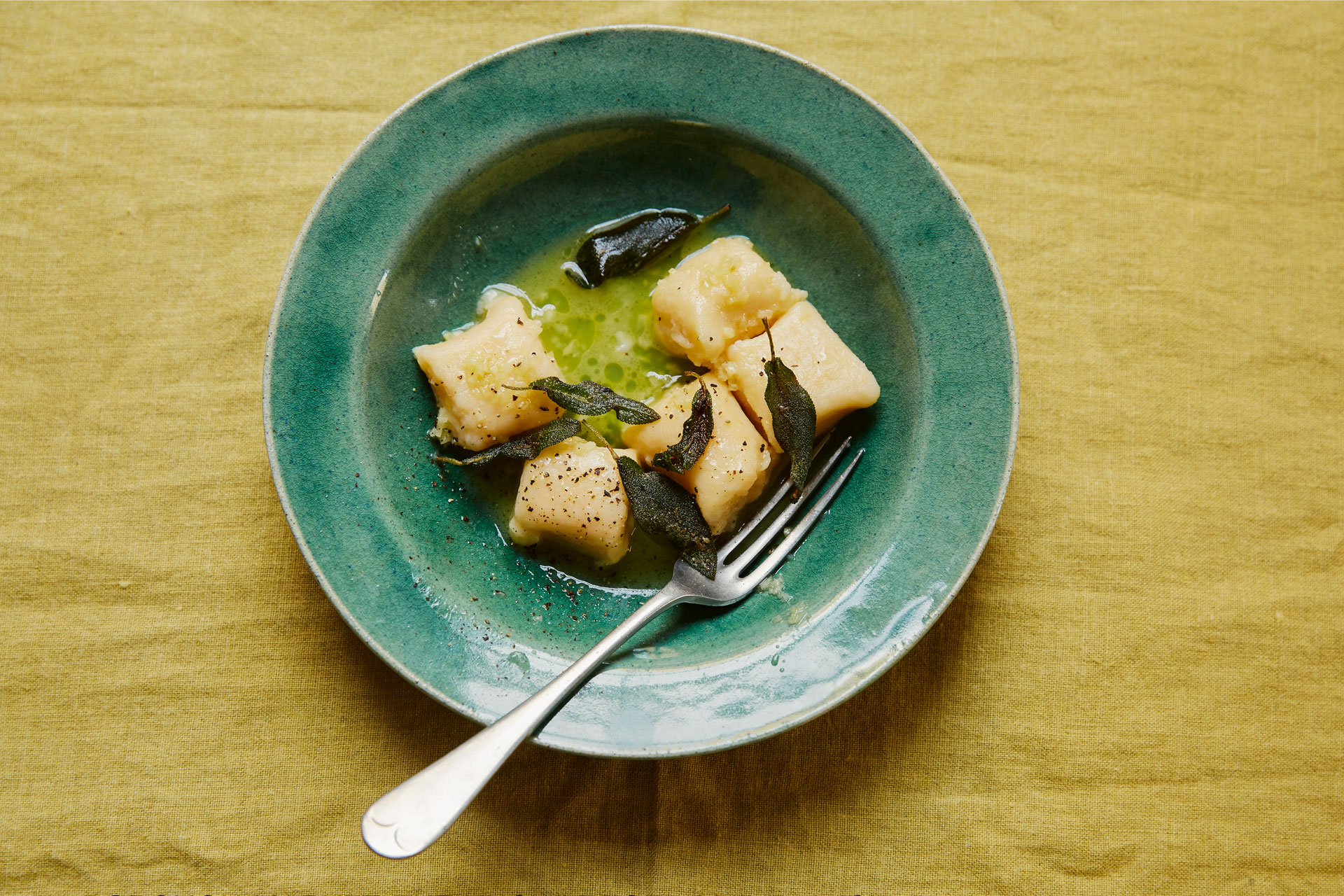 Recipe: Parsnip Gnocchi & Smoked Garlic Butter
---
A new way to enjoy parsnips
Tired of your boring vegetables? This tasty and innovative recipe will have you scurrying through your fridge drawers.
Recipe: Parsnip Gnocchi & Smoked Garlic Butter With Crisped Sage Leaves
Parsnips bring sweetness and nuttiness to these gnocchi. They are silky, somehow luxurious for all the humility of their ingredients, and just so incredibly tasty. Using smoked garlic makes all the difference. You absolutely could use unsmoked, but it will lack the depth that the smoking brings. I usually shop for extra of these burnished bulbs to make more garlic butter, which can then be wrapped to store in the fridge or freezer, and used on toast, over vegetables or meats.
Serves 2
Ingredients:
300g parsnips 

250g floury potatoes, such as King Edwards 

80–100g '00' pasta flour, plus extra for dusting 

1 egg yolk 

½ smoked garlic bulb 

75g butter, at room temperature 

16 sage leaves
Method:
Gnocci
Peel and chop the parsnips and potatoes into chunks and put in a saucepan of salted cold water. Simmer for about 20 minutes until tender. Drain, tip them back into the pan to dry for a minute, then push through a potato ricer into a large mixing bowl (the parsnip cores might be reluctant). 

Add 50g of the flour, the egg yolk and some seasoning to the riced vegetables and mix it together. Keep adding more of the flour until you achieve a smooth, non-sticky dough – you might not need all the flour. 

Knead briefly, then pull into four equal pieces. Dust a large chopping board with flour, then roll each piece of dough into a long sausage about 2cm thick. Cut each sausage into 3cm-pieces and press the tines of a fork into each piece to leave indentations. 

You can prepare the gnocchi an hour or so ahead of time, covering them with a clean tea towel until you want to cook them. 
Smoked Garlic Butter
To make the smoked garlic butter: peel and chop the garlic cloves, then use a pestle and mortar to work them into a paste with a good pinch of salt. Work in the butter too, then wrap in baking paper and set aside. 

Preheat the oven to 100C fan/120C/250F/gas mark ½. 

Bring a large saucepan of salted water to the boil. Just as the water is starting to get hot, put a small frying pan over a medium heat.

Melt a third of the smoked garlic butter in the frying pan, then sit the sage leaves in, turning them after a minute or so to crisp. Lift out and sit the leaves on kitchen paper to dry. Add the rest of the garlic butter to the frying pan but turn off the heat – you want it just to melt in the residual warmth. 

By now the water should be boiling. Place half the gnocchi into the water and – after a minute or so – you will see them start to rise to the surface. As each one reaches the surface, use a slotted spoon to lift it out and onto a tray, then keep them warm in the low oven. Repeat for the rest of the gnocchi.

Divide the gnocchi between serving bowls. Spoon over the melted smoked garlic butter, top with the crisped sage leaves and finish with plenty of ground pepper. Eat immediately. 
Borough Market: The Knowledge with Angela Clutton is out now
Featured Image: Kim Lightbody