Pour a cup of sake and enjoy Nancy Singleton Hachisu's warming shiitake and sweet potato dish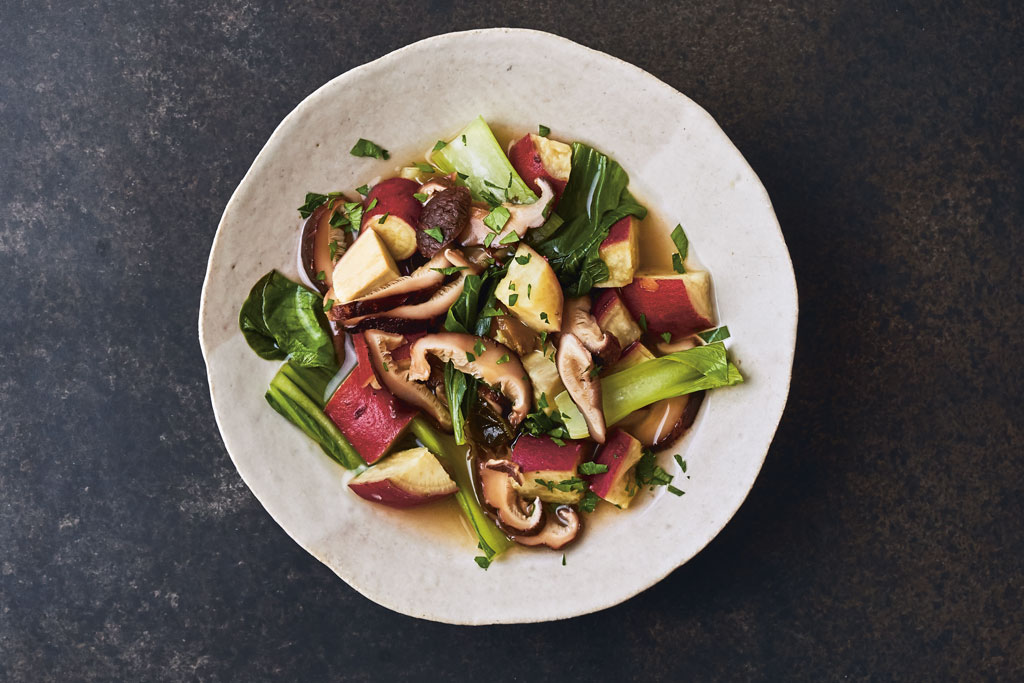 This dish has an interesting and delicious combination of flavors. Sweet potatoes are a good foil for earthy shiitake, while the chicken stock gives the dish depth and the pickled cha tsai (mustard stems) lend pop.
Simmered Shiitake and Sweet Potato
Serves 6
Ingredients
6 donko (thick-capped dried shiitake)
150 g head bok choy, pulled in half lengthwise
600 g sweet potatoes, well scrubbed but not peeled
Generous 2 cups (500 ml) chicken stock
1 tsp salt
1 tbsp finely slivered cha tsai (mustard stems)
2 tbsp chopped Italian or curly parsley
Method
1. Soak the shiitake in 1 cup (250 ml) boiling water for 30 minutes. Meanwhile, slice the torn bok choy in half crosswise where the leaves meet the stems.
2. Cut the sweet potato into ¾-inch (2 cm) pieces. Reserving the soaking liquid, drain the shiitake, pare off the stems and discard.
3. Slice the caps into ¼-inch (6 mm) pieces. In a medium pot, combine the chicken stock and the soaking liquid.
4. Slide in the shiitake, bok choy stems, and sweet potatoes with the salt and cha tsai. Bring to a lively simmer over medium/high heat and cook until the sweet potatoes have softened, about 7 minutes.
5. Stir in the bok choy leaves cook until they are wilted, 1–2 more minutes. Spoon into a pretty serving bowl and garnish with chopped parsley.
Japan: The Cookbook by Nancy Singleton Hachisu is published by on 6 April, £29.95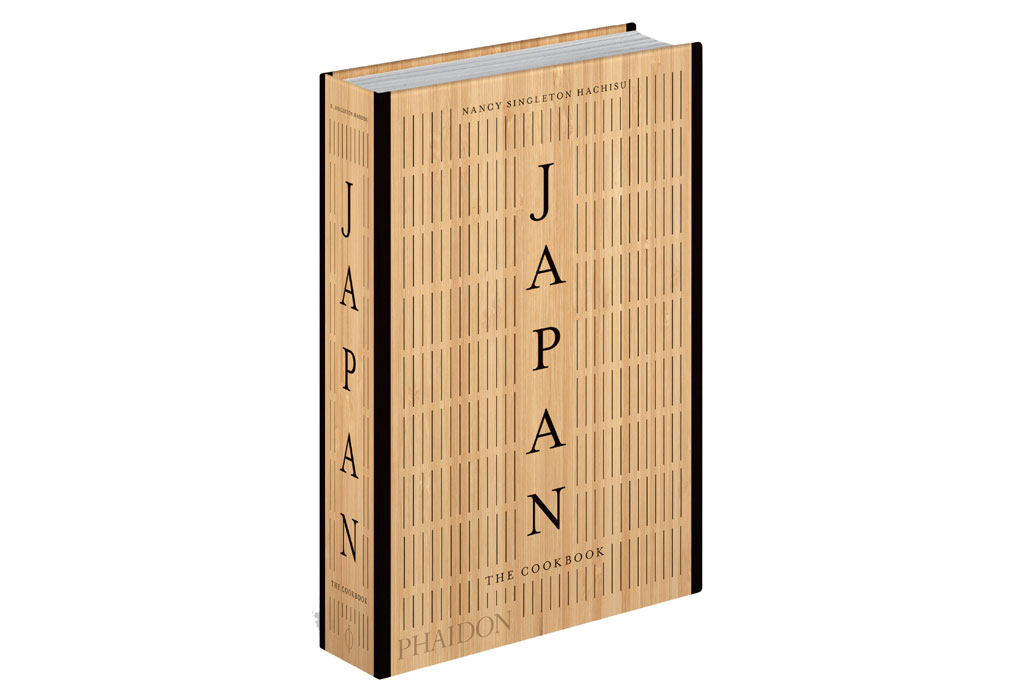 4 Delicious Fruit Water Infusions to Boost Your Health 
Q&A with Nancy Singleton Hachisu, Author of Japan: The Cookbook
What's your food philosophy?
Use only what is available seasonally and locally and enhance these raw materials with artisanal products. Keep it simple, use a light hand, and let the ingredients shape the menu.
Most vivid childhood food memory?
Watching my mother cook. I loved the salty taste of raw beef and the crisp green pepper wedges she passed me as she sliced. To this day, they remain two of my favourite foods to eat raw.
Favourite ingredient that is in season right now and how are you using it?
Small carrots. I julienne them then massage them lightly with flaky sea salt. After 10 minutes, blot dry and use them to brighten lettuce salads.
Biggest mistake you've made in the kitchen?
Thinking I could handle a freshly killed eel, it proved to have involuntary movement well after death and ended up on the floor. It took me an hour to cut the eel down to manageable pieces for braising. By the time the dish was done, I had lost my appetite, and never did tackle eel again.  
When was the last time you sent something back to the kitchen and why did you send it back?
A steak – something I loathe to do. In America, I always tell the waitperson that I want the beef old school rare, but not blue. This can be tricky since rare these days in the U.S. is what medium rare used to be 
Do you have any unusual rules in your kitchen?
I am not a fan of non-functional people taking up space in the kitchen. And I have a very strict rule of no little kids in the kitchen because it is dangerous.
Least favourite ingredient?
So-su—a Japanese condiment like Worcestershire sauce on steroids.
Who would you most like to take out for dinner and where would you take them?
I would take Nigel Slater to Chez Panisse in Berkeley. I know that he would not feel the need to make artful conversation and would, instead, be content to revel in the sparkling ingredients.
MORE RECIPES: Gordon Ramsay's Borlotti Bean Minestrone | Rich Woods' Caramelised Red Onion Manhattan | Eric Lanlard's Raspberry and Chocolate Tart
---