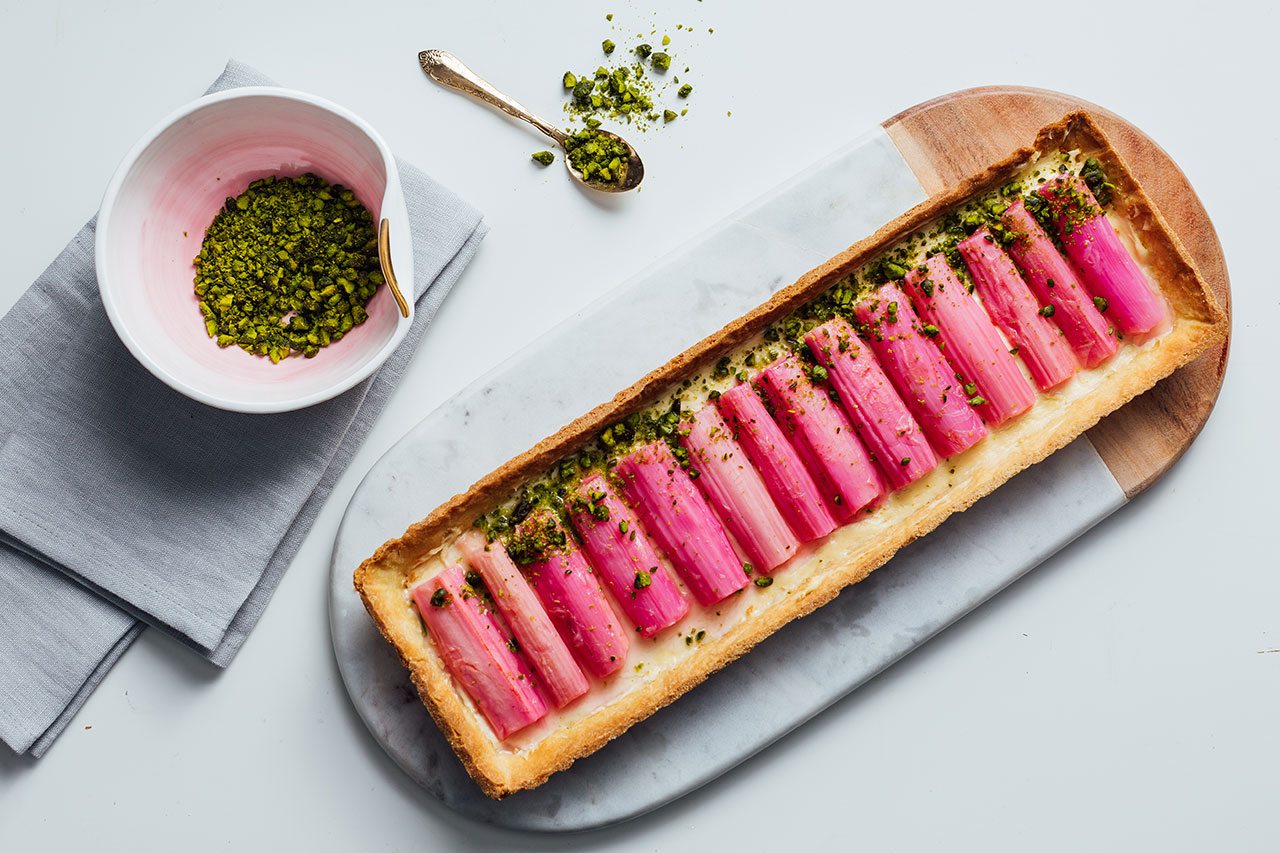 Recipe: The Social Pantry's Rhubarb Tart
---
Almost too pretty to eat...almost
For a dessert that tastes as good as it looks, try this rhubarb tart recipe from The Social Pantry.
Recipe: The Social Pantry's Rhubarb Tart
Ingredients
For the sweet pastry:
250g flour
150g unsalted butter
60g icing sugar
1 egg, beaten
For the rhubarb filling:
2 large sticks red rhubarb
50g caster sugar
2 tbsp of chopped pistachio
For the frangipane:
100g butter
100g caster sugar
100g ground almond
15g plain flour
2 eggs, beaten
You will need:
25cm x 8cm shallow tin
Method
To make the pastry, rub the flour, butter and sugar together in a large bowl until the mixture resembles fine breadcrumbs. Add the egg and vanilla and knead gently until the pastry comes together and forms a smooth dough. Set aside in the fridge to chill for one hour.
Preheat oven to 100 C. Whilst the pastry is chilling, prepare your rhubarb. Cut the rhubarb into batons the same width as your tin. Place in an ovenproof dish and sprinkle with sugar. Cover with foil and cook in the oven for 30 minutes, until tender. Leave the rhubarb to cool, and then strain the liquid. Tip: this can be reduced on the hob and used as a glaze (see stage 14).
Turn the oven up to 165 C. Whilst the rhubarb is cooling, make the frangipane. To start, gently melt the butter in a medium pan. Once melted, remove from the heat and whisk in the sugar for 2 minutes, until creamed. Add half the beaten egg mixture and whisk until smooth. Fold in the remaining egg along with the flour and ground almonds until fully combined. Set aside.
Remove your pastry from the fridge. On a clean, floured surface roll to approx 3mm thick., big enough to fit your tin. Line the tin with the rolled out pastry and leave in the fridge to cool for a further 10 minutes. Once cooled, evenly pipe the frangipane into the lined tin and top with the cooled rhubarb batons.
Bake in the preheated oven for 30 – 40 minutes, until golden brown. Leave to cool for 10 minutes then brush with the rhubarb glaze and sprinkle over the pistachio. Serve warm.
MORE RECIPES: 
Avocado Hummus from The Social Pantry / Carrot Cake Recipes / Matcha Smoothie Recipe: Green Supercharge Health Kick