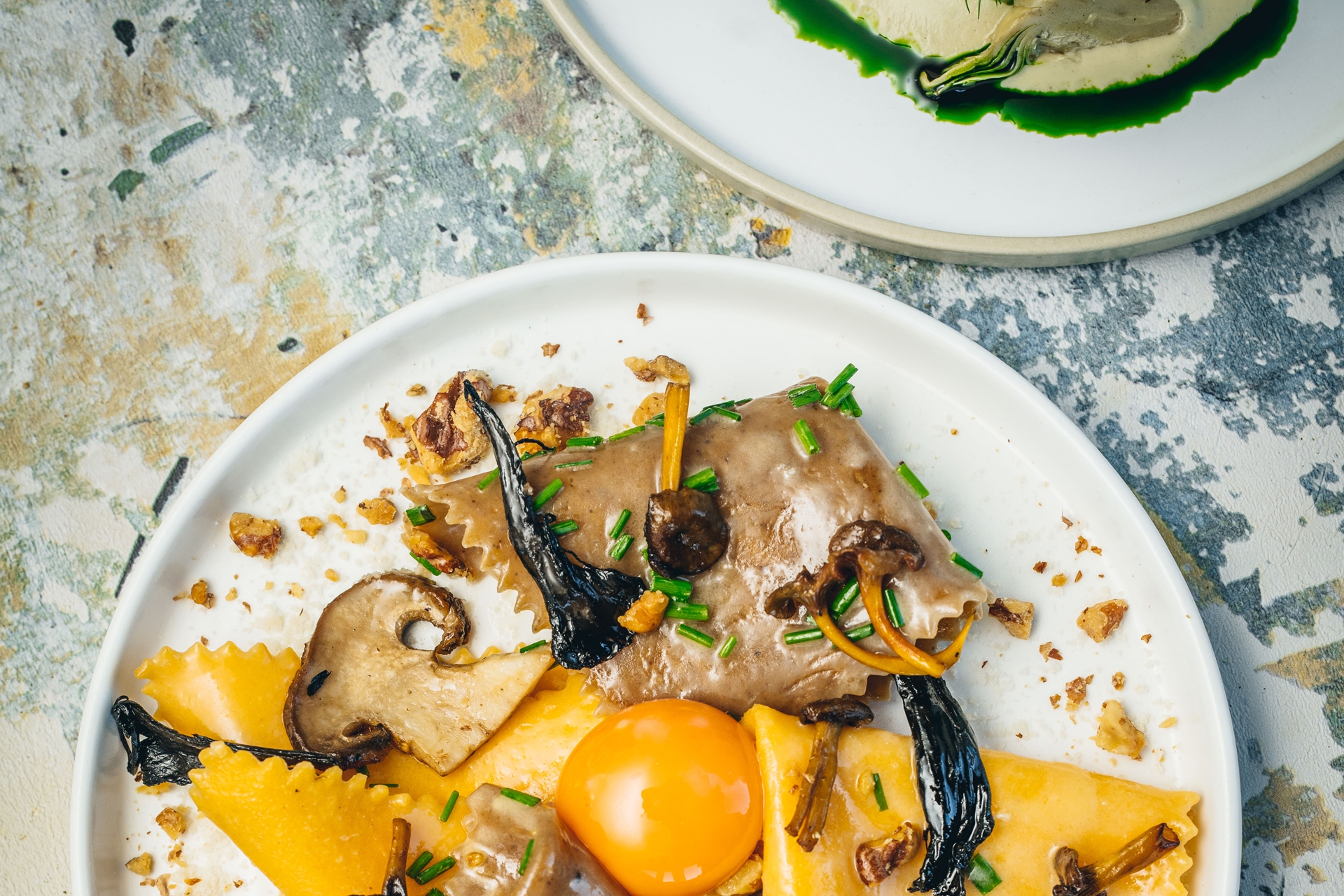 Restaurant of The Week: Noci, Islington
Meet the newcomer creating a buzz in Islington
Move aside, Padella, there's a new pasta restaurant in town. Sofia Tindall heads north of the river to sample Noci, the latest addition to Islington's foodie scene
Restaurant Review: Noci, Islington
It's a bold move to open a pasta restaurant in London these days – prepare for the comparisons to Padella and Bancone to roll in thick and fast. But that hasn't stopped chef Louis Korovilas from striking out with newly-opened Noci on Islington Green.
Inspired by his travels around Italy, Noci follows on the heels of Tavolino in Tower Bridge and puts freshly-made pasta at the front and centre (so far, so good). With roaring success at his first venue, the pressure is on – but there's no arguing he's got the recipe for a cosy neighbourhood restaurant down to a fine art. From the moment you step through the door, Noci's buzzing, hive-like atmosphere ticks a lot of boxes for the millennial London foodie, with a large bar and long, casual trestle tables surrounded by chatty diners sipping spritzes from tumblers.
Everything here is perfectly curated for that Friday evening feeling – from the casual interior concoction of bleached wood, chunky ceramicware and flickering tealights to the relaxed sharing plates, made for idly picking at long into the evening over a good conversation. Descending through the lively hum of the main restaurant (which is packed to the rafters despite only opening two months ago) we're led to one of the more private booths in the back where you can decant your coat, shake your hair down, decide on a cocktail and soak it all in.
Before you get stuck into the main menu, a few starting plates like the burrata with wild garlic leaves and hazelnut dressing are just the thing to get your evening off to a perfect start (if you're feeling a bit more adventurous – go for the leek, walnut and gorgonzola torta fritta). The focaccia, with sundried datterini tomatoes and lashings of olive oil is also swoon-inducing. But you won't find menus as long as your arm or awkwardly complicated ingredients – like any good Italian local (albeit one of the slightly trendier, cosmopolitan persuasion) simplicity sets the tone from start to finish.
London Restaurants with The Best Views
The main dishes, too, deliver the wow factor from the get-go. My disappointment at the lack of visible parmesan (I'm of the opinion that you can never have enough) is quickly quelled by the silken fresh pasta, which delivers everything promised and more. I opt for 'handkerchiefs' with porcini mushrooms, and a bright yellow yolk nestled in the middle. It's pure comfort food: filling, indulgent, and inducing a satisfied glow right to the moment you set down your knife and fork and declare defeat.
Got room left for a little extra something? Washed down with a double espresso, the Miso panna cotta with bitter chocolate is the perfect way to end your evening before you're waved out of Noci's stylish green doors and into the buzz of Islington after hours. Move aside, Padella, as a first class start to the weekend (spritzers, carbs and all) – it has my stamp of approval.
BOOK IT
nocirestaurant.co.uk; 020 3937 5343
READ MORE
Review: Tavolino / Review: Aranella / Review: Benares