Restaurant Review: Omboo, Sopwell House
---
There's yet another reason to book a stay at St Albans spa hotel Sopwell House
As spa weekends go, you won't find a better destination than Sopwell House, a country house retreat in Hertfordshire, just a 20-minute train ride from London. But R&R isn't the only reason you should visit: the hotel also has an excellent culinary offering, notably its recently added sushi restaurant, Omboo. Ellie Smith gave it a whirl.
Review: Omboo, Sopwell House
Housed in a Georgian building that was once the country home of Lord Mountbatten, Sopwell House is a hedonistic haven. Hotel guests pad around in fluffy white gowns, floating from cosy bedrooms to spa loungers, sipping fizz in hot tubs before heading for a spot of afternoon tea. Asian restaurant Omboo fits perfectly into the mix, bringing a touch of glamour to the hotel – while staying true to its relaxed, friendly ethos.
Omboo has a vibrant design, decked out with dark wooden tables, leafy wallpaper and plants in jazzy pots, with oriental touches and pops of colour throughout, and Asian lounge music creating a chilled yet buzzy feel.
Dishes are inspired by Asia and the Far East, with a menu that scraps the traditional starters, mains and desserts format in favour of a 'when ready' concept. The kitchen is spearheaded by chef Derrick Chen, who has curated a sharing-style menu which aims to encourage a convivial and laid-back atmosphere.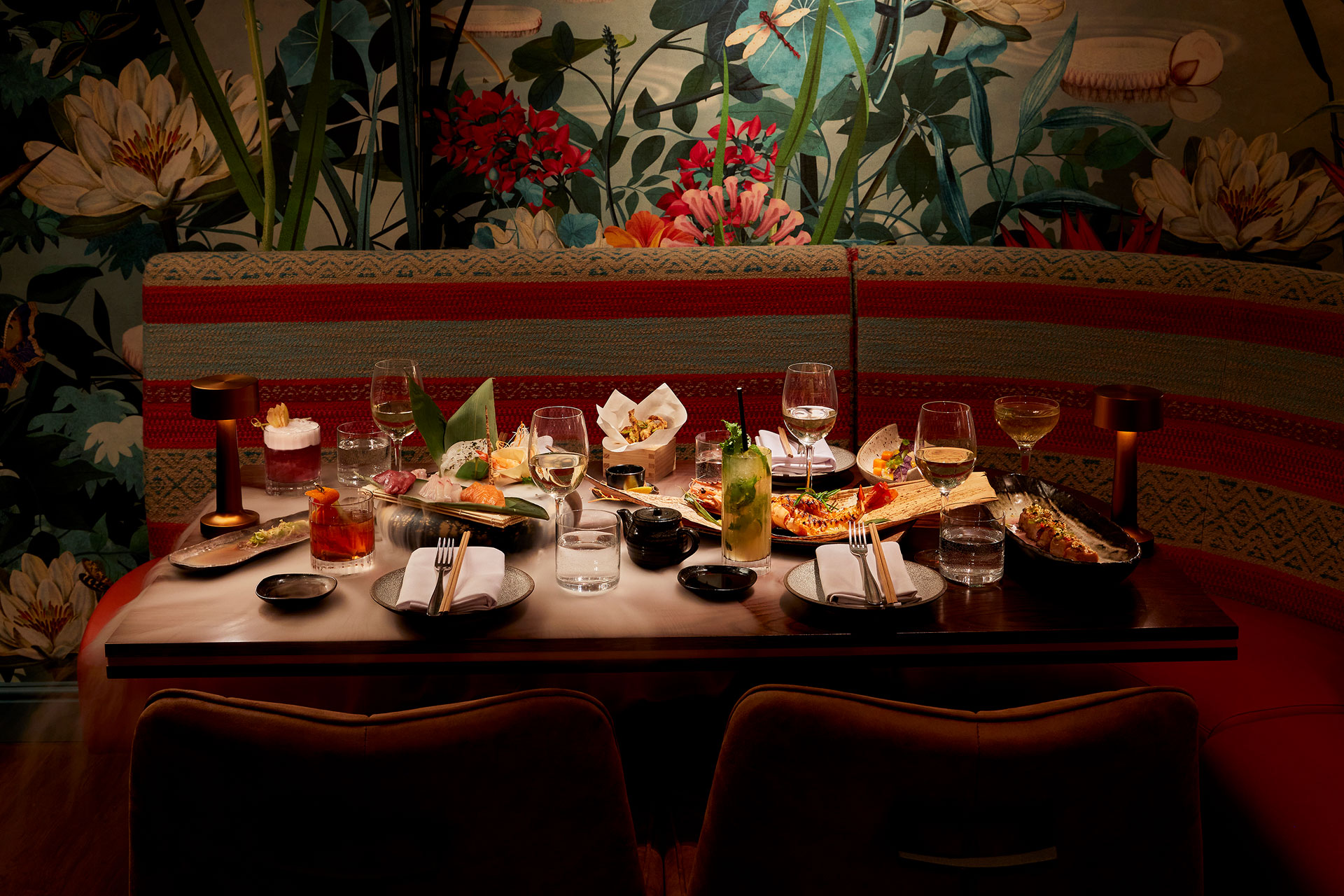 Begin with some small bites: there's crispy fried kitchen, shrimp tempura, and truffle spring rolls. Don't ignore the salads either – the pulled duck dish is bursting with flavour, peppered with cashews, pomegranate and mandarin, and laced with a hoisin dressing. In terms of bigger dishes, the menu is split into Farm, Ocean and Field, with signature dishes including the steamed wild sea bass, an umami dish with a punchy black bean sauce. There's also a standout hot stone wagyu number: juicy, premium beef cooked in a tangy teriyaki sauce. Pair with a couple of vegetable dishes, like the warm aubergine with sweet chilli soy, the Omboo fried rice, and the grilled miso asparagus.
Let's not forget the sushi and sashimi section, though. Choose from an array of sashimi, nigiri and sushi rolls – or allow the chefs to pick for you by going for a platter. Everything tastes fresh, with unique flavours thrown in there (don't knock the cream cheese and salmon sushi roll until you've tried it).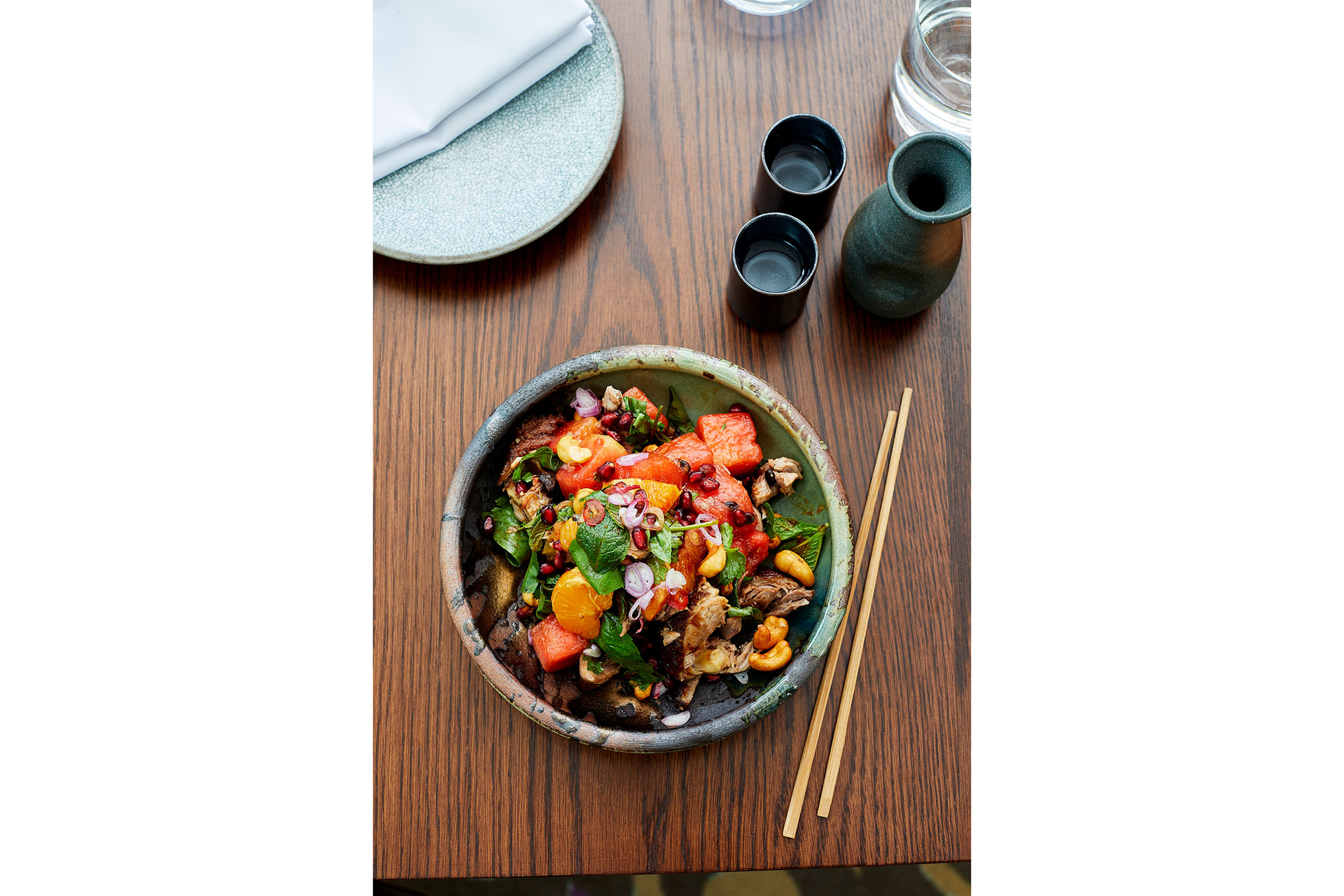 This might sound like a lot, but everything here feels light: you'll be satisfied, but without that heavy feeling that often comes with dining out. Plus, it means you'll most likely have some room for dessert. The mango lime leaf parfait is the perfect finisher, an artfully designed pudding made with green tea jelly, pistachio and cardamom tuile. If you're after something a bit more indulgent, the valrhona chocolate fondant with yuzu ice cream is sure to do the trick.
On the drinks side, cocktails are a clear highlight. There's an excellent Asian-style mojito, featuring shiso leaves, sweet Japanese plum wine and Havana 3 rum; a Plum Sour made with bourbon and plum syrup; and a lemongrass-infused Old Fashioned. Elsewhere, a range of wine, champagne, beer and palate-cleansing sakes have been carefully curated to complement the dishes – including a local beer from Tring.
THE FINAL WORD
Since it opened a few months ago, Omboo has been very popular with both guests and locals, drawing in a mix of groups of friends and couples on date nights. No surprise: this is a fun, stylish spot with knowledgeable, friendly staff and top-notch food. It's worth a visit even if you're not staying at the hotel – though for the full Sopwell House experience, book an overnight visit. That way, you can roll into a (very comfortable) bed post-Omboo, and blow away the sake hangover with a dip in the dreamy outdoor pool.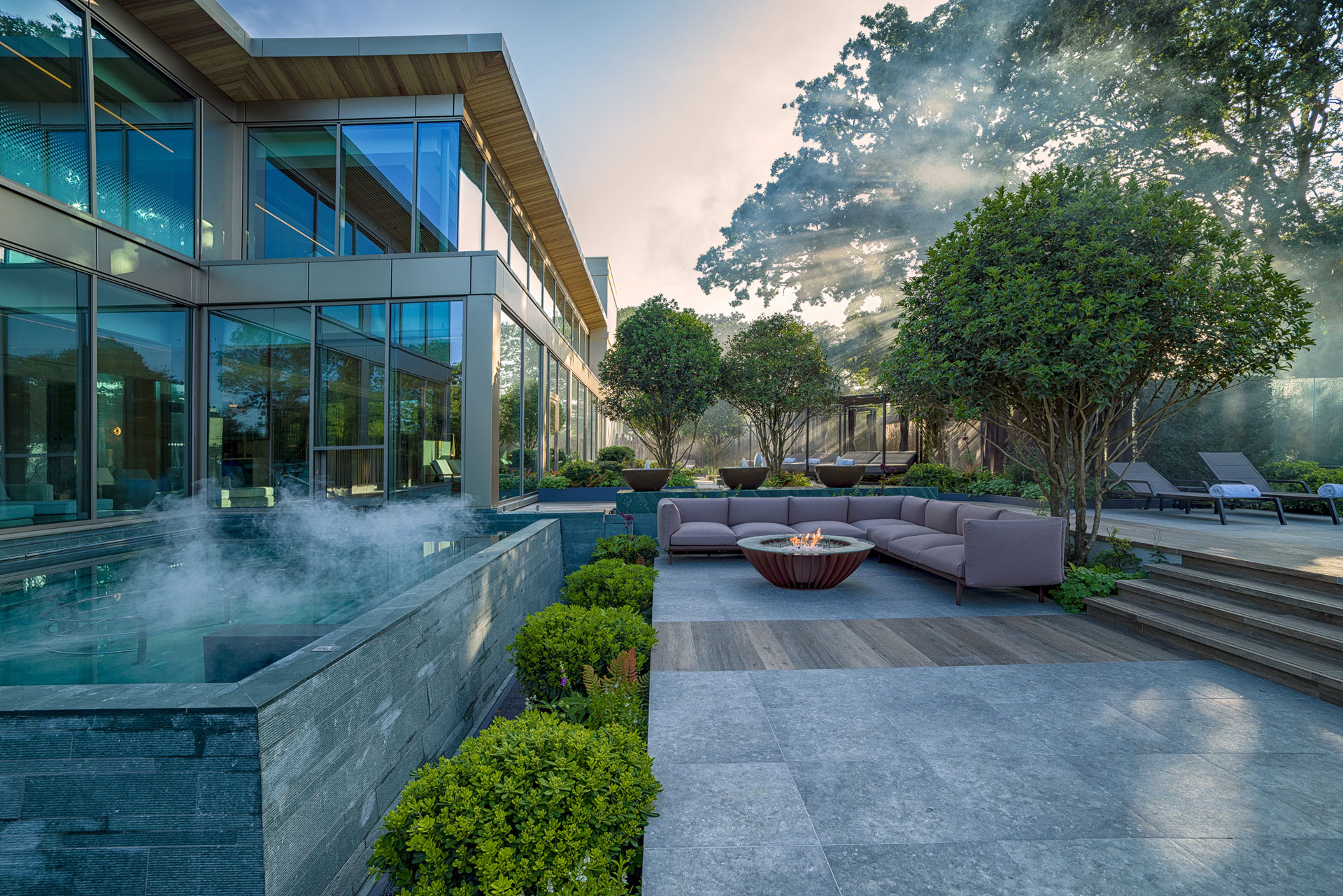 BOOK IT
Sopwell House, Cottonmill Ln, St Albans AL1 2HQ. sopwellhouse.co.uk