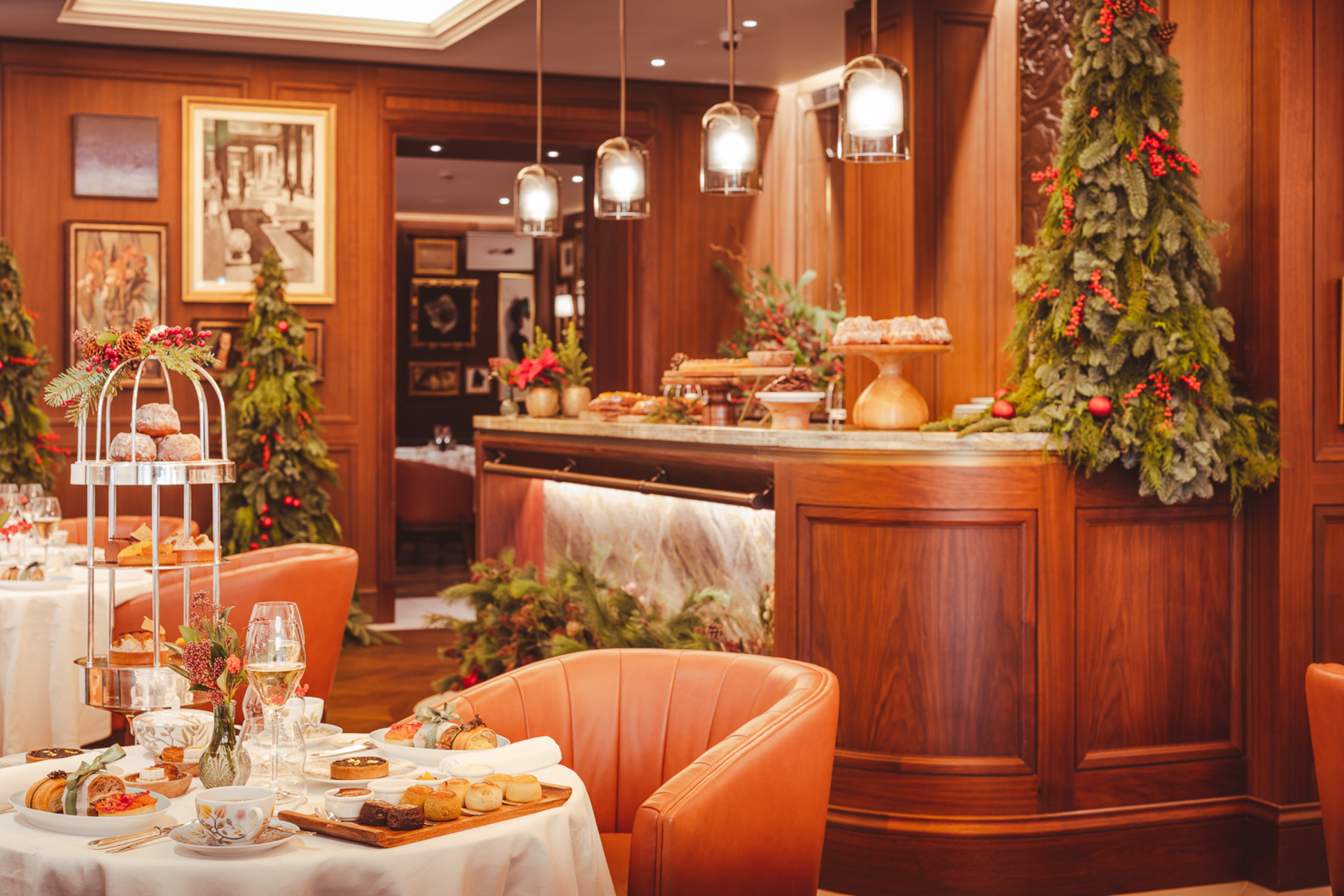 Restaurant of the Week: Christmas Afternoon Tea at The Carlton Tower Jumeirah
---
Have your Christmas cake (and eat it, too)
With Christmas celebrations in full swing here in the UK, there's plenty of opportunity to make the most of the festive season – and what better way than with yuletide-themed tea and cake? For this week's Restaurant of the Week, we swung by The Carlton Tower Jumeirah's cosy tea room to try out its new Christmas Afternoon Tea menu.
Review: Christmas Afternoon Tea at The Carlton Tower Jumeirah
Come Christmastime, Knightsbridge is a bustling hub of activity: from families exploring Winter Wonderland and last-minute shoppers scurrying through Harrods to groups of friends heading out for drinks and those busily making their way to work. Sticking around long enough to see night fall will also give you a chance to see some Christmas lights in action – great for the 'gram – which span across streets, stores and parks. A quick walk around Knightsbridge will make it hard not to feel festive.
Tucked amongst Knightsbridge's high-end department stores and designer shops, The Carlton Tower Jumeirah stands out as a quiet oasis in a throng of merrymakers. We step inside the golden-lit lobby, which plays host to a sparkling Christmas tree created by McQueens Flowers, and make our way to The Chinoiserie Tea Room where the staff quickly show us to our table. A relatively new addition to the hotel, the tea room is as cosy as they come – think little seating nooks, crackling fireplaces and a mirrored bar where pastries sit on the display counter during the day.
The Chinoiserie Tea Room's new Christmas Afternoon Tea menu is the creation of Jessica Prealpato, world-renowned pastry chef and winner of Gault et Millau's Pastry Chef of the Year Award 2020. Jessica is famous for developing the 'Desseralité' concept in pastry – a combination of the words 'dessert' and 'naturalité', meaning to preserve the naturality of ingredients to bring out rich flavours – with Alain Ducasse.
'Today more than ever, we are more and more aware of the need to respect the Earth, and this begins with what we choose to eat,' says Jessica. 'Behind each product, there is a story, and there is a person who nurtured the product – from farmers to artisans to chefs.
'There is no story more beautiful than the relationship between the product, the producer, and the dish. We owe it to ourselves to respect nature, to respect producers, and to ensure that each we maintain the integrity of the taste of each product.'
Inspired by the flora of England's gardens, the menu features an extensive tea selection (five pages, to be exact) which are highlighted for their flavour profiles, history and medicinal properties. It's worth reading through to get an idea of which flavours sound right for you, but if feeling a little overwhelmed you can always ask one of the tea sommeliers on duty what they recommend. For something seasonally on-brand though, try the Espirit de Noël. Quite literally 'Christmas in a cup', this is a tea flavoured with festive spices, orange zest and vanilla. (Boxes of this blend are also available to purchase if you'd prefer to try at home).
The afternoon tea menu itself is a multi-course affair, starting with a super luxe amuse-bouche of lobster and caviar pastry discs (vegetarian options are available if you ask in advance) and a selection of sandwiches. We come close to a Christmas lunch with the roast turkey sandwich, which comes packed with chestnut and safe braised red cabbage (a close resemblance to stuffing) and chard onion cream, while the richly creamy truffle croissant stuffed with duck egg and black truffle is balanced by a zesty salmon and cream cheese-topped bread slice.
And now the sweets. Before we could sink our teeth into a scone or two, we're served a palate cleanser in the form of a mandarin sorbet – which quickly works to wash away most of the salt from the previous course.
Next up is a scone experience, an 'ode to the great British tradition'. This is a quartet of specially created scones, with flavours ranging from plain and dried grape to chocolate and chamomile. Each is served with its own conserve that perfectly complements the scone in question: clotted cream for the classic plain scone, a mix of fruits and festive spices for the dried grape, chocolate truffle crémeux for the chocolate (absolutely nothing wrong with a little chocolate overload) and emulsified honeycomb for the chamomile scones.
The meal is finished off with a curated selection of winter patisseries served on a three-tiered cake silver cake stand decorated with pine branches, dried fruits and pine cones. There are five pastries in total, ranging from a festive kouglof soaked in rum and a beer-flavoured pain perdu to a classic, chocolatey Christmas log. The flavours here are delightfully rich, without being overpowering or sickeningly sweet. Being the last course, this is the perfect opportunity to take your time: resting lazily in front of the fireplace with a cup of tea in hand, and multiple cakes on your plate.
Final Word
Christmas is second nature at The Carlton Tower Jumeirah, trickling down from its gorgeously merry decorations and cosy dining areas all the way to its seasonally attuned afternoon tea menu. This is perhaps the best way to kick off any festive celebrations you have planned this year.
BOOK
Christmas Afternoon Tea is £75 per person and available from 18 November 2022 to 5 January 2023 (served daily from 12pm until 5pm). To book, please email [email protected], call +44 (0)20 7858 7185 or visit jumeirah.com