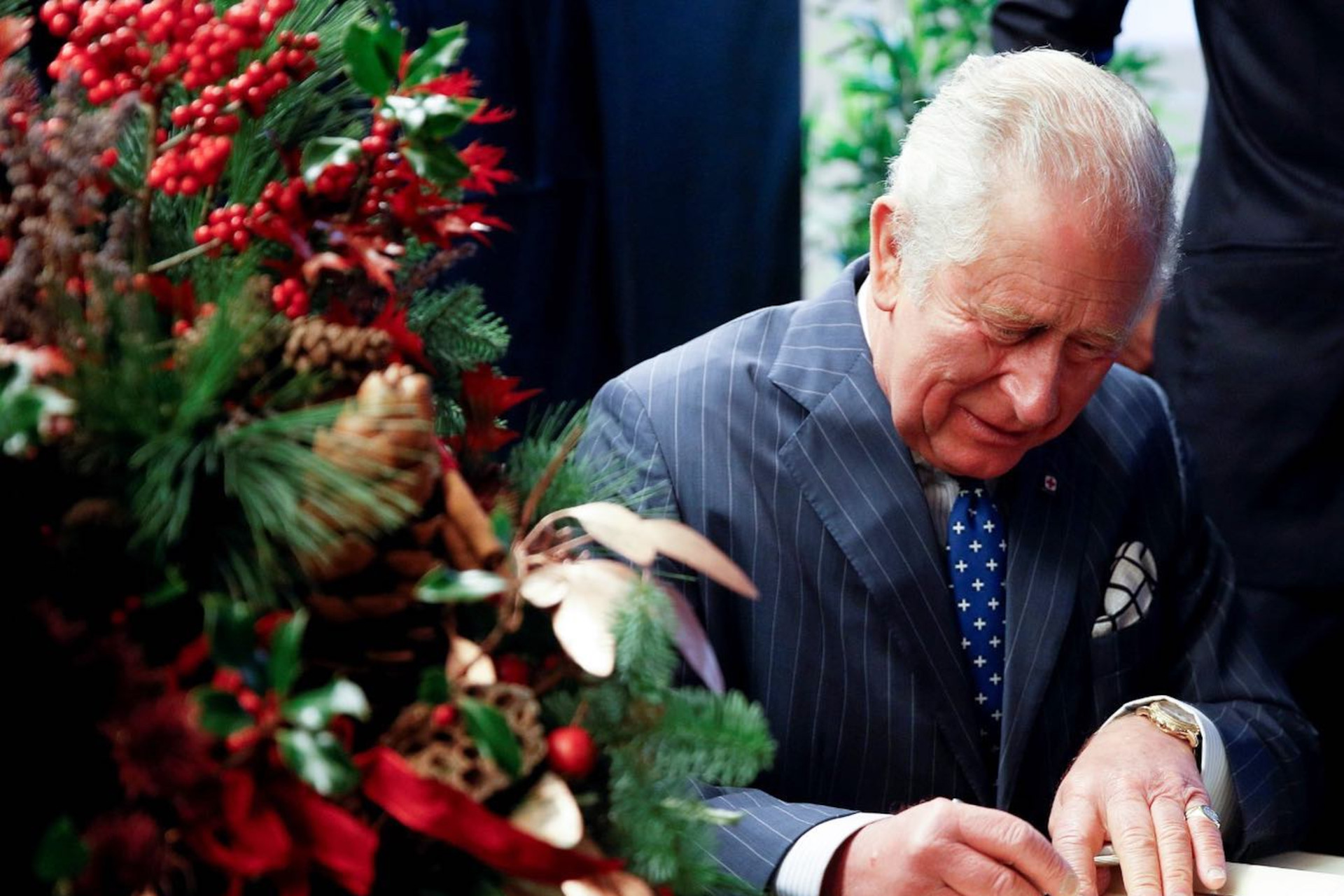 What Does the Royal Family Wear at Christmas?
---
Look inside the festive wardrobe of the British royal family
Ever wondered what the royal festive wardrobe looks like? From pantomimes and carol services to charity engagements and winter events, we've rounded up some of the best looks the British royal family has worn at Christmas.
What Does the Royal Family Wear at Christmas?
Christmas 2022
The Wales Family
This year's festive card from the Wales family was dubbed their 'most relaxed' Christmas portrait yet. Photographed earlier this year by Matt Porteous on the grounds of the family's country home in Norfolk, Anmer Hall, the Christmas card shows the family holding hands as they walk down a garden path. The parents are dressed in jeans and shirts, while the boys are in shorts and polo shirts and Charlotte in a denim romper.
Kate is shown wearing a shirt she's had in her wardrobe for a few years now (having previously worn it to the unveiling of her Back to Nature garden in 2019 and on Zoom calls to a volunteer hotline in 2020); a white broderie Anglaise shirt by M.i.h Jeans that features puff sleeves and a scalloped trim. She teamed this up with dark denim skinny jeans and a pair of Superga Cotu Classic sneakers.
EXPLORE: mih-jeans.com | superga.co.uk
The Prince of Wales also wears a shirt and jeans to match his wife, but instead opts for a more monochromatic colour palette with a navy Ralph Lauren shirt, blue jeans and blue-grey trainers.
EXPLORE: ralphlauren.co.uk
Like his father, Prince George is wearing a top from Ralph Lauren: a polo shirt in a light shade of blue to keep with the family colour palette. He wears this with a pair of dark blue denim shorts and trainers.
EXPLORE: ralphlauren.co.uk
Prince Louis is also show in a polo shirt and denim shorts. The shirt, a piece from J. Crew, has a white and navy stripe design.
EXPLORE: jcrew.com
Princess Charlotte wears a denim romper from Sfera, a brand that is commonly worn by the royal children. This is the Chambray Jumpsuit, which features embroidered strawberries around the neckline and red pompom frills on the sleeves. She wore this with a pair of navy plimsolls from Trotters (likely the same she wore in last year's card).
EXPLORE: elcorteingles.com | trotters.co.uk
Camilla, Queen Consort
The Queen Consort surprised us this year by starring on the cover of Good Housekeeping's 2022 Christmas issue, where she and other members of the royal family talked about the charities and social causes they've been working with over the last year. An Instagram post from the royal family's official account read:
'To mark the 100th anniversary of @goodhousekeepinguk, The Queen Consort, The Princess of Wales, The Princess Royal, The Countess of Wessex, The Duchess of Gloucester and Princess Alexandra have all contributed to a special issue highlighting some of the important causes they support.
'Featuring on the cover of this month's Good Housekeeping, The Queen Consort discusses the work of the domestic abuse charity @SafeLives_ to raise awareness of their important work. For many years, Her Majesty has highlighted the work of domestic abuse charities and the work they do to support survivors, both in the UK and overseas, with the aim of breaking the taboo around the subject.'
On the cover, Camilla wears a festive red coat dress, likely a bespoke design by her go-to designer Fiona Clare, with a ballerina-shaped brooch made by renowned jeweller Van Cleef & Arpels, another brand the Queen Consort is incredibly fond of.
EXPLORE: fionaclare.co.uk | vancleefarpels.com
The Princess of Wales
While filming this year's Royal Carols: Together at Christmas concert, Catherine, the Princess of Wales, was spotted wearing a gorgeous red sequined dress and matching earrings. A very festive pick for the season, the gown is Positive Luxury fashion brand Needle & Thread's Aurora Ballerina Dress. This is the second time Kate Middleton has been seen wearing the design, having previously worn it for the UK-Africa Investment Summit in January 2020. She teamed up her dress with a pair of ruby earrings from British jewellery brand SORU. You can still shop the exact dress here (available up to size UK22), as well as the earrings here.
EXPLORE: needleandthread.com | sorujewellery.com
While not technically a Christmas event, the Prince and Princesses of Wales were the talk of the internet in early December when they attended the Earthshot Prize 2022 awards ceremony (marking the start of the royals' year-end engagements). Kate, in particular, stunned crowds in a green Solace London gown she rented from HURR Collective, a UK-based rental platform that specialises in designer garms. The Princess of Wales paired her outfit with an emerald choker that formerly belonged to Princess Diana. You can rent the exact dress worn by the Princess of Wales here (it's currently available in sizes UK 4 to 16).
Explore: hurrcollective.com
Christmas 2021
Queen Elizabeth II
For her last Christmas Broadcast, the Queen took the time to reflect on the year and honour the memory of her late husband, Prince Philip. In the broadcast, she wore a red embossed wool shift dress by British designer and Senior Dresser to the Queen, Angela Kelly, alongside a string of pearls and a sapphire chrysanthemum brooch she had been gifted in 1947 and wore for her honeymoon photocall. In the video, the framed photograph on the desk, depicting the Queen and the Duke of Edinburgh during their 60th wedding anniversary in 2007, shows her wearing the same brooch.
King Charles III
On his visit to the Holy Trinity Brompton's advent service, the King donated items to the 'Love Christmas' national initiative and listened to spoke to two Iranian refugees who had previously been persecuted for their Christian faith before moving to the UK. For his visit, Charles looked to his wardrobe of stylish suits – opting for a grey-blue pinstripe number, blue patterned tie and check pocket handkerchief.
The King is known for sourcing his suits from English apparel institutions, in particular Savile Row's Anderson & Sheppard and Gieves & Hawkes. He has been spotted re-wearing the same suit to multiple events over the years, rather than donning a new outfit each time.
Explore: anderson-sheppard.co.uk | gievesandhawkes.com
Camilla, Queen Consort
As patron of Helen & Douglas House and the Roald Dahl Charity, the Queen Consort invites children supported by these charities to Clarence House each year to help decorate the tree. During the 2021 event, she donned an elegant cream collared coat-dress and black boots, which she finished off with an owl-shaped brooch. The brooch was from French luxury jewellery company Van Cleef & Arpels, and was part of its 'Lucky Animals' collection. The brooch is still available on the jeweller's website here.
Explore: vancleefarpels.com
The Princess of Wales
Taking on a large role in the 2021 Together at Christmas carol service, both as host and unexpected piano accompaniment to musician Tom Walker, the Princess of Wales decided to give her wardrobe a festive feel for the event. She arrived in a red monochrome outfit, wearing red heels and a matching red coat-dress adorned with a bow from French fashion label Catherine Walker. Prince William matched her outfit with a suit and red tie.
Explore: catherinewalker.com
The Wales Family
Every year, the Prince and Princess of Wales release a Christmas card featuring the whole family. For their 2021 card, the royals chose a portrait from their holiday in Jordan.
Prince William is shown wearing a khaki polo shirt and a pair of shorts, matching Kate's olive green dress from SEA New York. The Princess of Wales paired her outfit with a Dallah (an Arabic coffee pot, and a symbol of hospitality) pendant on a gold chain.
Explore: sea-ny.com
The kids were photographed in similarly summery clothes. Prince George and Prince Louis matched their dad in a polo shirt and shorts combo, with George in a camo print shirt speculated to be from GAP and Louis in a striped shirt (a style previously worn by his older brother) by British clothing brand Rachel Riley.
Explore: gap.co.uk | rachelriley.co.uk
And Princess Charlotte can be seen wearing a blue checked dress from Mango's kids range, which she teamed up with a pair of blue plimsolls from Trotters. The boys can also be seen wearing the same shoes.
Explore: mango.com | trotters.co.uk
Featured image: Instagram @clarencehouse