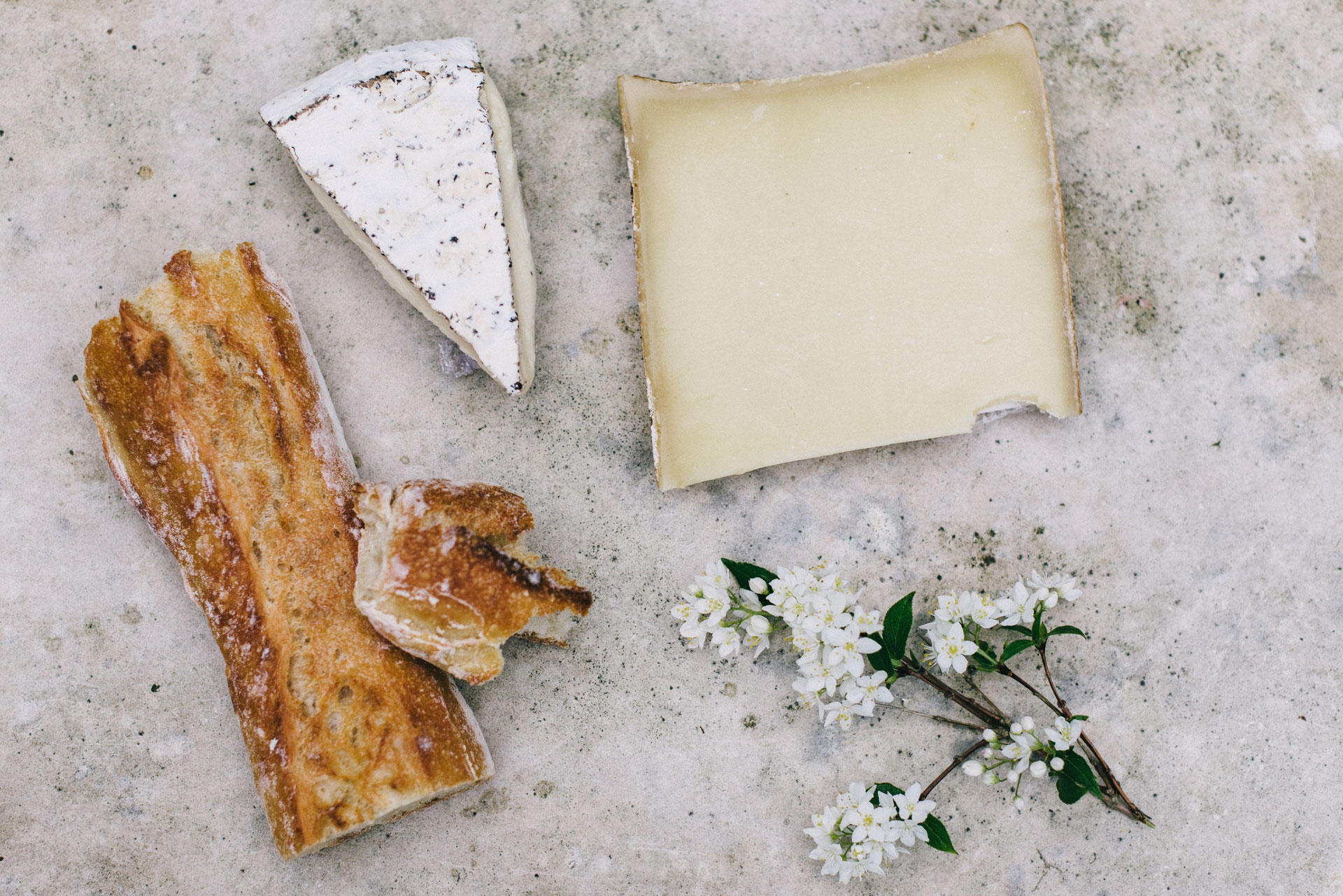 London's Best Cheese Shops
Making cheese dreams come true
Despite the dairy-free revolution, our national love affair with cheese doesn't seem to be going anywhere. And luckily the capital is filled with shops dedicated to the good stuff, both long-standing cheese veterans and trendy newbies. Whether you're looking to create the perfect cheeseboard, are on a quest to find the perfect camembert or simply fancy some a tasting session, here are the best cheese shops in London.
London's Best Cheese Shops
Funk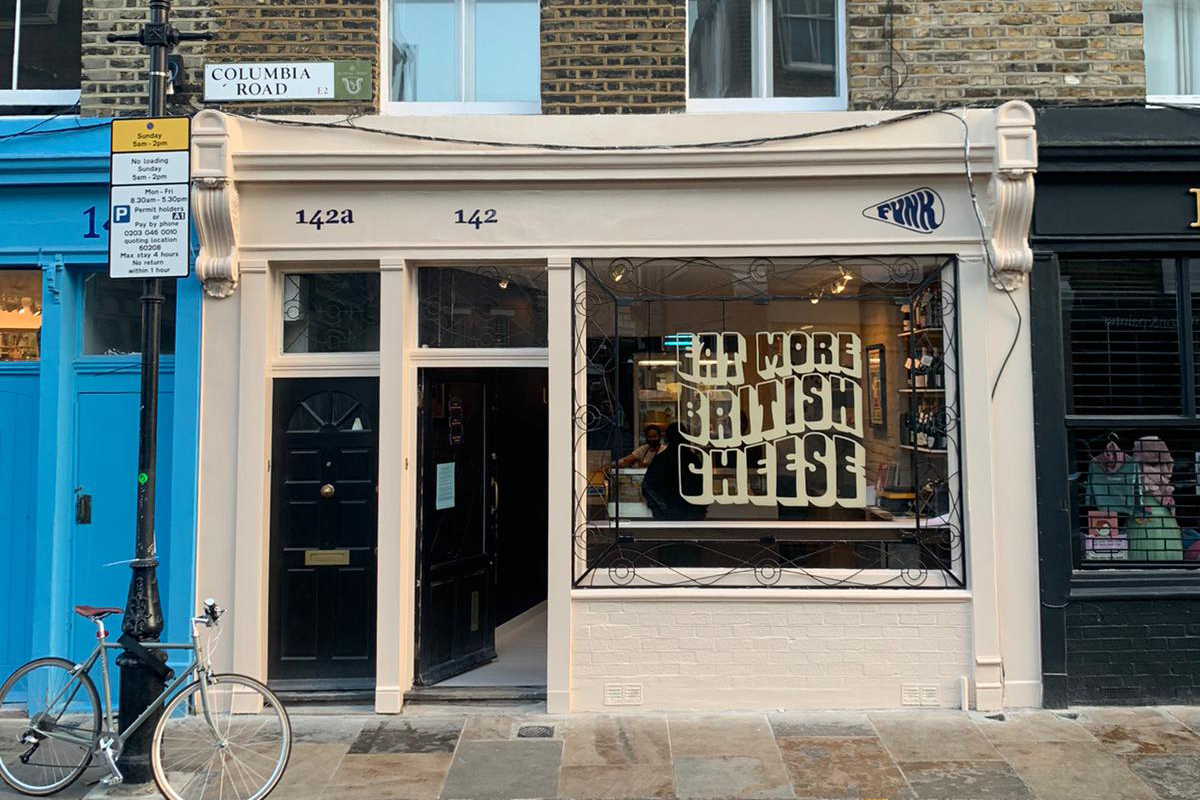 All London cheese fans will know the name Mathew Carver, founder of cult restaurant The Cheese Bar – but did you know he has his own shop on Columbia Road? At Funk, shoppers are invited to browse over 30 of Mathew's cheese picks from small producers across the country such as Tunworth, Quickies Mature Cheddar and Baron Bigod. The shop sells ready-made cheeseboards too.
142 Columbia Rd, London E2 7RG; thecheesebar.com
Paxton & Whitfield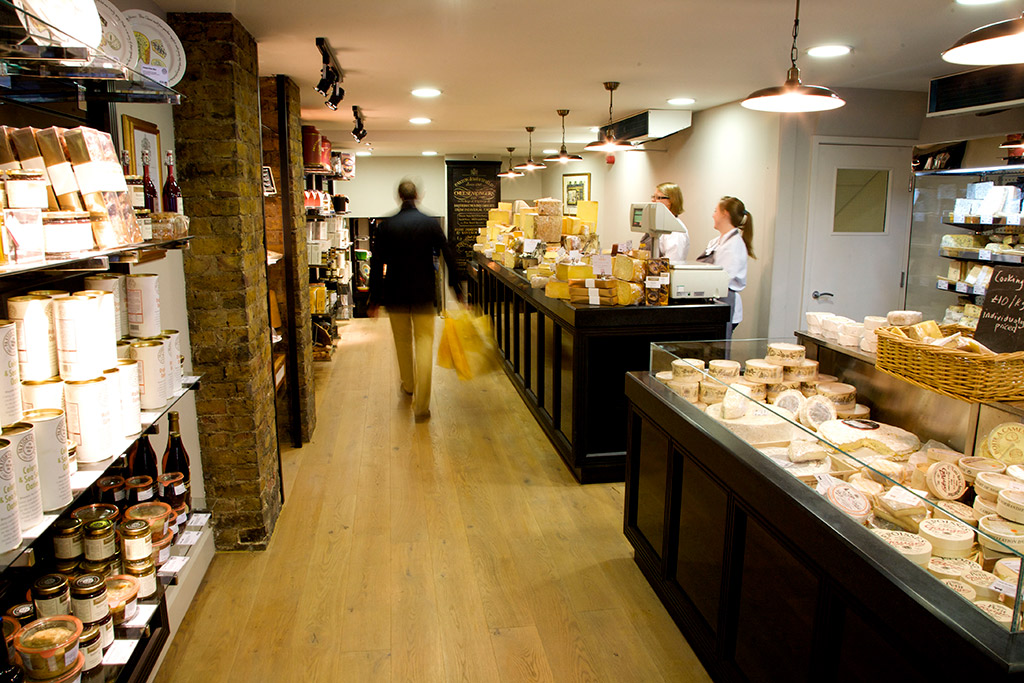 One of the oldest cheesemongers in London, Paxton & Whitfield has risen to cheese royalty since opening back in the 18th century. In 1850 the company was appointed cheesemonger to HM Queen Victoria – the first of a number of Royal Warrants over the years. Winston Churchill was also a fan, once observing: 'a gentleman only buys his cheese at Paxton & Whitfield.' An iconic brand.
93 Jermyn St, St. James's, London SW1Y 6JE; paxtonandwhitfield.co.uk
Hamish Johnston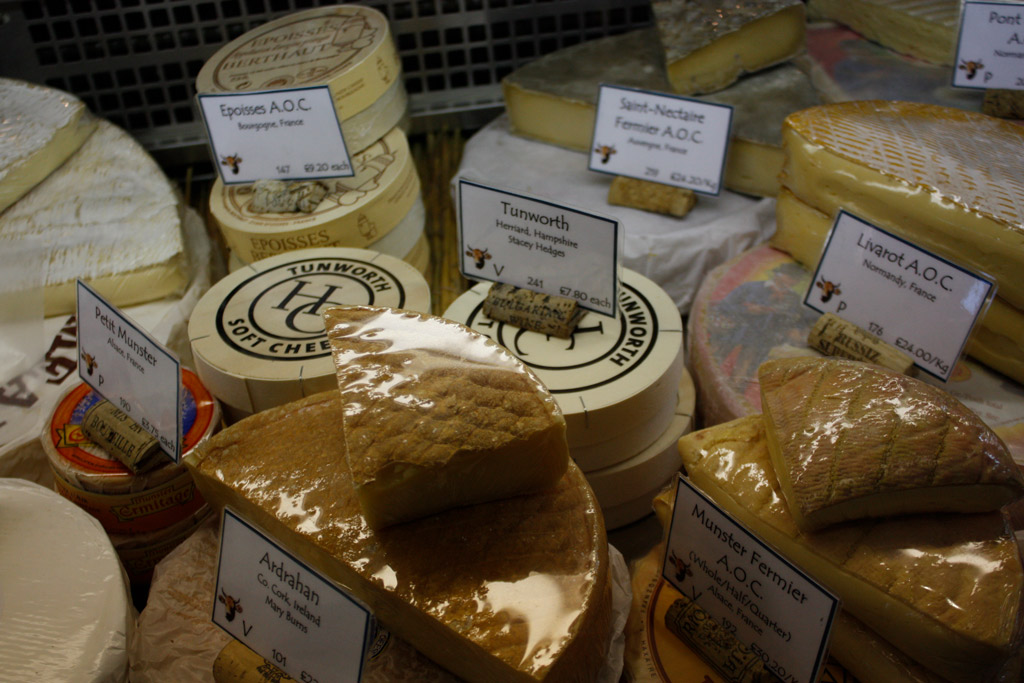 A long-standing favourite on Northcote Road, Hamish Johnston has been selling artisan and farmhouses cheese to Battersea households since opening in 1994. A family run, independent business, the friendly shop has everything from blue cheese to vegetarian rennet, with knowledgeable staff to on hand to advise. They also operate from a wholesale base in Suffolk, but their cosy Clapham home remains the lifeblood of the company.
48 Northcote Rd, London SW11 1PA; hamishjohnston.co.uk
La Fromagerie
At La Fromagerie, the utmost care goes into the cheese-making process. They practise affinage, a process where raw cheeses are sourced from artisan producers and matured to perfection in temperature-monitored rooms by in-house affineurs. Its Highbury Park location is the original branch, with two more in Marylebone and Bloomsbury. All feature signature cheese rooms and tasting cafes, where visitors can tuck into a menu of cheese-based dishes, including some seriously impressive cheeseboards. Real cheese lovers should book into one of their evening tastings, where you'll learn all about their selection.
Various locations; lafromagerie.co.uk
Neal's Yard Dairy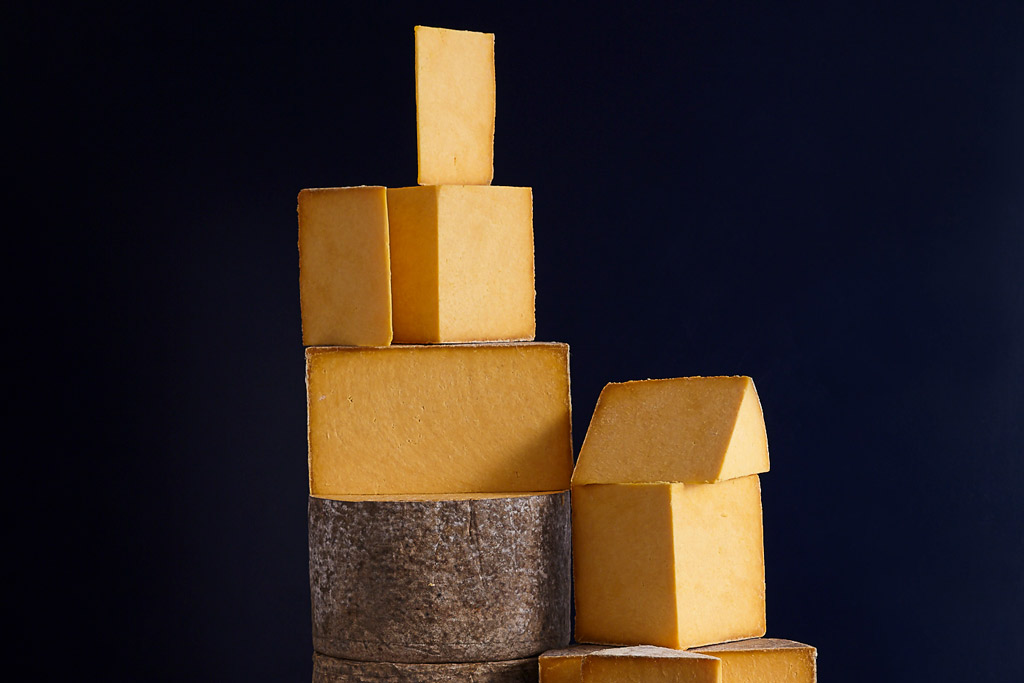 Many of the cheeses sold at Neal's Yard Dairy are aged in their own maturing rooms in Bermondsey, where they are turned, brushed and washed to perfection. Randolph Hodgson founded their first shop in Covent Garden in the early 1980s, followed by a second ten years later in Borough Market and a third in Spa Terminus. All three offer a wide selection of cheeses sourced from the UK and Ireland, with in-store tastings and feedback encouraged. They also hold regular cheese events, including cheese making workshops and cheese and wine nights.
Various locations; nealsyarddairy.co.uk
Brindisa Cheese & Charcuterie
Spanish-inspired Brindisa recently expanded its repertoire by opening a cheese and charcuterie deli in Balham's Hildreth Street, nearby their Weir Road warehouse. From classic Manchego to Canary Island speciality Majorero, offerings celebrate the best of Spanish cheese, with many obscure varieties available.
6 Hildreth St, London SW12 9RG; brindisa.com
Cheeses Of Muswell Hill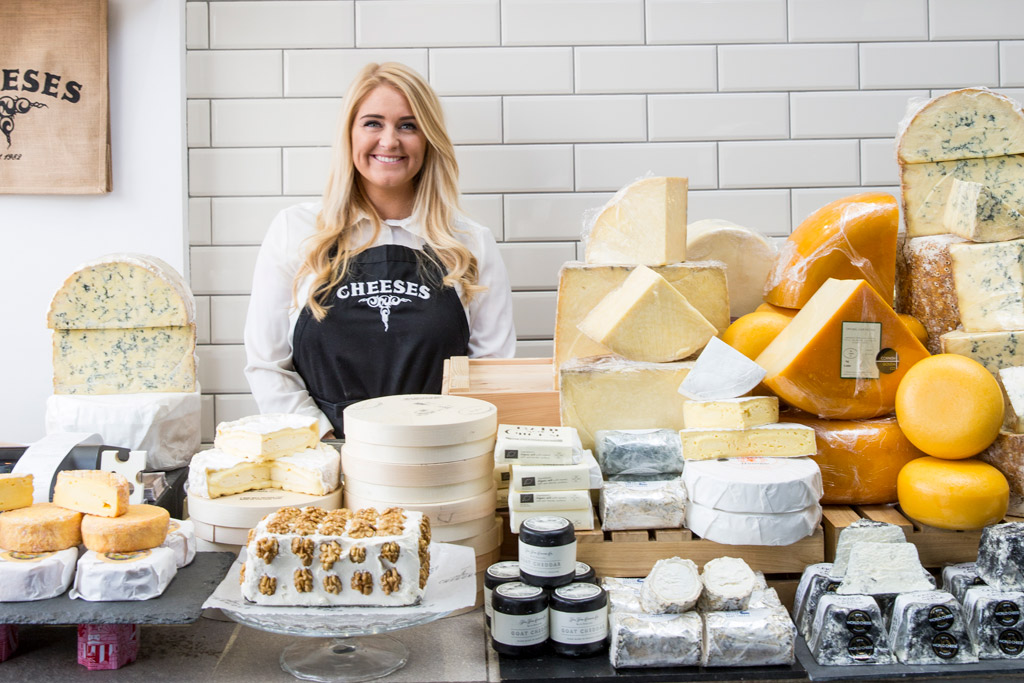 Cheeses of Muswell Hill proves the best things really do come in small packages. Despite being tiny, it stocks over 200 different types of cheese, as well as crackers, cheese wedding cakes, wine and cheese tools. A family run business, the shop opened nearly 40 years ago, with current owner Morgan McGlynn at the forefront for the past ten. Not only is it hugely popular with the locals – Morgan knows many customers on a first name basis – the shop has gained city-wide acclaim after being featured on TV shows such as Nigel Slater's Kitchen Diaries and Paul Hollywood's BBC Bread.
13 Fortis Green Rd, Muswell Hill, London N10 3HP; cheesesonline.co.uk
Buchanan's
After spending years managing fine dining restaurants, founder Rhuaridh Buchanan passed up the opportunity to work with renowned chef Thomas Keller to learn the art of cheesemaking at Paxton & Whifield. With his newfound expertise, he went on to open Buchanan's in Connaught Village. The shop stocks a range of British and European cheeses, which change daily depending on what's ripe in the onsite maturing rooms.
5A Porchester Pl, St George's Fields, London W2 2BS; buchananscheesemonger.com
Cheese at Leadenhall
An independent cheesemonger, wine and small plates bar in the heart of Leadenhall Market, this gem boasts a collection of over 100 artisan British and European cheeses. They offer informal yet informative cheese and wine tastings led by charming sommeliers – just don't blame us if you end up buying the whole shop after a few glasses of vino…
4-5 Leadenhall Market, London EC3V 1LR; cheeseatleadenhall.co.uk