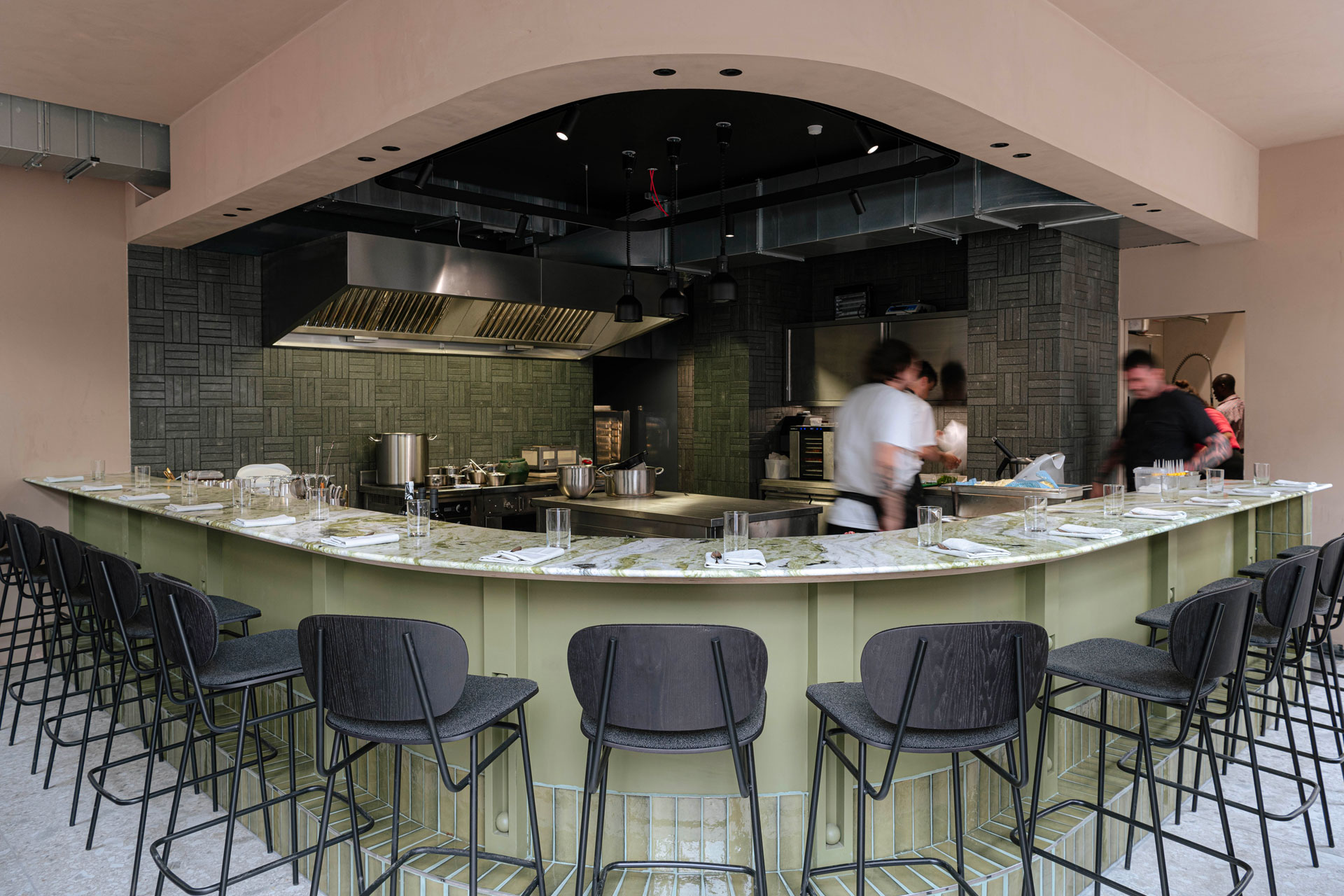 Review: Joe Laker's Counter 71, Old Street
A hedonistic affair with so, so much food
Unbuckle your belt and tuck in – Joe Laker's Counter 71 offers a marathon tasting menu comprised of a jaw-dropping (and stomach-swelling) fifteen courses, discovers Tessa Dunthorne. But you'll eat every last crumb and love every hedonistic minute of it. 
Review: Joe Laker's Counter 71, Old Street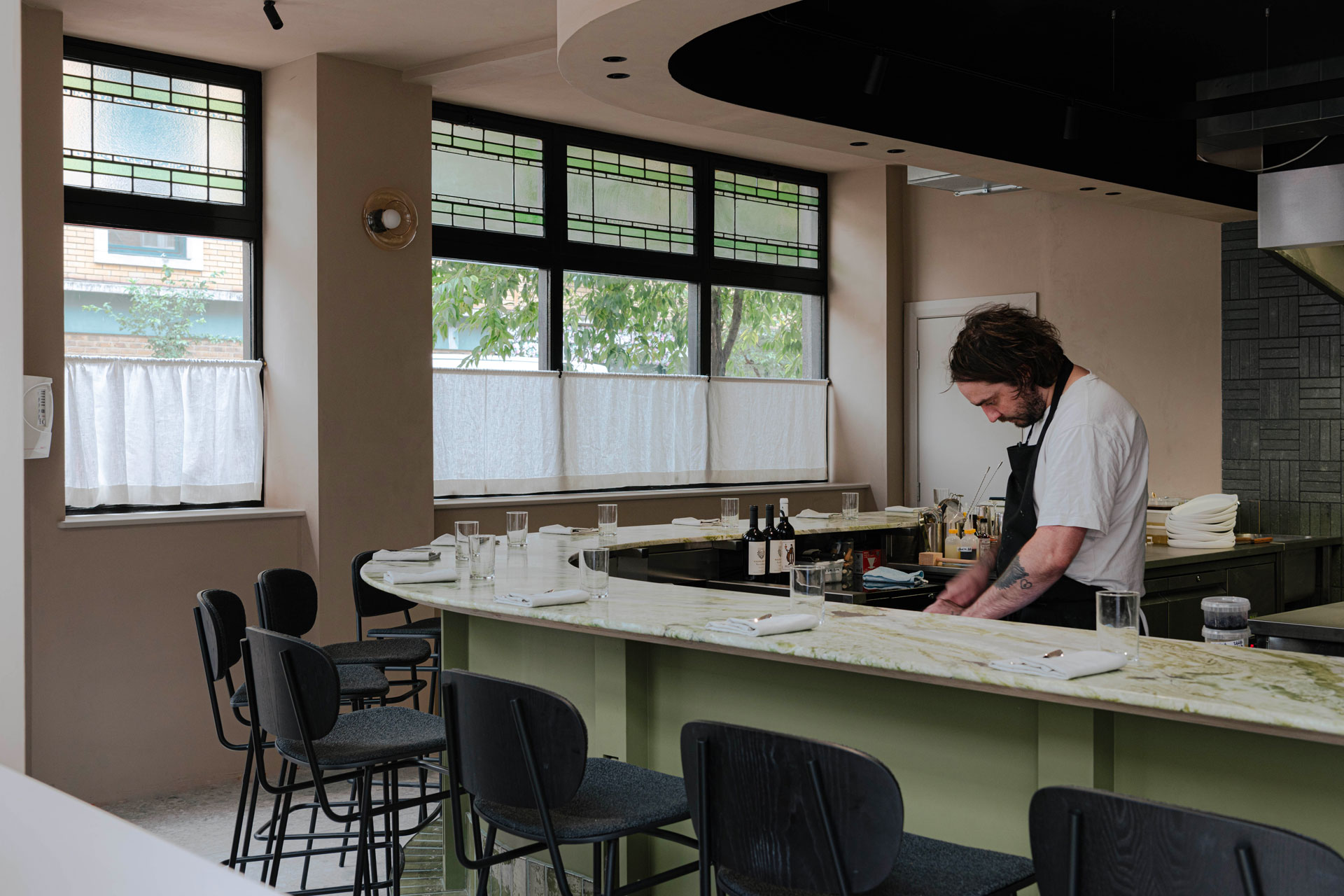 Joe Laker's new Old Street restaurant is named for its counter, which wraps around the space like a hug and tucks in 16 guests a night for a prime view of chef-on-chef action. Counter 71 is largely full when I visit – and although you're near fellow diners (near enough to preview the coming course as it begins to make the rounds), you're afforded surprising privacy, never left elbow-to-elbow. The eponymous counter itself is a big marble affair, and you'll be perched on a teetering stool for the theatrics to follow. It's all rather pared back, and between the cool interiors and a completely non-descript frontage, there's a sense you've stumbled onto a secret. A restaurant that works below the radar. The effect is such that this space – this secretive bolthole – makes you want to sit forwards, sit up, and pay attention to what's to come. And rightly so: this food means serious business.
Chef-owner Joe is an alumna of Fulham's Fenn, so those familiar with the now-defunct west London restaurant will have a vague sense of what to expect (produce-driven cooking that creatively celebrates local ingredients), but I still think you'll face surprises. Seasonality is approached here with a hyper-attentive eye, so much so that the menu expects to shift fluidly according to supplier availability. And on the topic of suppliers: every dish here is a love letter to the network of farmers, cheesemongers and brewers that fill the kitchen's larder. The menu has an exciting layer of storytelling around the provenance of the food – with everything having been picked up just down the road, either in neighbouring counties or cute-as-button farms within an arm's reach.
As we settle down on the stools for the night, we're poured a fizzing Hindleap Blanc de Blancs by Harry Cooper, the manager and/or sommelier who dons many hats. It's the first of many glasses, which arrive with every other dish (thankfully, or else I'd have been rolling home before the mains), and as the first of a few English wines on the menu for the night, it sets the perfect tone. Its own origin story? Bluebell Vineyards, an estate situated in the Sussex countryside, which means it'll have travelled probably under two hours to get here. Local, local, local. 
And as the actual food begins, it's a stream of dishes which sing in their simplicity. The snacks begin with a sweet-savoury langoustine custard and crab pot (all local) topped with a gentle hand of caviar, and a carrot and chicken taco (both local) that is an imaginative spin on a caesar salad, de- and re-constructed, with the most incredible crunch to the crackle of poultry skin. The sheep's cheese and beetroot tartlet has me almost rabidly trying to poach their dairy contact – they use the small but mighty Northiam dairy from Sussex and Kent, via a company that helps tiny suppliers connect with restaurants – and it's once again a tick in the direction of local wins. Check, check, check. The rest of the food does become a blur after this: there are no weak dishes in this menu, which is impressive given the tasting menu spans fifteen courses, so to list out each dish and its strengths to you might make for a less entertaining read. But, at a glance: the muffin is cute, topped with giant Mickey Mouse ears of truffle. The bite of beef tartare and bone marrow is filled with pure umami. The rainbow of tomatoes are topped with perfectly in-season Kentish rhubarb and elderflower. The bread course is pure carby-joy. The slither of eel is filled with smoky, rich flavour. The almost-soup of squid and girolles acts as a light interlude. The sea bass' creamy courgette sauce is a delight. And the duck – oh, the duck… I'll dream about the dripping-at-the-fork duck for a while.
The one weakness of this restaurant is that, by the time desserts swing around, the food is so brilliant and so plentiful that inevitably you will be full. And not just full, in a cute, warm way. Full in an 'unbuckle-your-belt-and-pray' way. It's a testament to how enjoyable everything is that I personally attempted to persevere through dessert (a sheep's yoghurt with chocolate and buckwheat, after a milk and honey round) and into the petit fours. Despite being full to the point of bursting, I guarantee that you will find room. Even if it's in a sort of hedonistic-masochistic way. 
FINAL WORD
An impressive 15 courses with no weak points, and a superfocus on local produce and wine. Wear your loosest trousers. 
BOOK
£110pp, paired wines at £75pp extra. counter71.co.uk