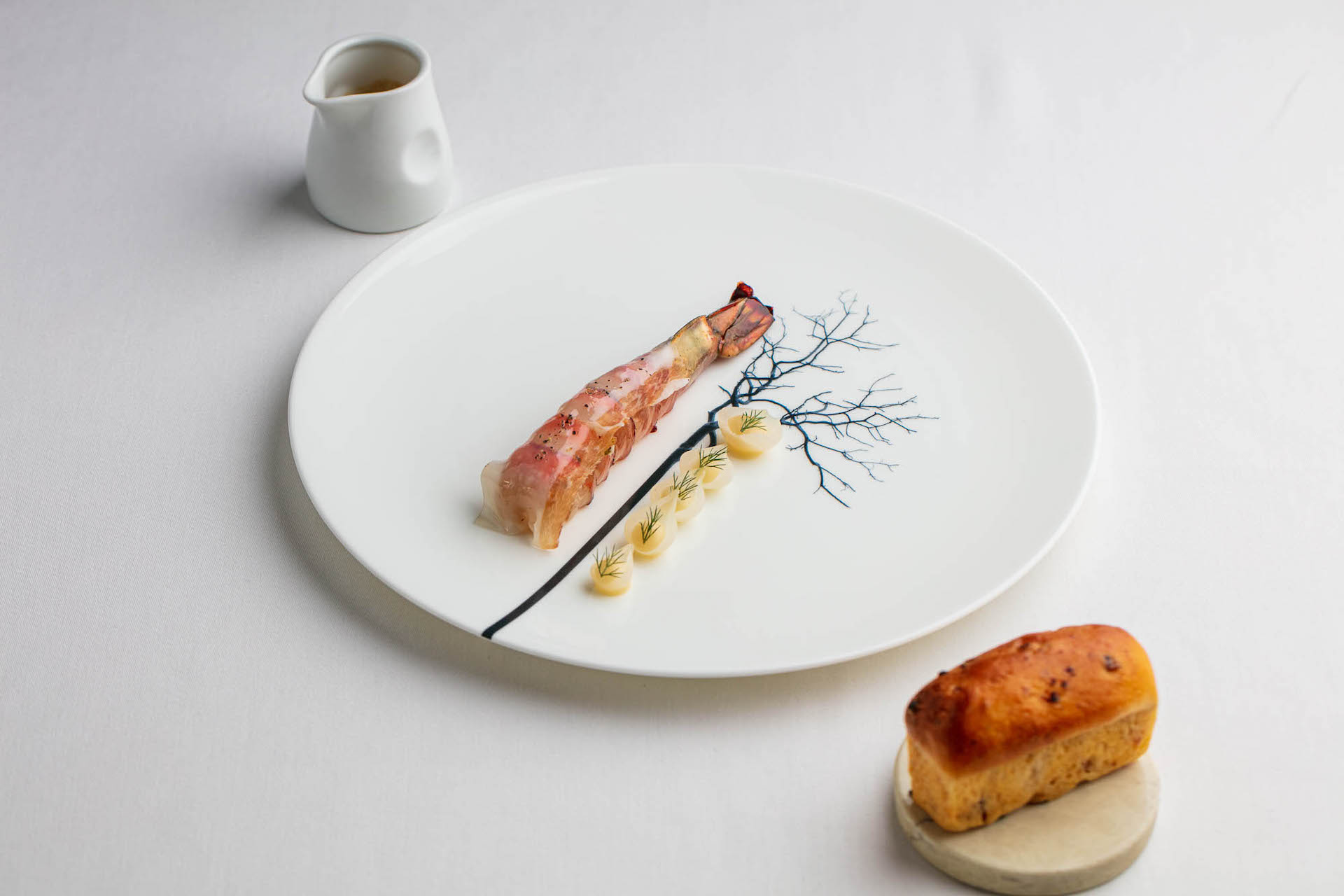 Restaurant of the Week: Launceston Place
---
Launceston Place is a well-loved local that's mastered the art of low-key luxury dining.
Restaurant Review: Launceston Place
Whether you live in west London or are just visiting for an evening, it's always a pleasure to take an evening stroll along the handsome streets of Kensington and Chelsea. Tucked away within these leafy roads is the kind of neighbourhood restaurant you'd dream of having next door: Launceston Place.
Situated on the corner of the street it's named after, Launceston Place first opened in 1986, and became a firm favourite with the locals, Princess Diana among them. Changing hands over the years, it was bought by D+D London in 2017 and chef Ben Murphy installed in the kitchen. Nowadays, it's gained a strong following, with several neighbours visiting three-four times a week, General Manager Ian Toogood tells me.
Under chef Ben's command, the restaurant has quietly blossomed, with a menu of modern British fare served with flair and a sense of humour. Like the food, the setting is quietly confident and a little playful: the French grey walls are adorned with conversation-starting modern art, while the menu comes in a fun dominoes-esque format, inspired by the board games Ben's grandmother always used to keep in the kitchen.
With this, choosing your food for the evening becomes a fun game – simply remove the counters from the three dishes of your choosing (if you don't decide to do the full tasting menu, that is). These are then accompanied by a roster of canapés, amuse bouches and, afterwards, petit fours, as well as wine selected by the sommelier.
First to hit the table was oven-warm sourdough, served with a choice of butters – one saturated with umami seaweed, and the other accompanied by a hit of piquillo pepper, alongside succulent, crispy BFC (Ben Fried Chicken). This was followed by a palate cleanser of chicken consommé, which introduced the first course of juicy prawns served with lardo and black garlic. Then it was on to a delicate mushroom tart, adorned with a rich orange egg yolk and Pont Neuf chips, scattered with mouth-tingling, vinegary salt. Finally, the evening was rounded off with a beautifully coiled peach tart, served with Tahitian vanilla ice cream. Each of the three courses came with wines carefully selected by Launceston Place's sommelier, from an Italian orange wine that matched with the prawns, to a French red that went with the mushroom tart, and a delectable, lightly sparkling Piedmont moscato with dessert.
Altogether, along with the warm staff and relaxed atmosphere, Launceston Place is a real gem tucked away in leafy Chelsea, elegant enough for a special occasion, and low-key enough for weeknight dining (several times a week, if you're that way inclined). One thing is for sure, it won't disappoint.
launcestonplace-restaurant.co.uk
READ MORE