Restaurant of the Week: St Pancras by Searcys
Calling all hungry diners to the train platform (or, as we like to call it, the bar)
By Olivia Emily & Charlie Colville | 11 months ago
Our online writers Olivia Emily and Charlie Colville pay a visit to St Pancras by Searcys, where they're treated to a menu packed with seasonal ingredients, British-born wines and hearty dishes guaranteed to banish any lingering winter chills.
Review: St Pancras by Searcys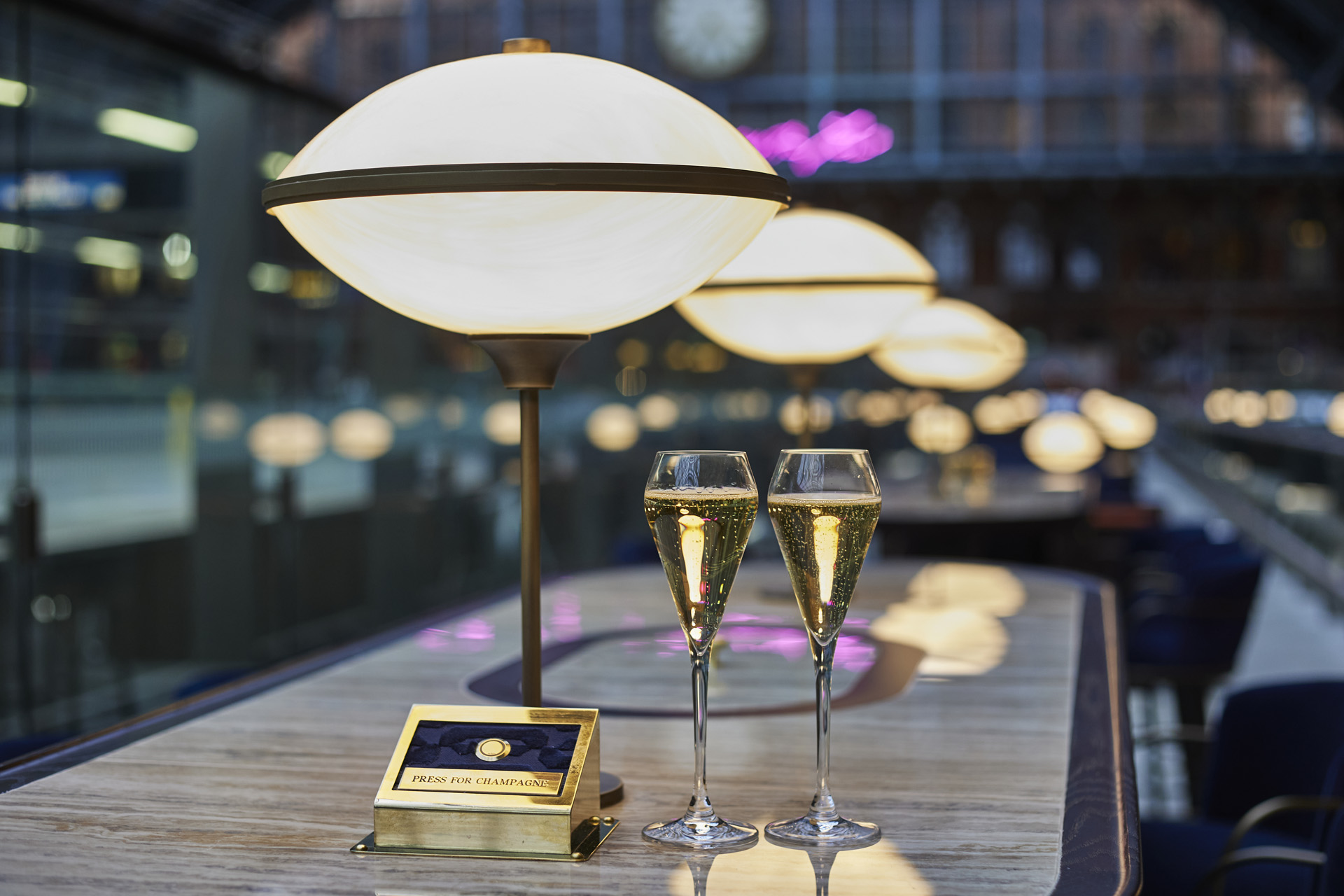 Charlie: So, our post-work dinner reservation this week is at Searcys. We're on our way to the St Pancras branch, which is housed inside the train station.
Liv: Yes, and I'm feeling seriously Ab-Fab.
Charlie: And why's that?
Liv: Well, our first stop is the Champagne Bar, which I always remember looking up at from below when traipsing through St Pancras after a long day in London. I'm a northerner, so when I get the train to London – or when I used to get the train to London, since I live here now – it was into Kings Cross and we would walk through St Pancras to feel chic and because I recognise it from films, specifically Absolutely Champers, the Ab-Fab special in which Joanna Lumley and Jennifer Saunders take a trip to France on the Eurostar, beginning with a glass of champers in Searcys. And here we are right now, sipping on our delicious Champagne.
Charlie: Cheers to that! St Pancras is a great location for a bar, especially one that's right in the middle of all the station buzz. It's surprisingly relaxed at this time (post-6pm on Wednesday, to be precise), and it feels a bit like we have the whole station to ourselves. From where we're sat at the bar, we have a great view of all the platforms, schedule boards and architecture. The station itself is a Grade I listed building, having been built in 1800s by William Henry Barlow (the same architect who helped build the Clifton Suspension Bridge in Bristol). The architecture is a bit of an ode to industrialism, and creates a very opulent setting for glass of fizz with friends. It's also quite massive
Liv: It's very big, very airy, borderline cold, but we're doing okay.
Charlie: The champagne warms you up.
Liv: Absolutely. It also feels really cosmopolitan – I guess because you get to see the Eurostar coming and going.
Charlie: It's a good place to go for a drink just before hopping on your train if you're a nervous traveller. Did you know this is also Europe's longest champagne bar?
Liv: I didn't! I wonder if it has Europe's largest collection of champagne… I doubt it, but it does have a good range of different tastes and flavours. A nice little chat with the barman on what you like what you tend to go for with Champagne, and you are sure to have something that you will enjoy. I've gone for a glass of rose, and you have a glass of white…
Charlie: And then we tried some of each because we couldn't help ourselves.
Liv: Obviously. But yes: very crisp, very bubbly. Delicious.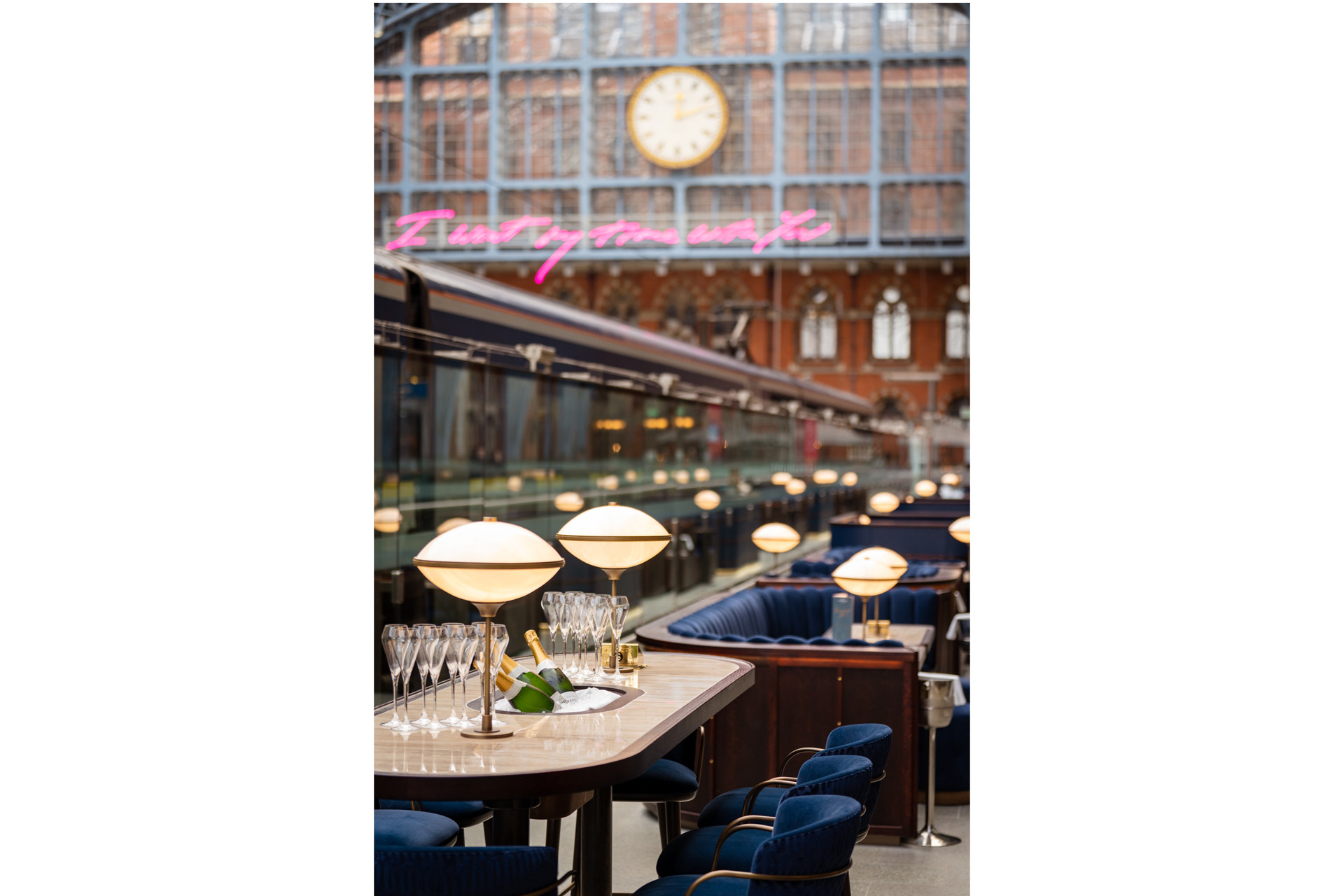 Charlie: If you're only making a stop to the bar, make sure you try one of the nibbles on the bar menu. We had the St Pancras soufflé, which came with this tangy jam.
Liv: Also delicious – like a cheesy profiterole.
Charlie: Agreed! The bar has a whole menu of the bits and bobs that you can nibble on, especially seafood and shellfish. A lot of these ingredients are actually on display in the cabinet which lines the bar, so it's super fresh and you can see exactly what kind of dishes you can sink your teeth into.
Liv: Or, in our case, an ideal accompaniment for a pre dinner sip. Then cross over the walkway to Searcys restaurant proper – the Brasserie – which has a full menu, industrial-chic interiors, and super friendly staff who are ready and waiting (pardon the pun).
Charlie: The Brasserie has a very swanky vibe. Low lighting, lots of gold accents and warm tones and geometric finishes and textures. There's also lots of potted plants dotted around, which gives it a very biophilic feel.
Liv: And of course, because we're in a train station, a statement clock right in the middle. It's bright blue, so you can't miss it.
Charlie: We were tucked away in a cosy little nook off to the side of the main eating area, which is a great setting if you want to go on a date or if you're just meeting for a quiet sit down with friends after work (like us) – or if you really can't stand the nervous chatter of other travellers.
Liv: Then, begin your journey with a delicious cocktail.
Charlie: What did you have to drink?
Liv: So you can carry on your Champagne journey from the bar with another crisp glass. The Brasserie has all the same Champagnes that they have outside at the Bar, but it's a bit more cosy in here. They also have some really exciting cocktails on offer, including a Spicy Margarita (tequila, triple sec, lime and chilli) or, if you're looking for a little pick me up, you could try the English Mojito (rum, mint cucumber, and rhubarb with hibiscus tonic).
Charlie: Fans of something sweeter can try the Crystal Chocolate Martini, which is a rich blend of Grey Goose vodka, butterscotch liqueur and Briottet creme de cacao blanc.
Liv: Great for a dessert alternative!
Charlie: There's also non alcoholic cocktails and they have a low alcohol/no alcohol menu, which is great if you're trying out Dry Jan. Next up is the food itself. Searcys has quite a contained selection, but it covers a lot of different dietary preferences.
Liv: When it comes to starters, expect the likes of French farmhouse terrine with fruit chutney and walnut bread, or slow cooked lamb shoulder with broth, pearl barley and rosemary, or go lighter with a seafood platter – the perfect champagne accompaniment! – or a smaller Mediterranean prawn cocktail. There's also oysters, starting at £12 for three.
Charlie: I like how you said a platter was a light option! I actually opted for vegetarian dishes, and was very pleasantly surprised. I liked the soufflés we had outside so much that I had another as my starter in the Brasserie. This one came with black truffle Roscoff onion jam, which cut through the richness of the cheese with a little earthiness and acidity – making this a really light dish (and an ideal starter). I'm a very predictable diner, so I continued on the cheesy-tasting theme and went for the artichoke risotto with almonds and truffle oil. Now, it's kind of well known that vegetarians always get given a risotto at dinner as that's the only thing available for them, but I swear this is a really delicious dish to try whether you do or don't eat meat. It was very rich, with lots of textural layers thanks to the drizzle of oil and crunchy almonds peppered over the risotto. What's great about this one as well is that it can also be prepared as a vegan option, so you don't have to miss out on anything if you have any special dietary requirements.
Liv: I went meaty as I am wont to do as a failing flexitarian. I was also feeling very festive and dined on a meal that might return next year, but isn't here right now: a chicken roast. Meantime, chicken lovers can dine on the Creedy Carver chicken schnitzel, with caper and parsley butter sauce. Elsewhere on the menu, you can also expect a posh fish and chips with minted peas, tartar sauce and triple cooked chips, as well as a Scottish smoked salmon croque-monsieur, and classics such as slowcooked Lake District beef cheek, crab linguini, or roast monkfish with chorizo.
Charlie: The Brasserie, as with the bar outside, does seem to specialise in lots of fresh seafood. As we've mentioned, there's the 'light' shellfish platter, but there's also plenty of surf-side dishes to try – like smoked salmon and crab linguine. So if you're a seafood fanatic, this is a really good spot for you. These also pair really nicely with the side dishes available, which include your classic portion of triple-cooked chips, some honey roasted carrots and parsnips and Carroll's mashed potatoes. This is all focused around seasonal produce though, so it will change come spring.
Liv: Yeah, I really like that it's seasonal because, as well as it being more sustainable, it means the menu is full of the food you want to be eating. So right now, that is warming.
Charlie: Yes, this was a very warming menu – perfect for wintery evenings out and about in London. But moving on: it's time for dessert. It was really hard to narrow down our choices (we were very tempted by the treacle tart served with clotted cream, as well as sticky banana pudding and coconut sorbet), so we decided to order one each and then share what we had. I went for the orange marmalade crème brûlée, which was super creamy and came with a scoop of gingerbread ice cream. The orange and and ginger together created this really tasty 'winter spice' flavour, which paired nicely with the more subtle flavour of the crème brûlée itself. I enjoyed every bite of that dish.
Liv: Yum. I ordered the chocolate torte with cherry sorbet, which again draws on that seasonal fruity flavour, with the indulgence of chocolate rounding out the meal. I always need to finish on a chocolatey note.
Charlie: A really nice touch is that every dessert on the menu comes with a suggested wine pairing. Which is, again, great if you're a nervous traveller. You'll be feeling very merry by the time you get on the train.
Liv: Just don't spend too long eating all of your different courses!
Final Word
Charlie: This urban gem is the ideal setting for post-dinner drinks and pre-travel dinner, surrounded by the industrial glamour of St Pancras and offering up tasty and hearty dishes that celebrate fantastic seasonal (and local) ingredients.
Liv: Enter an Ab-Fab fanatic, and leave a chic champagne convert.
BOOK
Images courtesy of Searcys