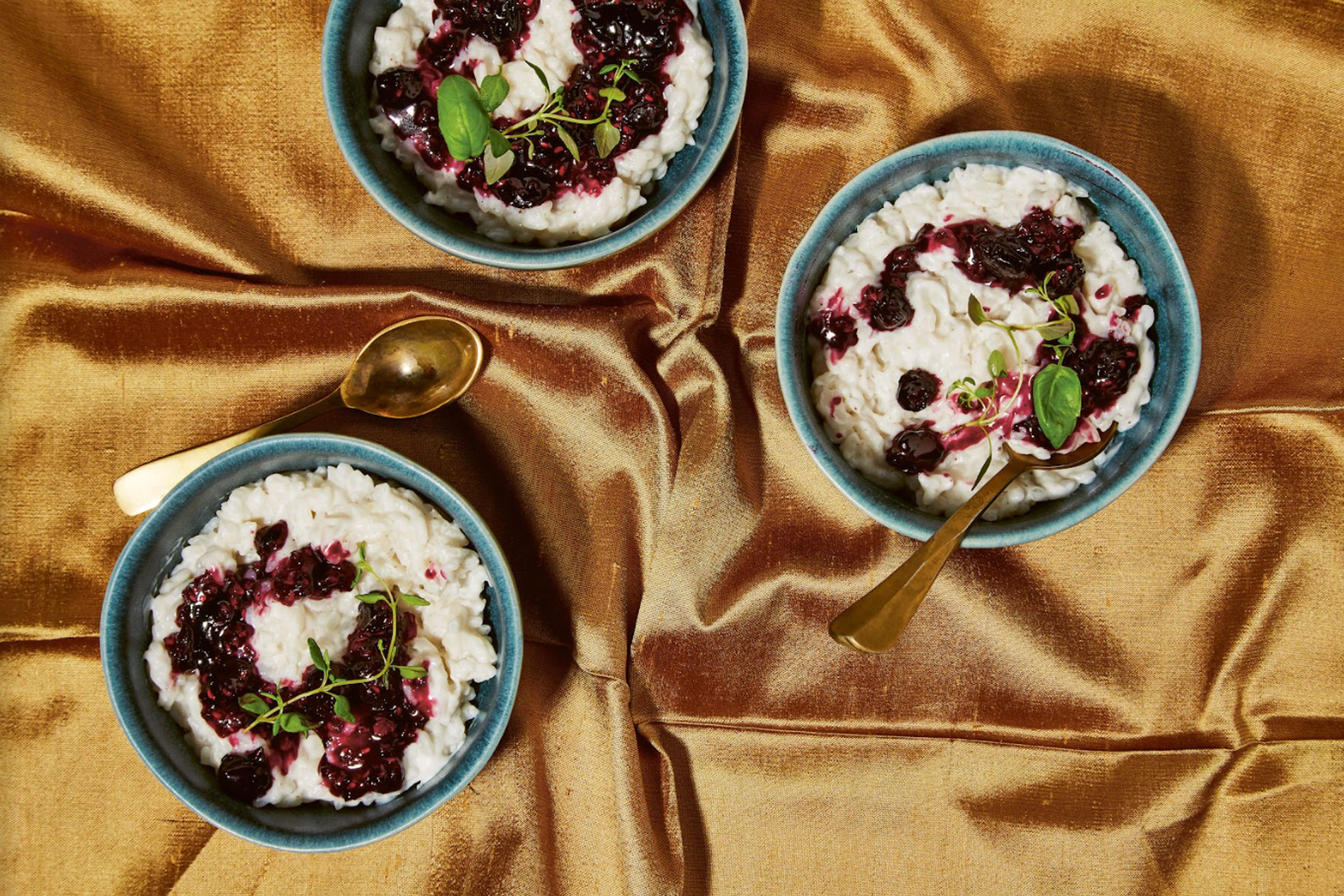 Dessert of the Week: Ris A Lamande
A Danish-inspired Christmas pudding
By Bettina Campolucci Bordi | 2 years ago
Our dessert of the week is Bettina Campolucci Bordi's Ris A Lamande, or rice pudding
Ris al Lamande, also known as rice pudding, is another recipe of mine from my latest book Celebrate. Why this dessert this week? Well, it's Christmas week and this is one of the dishes that are served in Denmark during the holidays. Denmark is where I was born and where my mother is partly from and whose traditions I have adopted alongside the others that I house: Bulgarian, Danish and Norwegian. Due to this we celebrate a few different types of cuisines in our household during the holidays, this being one of them. Traditionally this rice pudding is made with full fat milk and whipped up with full fat cream in the end to make it fluffy and light. An almond is hidden and the person that gets it is considered the lucky one for the rest of the year.
This version is a plant-based one made with a plant milk of choice and whipped up with thick creamy coconut whipping cream, then finished off with warm berries and a sprig or two of thyme. This plant-based counterpart feels as decadent as the traditional but it's slightly lighter and the whole family can enjoy it whether you are vegan, dairy free, gluten free or simply an omnivore. I hope you enjoy spending time with your families this year. Be kind, look after each other and enjoy moments around food, laughter and being together.
Recipe: Ris A Lamande
This is a classic Danish Christmas dish that I have made into a plant-based version. Slow-cooked rice pudding is made extra luxurious with cream ladled in at the end and there's also a hidden almond for one lucky finder.
Ingredients
200g (7 oz/1 cup) sushi rice (or any rice will do)
500ml (17floz/2 cups) water
250ml (81⁄2fl oz/1 cup) coconut cream or refrigerated full-fat tinned coconut milk (see Cook's Tips)
1⁄2 vanilla pod (bean), split and the seeds scraped out, or 1⁄2 teaspoon vanilla paste or extract (see Cook's Tips)
2 tablespoons soft brown sugar or 1 tablespoon maple syrup, honey or coconut sugar
1 almond (to hide inside the pudding once cooked)
To finish:
100ml (31⁄2fl oz/scant 1⁄2 cup) coconut cream, whipped
1⁄2 vanilla pod (bean), split and the seeds scraped out, or 1⁄2 teaspoon vanilla paste or extract
To serve:
Warmed berries (such as blueberries, blackberries and strawberries)
A sprinkling of ground cinnamon
Basil sprigs
Method
Boil the rice in the water in a medium saucepan until all the liquid has completely evaporated. This should take no more than 20–30 minutes.
Add the coconut cream, vanilla and sugar (or whichever sweetener you are using) to the rice and let everything simmer for a further 20 minutes until you have a beautiful, creamy, rice pudding-like consistency.
Once the rice pudding is ready let it cool down completely.
To finish, whip the cream and fold in to the rice pudding with the vanilla and cinnamon – and don't forget to add the almond.
Ladle into serving bowls, top with warm berries and basil, and whoever finds the lone almond in their dish has a lot of good luck coming their way!
Cook's Tips:
Whatever quantity you would like to make, just use 1 part rice to 2 parts water to scale the recipe up or down.
If using a fresh vanilla pod, once you have scraped out the seeds, pop the pod in the rice while it's cooking for extra flavour and remove before serving.
MORE DESSERT OF THE WEEK:
Chocolate, Orange and Amaretto Mousse / Almond & Fig Muffins