Sam Ashton-Booth is newly redundant, so his venture The Outside Oven gives a new meaning to Eat Out to Help Out, whilst also giving a new spin to home-cooked meals. Plus, in these uncertain times, his feasts costs far less than any Michelin meal in a restaurant. The average food spend at The Ledbury was £125 per head, without alcohol. Caroline Phillips tells us more…
Sam Ashton-Booth & The Outside Oven
You know The Ledbury, that 2-Michelin starred London restaurant that just closed down, a sad casualty of social distancing and Covid? Well now some of The Ledbury can come to you. To your garden, to be specific. Or to be even more precise, its erstwhile sous chef, Sam Ashton-Booth, will nip over to your house to cook for you a meal the likes of which you'll have rarely eaten. And all magicked up for you and your guests al fresco on your barbecue.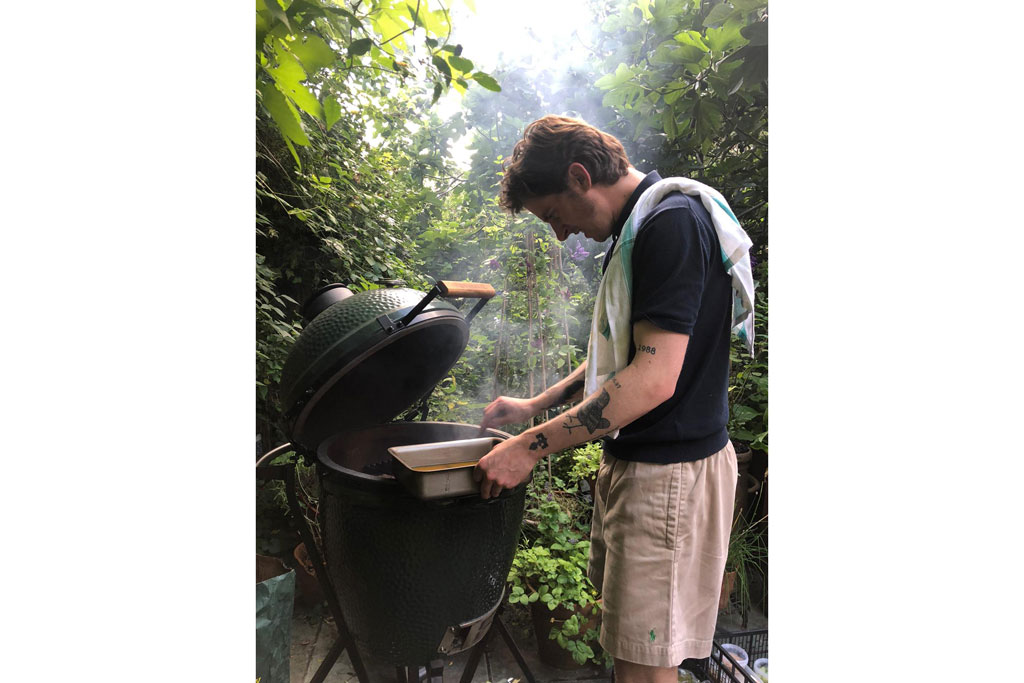 Sam is only 31 yet his CV is as impressive as premium wagyu beef and top-notch lobster, and includes stints at other Michelin-starred eateries (such as having been head chef at Story) and premier league restaurants. He's also stirred his alchemical combinations in pots in a (palace) kitchen in Madrid and used his ingredients and initiative in the Arabian desert near Abu Dhabi, where he a concocted a meal at an event for thousands of golf enthusiasts… with no electricity.
Sam arrives at our North London house in shorts, mod haircut and decorated with tattoos. There's '1988' emblazoned on one arm, his birth date. 'Never forget who you are,' is another, alongside a tattoo of a lady blackbird. "The tattoos are designed by my brothers," says this double-barrelled gourmet chef who started cooking at the age of 14, as he lays out on our teak table his food purchases and sauces that he's pre-prepared. Think vinaigrettes, blushing peaches and tomatoes in a rainbow of red and purples.
The Best Private Chef Services in London
His ingredients all come from Notting Hill Fish Shop, the chefs' supermarket which morphed during lockdown into one of London's leading high-end food emporiums —delivering orders within the hour and selling top quality fish (tuna so fresh it's almost swimming), organic allotment veggies, artisan cheeses to tip-top (family butcher H G Walter's) meat (you must try their beef bacon). So, what distinguishes Sam's cooking? "Flavour," he replies in his Brummie accent. "And that it's seasonal, elegant, natural and colourful."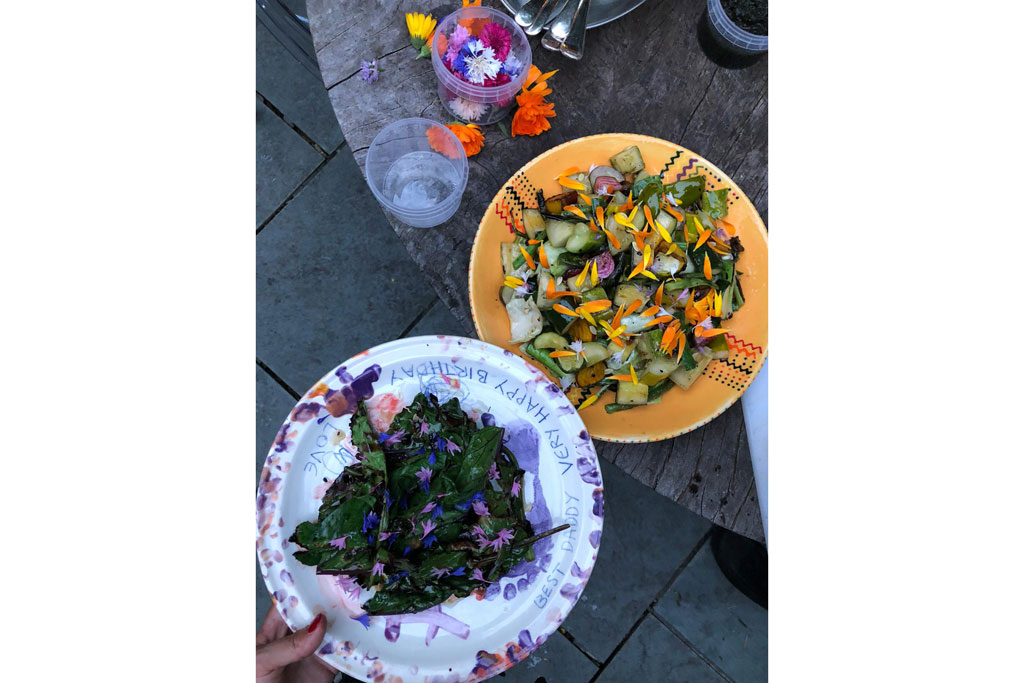 He's excited about cooking on our Big Green Egg (EGG), apparently one of his favourite ways of preparing a meal. (He considers it a leading BBQ which, with its er, eggcessory, the convEGGtor, turns it into an excellent outdoor oven.) Sam scatters hickory wood chips (or there are cherry, pecan or apple options) across the natural lumpwood charcoal and waits while the EGG (rapidly) reaches 190 degrees. Meanwhile he's charming and calm, not at all the saucepan-throwing type.
Sam soon produces the sort of meal that is served to the top brass in Paradise. Think lightly grilled black, yellow and red Marmande (beefsteak) tomatoes with smoked burrata, raspberries and a gently bitter oil that he's made from tomato vines crushed slightly and cooked with basil. Next up is the bread he baked with Molly, his circus director girlfriend. It's a toasted seaweed sourdough so good it's a joke, and served with whipped brown butter lighter than clouds, the colour of hazelnuts and with a slight flavour of Marmite.
Eat Out to Help Out: The Fine Dining Restaurants Participating
Afterwards he offers succulent hand dived Oban scallops — the size of mermaids' palms — baked in beef fat and served with homemade fresh gooseberry and mustard jam: a surprising overall combination that works very well. "You have to treat scallops with love and respect," Sam explains sombrely, using the top layer of the barbecue for them. "Shellfish goes well with beef fat," he adds. "I like cooking oysters with it too."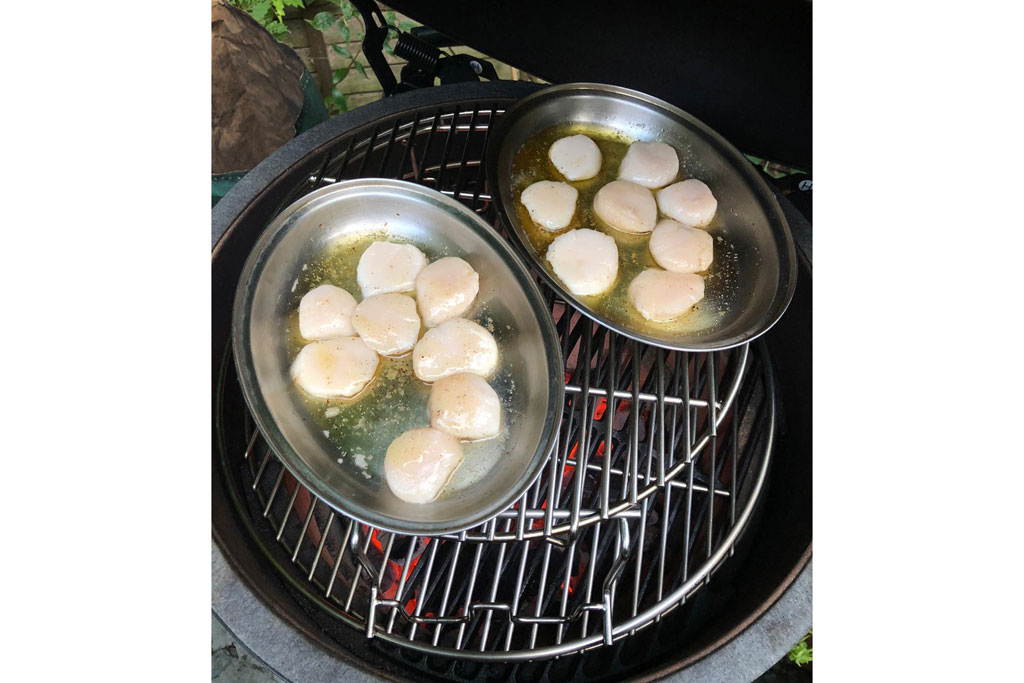 Then he appears with roasted lamb rump with kohlrabi sauce that's bursting with the flavours of pickled seaweed, dried olive and lamb bone stock infused with thyme. The meat is accompanied with grilled allotment salad — of lightly charred beetroot leaves, young leeks, and hispi cabbage — dressed in a shiso (a floral leaf that's part of the mint family) vinaigrette.
We're soon happily full, the six of us (my foodie husband, our two twenty-something daughters, plus our psychotherapist and advertising director friends). For pudding, Sam offers a light option: white peaches marinated in honey and lime syrup, gently grilled on fig leaves and suffused with orange oil, fresh lavender and lemon verbena. He makes all four courses on the barbecue (using its EGGspander system).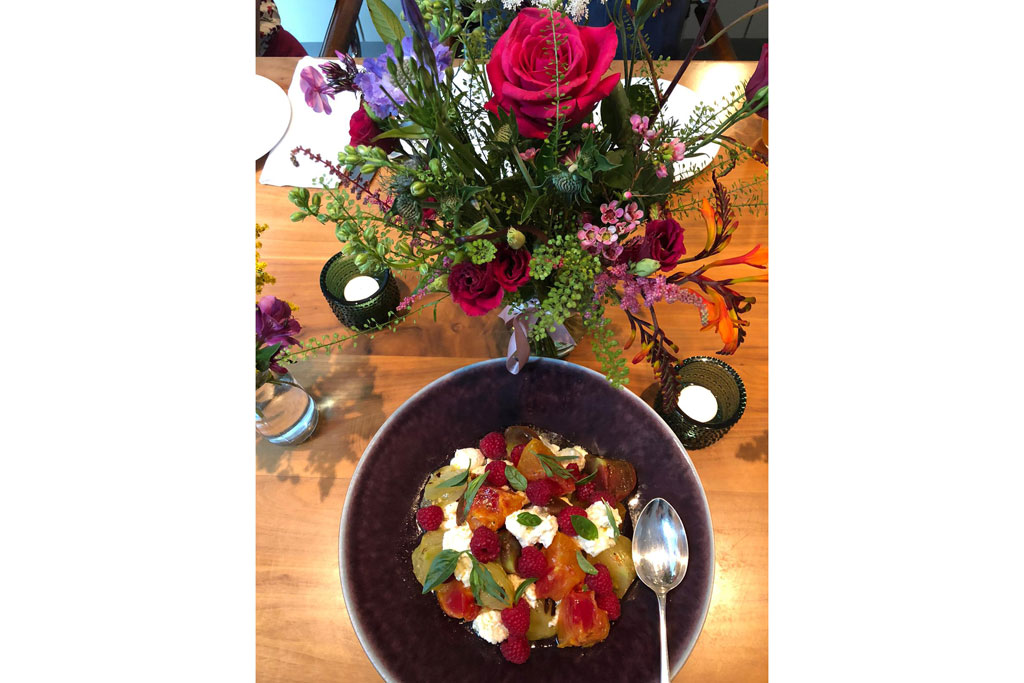 Sam's cuisine is creative, original and modern: his thinking's outside the (culinary) box. His creations are also clean, healthy and cooked with very little fat. He's passionate about food, open to suggestions and will work to a theme or idea, tailoring menus to clients' requirements. He will cook for up to eight on an EGG. Our spread cost £80 per head, including ingredients. He'll also travel (almost) anywhere to prepare his feasts.
Bored of cooking for yourself or with your chef creating dishes for you at home? Don't want to entertain guests inside? And not yet feeling the love for socially-distanced restaurant dining? Sam provides an EGGcelent alternative. Who said the pandemic didn't have a silver lining?
HOW?
Chef Sam Ashton-Booth +44714 763665 and [email protected], from £80 per head including ingredients, plus travel
Forget kerbside drop-off and pallets if you buy a Big Green Egg, choose instead the White Glove Delivery and Assembly service in the UK. A nifty duo arrives at your house to construct the EGG on site, stays to answer your questions, then takes away all the packaging. biggreenegg.co.uk and their White Glove Delivery and Assembly from £180.
READ MORE
Best Restaurants for Outdoor Dining in London / Best Restaurants in Soho
---