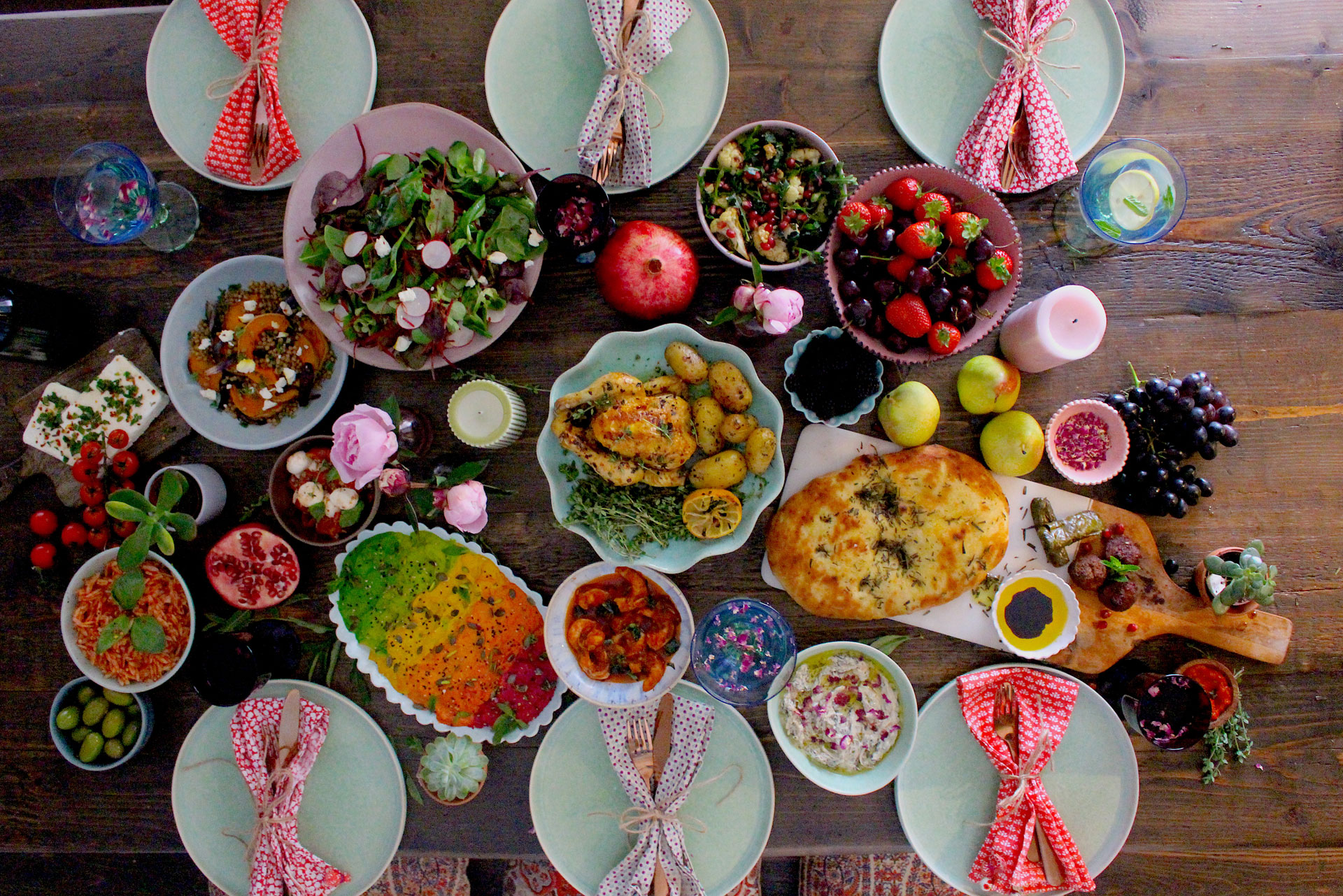 The UK's Top Private Chef Services & Caterers
The catering companies to know – from long-standing institutions to innovative new concepts
Bring the dining out experience to you with one of the UK's many private chef services. Whether you're looking to organise a special date night, a family reunion or even a small wedding reception, these catering companies will do the hard work for you. And with experience cooking for everyone from Michelle Obama to Kate Moss, you'll know you're in good hands.
Best Private Chef Services & Caterers in the UK
POW Food
B-Corp catering company POW Food – standing for 'power of wellness' – is fuelled by a mother-daughter duo with a passion for bringing friends, families and colleagues together over nourishing, healthy and deliciously flavourful food. Founded in 2019, industry veteran Ali Warburton comes with 25 years of experience in high end catering, and is bolstered by her health coach daughter Emily Warburton-Adams; together, in 2023, their company became the first and only female certified B-Corporation catering company in the UK.
It's all thanks to their ingredient-led, responsibly sourced, nourishing menus of the finest quality, which are bursting with flavour. Think delicate teriyaki salmon, punchy peanut-free satay chicken (in fact, the entire kitchen is peanut free), and fresh salads doused in deliciously light dressings. Services range from workplace catering to event catering, and fans include the likes of Versace, Vogue, Nike, Google, and the C&TH team, too. Plus, if you're just looking for a quick fix, the new handmade-to-order 'At Home Gourmet Dining Range' is perfect for impressing guests – or just nurturing yourself and your family with an easy but nutrient-rich dinner option. Build your own menu of starters, mains, side and desserts, catering from two to 100 portions, follow the simple (and quick) preparation instructions, and prepare for the deluge of compliments.
Find out more about POW Food's nutrition and sustainability pledges here. powfood.co.uk
Bramble Dining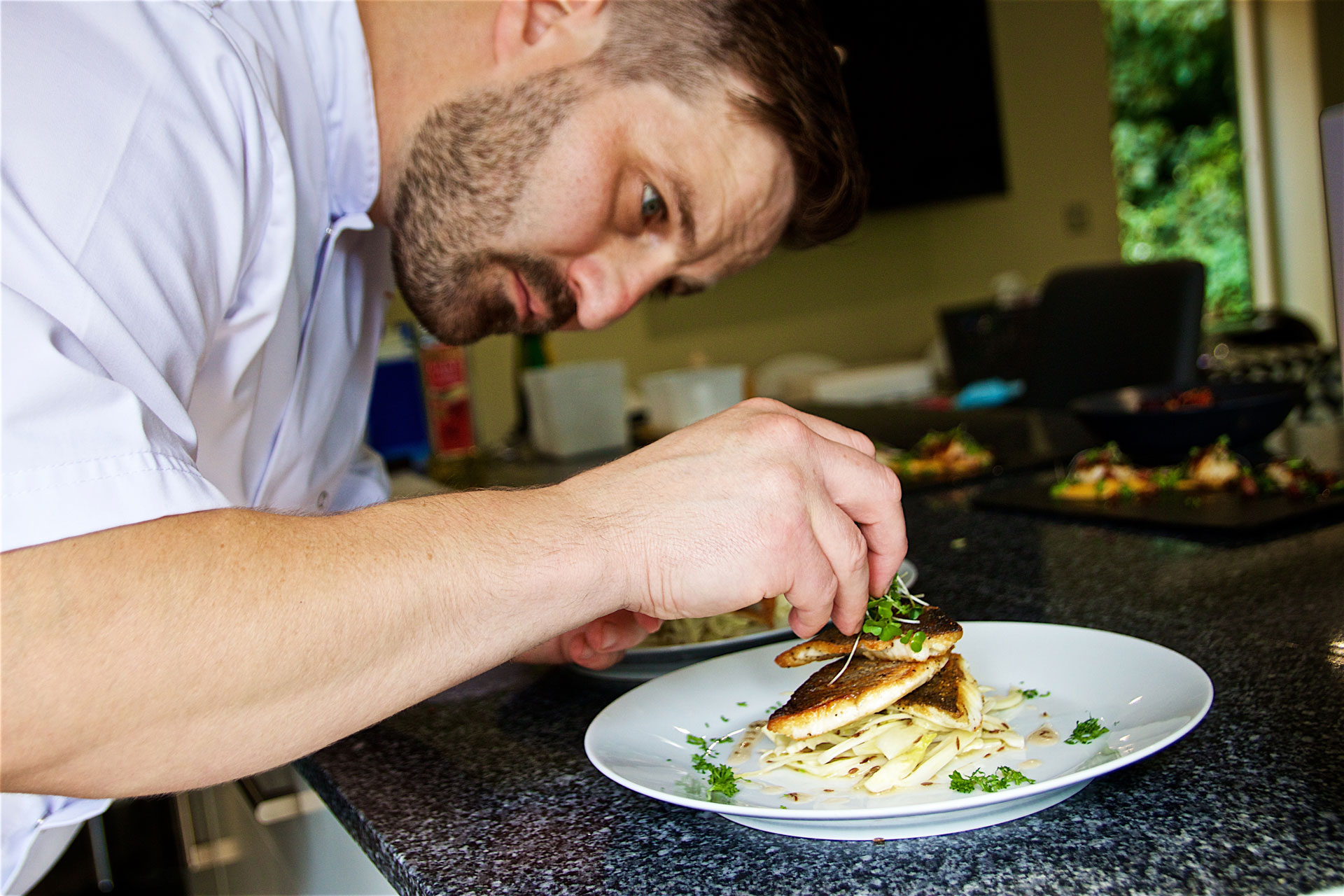 After 15 years working in kitchens and catering, self-taught chef Richard decided it was time to set up something of his own – and so Bramble Dining was born. Launched a year ago by Richard and his wife Claudia, the private chef service caters for dinner parties, weddings and events, with the option to add a waiter service. A number of set menus are on offer, which could look something like: beef carpaccio with parmesan and truffle oil followed by sautéed king prawn and chorizo in a lemon butter sauce, with an orange and pistachio sponge dessert. But you can also work with the chefs to build your very own bespoke menu. Whichever dishes you choose, you can rest assured they will be made with high-quality ingredients and finished to perfection – plus the team will leave the kitchen spick and span. brambledining.com
Peapod & Co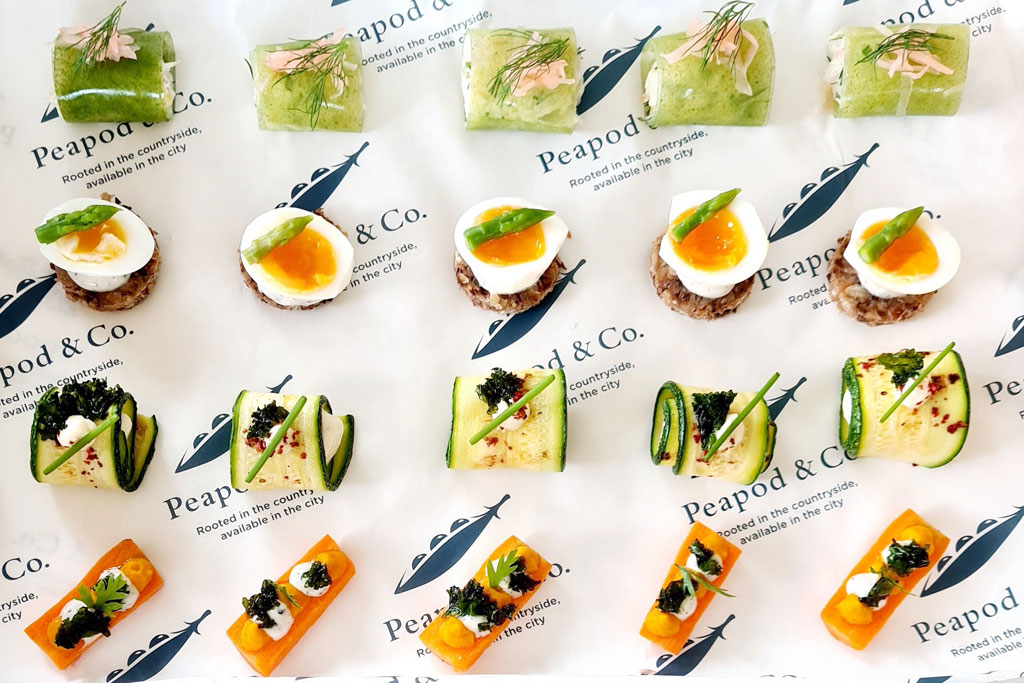 Peapod & Co is the Net-a-Porter of canapés, delivering ribbon-tied boxes of immaculately turned out morsels to the door. Previously at Rocket Food and Rhubarb, Henrietta Russell launched her boutique catering company last year to bring creative, seasonal menus to Hampshire, London, Surrey and beyond. Ballymaloe trained, she combines her love of flavour with a stylist's approach to presentation. The canapé selection includes salt-baked cauliflower and roast quince; asparagus roll, cured egg and lemon mayo; beef cheek croquette and Comte and truffle toastie. Each is a work of art and, almost, too chic to devour. Peapod also offers accompanying wine and champagne from Maisons Marques et Domaines. peapodandco.com
Sophie Wright Catering
Aged just 20 years old, Hackney-born Sophie Wright became head chef at stylish Notting Hill restaurant Beach Blanket Babylon. Not long after she turned to private catering, opening up her own company – which quickly came onto the radar of royals and A-listers aplenty. Sophie Wright Catering has upheld its esteemed reputation for over ten years, with top-quality food, knowledgeable chefs and beautiful table arrangement a given. Events are tailored to clients' preferences, but an example menu could include pan seared scallops to start, a miso glazed sea bream main and vanilla panacotta with peach and basil salsa to finish. sophiewrightcatering.co.uk
Social Pantry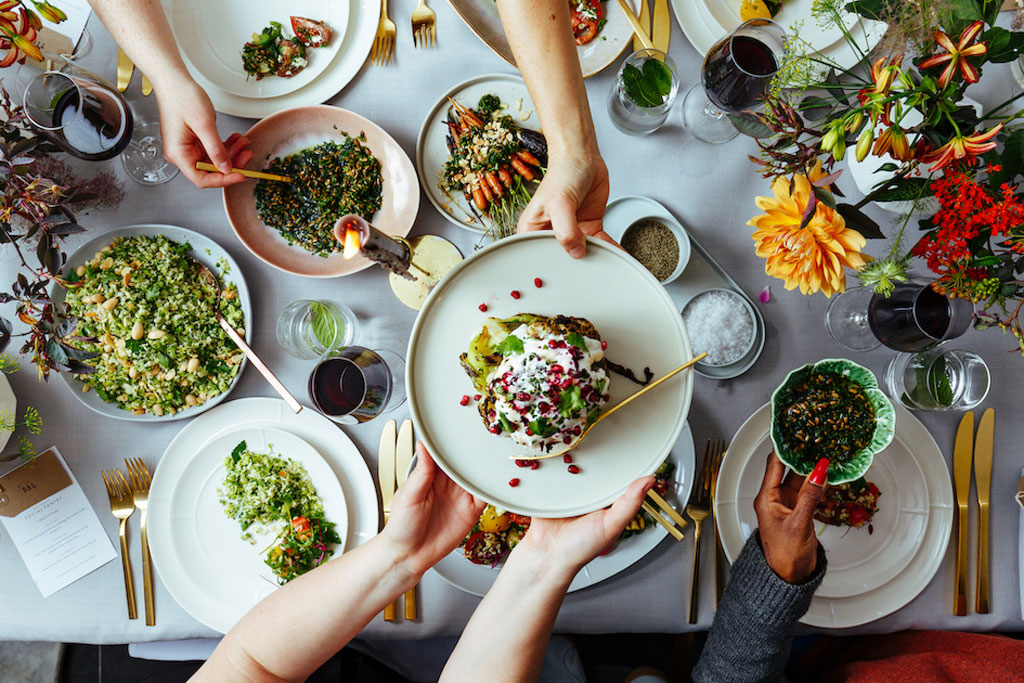 Gigi Hadid, David Attenborough and Hilary Clinton are all among the clientele of London caterer Social Pantry, founded in 2011 by Alex Head. Seasonal, fresh food is the core focus: an example menu could include whipped ricotta to start followed by roasted sea bass, with a dark chocolate mousse for dessert. Aside from the impeccable food, the business has a social conscience: Alex works closely with London prisons, charities and enterprises to recruit ex-offenders both from behind bars and on release. socialpantry.co.uk
Rose & Food
Sustainability is at the core of Rose & Food: free range meats are sourced from local butchers, while fruit and vegetables are hand-picked from local grocers and growers. Headed up by private chef Sophie Rose, the company caters for everything from boutique weddings to intimate dinners – they'll do afternoon tea, canapés, sit down meals or whatever you're after. Presentation is also a key focus, so you can expect Instagram-worthy creations. roseandfood.co.uk
The Hampstead Kitchen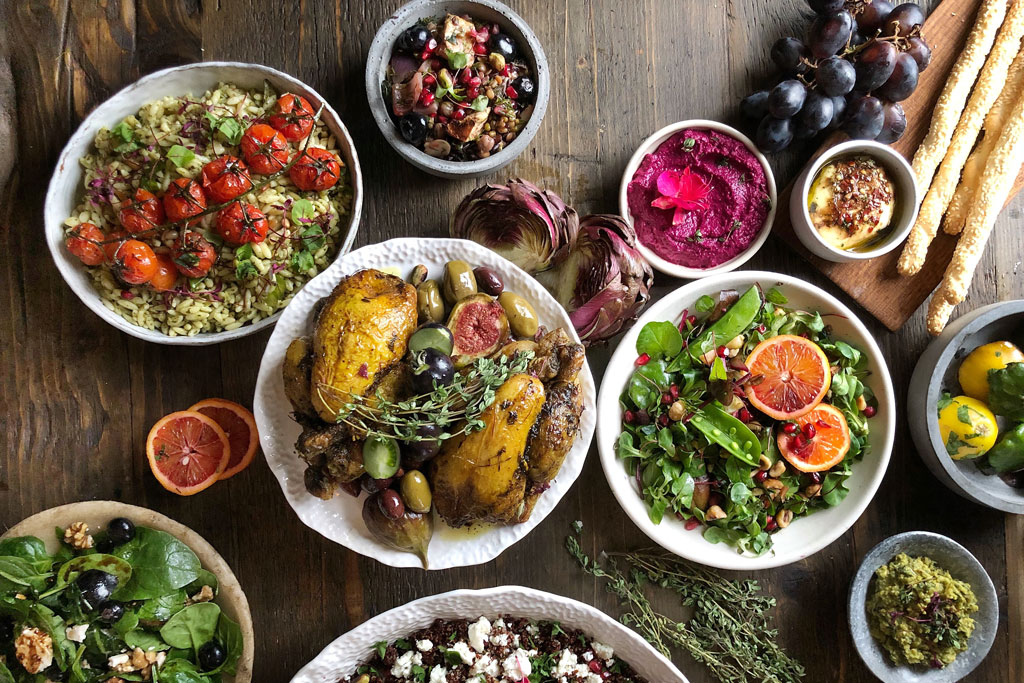 You know you're in good hands with private chef Saima Khan, who has cooked for the royal family and the Obamas in her time. Her most recent initiative is Social Bubbling: an evolution of her catering company The Hampstead Kitchen which offers a bespoke food delivery service for the age of social distancing. This involves personalised platters featuring international flavours – Persian banquets, Mediterranean feasts, Nordic smorgasbords – all plated up on grand silver mezze platters. There are no set menus, though you can pick from Saima's selection of signature dishes, such as 'The Obama Dip', a creamy yoghurt dip with rose petals named after the former first lady, who claimed it as her favourite after a catered event at The White House. Guests can also pick a theme, such as date night, celebration, garden, surprise or Sunday roast. thehampsteadkitchen.co.uk
By Word of Mouth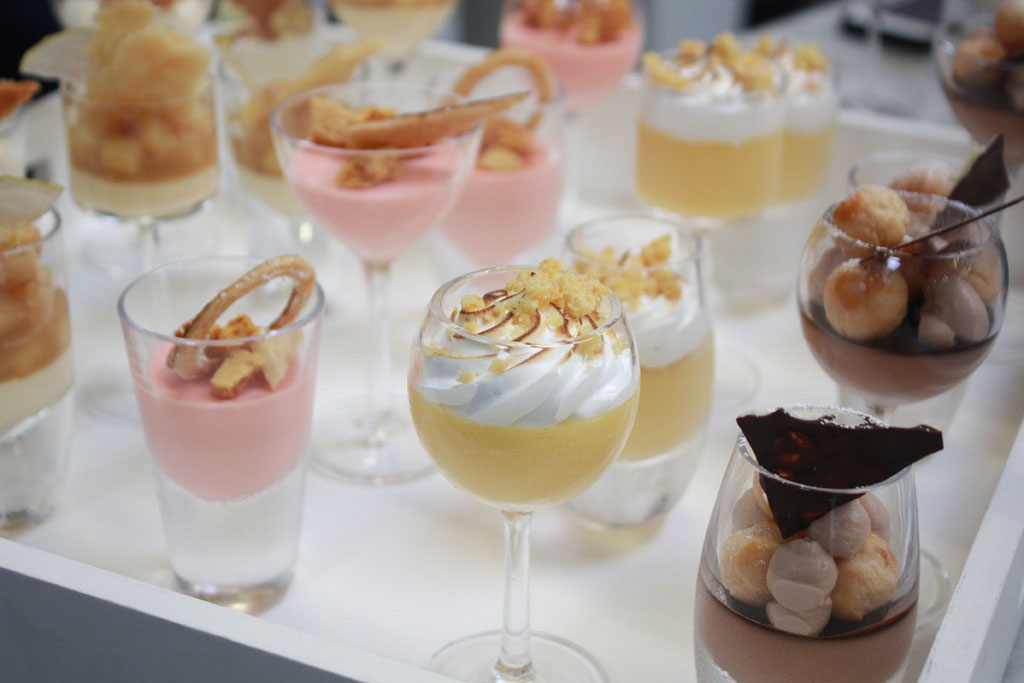 Family-run caterer By Word of Mouth may have been around since the 1970s, but it's by no means behind the times. Menus are seasonal, ingredients are responsibly sourced and food presentation is key. Having decades of experience has also earned the brand a trustworthy reputation, so you can guarantee restaurant-style dining – whether it's a party, wedding, event or simple dinner. In fact, the company prides itself on flexibility: their chefs have cooked everywhere from tiny boutiques in Bond Street to a marquee 1800m above sea level in the snowy Alps. bywordofmouth.co.uk
George's Kitchen
Since being founded six years ago, West London catering company George's Kitchen has built up a base of long-standing clients. And while a commitment to outstanding cuisine has always been fundamental to the brand, in the past couple of years sustainability has become an increasingly important part of its ethos. 'We endeavour to work with suppliers who are focused on sustainability as an issue, founder George Rouse tells C&TH. 'To save waste we tell all our suppliers not to bother wrapping anything, and we donate food we don't use to a homeless charity in London.' Menus are highly dependent on the seasons, but previous dishes have included homemade potato gnocchi with purple sprouting broccoli, pigeon breast with haggis scotch egg, slow roasted pork belly with black pudding, and a rhubarb and custard tart. georgeskitchen.co.uk