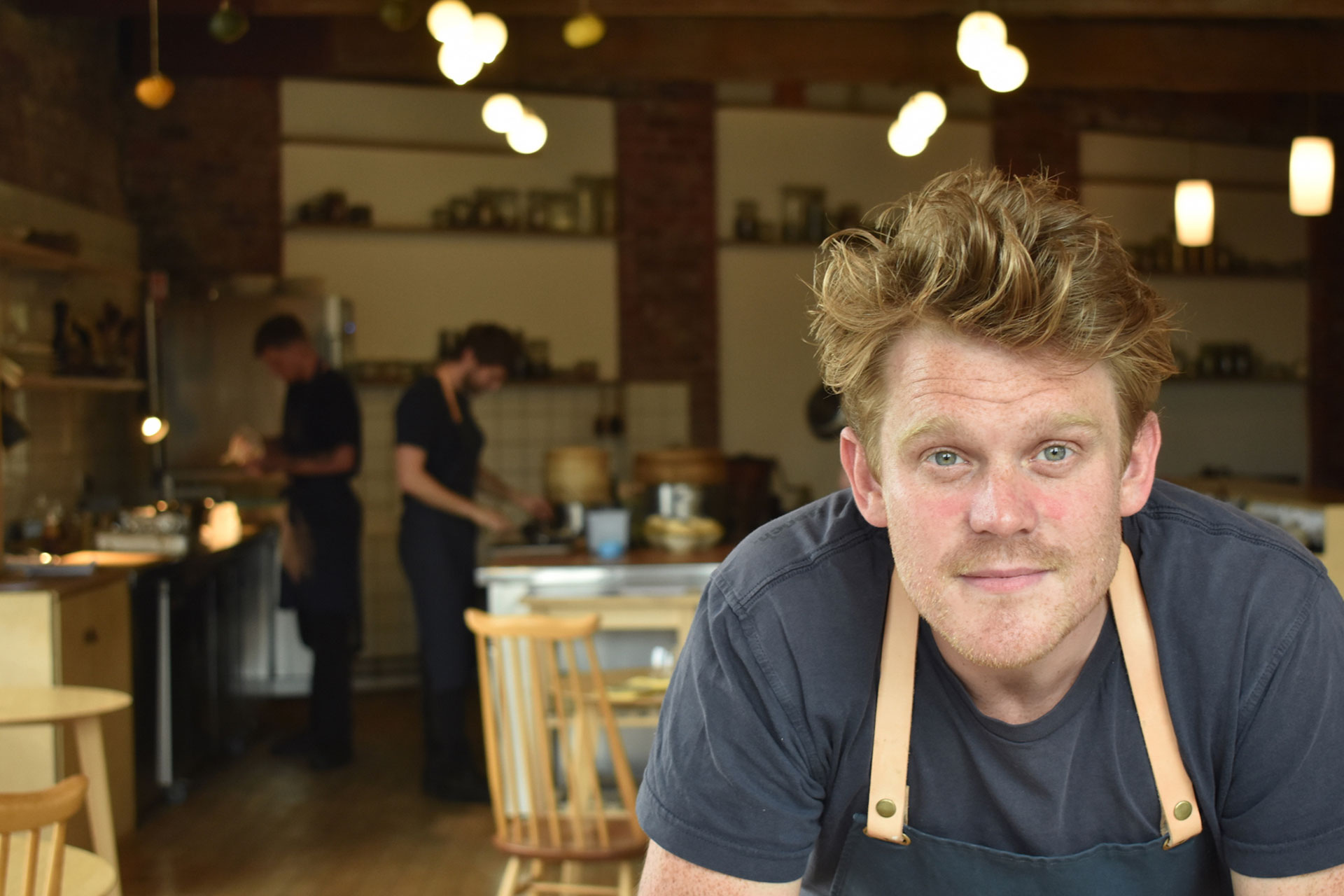 Chef Sam Buckley on How the Food Industry is Changing
'Let us have a little struggle and go back to a simpler way'
Stockport might not be your first thought when it comes to the UK's food hotspots – yet in this unassuming northern town, chef Sam Buckley is causing quite the culinary stir. He's the name behind the area's most famous restaurant, Where The Light Gets In, as well as community growing space The Landing – and this May, he's launching a new venture: a bakery, pottery and occasional evening drinking and dining space Yellowhammer. Sustainability sits at the heart of all Sam's projects – but in a quiet, organic way. That means not just jumping on bandwagons, but supporting local communities, simplifying business and – above all – using common sense. Below, the pioneering chef shares some of his thoughts on the evolving food industry.
Q&A with Sam Buckley
What inspired you to become a chef?
As a kid I was always into my auntie's cooking and Indian food, but there was never an: 'I'm going to be a chef' moment. When I was at school I got a part-time job in a tapas bar – I was front of house but I was a terrible waiter, so they put me in the kitchen on the pot wash. I got the bug with it. I was at college studying art, but I made the decision that I just wanted to cook.
When did you become interested in sustainability?
Since we opened the restaurant, the idea was to try and be responsible. Our philosophy is to make sure we're looking after our immediate environment as well as the global environment, working with people that are skilled and passionate in their crafts. That's everyone from pig farmers to fishermen to ceramicists. This puts a lot of boundaries on the cooking – for example, we don't use citrus because we can't trace it. I don't like terms like hyper-seasonal but we use exactly what's around at the time – that's outside of the idea of seasonality, because we've got such a muddled climate at the moment. It's a very natural and responsive cooking approach, and I find that heightens creativity.
Is greenwashing is a problem in the food world?
Enormously, I think it's a problem everywhere. We're part of – and we can't escape – this massive capitalist system that we're all driven by. Amazon and eBay are now advertising local shops – but I get really dejected by that, because it's a case of us and them and we're not going to win. We got a green Michelin star last year which I'm supposed to be very happy about – and in some way I'm proud of the team for achieving that – but we know more about sustainable restaurants and healthy practices than Michelin do. I find it quite ironic.
How has the pandemic changed the food industry?
When we opened the restaurant again, everyone getting their stamina back was difficult. In the 80s and 90s being a chef was an occupation for people falling through the cracks, but now it's more of an attainable occupation, so you get this level of people not wanting to work so many hours. It's definitely more prevalent after lockdown. I also think the changes that we're all talking about in a sustainable way – such as sourcing ingredients from better places – are going to become more necessary because of Brexit. We can't get food from certain places – and we can't even travel up the country now because of CO2 shortages – which I think is great. Let us have a little struggle and go back to a simpler way.
What could restaurants be doing better?
Not wasting food, trying to keep your staff happy – for me these are all common sensical proposals. At my restaurant we're on a four-day week. Simplifying things is better for business: it's about using a degree of common sense and being aware of what's going on.
Tell us about your new venture, Yellowhammer…
It's a small-scale neighbourhood bakery and retail space. We'll do morning buns, a bit of takeout food and filter coffee, then we'll be selling our natural wines and pickles. We're really concentrating on provenance; it's about finding the right millers and craftspeople. The idea was we'd create another closed loop so any of the waste products we've got at the restaurant we can turn into pickles and ferments that we can sell at the bakery. Then at the back we've got this open-plan pottery studio, where my friend Joe Hartley will be engaging with the community and running workshops. It's an odd combination but those disciplines – baking and pottery – seem to fit.
What are you cooking this autumn?
It's harvest so everything's coming in. We're growing habanero chillies in a car park in Stockport, we've got Chinese artichokes, squash, celeriac and artichokes, and we're just about to start wild duck season. We also make cider every year – we stay behind at work and have a bit of a party. Summer is crazy because you get bits of everything, but there's this big abundance now. We'll make miso and goji jams, getting ready for the winter when there's nothing around.
Which chefs are inspiring you?
It's nice to be reading what everyone's doing – the people that are trying to make an effort and be super creative. There's a global community out there. I'm interested in the younger chefs that are more nomadic. I'm more inspired to be looking at neighbourhood restaurants rather than these big grand places we've all been enamoured with for the past decade.
Is there a big change going on in the food world at the moment?
I think so. It's a collective consciousness. I prefer to eat at neighbourhood restaurants and I feel like everybody else must be in the same boat. There are still a few fine dining restaurants coming out, but not as many. These will always be there for people, but now it's more about communities and just walking down to your local bistro.
Main image by Chloe Frejaville
READ MORE:
Kiran Tawadey on Biodynamic Tea Farming / Sustainable Restaurants in London