Resident cocktail aficionado Imogen Agnew talks us through the new cocktail menu at Scarfes Bar which exceeds expectations and holds a charming surprise on every page…
Scarfes Bar Launches New Cocktail Menu
When I mentioned to the office that I was going to Scarfes Bar, I was immediately told 'It's Lucy's [Cleland, editor-in-chief] favourite bar in the whole of London', which is high praise indeed. Lucy even chose it as the location for the magazine's monthly interview series, Conversations at Scarfes Bar, most recently speaking to none other than Ruth Rogers. My expectations were duly raised and met in this superb bar that ticks all the boxes if you're looking for something that is different, fun and individual, yet still highly sophisticated. 
Scarfes Bar takes its name (and the illustrations not only all over the walls, but also in its brilliantly devised new cocktail menu) from London-born artist and caricaturist Gerald Scarfe and is part of the five star Rosewood Hotel, a stone's throw from Covent Garden. It is cosy and inviting, with a big bar, grand piano, and in winter, a roaring fire. The velvet chairs and sofas are cleverly arranged around the room so that you never feel as though you are encroaching on or, much more importantly, being encroached on by, the rest of the well-heeled crowd.
The Pen is Mightier: Interview with Gerald Scarfe
We weren't there to try the food, so I cannot enthuse about the delicousness of the black pudding scotch eggs or the beef brisket flatbread (if the drinks are anything to go by, they are no doubt fantastic), but what I can talk you through, in quite a bit of detail, is their new cocktail menu, Paintings and Potions Volume 1, pitched as 'a mischievous cultural history of the British Isles through cocktails and the satirical work of Gerald Scarfe.'
It arrives in front of you in the form of a beautifully bound deep purple book, and features Gerald's witty and sharp caricatures of key cultural figures from the last eighteen years of British history. The cocktails are based around the lives and ways of British household names and include 'High Wasted' (Simon Cowell), 'On Yer Bike' (Boris Johnson), 'Little Cabbage' (HM The Queen) and 'Drop Shot' (Andy Murray), each imaginatively displayed on the pages, accompanied by Gerald's fantastic drawings and snigger-inducing text.
Interviews: Conversations at Scarfes Bar
They are arranged year-by-year, starting with 2001 and the Ricky Gervais-inspired 'Office Gossips', drawing on Gervais' penchant for 'flexitarianism', this short drink is a heady twist on a Negroni, served with a cauliflower garnish as an accompanying 'healthy snack'. A seasonally changing G&T is named Patronus, the 2012 entry in honour of the British novelist J.K. Rowling. The Naturalist celebrates 2006, the year that Planet Earth first aired on British screens. This pastel pink Martini is an encapsulation of wildlife luminary Sir David Attenborough, a serene sipping experience that captures flavours of hay and flowers, combined with the smoothness of Star of Bombay gin.
The last cocktail character in the book is my personal favourite, 'Off the Market', celebrating the big wedding of 2018, and based on Prince Harry. Harry's page has a receipt for a £69,000 bar bill stapled into it and his number is scrawled on the front next to a lipstick mark. Not his real number, I might add, though our waiter told us that many girls had sat in my very seat and tried to call him.
It is a theatrically displayed drink that arrives in a custom-made hipflask, craftily hidden within a thick leather-bound book embossed with HARRY AND MEGHAN 2018. (The staff are determined to get one of these into the Palace. You feel sure that Harry would love it.) Poured before you, this liquid representation of our ginger prince is a selection of vibrant orange ingredients – a stirred down and serious take on an Old Fashioned with a playful auburn twist.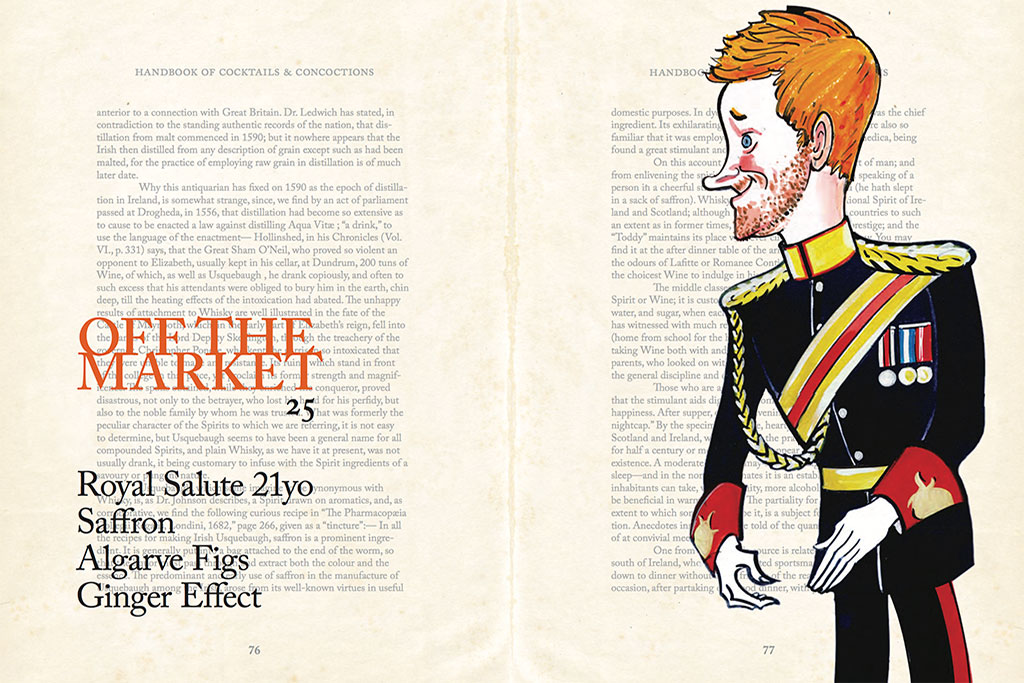 The World's Best Selling Cocktails 2018
The charming bar staff zing around in tartan trews and white double-breasted jackets, who don't just look the part – everyone we spoke to was sparky and passionate about the new menu and hugely knowledgeable about each recipe and carefully curated blend of ingredients which include wondrous things that you would probably hope never to pass your lips, such as distilled earth, carrot essence and worm salt. Yet somehow, artfully brought together in their new selection of cocktails, these bizarre additions help rather than hinder the taste.
The new menu shows the passion and devotion to detail of the team, cleverly linking back to the caricatures around which they are centred. An evening at Scarfes is not merely a chance to swig back a few fancily-named cocktails – they have created a drinking experience well worthy of the price tag. And Scarfes is exactly where you'll find us holed up all summer, until we've sampled our way through the entire menu… 
---