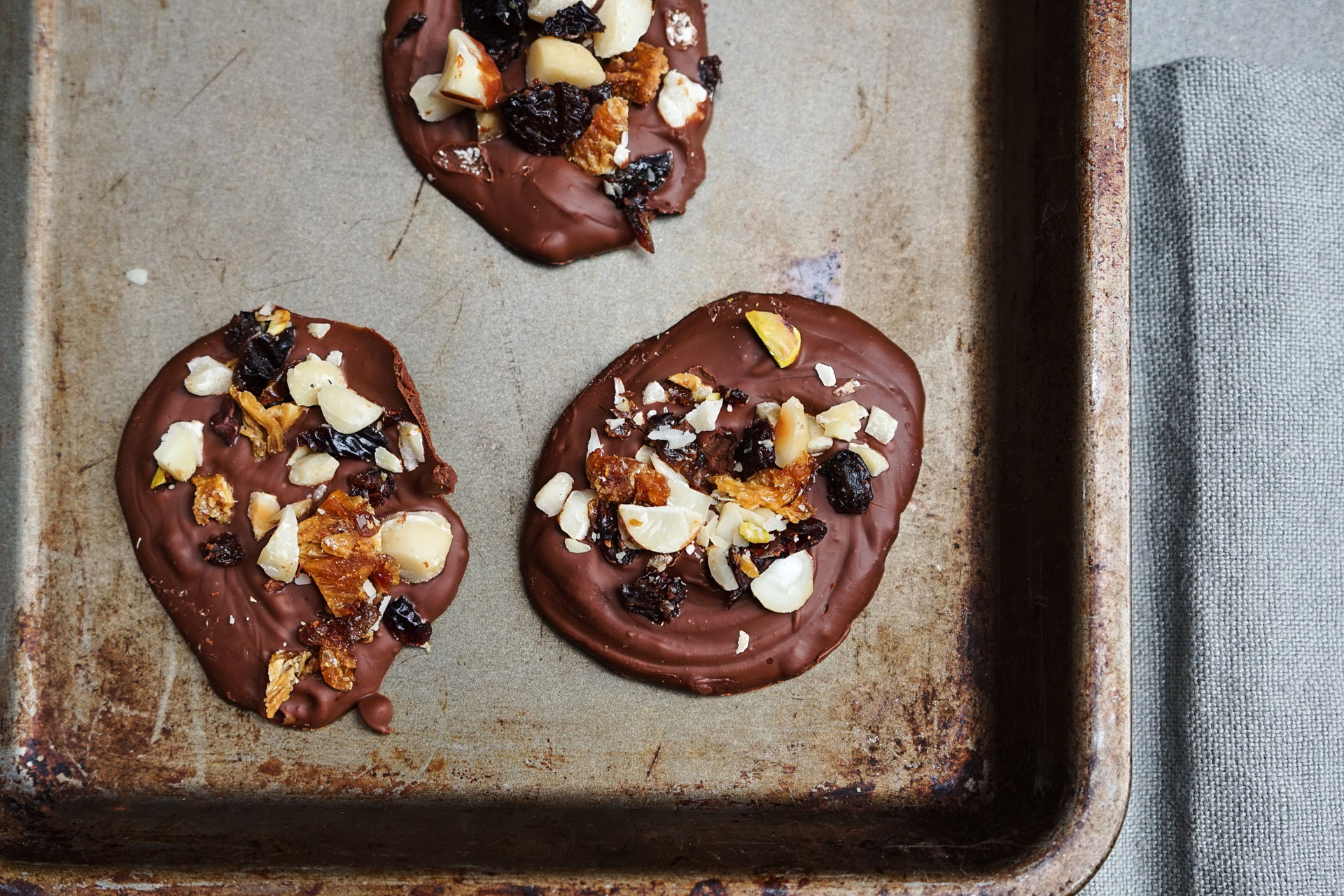 Dessert of the Week: Chocolate Pantry Bites
---
The perfect way to use up leftover Christmas chocolate
Our dessert of the week is Bettina Campolucci Bordi's chocolate pantry bites
Happy New Year everyone. I hope that you have enjoyed the holidays and all that it brings. I know that many of us have enjoyed a lot of food this season and I hope that you have fully emerged yourself into eating and celebrating with loved ones. With the holidays comes a lot of chocolate buying, eating and gifting. I often find bits and bobs of half-eaten packets of chocolates scattered around. It is also the season of dried fruits and nuts that make their way into baked delights, Christmas cakes, mince pies and more.
I have the perfect waste-free festive recipe for you. It's a take on florentines but made with all your leftovers from here and there. Perfect for gifting or keeping in the fridge for when the sweet pangs arise.
Recipe: Chocolate Pantry Bites
Makes 1 tray
Ingredients:
50g leftover mixed nuts and dried fruits, roughly chopped
170g leftover chocolate
Method:
Line a baking tray with baking paper.
Melt chocolate over a bain marie (if it won't fully melt, add 1 tsp coconut oil to it and stir well).
Drop 1 tbsp rounds of melted chocolate across the baking tray and flatten them slightly, leaving enough space between each one so that they don't merge into each other.
Sprinkle ½ tsp of nuts/fruit mix on top of each chocolate round.
Put straight into the fridge or freezer to harden for at least 15 minutes or overnight.
Remove from the tray and put into an airtight container, or in little gift bags to give as presents.
MORE DESSERT OF THE WEEK: