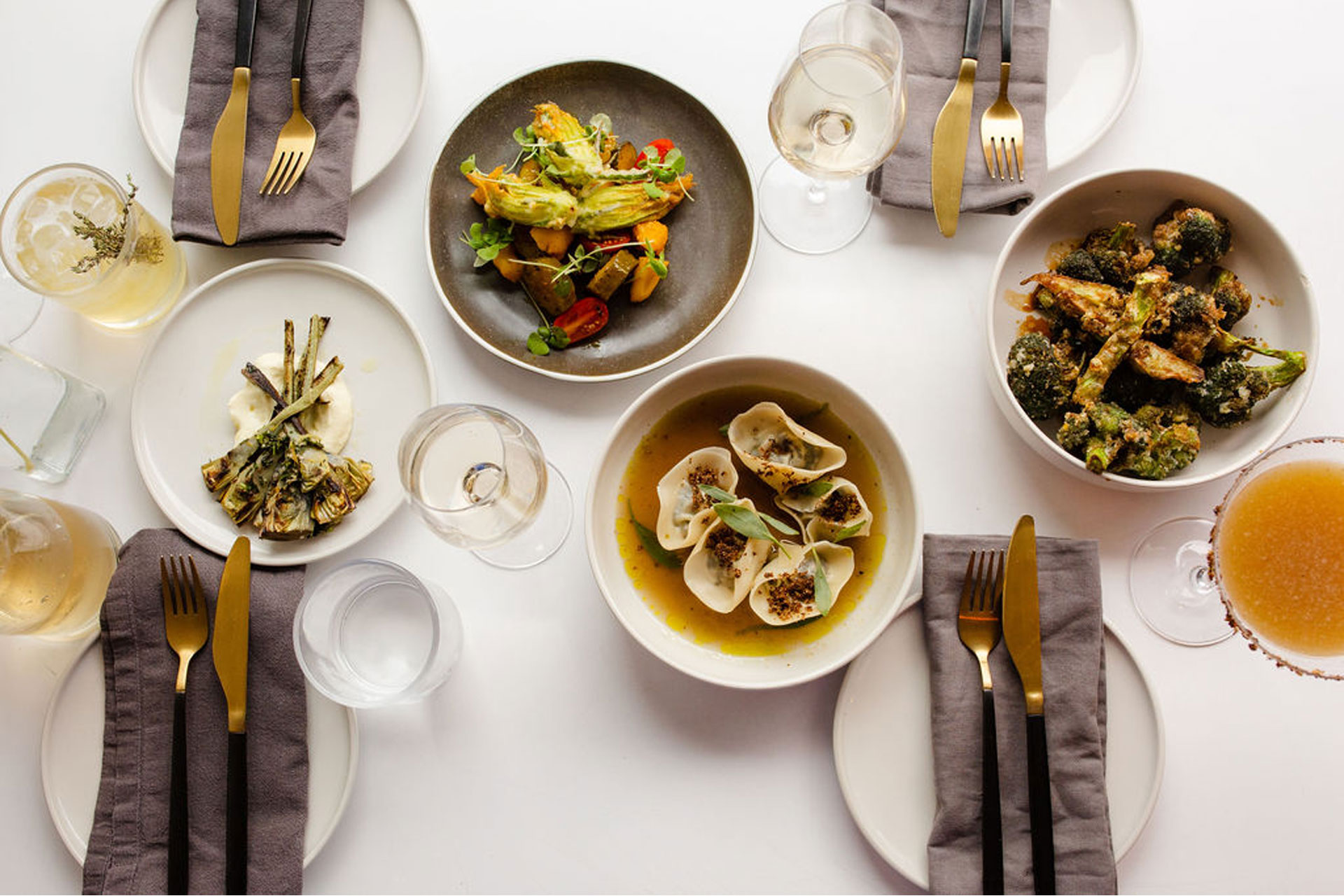 Review: The Omni Collective, Peckham – A Love Letter To Veg
---
Bold, creative and completely vegan
Another argument for exploring Peckham's food scene, as if you needed another one… From Mambow to Larry's, there's a crop of young and talented chef owners hitting the scene with food that pushes the bounds on creativity – the Omni Collective is yet another solid tick for SE15's restaurant offering.
Review: The Omni Collective, Peckham
It's just gone midday that I sit down in Omni, and I'm approached quickly by a member of their team. She's keen to take my order, knowing I'm waiting on a friend, and I've hit that early afternoon dip that only a shot of caffeine can fix. 
I reach for the words – can I get an oat milk latte please – but catch myself. Obviously not: that's unnecessary here. After all, Omni is the latest in a line of vegan-only restaurants popping up across the capital, catering to an increased demand for plant-based scran (and the increased number of vegan chefs who'd much rather be preparing the food they know and love). 
As someone who no longer drinks 'normal' milk, it's oddly refreshing to walk in somewhere and not have to even think to say that you'll be on the oat stuff. Plant alternatives are matter of fact in Omni – it's no big deal. Actually, it's so much not a big deal here that you will catch yourself forgetting, and possibly even checking the dietaries. Omni doesn't scream plant-based, but just serves careful, thoughtful and brilliant small plates that centre the veg and celebrate what can be achieved without delving into animal product. 
The 'all in' tasting menu, a £45pp lunch special, opens with an array of fermented picky bits, and pickled delights. Smoked cerignola olives are peculiar – I've never tried a smoked olive before – but an immediate favourite. In fact, you'll try a lot you might not have tried before and it will make you sit up in your seat to pay attention to the dishes (which arrive in a steady but regular stream, forming a tetris on the little wooden table). For example, salsify. A root vegetable and oyster plant, which tastes a lot like asparagus, but camouflages as an anaemic carrot. It's given a dish and a stage all of its own. 
It's all very bold – and unapologetically a love letter to the possibilities of veg. 
For those omnivores more on the fence about committing to a tasting menu which doesn't lean on meat, the dishes have solid enough umami to fool your senses. The oyster mushroom sliders alone could have you swearing off chicken burgers permanently, with their meaty texture and slathered whisky apple slaw. 
But for me, after five years of vegetarianism (and a more recent walk of shame back to eating fish), it's a clear winner. Where else will you try a riff on 'honey' which uses just apple and chamomile? The food is creative and fresh, and I guarantee it'll be a new experience for you. 
FINAL WORD: Creative and bold food which celebrates the possibility of vegetables in cooking – and it just so happens to be fully vegan. Try it before the place gets too crowded. Get a glass of the skin-on wine.