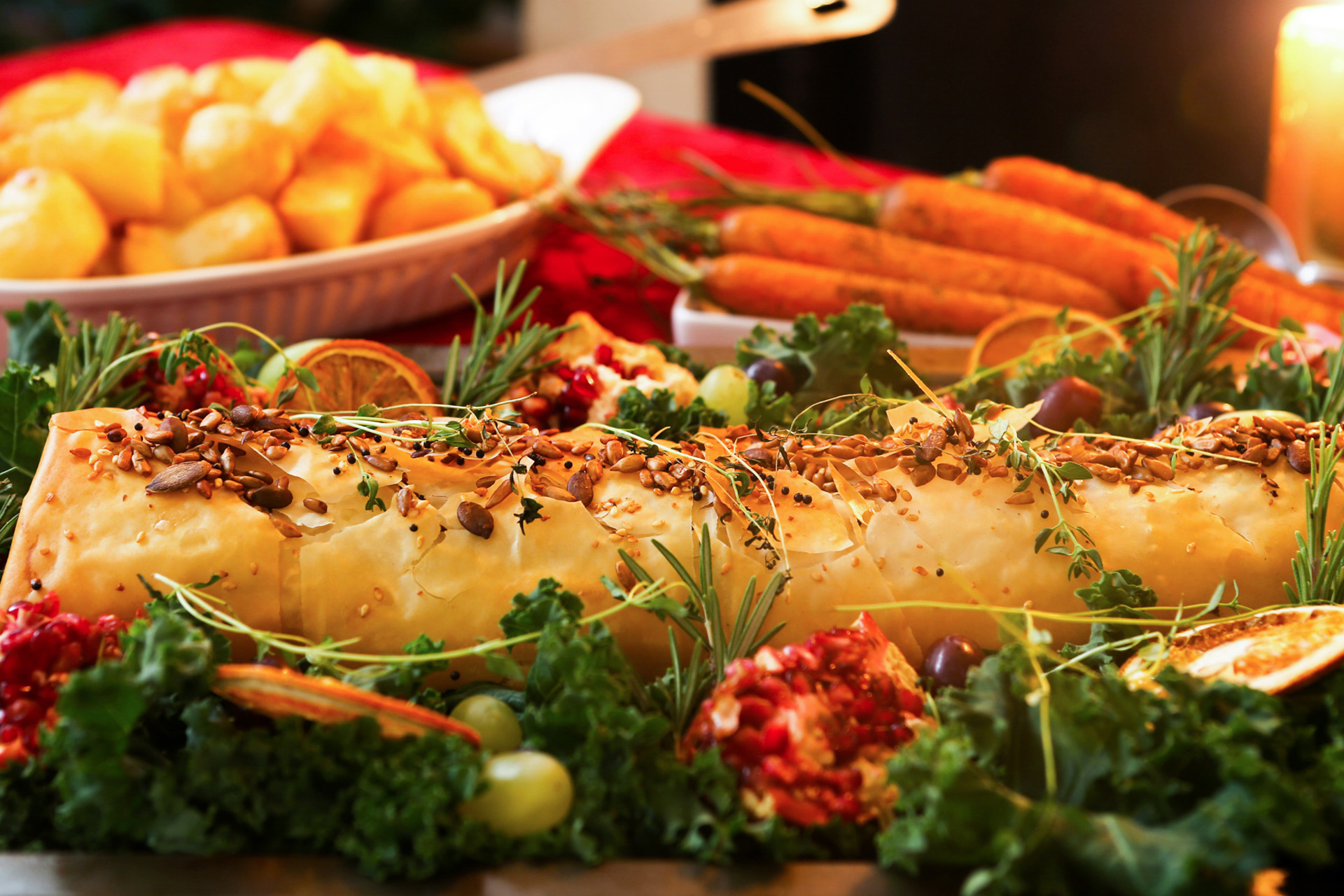 How To Cook A Vegan Christmas Dinner
Top tips for plant-based festive food
Hosting a vegan this Christmas? Recently gone plant-based? Or simply fancy cutting back on the meat this year? A festive roast doesn't have to include turkey and pigs-in-blankets. We've enlisted Maryanne Hall, who wrote new cookbook Everyone Can Cook Vegan in collaboration with vegan charity VIVA!, to share some top tips for cooking a vegan Christmas dinner.
How To Cook A Vegan Christmas Dinner
Top tips from Maryanne Hall, author of new cookbook Everyone Can Cook Vegan
The Centrepiece 
'So how do you replace the meat with a bang? There are lots of dazzling plant-based centrepieces that are straightforward to make and certainly pack a flavour punch. There are some key ingredients that can help take your celebratory mains to the next level including soy sauce, nutritional yeast and miso paste (all found in supermarkets), which add a distinct umami flavour. Herbs, spices and syrups, e.g. maple and agave, are all essential too.
'Don't be afraid to try tofu, as this superfood can be transformed into something very special with the addition of marinades, seasoning and sauces. It's also a great filler for pastry dishes and full of protein – have a look at our Butternut Squash Filo Roulade for inspiration.
'It might be the butt of many vegan jokes but there's a reason the classic nut roast is here to stay and that's because, when cooked right, it's moist, nutty and oh so very moreish. Our secret ingredients are sun-dried tomatoes, allspice, flax eggs (a blend of ground flaxseed and water that binds it all together) and lashings of homemade cranberry sauce. 
'Maybe you'd prefer a meatier alternative, in which case 'seitan' (pronounced say-tan) is your best friend. Made from hydrated vital wheat gluten flour (found in health food shops and online), seitan becomes surprisingly similar to the look and texture of meat when cooked. You can pack it full of flavour using stock, alcohol, herbs, spices, miso, mustard, garlic and onion then try wrapping it with vegan bacon or tofu skin (yuba) to create a crispy golden coating. Have a look at our Easy Vegan Turkey-less Roast recipe and don't forget to enjoy the leftovers in a tasty sandwich with apple sauce the next day.
'We have to mention pastry – there are so many delightful vegan dishes wrapped up in a blanket of flaky puff, crispy filo or melt-in-the-mouth shortcrust. Most ready-to-roll brands are vegan, so no there is no need to make your own. Try the classic mushroom wellington – we like to add white wine, lemon thyme, pecans, chestnuts, maple syrup and breadcrumbs for a taste sensation.'
Sides 
'When it comes to sides, many of the Christmas classics are already vegan or can easily be veganised. There are very high-quality plant-based butters, creams, cheeses and yoghurts available for making easy swaps when it comes to your favourite festive trimmings. It's also really simple to create vegan versions of some of the classics using mock meats for sides and starters like pigs in blankets.
'Of course, we had to start with roast potatoes and our secret ingredient is Marmite (if you dare)! Parboil them in a pan of salted water for 10 minutes then steam dry them for 20 minutes – this really takes them to the next level. Add one teaspoon of Marmite then fluff them up before placing them in the oven with a bulb of garlic and fresh thyme. 
'We couldn't talk about Christmas without mentioning Brussels sprouts – poor old Brussels sprouts have a hard time impressing people but when you peel and quarter them, add lemon zest, thyme sprigs, chilli flakes and lemon juice before roasting them with a good glug of olive oil and salt – we challenge you to tell us you don't like them. 
'Cauliflower cheese – this dish doesn't need much of an introduction. In our recipe we certainly haven't scrimped on sauce and it includes a flavour-packed béchamel topped off with gooey melted vegan cheese and crispy golden breadcrumbs. We've used nutritional yeast for extra cheesy, umami goodness, and don't forget the fresh nutmeg.'
Gravy and Sauces
'Everyone needs a delicious vegan gravy recipe up their sleeve and trust us when we say that creating your own from scratch makes all the difference. We like to add our umami by using soy sauce and, yes, Marmite (again!). Try using a flour base with caramelised red onions, garlic, mustard, red wine, fresh herbs and finish off with cranberry sauce or redcurrant jelly for sweetness.
'A creamy white wine mushroom sauce can be a game changer – drizzle over (or rather smother) your pastry dishes, nut roasts, seitan and vegetables with this creamy, rich yumminess.
'Most of the condiments are already vegan, so mustards, mint sauces, cranberry sauces and redcurrant jellies are there for the taking – check the label to be certain. You can buy special vegan horseradish sauces now (available in some supermarkets, health food shops and online) or have a go at making your own.'
Desserts
'There is now a wonderful array of shop-bought vegan desserts if you'd like a bit more time with your feet up this year. Otherwise, it's now possible to veganise all of the classics including mince pies, Christmas puds, trifles, sticky toffee puds, fondants, cheesecakes, truffles and cakes. Check out our Egg Replacer Chart for all answers on egg and binding matters – it's easy once you know how.
'The supermarkets and health food shops can also provide you with all the vegan ice creams, creams, chocolates, treats and sweets you could possibly want if you'd like to spruce up your puds without the extra work.'
Find more recipes at viva.org.uk