3 Vegan Recipes From Mildreds
Vegetarian restaurant Mildreds is back with a new cookbook
An early pioneer in plant-based cuisine, Mildreds launched all the way back in 1988 – and remains one of the capital's most beloved veggie restaurants today. Fancy giving some of its dishes a go? Curated by Mildreds' Head of Food Development Sarah Wasserman and Senior Food Development Chef Alessandra Malacarne, new cookbook Mildreds Easy Vegan includes more than 100 vegan recipes; we share three below.
3 Vegan Recipes From Mildreds
Pepper Chick'n Enchilada Roja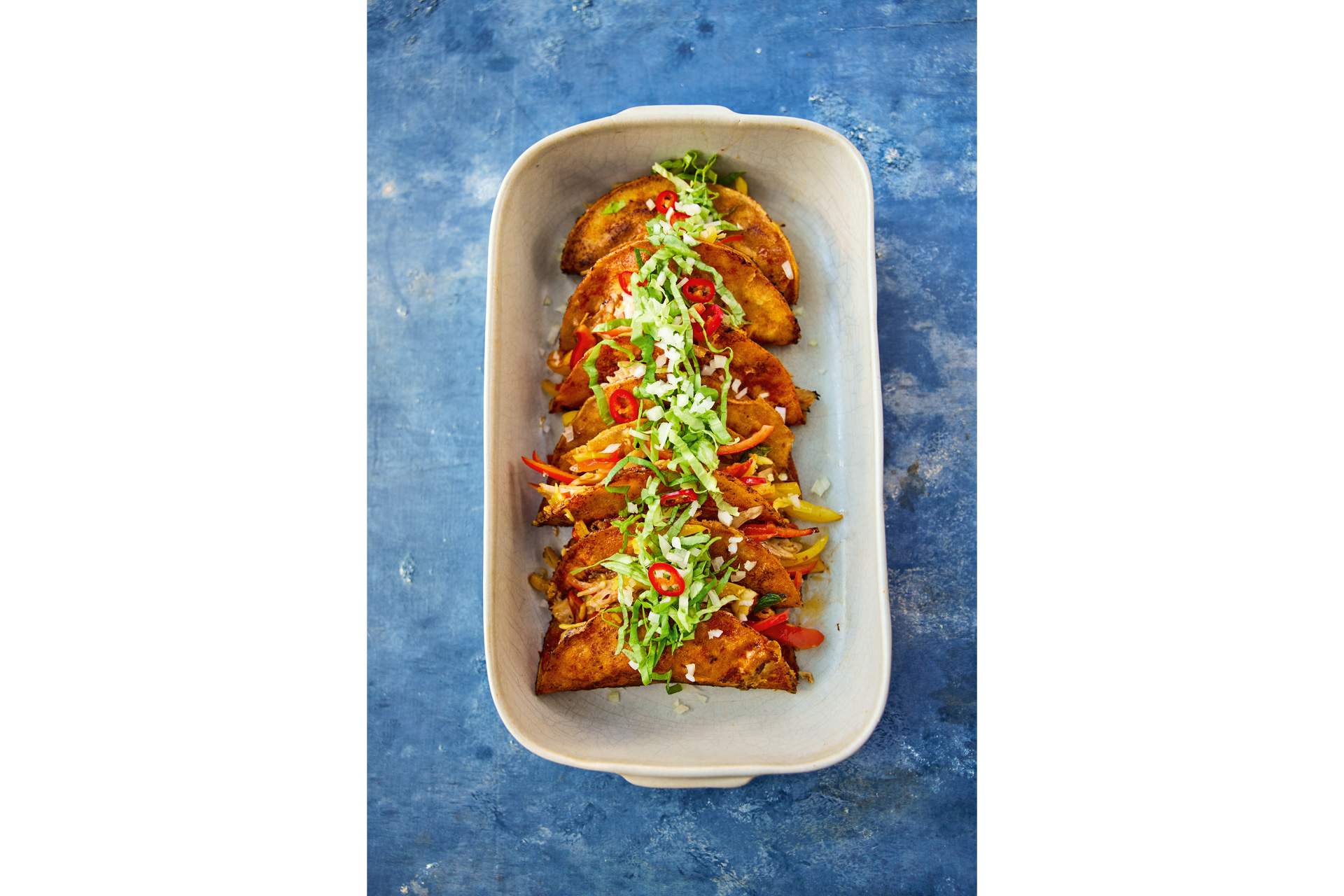 The smell of this roja sauce will fill your kitchen. This bright red, mildly spiced sauce can be prepared in advance and will keep for a week in the fridge. It is very simple to make, but does require a specific type of dried chilli: the guajillo. These can be found quite easily – they may not be in your local supermarket, but you'll find them in speciality shops or online, and there really is no beating them for their extraordinary colour and flavour.
Ingredients:
Serves 4
1 red pepper, sliced

1 yellow pepper, sliced

6 oregano sprigs, leaves pickled

150g (5 ½ oz) plant-based chick'n, shredded

½ teaspoon salt

½ teaspoon freshly ground black pepper

1 tablespoon vegetable oil

10 corn tortillas

150g (5 ½ oz) vegan cheddar style cheese, grated
For the roja sauce
4 dried guajillo chillies, tops removed, deseeded

1 dried ancho chilli, top removed, deseeded

¼ teaspoon oregano leaves

4 garlic cloves

250ml (9fl oz) vegetable stock

300g (10 ½ oz) passata

Salt, to taste
To serve
Shredded lettuce

Finely sliced onion

Sliced red chillies 
Method:
To make the roja sauce, heat a non-stick frying pan or large, heavy-based saucepan

over a high heat and toast the dried chillies for a couple of minutes until fragrant, but do not allow them to burn. Add 1 litre (1¾ pints) of water and bring to a simmer. Continue to

simmer for 8–10 minutes until the chillies are rehydrated and soft.

Drain the rehydrated chillies then place them in a food processor. Add the oregano, garlic,

stock and passata, then season to taste and blend until you have a red, smooth sauce.

Combine the red and yellow peppers, oregano and shredded chick'n in a large mixing bowl. Season with the salt and pepper.

Preheat the oven to 160°C/140°C fan/325°F/ gas mark 3 or preheat your grill to low.

Heat the oil in a frying pan over a medium heat. Dip 1 of the tortillas into the roja sauce,

making sure it is lightly coated on both sides, then add it to the pan. Fry the tortilla for a few

seconds on each side – make sure you do not fry it for too long, or it will become crispy and

you won't be able to fold or roll it.

To assemble the enchilada, place a spoonful of the chick'n and pepper salad in the centre of the tortilla, then roll it up and place it in a 23 × 33cm (9 × 13in) baking dish. Repeat with

the remaining tortillas, roja sauce and filling.

Once all the enchiladas are rolled, sprinkle with the vegan cheese and grill or bake for 5 minutes to melt the cheese and warm through.

Serve the enchiladas immediately while they still are warm, with some shredded lettuce, sliced onion and sliced chillies on top.
Dark Chocolate Chip & Sea Salt Cookies
The best chocolate chip cookies are golden and crisp on the edges and chewy in the middle. There is a very simple trick to ensuring that you get this result, which is easy but requires patience. If you cook the dough straight away, the cookies will puff in the middle and then collapse and either taste dry or cakey. However, if you allow the dough to rest in the fridge for 24 – 48 hours, the gluten has time to form, meaning the middle will be both fully cooked and gooey. The rolls of cookie dough can be cut into slices and stored in the freezer, which means you can have freshly baked cookies whenever you want them.
Ingredients:
Makes 2 rolls of cookie dough or 16 cookies
275g (9 ¾ oz) plant-based butter, at room temperature

100g (3 ½ oz) caster sugar

300g (10 ½ oz) caster sugar

300g (10 ½ oz) soft light brown sugar

1 tablespoon vanilla extract

90ml (6 tablespoons) soy milk

300g (10 ½ oz) plain flour

240g (8 ½ oz) strong with white bread flour

¼ teaspoon bicarbonate of soda

1 teaspoon sea salt

Flakes, plus extra to decorate

300g (10 ½ oz) dark chocolate chips
Method:
In a large bowl, beat together the butter, both sugars and the vanilla extract until pale and fluffy. Alternatively, use a stand mixer, making sure you scrape down the sides of the bowl.

Slowly add the milk, beating between each addition until well incorporated.

In a separate bowl, combine both flours with the bicarbonate of soda, salt and chocolate chips. Add the flour mixture to the butter mixture and beat slowly to combine until you have a thick dough with no lumps of flour left.

Cut out 2 long sheets of baking parchment. Separate the dough into 2 balls, then shape each one into a roll and roll tightly in the baking parchment. The rolls should be about 10cm (4in) in diameter. Twist the ends of the baking parchment so the rolls are tightly closed, then chill in the fridge for 24–48 hours.

When you're ready to bake, preheat the oven to 180°C/160°C fan/350°F/gas mark 4 and line 2 baking trays with baking parchment.

Cut the cookie dough into discs of around 50g (1¾oz) each (about 1cm/½in thick) and arrange on the prepared trays, spacing them out evenly and pressing them down slightly.

Bake for 10 –15 minutes until golden around the edges but not browning, then cool for 10 minutes before eating. If baking from frozen, allow to defrost on the tray for 10 minutes, then bake for 18 minutes. Decorate with a sprinkling of sea salt flakes. These are best consumed warm with a cold glass of plant-based milk.
Potato & Parsnip Latkas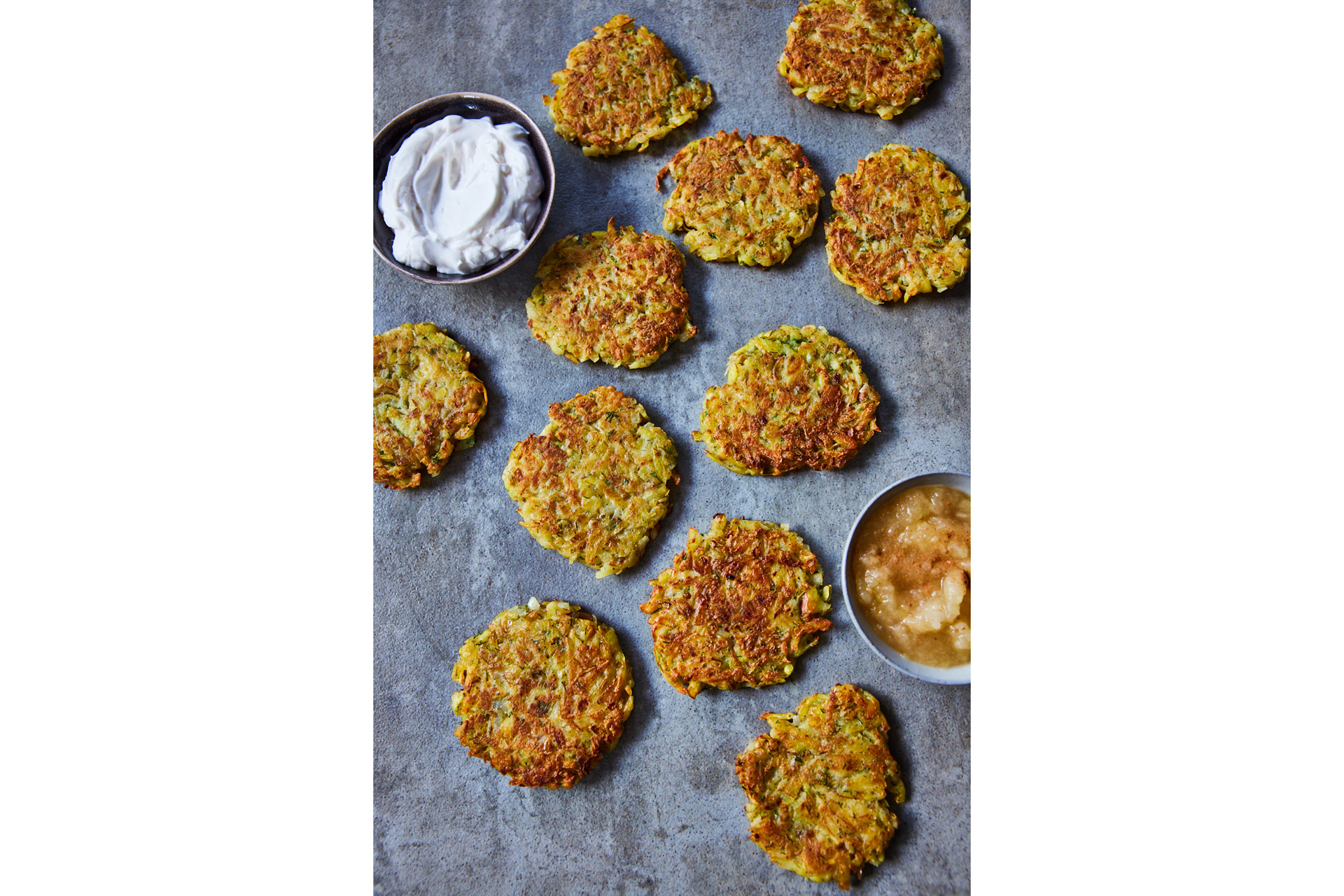 Latkas – delicious, crunchy grated potato cakes – are one of the key traditional foods of Hannukah, the Jewish festival of light. During Hannukah, we eat foods cooked in oil. Latkas make a great supper with sour cream, apple sauce and a salad. They also make a fantastic weekend brunch dish. They can even be served sweet, dipped in cinnamon sugar.
Ingredients:
Makes 10
175g (6 oz) parsnips, peeled

5 dill sprigs or chives, chopped (optional) 

1 onion, finely diced

500g (1 lb 2 oz) red potatoes

1 tablespoon baking powder 

60g (2 ¼ oz) plain flour

30g (1 oz) cornflour or potato starch

½ teaspoon aleppo pepper (optional

1 ½ teaspoons salt

Freshly ground black pepper

50g (1 ¾ oz) coconut yoghurt

Vegetable oil, for frying 
To serve
Vegan sour cream 

Apple sauce or cranberry relish
Method:
Grate the parsnips into a bowl using the large side of a box grater. Add the dill or chives if using and onion, and stir to combine. Set aside.

Grate the potatoes into a separate bowl, covering with a tea towel so they don't oxidise. Take a handful of the grated potatoes and squeeze as hard as you can, releasing all the liquid, then add the squeezed potato to the bowl with the parsnips and onions. Continue with the remaining potatoes and stir.

Add the baking powder, flour, cornflour or potato starch, pepper flakes, seasoning and coconut yogurt to the bowl. Stir well to combine.

Take small handfuls of the mixture, weighing about 80g (2¾oz) each, and roll into balls slightly larger than a ping-pong ball. Repeat until you have used up all the mixture.5) Pour the oil into a large, deep, non-stick frying pan to a depth of 1cm (½in) and place the pan over

a high heat. Heat the oil to 160°C (320°F). If you don't have a cooking thermometer, you can test to see if it's ready by dropping in a little of the latka mixture. The oil should bubble around the mixture, but not spit.

Once the oil is ready, cook the latkas in batches. Add the balls to the oil and cook for 3–4 minutes until golden, then press down with a spatula to flatten and cook for 3–4 minutes more. Turn over and cook on the other side for a few more minutes.

Remove the latkas from the pan and drain on a wire rack set over a tray while you fry the remaining balls.

Serve with the vegan sour cream and apple sauce or cranberry relish.
Mildreds Easy Vegan is out now