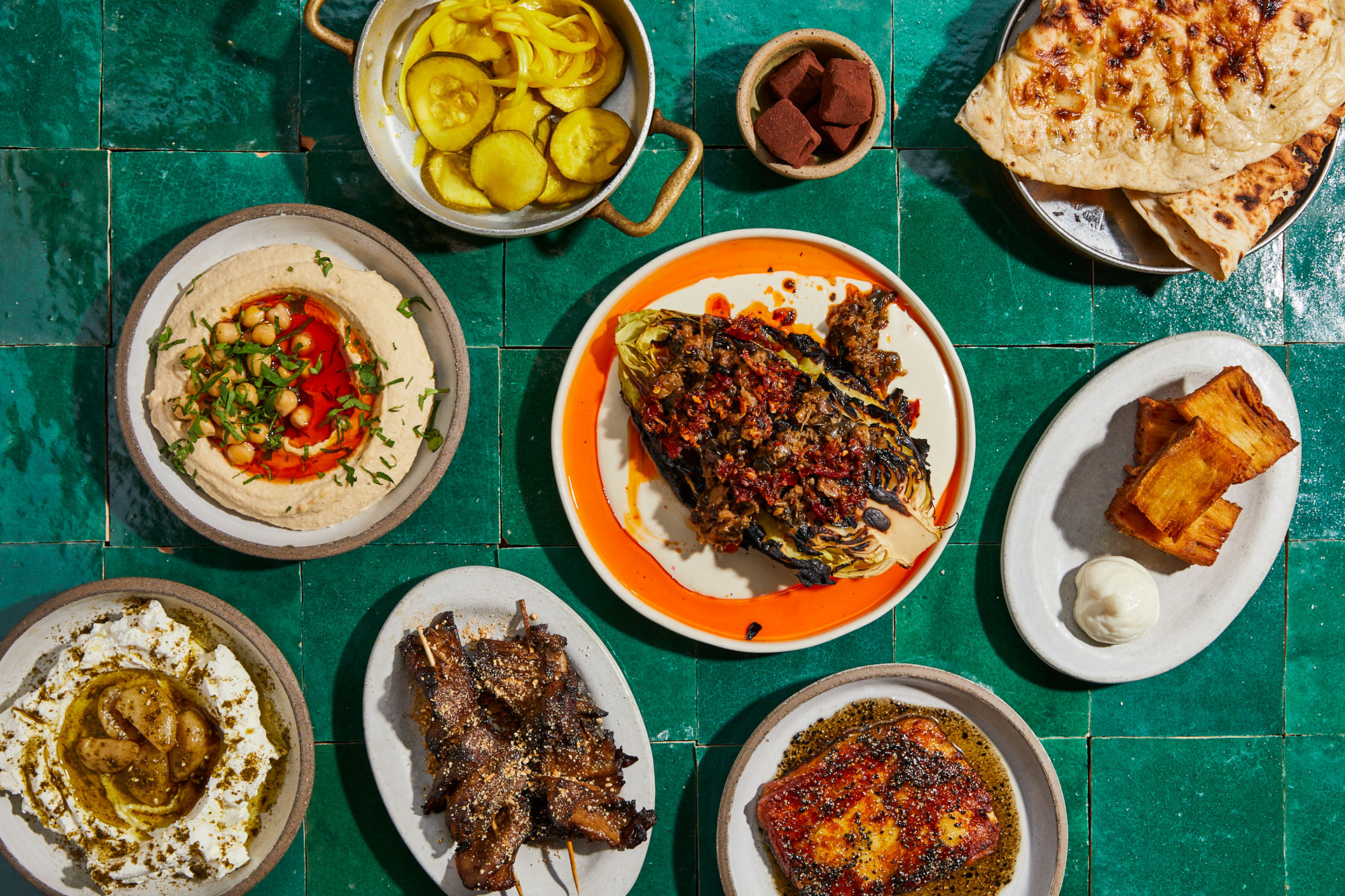 Where To Find the Best Vegetarian Food in London
A veggie's guide to eating out in the capital
It's official: vegetables are cool. While in the past it was a struggle to find restaurants that served great meat-free food, nowadays some of the trendiest – and tastiest – eateries are the ones where plants are placed centre stage. This is particularly true in London, home to some of the best plant-based chefs in the business, who are constantly looking for exciting new ways to make vegetables shine. Here, we focus on the city's best vegetarian restaurants: both the solely veggie and the veggie-friendly hotspots. No more bland risottos – these places offer an array of creative, flavoursome plant-based dishes which will appeal to vegetarians, flexitarians and carnivores alike.
Vegetarian Restaurants in London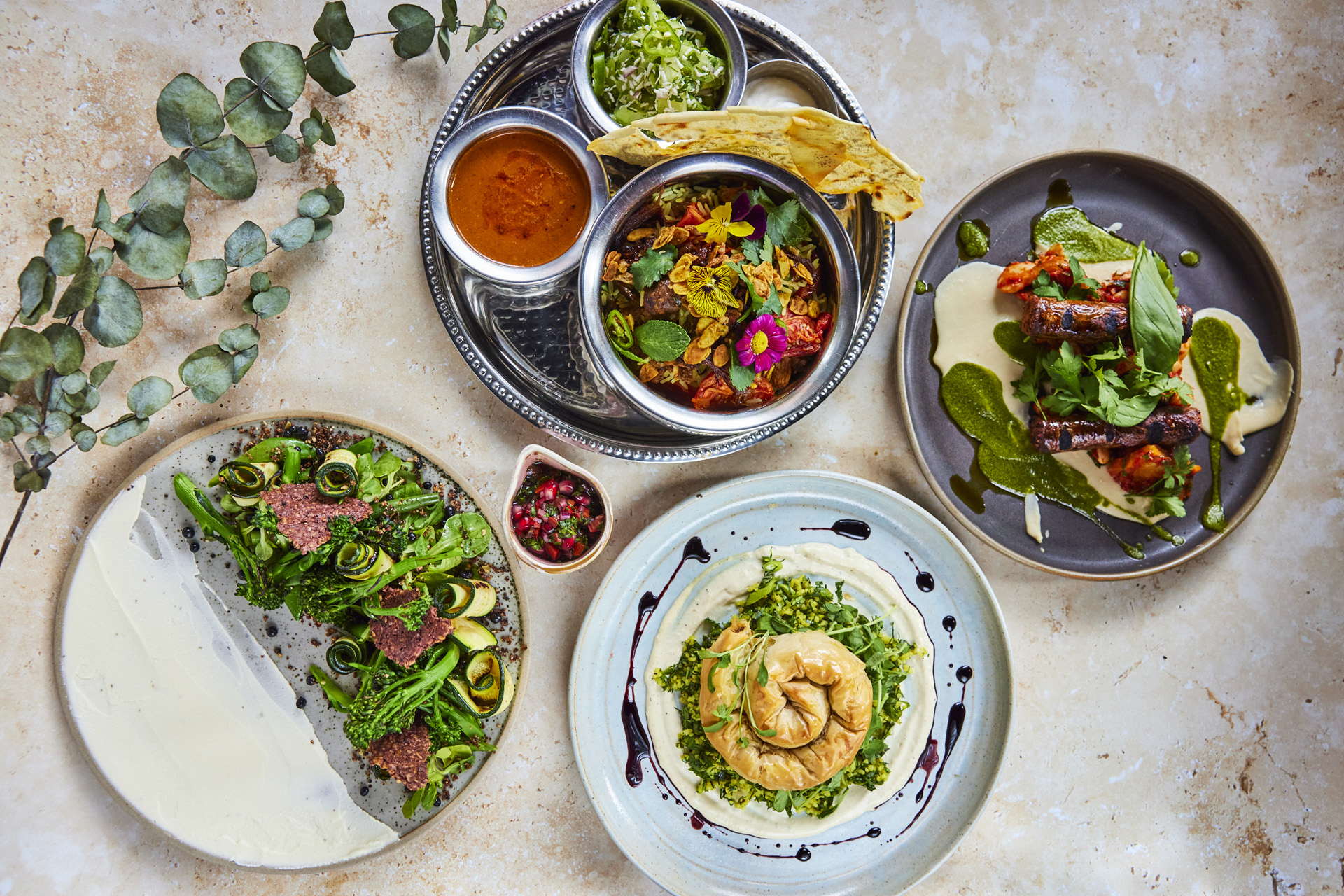 mallow
Vegan food never tasted (or looked) so good. Borough Market's popular plant-based spot, mallow, has flown the nest, landing in Canary Wharf's new leafy neighbourhood, Wood Wharf, exclusive dishes in tow. It's all the plant-themed aesthete of the central branch with an added dose of chicness; the interiors are truly divine. Everyone is happy here — including meat eaters, but especially plant based people — whether meat alternatives are your speed (the chick'n parmesan burger is the one for you), you want to embrace the joy of vegetables (try the whipped feta garden plate) or you want to try something a little offbeat (the spicy tomato samphire ceviche is worth the bargain). Wash it all down with a specially picked bottle of wine or a lovely cocktail. The best of vegetables is showcased here, too: try the rainbow root cooler (banhez mezcal, purple carrot & orange shrub, lime tonic) for an earthy yet sweet, refreshing number. Naturally, end it all with a dessert (think crème brûlée and passion fruit sachertorte – no fruit bowls here) and question, once again, how on earth is this all plant-based? By Olivia Emily
1 Cathedral St, London SE1 9DE (Borough Market) and 12 Park Dr, London E14 9ZW (Canary Wharf), mallowlondon.com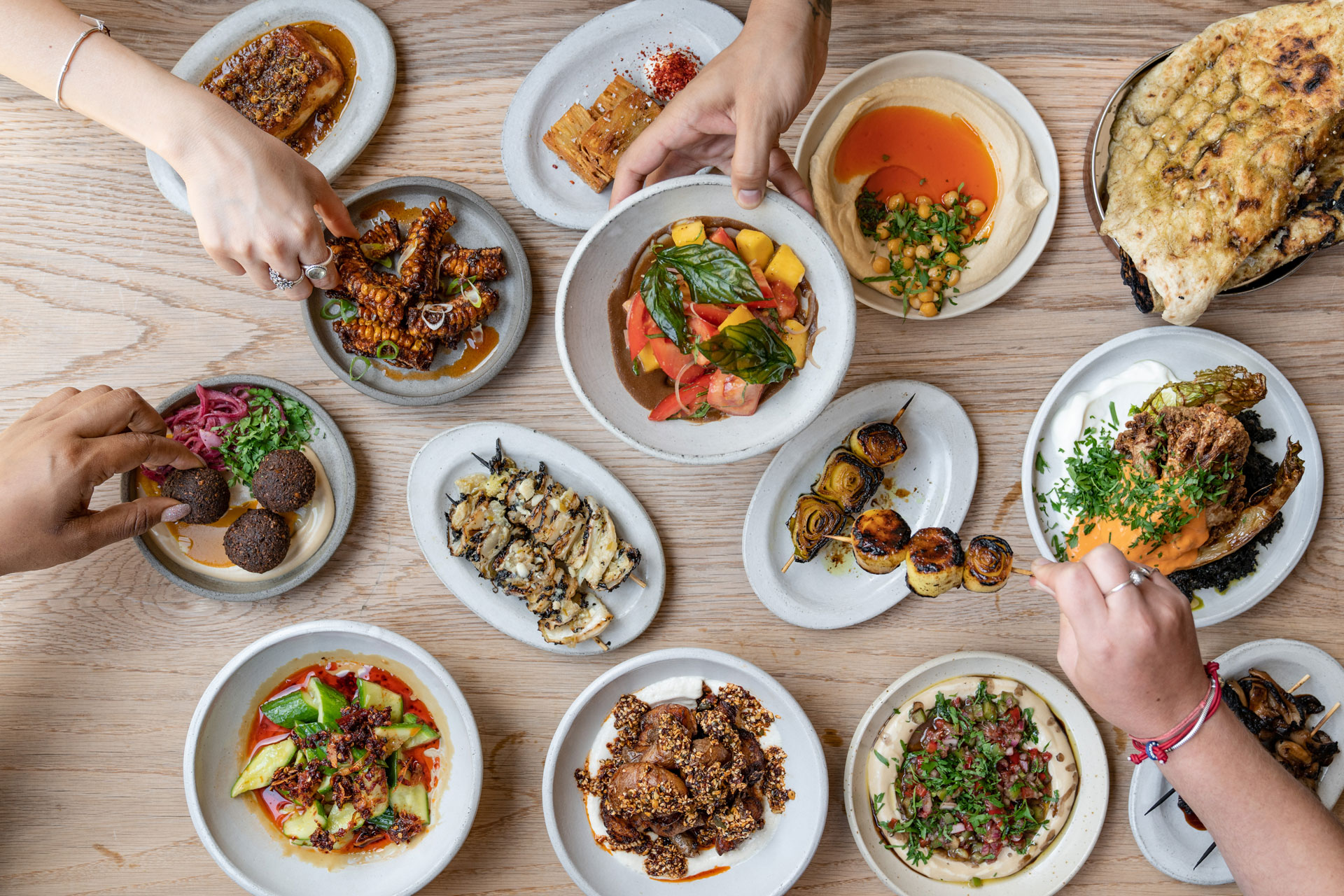 Bubala
Without a doubt one of the best restaurants for vegetarians in London is Bubala, a lively Middle Eastern spot with two London outposts – one in Spitalfields, another in Soho. Founded by Marc Summers (formerly manager at Berber & Q), with Helen Graham as executive chef, even the most carnivorous of diners will be wowed by its punchy small plates. The menus differ slightly across the two branches, but you can't really go wrong here: everything is creative and bursting with flavour. To give you an idea, there's halloumi flavoured with honey, chamomile and fennel, smacked cucumber with tahini and chilli crunch, confit potato latkes, and braised hispi cabbage with seaweed and dried orange. Oh, and the hummus is some of the best we've ever tried, best slathered on some challah bread. 
65 Commercial St, London E1 6BD (Spitalfields) and 15 Poland St, London W1F 8QE (Soho), bubala.co.uk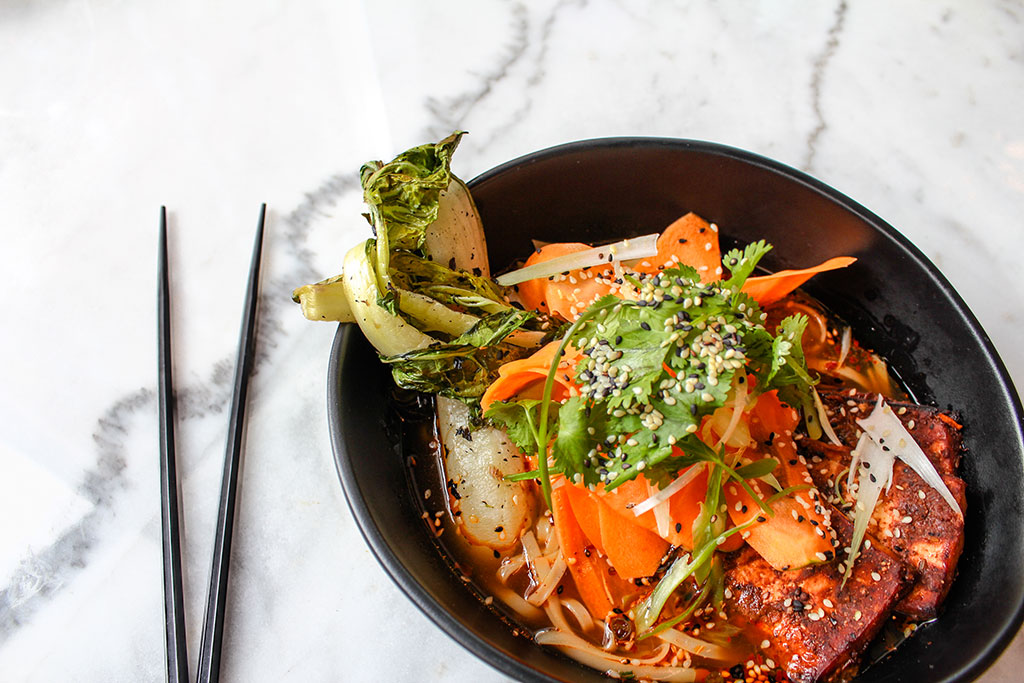 Mildred's
A true pioneer in vegetarian cuisine, Mildred's dates all the way back to 1988, when its first restaurant opened on Soho's Greek Street. Founders Jane Muir and Diane Thomas were told it would only last six months – but the restaurant quickly garnered a loyal following, winning over diners with its vibrant, colourful dishes. Over three decades on, Mildred's remains one of London's leading plant-based restaurants, with venues dotted all over the capital in locations including Dalston and Covent Garden. The menu takes inspiration from all over the world, from Asian noodles with shiitake mushrooms to Sri Lankan curries and southern-fried 'chick'n' burgers. Whatever you go for, be sure to try one of the cocktails – the blood orange and rosemary margarita gets our vote.
Various locations, mildreds.co.uk
Sagar
Indian food is often a good choice for vegetarians: some of the best curries and dals are made without meat or fish, and dishes tend to be packed with spice and flavour, meaning they're never boring. But veggies will have even more choice at Sagar, a plant-based South Indian restaurant group with five branches across London. Its chefs hail from Udupi, a small town in the coastal region of the Western Ghats, who create an extensive menu of authentic dishes which are designed to be shared. Kick off with some idli, traditional South Indian rice dumplings, and a plate of medu vada, fried lentil doughnuts, ahead of the mains, which range from traditional vegetable curries to uthappams, a unique lentil pizza topped with rice and onion. 
Locations in Harrow, Hammersmith, Covent Garden, Leicester Square and the West End, sagarrestaurant.co.uk
Vegetarian-Friendly Restaurants in London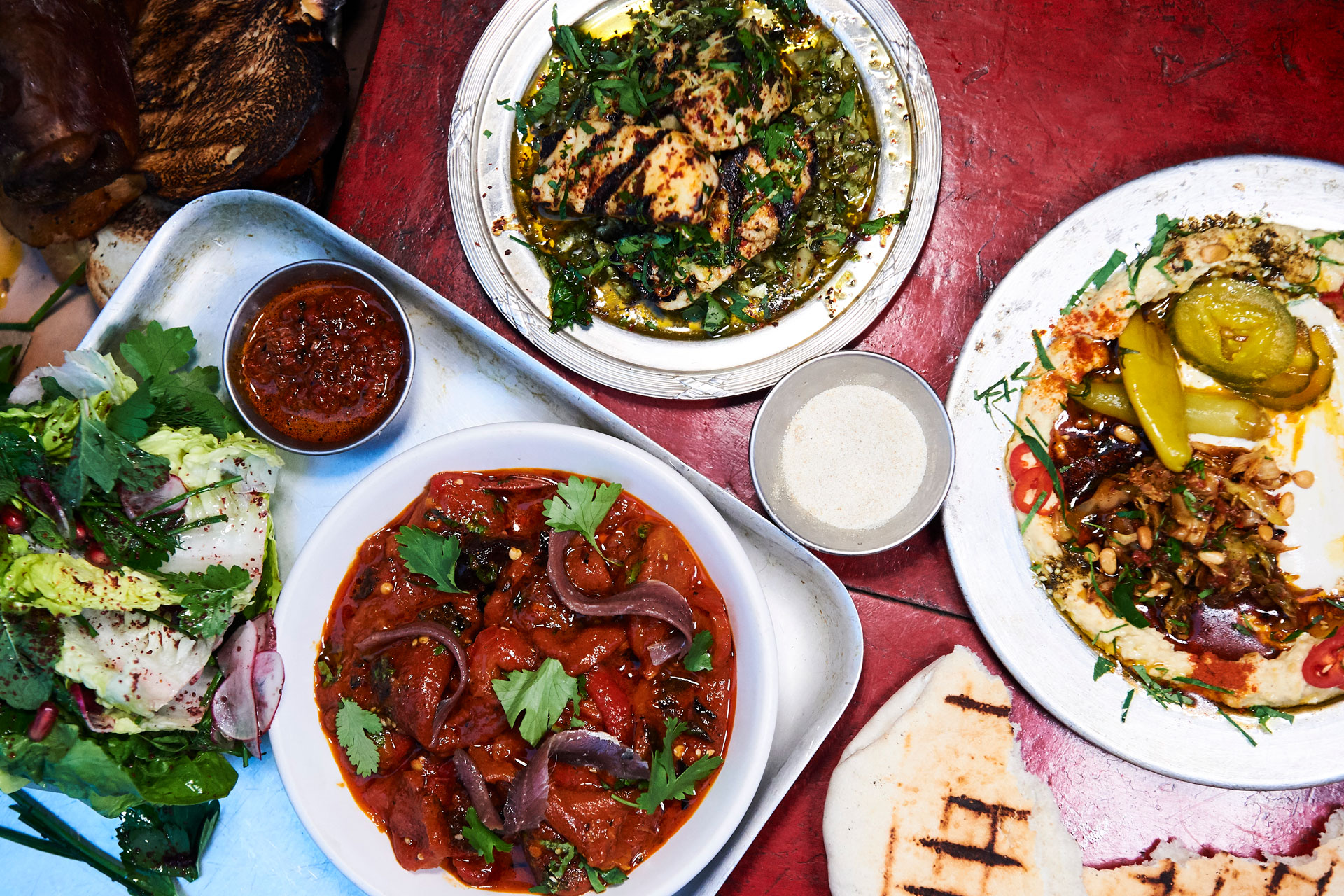 Berber & Q
The brainchild of ex-Ottolenghi chef Josh Katz, Berber & Q was born in an old taxi repair shop tucked under a railway arch in Haggerston back in 2015. This grew into Berber & Q Grill House, which specialises in smoked and grilled dishes; this might scream meat and fish, but equal importance is placed on vegetables here. When coming up with the menu, Josh drew upon his early years exploring the falafel shops and shawarma houses of north London – plus time spent travelling in the Middle East. Some of the best dishes are plant-based: the cauliflower shawarma, for instance, and the charred hispi cabbage with whipped feta. Starters and sides are mostly veggie too, with highlights including a labneh dip with Moroccan braised chard, and braised corn with paprika butter.
338 Acton Mews, London E8 4EA, berberandq.com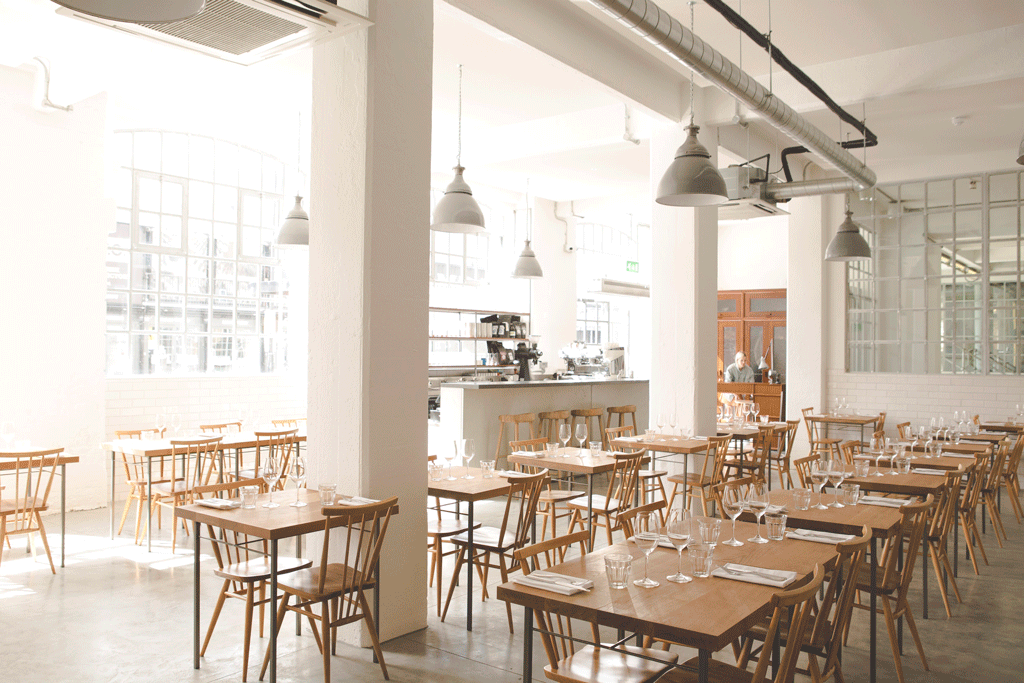 Lyle's
Proving less is more is Lyle's, an understated restaurant with much to offer. Despite its Michelin star and spot in the World's 50 Best Restaurants list, there's nothing pretentious about James Lowe's fine dining venture: instead of tablecloths and candles you'll find white-tiled walls, concrete flooring and simple seating. But amid these stripped-back settings you'll be treated to some rather extraordinary food. Dinner is a tasting menu, and as much care and thought goes into the vegetarian option as it does the standard. This changes often, and short descriptions of dishes add an element of surprise, but you can guarantee an array of creative veggie plates: current offerings include Jerusalem artichoke with roscoff onion, beetroot with radicchio and blood orange, and chicory with pear. Everything is seasonal-led, with Scandinavian influence and some obscure ingredients thrown in for good measure.
Tea Building, 56 Shoreditch High St, London E1 6GY, lyleslondon.com
Turnips
By day, Borough Market's Turnips is a greengrocer selling fruit and veg. By night, it transforms into an al fresco restaurant, where produce from the stall is turned into veg-centric dishes by ex-City Social chef Tomas Lidakevicius. There are two spaces, a casual small plates restaurant and a fine dining offering, though both have a relaxed atmosphere – with many great vegetarian dishes to choose from. On the small plates menu, there's wild mushroom croquettes with mozzarella, Sicilian tomato with walnut and gorgonzola, and sweet and sour cauliflower tempura. And from the a la carte offering, diners can enjoy dishes like vegetable terrine with buckwheat and truffle, and onion squash dumplings with green lentils. Naturally, everything tastes super fresh and the menu always showcases hyper-seasonal ingredients.
43, Borough Market, London SE1 9AH, restaurant.turnipsboroughmarket.com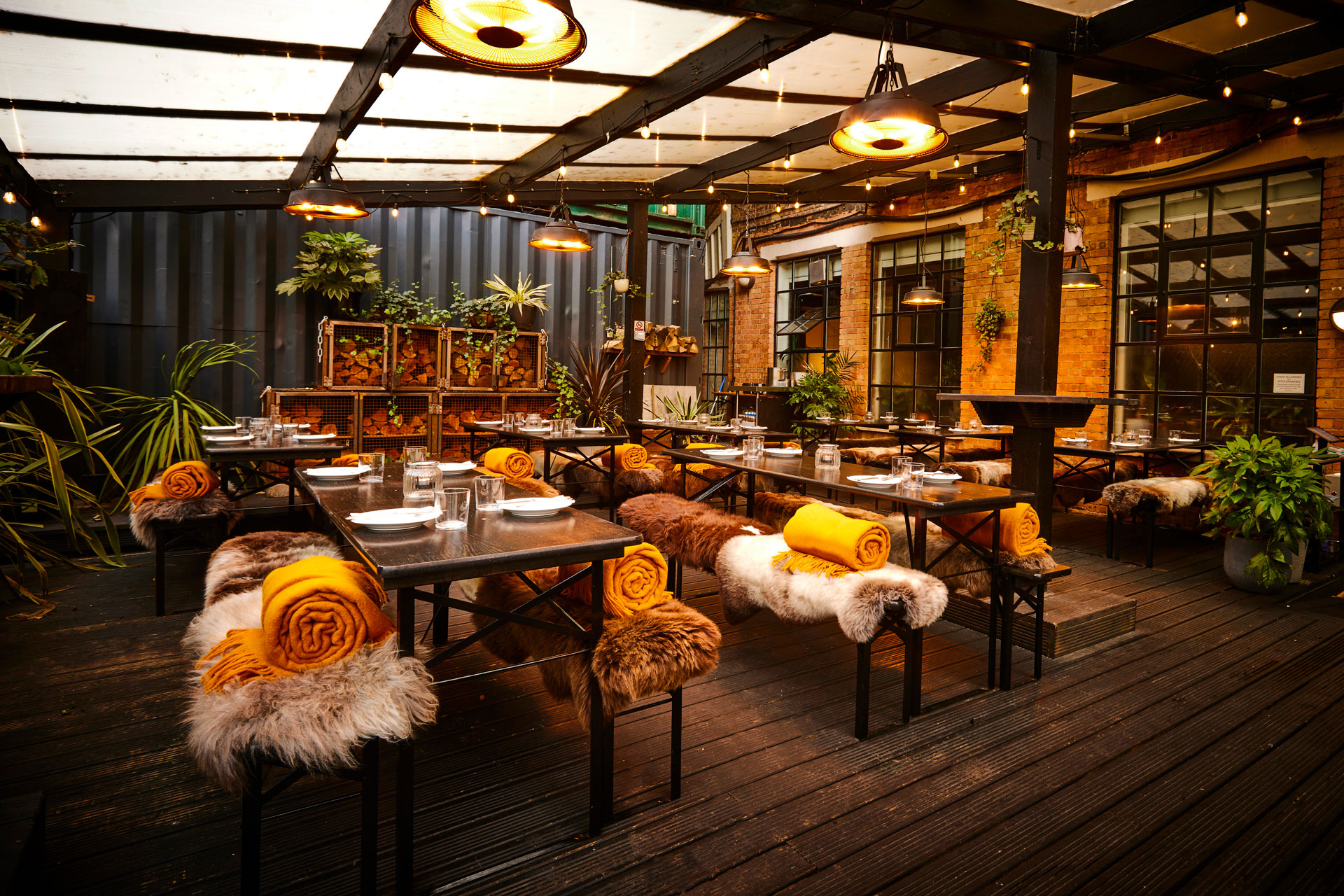 Acme Fire Cult
Typically, barbecues aren't the kindest to veggies – but Acme Fire Cult is a haven for meat-free folk. Chefs Andrew Clarke and Daniel Watkins set out to do something different from the usual 'dude food', creating a live-fire concept which puts vegetables at the forefront. After a successful residency at London Fields Courtyard in Hackney, the pair set up a permanent base at The Bootyard in Dalston, taking inspiration from all over the world – which comes across in the special grilling and fermenting techniques used throughout the menu. Pretty much all the small plates are veggie, with standouts including smoked potatoes with tahini mayo, and grilled leek with pistachio romesco, alongside larger plates of tahini coal roast celeriac, and aubergine steak with sourdough mole. 
Abbot St, London E8 2LX, acmefirecult.com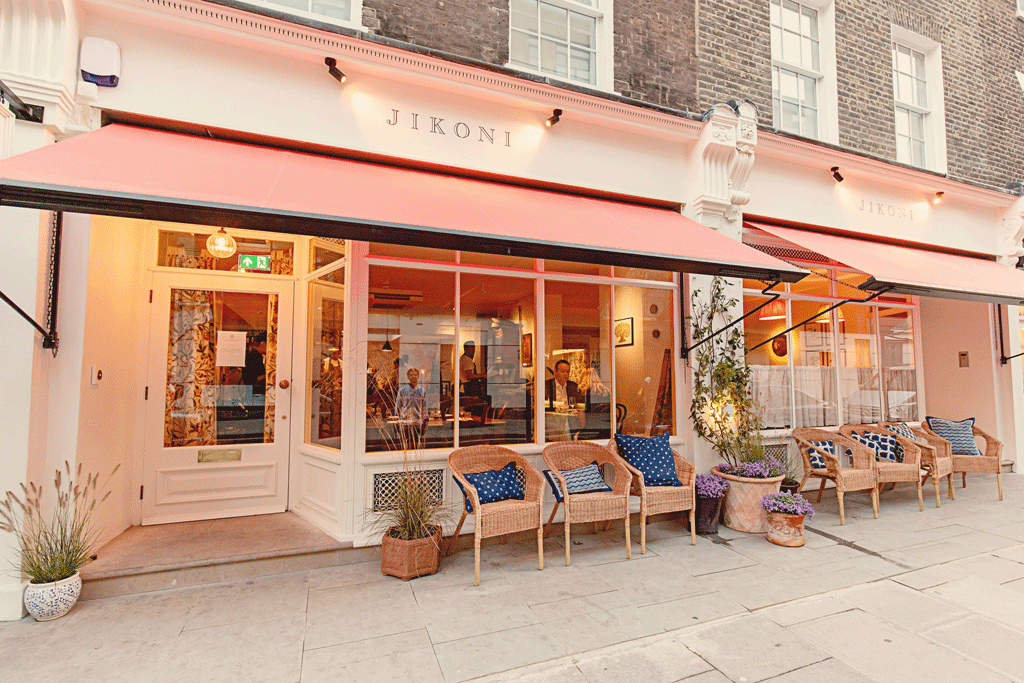 Jikoni
Jikoni – which translates as 'kitchen' in Kiswahili – is the debut restaurant from Ravinder Bhogal, who worked as a food writer, TV presenter and chef before being talent spotted by none other than Gordon Ramsay. The Blandford Street restaurant reflects Bhogal's mixed heritage, drawing on flavours from Britain, East Africa, the Middle East and Asia. This results in an eclectic, unique menu packed with spice, with a prime focus on plant-based cooking. Veggies (or meat-eaters for that matter) can kick off with cauliflower popcorn and charred purple sprouting broccoli, followed by big plates of crispy aubergine with sticky garlic rice, and kimchi mac 'n' cheese. Comforting dishes are paired with cosy interiors: think tables covered in floral print cotton cloths, mismatched china and low lighting, creating a welcoming home from home feel.
19-21 Blandford St, London W1U 3DJ, jikonilondon.com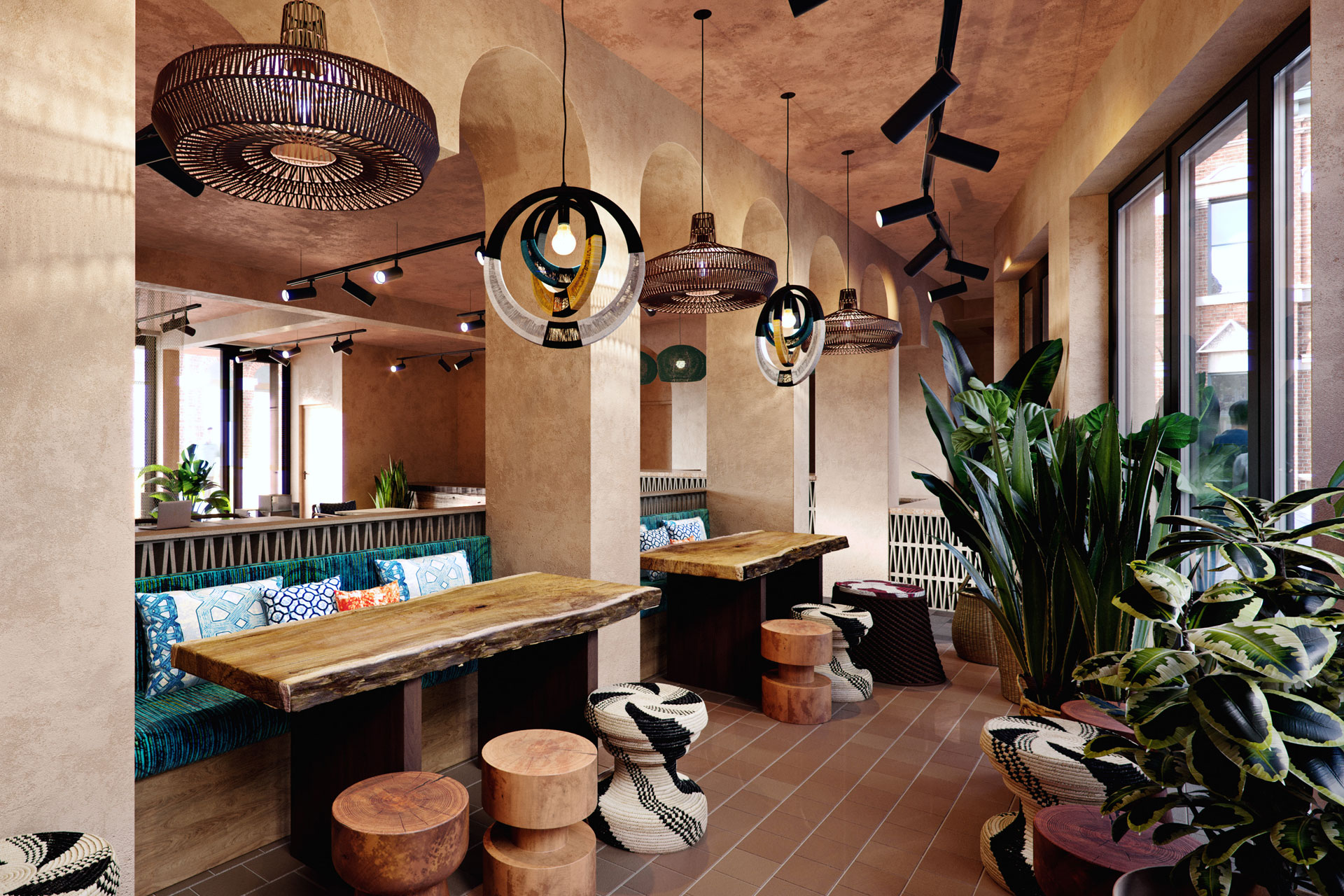 Tatale
Recently launched in The Africa Centre is Tatale, a Pan-African restaurant from Ghanaian-British chef Akwasi Brenya-Mensa. Taking its name from the plantain pancake, a traditional Ghanian dish, Tatale (pronounced 'tat-ah-lay') is based on Brenya-Mensa's belief that 'wherever you are in the world, plantain is synonymous with the Black experience'. Themes of universality and heritage are central to Tatale's concept, and reflected in the menu, which aims to tell African stories through food, art and culture. It's not fully vegetarian, but many dishes are, like the Red Red Black Eyed Bean Stew with plantain and tomato, and Omo Tuo, a signature mashed rice dish made with sesame and parsley, which loosely translates from Ghanain dialect as 'rice gun'.
66 Great Suffolk St, London SE1 0BL, tataleandco.com
Featured image: Bubala