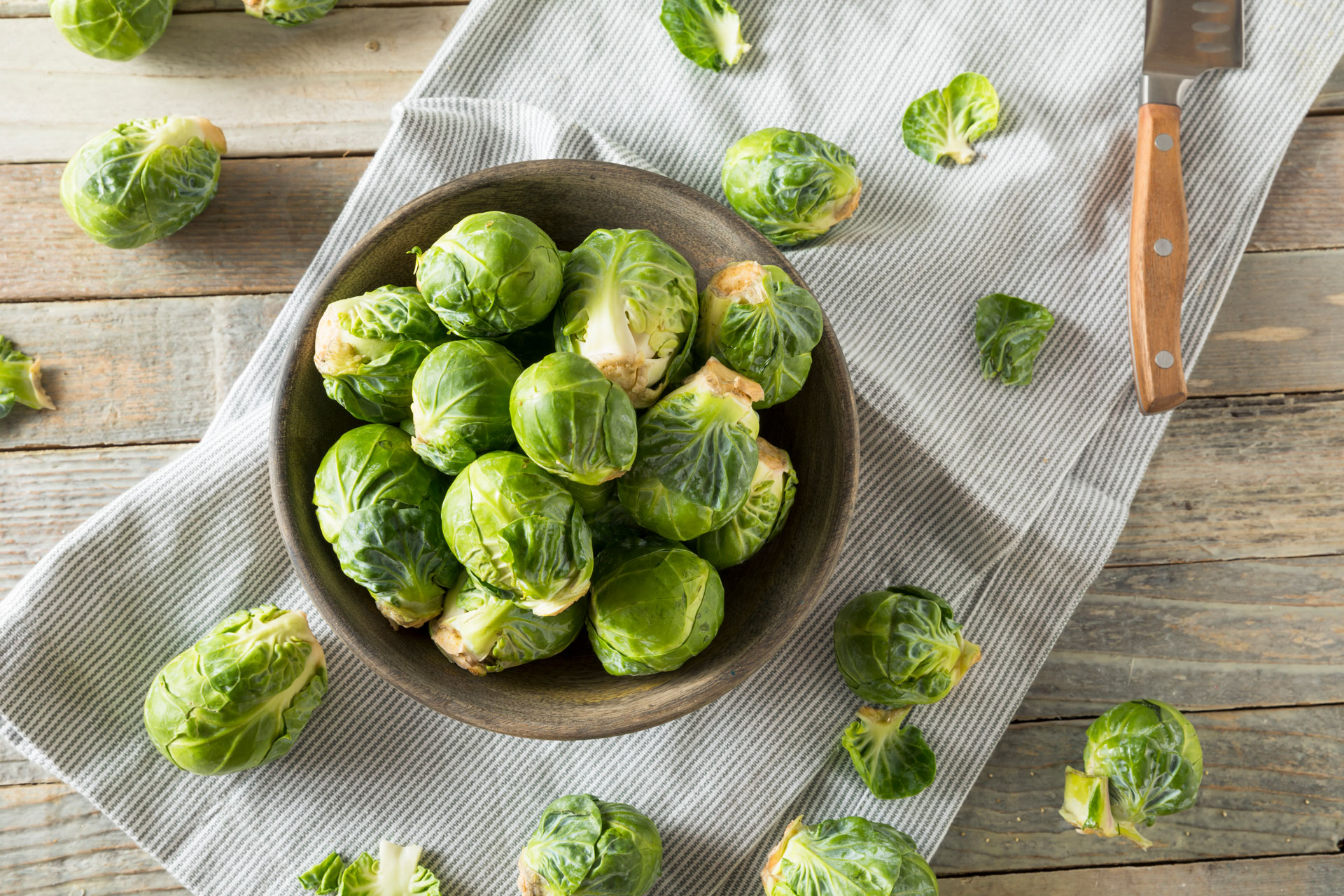 Vegetable of the Week: Brussels Sprouts
---
How to spruce up the sprout
Each week plant-based cook Bettina Campolucci Bordi, founder of Bettina's Kitchen, gives us the lowdown on a particular seasonal vegetable or ingredient, offering cooking tips and a recipe. This week it's Brussels sprouts.
Brussels sprouts are a permanent feature at our Christmas dinner table and linger on through January. On a personal level I don't love them, but I have found some clever ways to make them super tasty and very much edible.
Named after the Belgian capital where they're believed to have been popular during the 16th century, these leafy green vegetables are part of the Brassica family and closely related to kale, cauliflower and mustard greens. The cruciferous vegetables resemble mini cabbages and are typically cut, cleaned and cooked to make a nutritious side dish or main courses.
In season from October to March, Brussels sprouts can be used in lots of different ways. Grate them into a slaw, make a gratin, marinate them with miso or even deep fry them. It's not the healthiest way of eating them but oh boy is it a good one!
When buying sprouts choose bright green varieties that are firm and small (makes them sweeter) with tightly packed leaves. It is better to buy them loose rather than in a pre-packaged bag so that you can check each one and avoid ones that are turning yellow. It's even better if you can buy them still attached to their stalks, as they'll stay fresher for longer.
If the sprouts are still on their stalks, twist each one off. Remove any loose leaves and wash and trim the base. There's no need to make an incision – cutting into small Brussels sprouts could lead to them overcooking.
Store fresh, unwashed sprouts in cotton bags in the refrigerator. Fresh sprouts taste best though, so try to limit refrigeration to a day or two. And don't toss the leaves! Cook them as you would cabbage leaves – they're delicious. ​Loose sprouts will keep in the fridge for up to four days. If you buy them still attached to their stalks, you can keep them attached until you plan to use them for up to a week.​ Also when cooking it helps to add a squeeze of lemon to take the slightly bitter edge off.
Below is one of my favourite recipes.
Recipe: Smashed Brussels Sprouts and Garlic Mayonnaise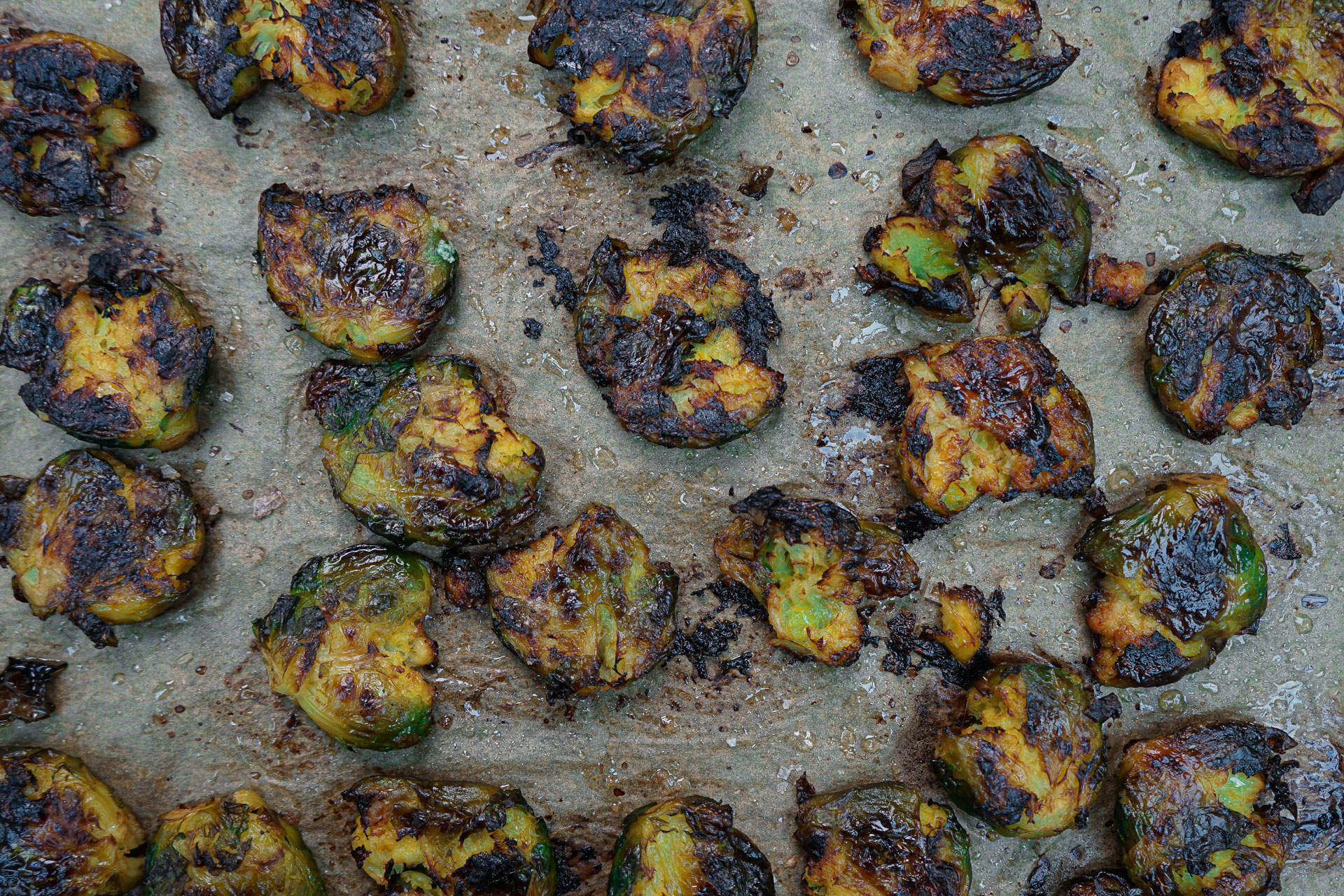 Makes one tray
Ingredients:
300/400g of Brussels sprouts (out layer cleaned and washed)
Olive oil for cooking
Salt and pepper to taste
Mayonnaise
100g of Mayonnaise
1 garlic clove (grated)
1⁄2 squeeze of lemon
Method:
Start off by preheating the oven to 220 degrees. Peel the outer layer of your sprouts and give them a good wash. Bring a large pan of water to the boil, add some salt and the sprouts and pre boil for 10 minutes until semi soft. Once cooked (don't over cook, make sure they don't turn a dull green). Drain properly.
Line a big baking tray with greaseproof paper and pour the Brussels sprouts out on the paper. Make sure they have enough space in between and flatten with the palm of your hand so that the sprouts go as flat as possible. Do that with all the sprouts, you might find that some water comes out, once all the sprouts are flattened make sure that you soak up the excess water with a kitchen towel.
Drizzle with olive oil and a grouse sprinkling of salt and pop in the oven for 10 to 15 minutes until brown. Take the tray out and turn the sprouts and pop back in the oven for another 10 minutes. You want the sprouts to be golden and crispy! While they are cooking mix all your mayo ingredients together and set aside. Once the sprouts are golden, take out of the oven and eat straight away while they are super crispy and dip in garlic mayo!
MORE VEG OF THE WEEK: