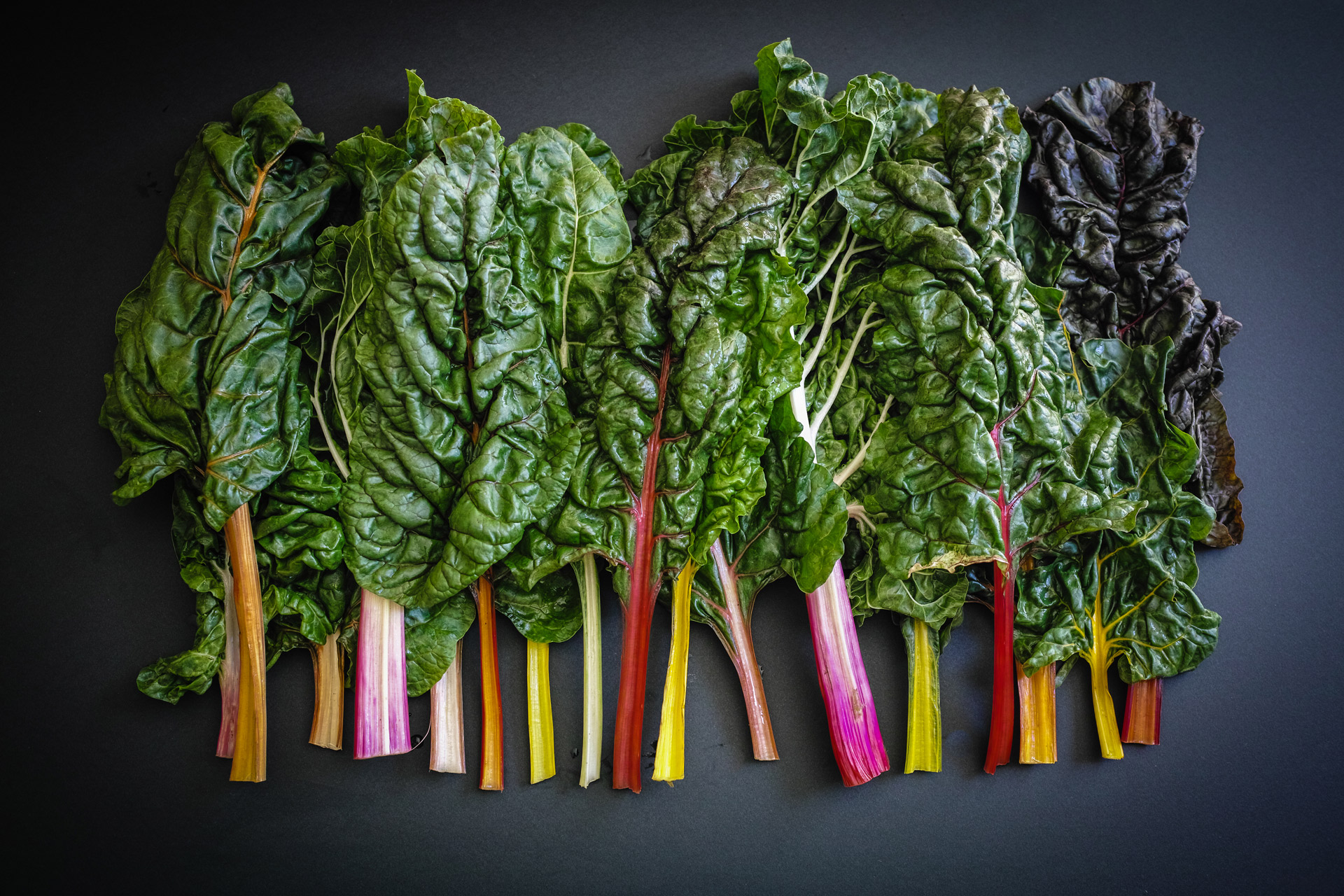 Vegetable of the Week: Chard
---
Each week plant-based cook Bettina Campolucci Bordi, founder of Bettina's Kitchen, gives us the lowdown on a particular seasonal vegetable or ingredient, offering cooking tips and a recipe. This week it's chard.
I love chard! It's a great addition to any stew, curry, stir fry or even omelette. It's also great lightly fried off with a hint of garlic and onions and topped on sourdough with an extra drizzle of olive oil.
There are a number of different types of Swiss chard: rainbow chard, meaning a mix of different types of coloured chard; ruby, red or rhubarb chard that comes with red stems; white stemmed chard and yellow stemmed chard.
In spite of its name, Swiss chard does not come from Switzerland, but from Sicily. It is described – in English at least: in Italian its name is 'bietole' – as 'Swiss' because it was the botanist Karl Koch who first distinguished between chard and French spinach. Just to further confuse matters, Koch was in fact German rather than Swiss!
A great way to cook chard is with garlic and onions in a pan with a bit of oil. When the onions are translucent, add the chopped chard with salt and pepper. Cook until tender, anywhere from seven to 10 minutes. As with all dark leafy greens you'll want to add a citrusy component to jazz up the flavour – but, more importantly, will help your body absorb the iron in the greens. This could be a squeeze of fresh lemon, orange or lime juice, or even sliced mango and pineapple if you are into sweet and savoury combinations. Chard is also brilliant ladled into pastas or used as a toast topping.
I have a favourite way of including chard and other greens in meals. This is my go-to meal when I am feeling under the weather, or if it's drizzly and cold outside. I also enjoy this meal for breakfast, especially after I return from travelling in Asia, where they often serve brothy breakfasts. Cinnamon is especially good for the ageing brain, helping new neuron production and encouraging the survival of existing neurons. Cruciferous veggies such as broccoli and pak choi are antioxidants and may help to reduce oxidative stress and lower the risk of neurodegeneration.
Recipe: Broth & Greens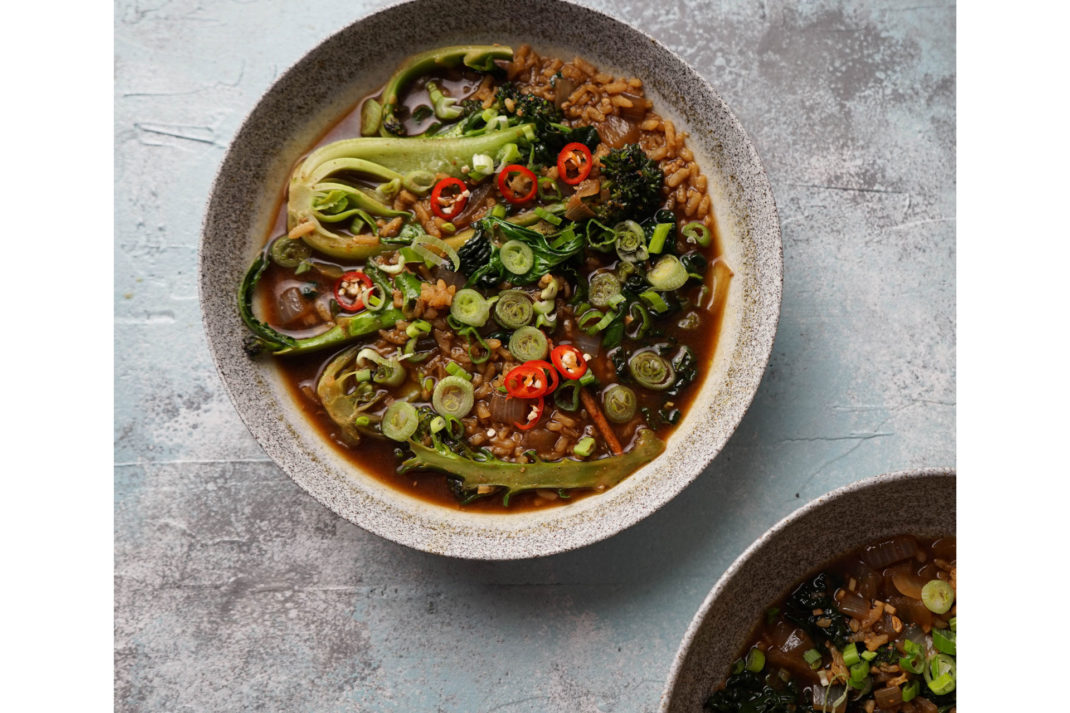 Makes 2 servings
Ingredients:
1⁄2 yellow onion, sliced
3 garlic cloves, chopped
1 teaspoon five-spice
1 tablespoon miso paste
1 cinnamon stick
500 ml (17 oz/2 cups) vegan stock
2 pak choy (bok choy), cut in half
100g (31⁄2 oz) tenderstem broccoli, cut in bite-size pieces
1 handful of chard or kale
260 g (91⁄2 oz/2 cups/heaped 11⁄3 cups) precooked brown or white rice
1 thumb-sized piece of ginger root, freshly grated
1 tablespoon tamari
Olive oil, for frying
To serve:
Sriracha hot sauce
Chopped fresh chilli
Spring onions (scallions), green and all, chopped
Boosters:
Hemp hearts
Pumpkin seeds
Sesame seeds
Method:
Heat a little olive oil in a large saucepan, add the onions, garlic and five- spice and fry gently for about 5 minutes.
Add the cinnamon stick and stock and bring to a simmer. Once simmering, add the pak choy, the tenderstem broccoli and kale or chard. Simmer for a few more minutes. Lastly add the precooked rice, freshly grated ginger, miso paste and tamari.
Serve immediately with your favourite toppings. I love sriracha, spring onions and chilli for extra kick.
MORE VEG OF THE WEEK: