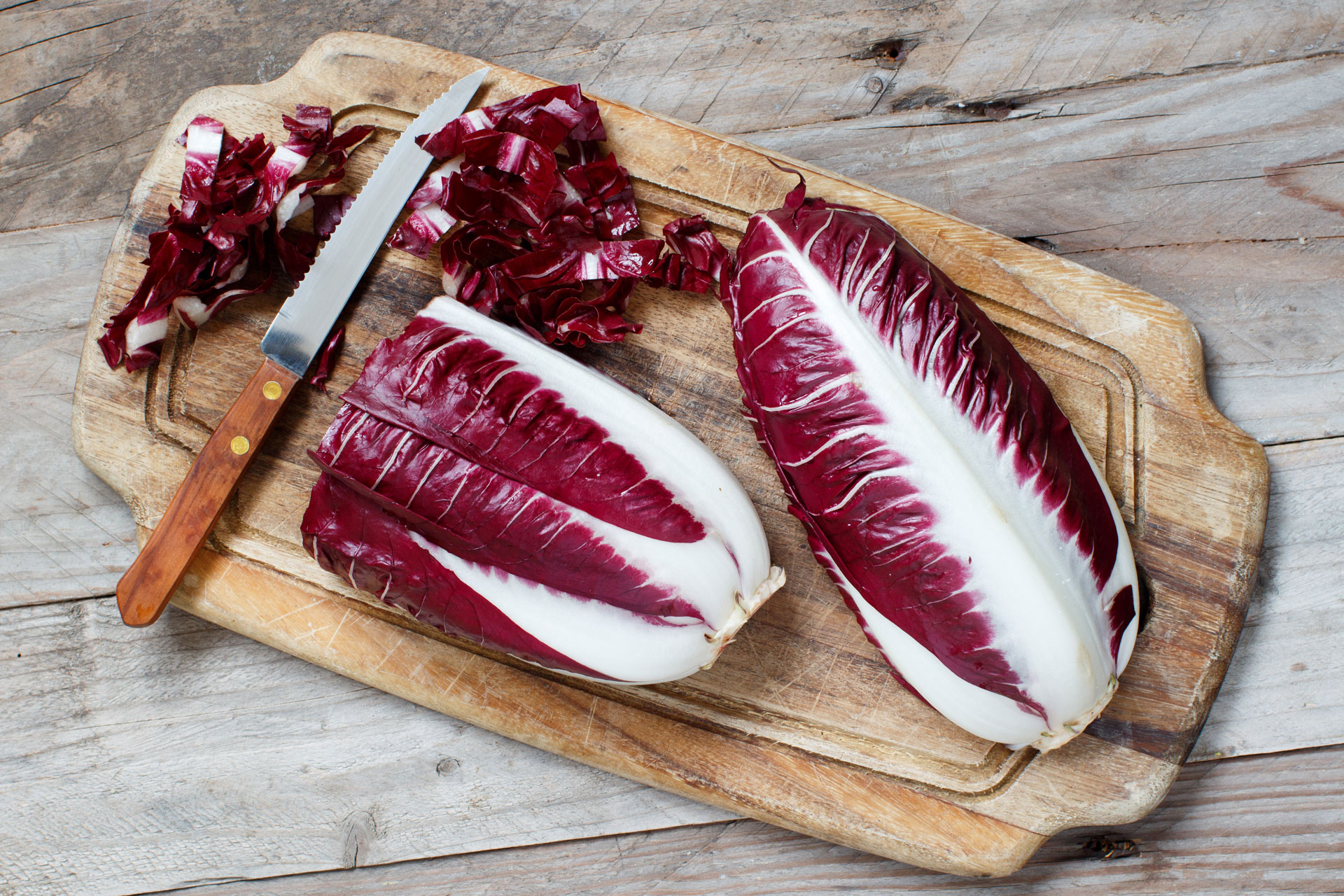 Vegetable of the Week: Chicory
---
Don't let the strong flavour scare you, says Bettina
Each week plant-based cook Bettina Campolucci Bordi, founder of Bettina's Kitchen, gives us the lowdown on a particular seasonal vegetable or ingredient, offering cooking tips and a recipe. This week it's chicory.
To me, chicory is a bit of a cheeky one. Its patented playful pink ombre or green-tipped leaves entice you in before revealing an unexpected and sophisticated wood-like flavour and potent taste reminiscent of high-quality ground coffee beans. Don't let its strong flavours scare you though: when cooked well, chicory can add sweetness and warmth to a wide variety of dishes.
More commonly known as endive, radicchio or blue dandelion, this flowering vegetable comes in a red or white variety and is best stored in the fridge, wrapped in a clean tea towel to collect moisture.
Normally cultivated and used raw for salad, this underrated veg has so much more to offer than just a side ingredient to a side dish. I'm pretty sure even the smallest of the chicory leaves would take the promotion of utilising its natural-cupped shape to create the perfect self-contained vehicle for serving a variety of fillings (hint: try stuffing the leaves with blue cheese and chopped walnut) and leaving the salad bowl far behind.
Packing a punch into each leaf, chicory is known for its bitterness that can be paired with salty, acidic and strong robust flavours. Try marinating the leaves in a dressing of olive oil and lemon before roasting – making sure to char the edges – and pair with a rich game bird that has been rubbed with black pepper and juniper, finished with caramelised orange segments. Alternatively, you can bake or poach (in a cream or milk bath) the chicory head whole, pickle the flower buds and roast the roots.
You can also ground the root into coffee and drink it straight – although I would leave that one to the professionals. Chicory root coffee has long been a staple across Europe as a cultivated coffee substitute. The chicory root is baked, roasted and ground before being added to a mixture of coffee beans. It's also been reported that some brewers use the root to add an extra depth of flavour to their ales and stouts.
I prefer to consume mine by sautéing and wilting the outer leaves with some capers and garlic before tossing through fresh pasta covered in a glossy coating of olive oil. You can also quarter and glaze chicory in a pan of brown sugar and orange juice to create a thick sticky kind of caramel that clings to the leaves and mellows the dish out.
This is one of my favourite recipes that really shows off the beautiful chicory leaves.
Recipe: Chicory, Fennel and Orange Salad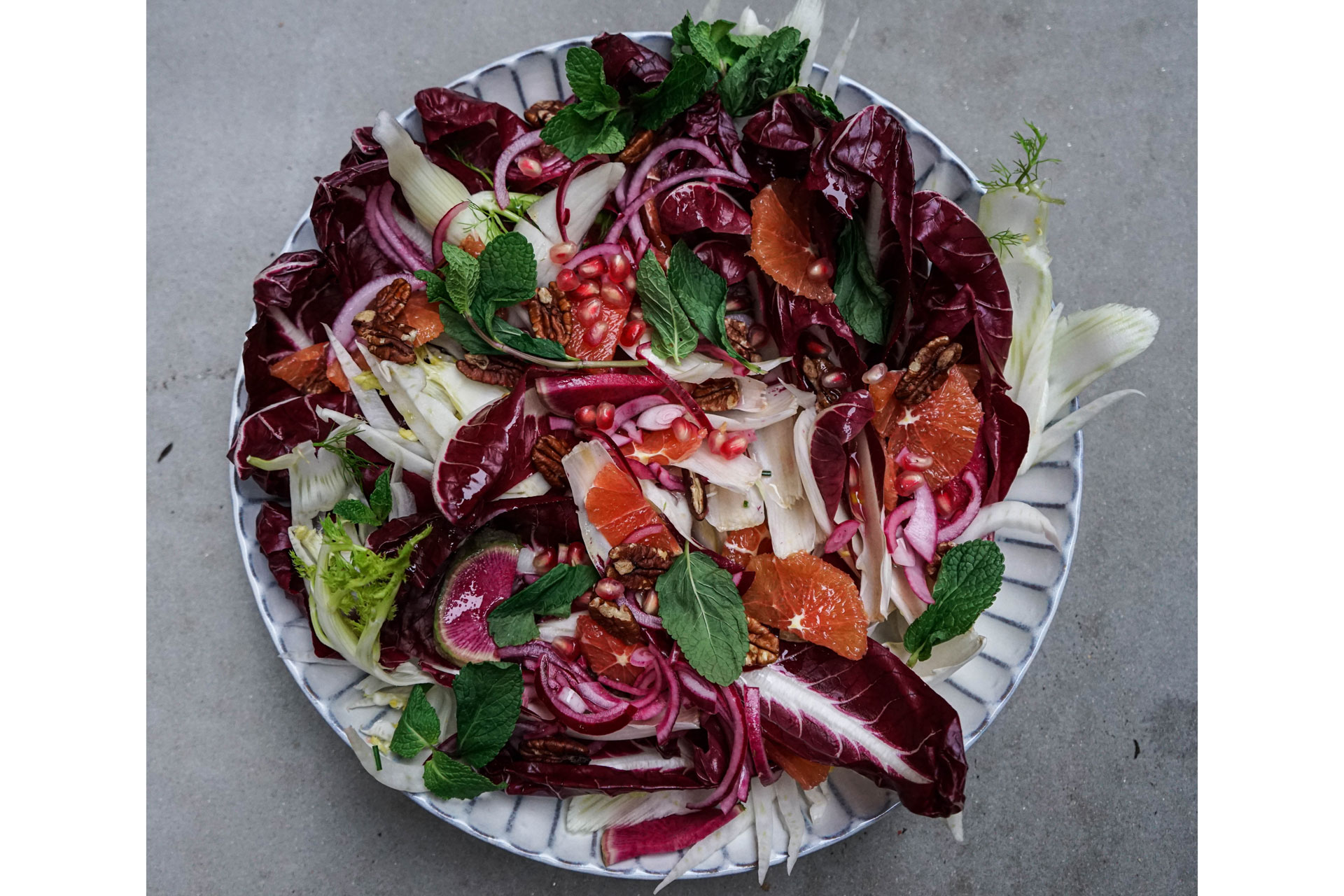 Ingredients
For the chicory, fennel and orange salad:
1 head chicory
1/2 fennel, shaved
1 orange
1 handful toasted pecan nuts
1 handful fresh mint
1 handful pomegranate seeds
For the pickle:
1/2 red onion
1 tsp white sugar
2 tbsp apple cider vinegar
For the dressing:
2-3 tbsp olive oil
1 tbsp maple syrup
1 tsp wholegrain mustard
Salt & pepper
Method
Mix the quick pickle ingredients into a glass jar and leave to marinate while preparing the salad.
Wash and pick off the chicory leaves, leaving them whole.
Remove the skin from the orange and slice into half moons.
Arrange the chicory leaves around the base of the salad plate, add the oranges, fresh mint, pecan nuts
and scatter the marinated pickle over the top of the salad, saving the marinade in the jar.
In the pickle jar, add the dressing ingredients to the leftover marinade and mix well. Pour over the salad, and sprinkle with pomegranate seeds to serve.
MORE VEG OF THE WEEK: