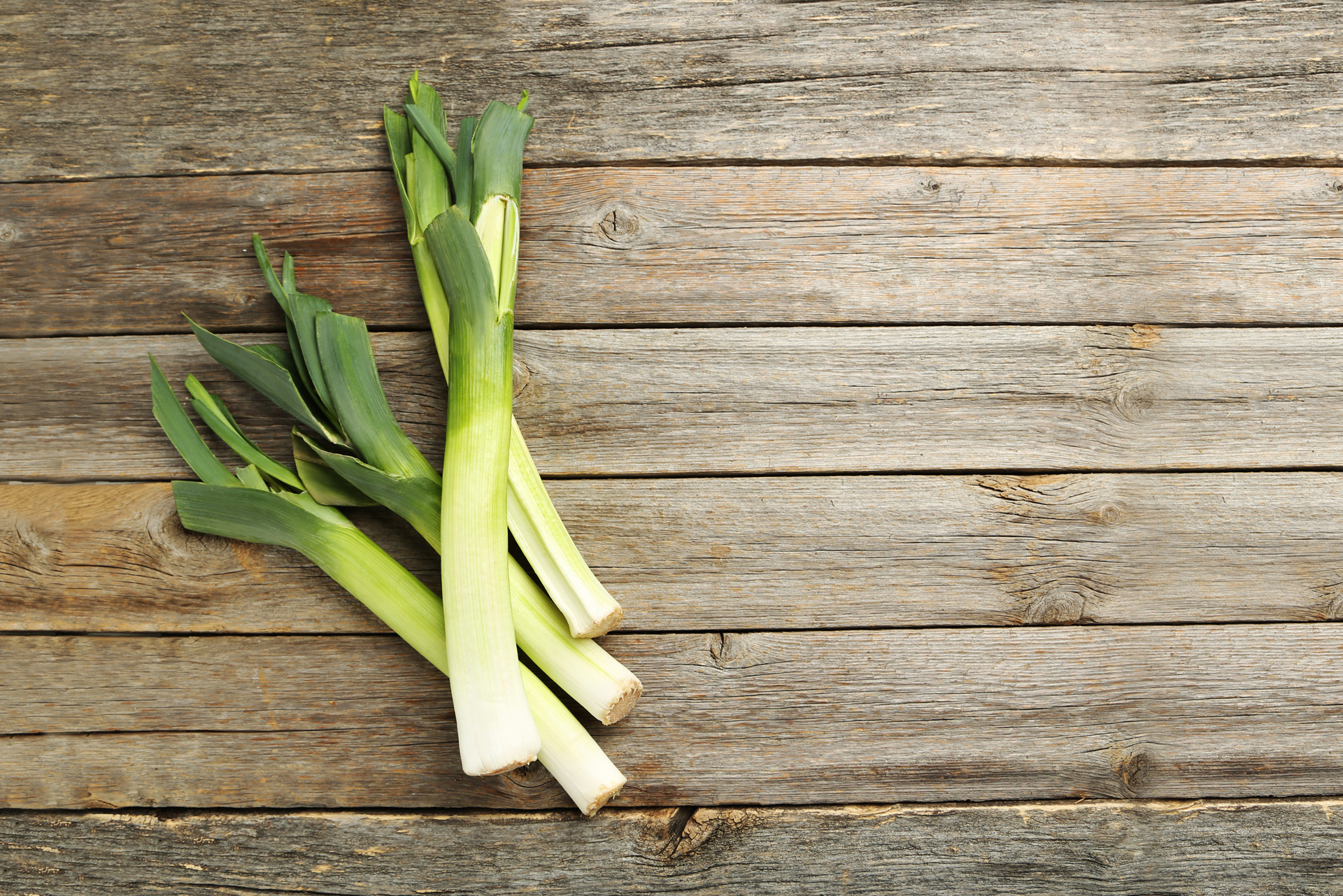 Vegetable of the Week: Leeks
---
How to cook leeks, plus a Korean-inspired pancake recipe
Each week plant-based cook Bettina Campolucci Bordi, founder of Bettina's Kitchen, gives us the lowdown on a particular seasonal vegetable or ingredient, offering cooking tips and a recipe. This week it's leeks.
Leeks are one of my absolute favourite ingredients to cook with. Sweet, sticky and softer around the edges than onions, they make a great base for stews and curries. Leeks vary a bit according to the season. The winter harvest begins in October and produces a larger, stronger-flavoured vegetable than the leeks you find in warmer months. They can keep for up to two weeks in the fridge, and will even do well frozen. I also often get the smaller ones, which are great sliced and scattered over salads.
When cooking with leeks you can use the whole vegetable, tops and all. If you peel off the dry outer layers, thinly slice the rest and cook low and slow, you'll get a delicious sweetness from them. One of the downsides to leeks is that they can be pretty laden with soil between the layers. I cut them into 10cm sections and slice them horizontally, then give them a bath in the sink in warm water while separating the layers. It's an easy way to get them clean before they're diced or chopped into half-moons.
Of course, leek is the main ingredient in leek and potato soup – and more surprisingly, it's also tasty chopped as part of a vinaigrette, or simply braised and enjoyed as a side dish. One of my dearest friends, Soljee, is from South Korea, and I have spent quite a lot of time there eating my way through some delicious food and sipping on matcha lattes. One of my favourite and quickest dishes to make is the Korean pancake. It's pleasingly crispy on the outside and filled with veggie goodness on the inside – and leeks take centre stage in this moreish treat. It's wonderful dipped in the best tamari dressing ever.
Recipe: Korean Leek Pancakes
Ingredients
Makes 1 big pancake (serves 2)
70 g (3 oz / 1/2 cup) gluten-free flour mix (any shop bought will do)
160 ml (5 fl oz / 2/3 cup) water
A pinch of bicarbonate of soda (baking soda)
Olive oil, for frying
100 g (31/2 oz) asparagus spears, (1/2 bunch), sliced lengthways
1/2 leek, sliced lengthways
1 carrot, chopped into thin sticks
For the dressing
60 ml (2 fl oz / 1/4 cup) tamari soy sauce
Juice of 1/2 lime
1 tablespoon sesame oil
1 teaspoon maple syrup
1/2 garlic clove, peeled and grated
To serve
2 spring onions (scallions)
Chopped black or white sesame seeds
Coriander (cilantro), optional
Method
Start by mixing all the ingredients for the dressing in a small jar. Pop the lid on, give it a shake and set aside.
In a bowl, mix the flour, water and bicarbonate of soda and set aside.
Heat some oil in a frying pan (skillet) over medium heat. Add all the veggies and fry for 5 minutes until brown.
Spread the veggies out evenly in the pan and pour over the batter until you have a big pancake. Cook for 5 minutes on each side until crispy and golden brown.
Serve immediately, cut into slices, topped off with the spring onions, sesame seeds, coriander and the amazing dressing alongside. This is such an easy dish to serve as a starter, sharing platter or quick solo meal after a long day at work.
MORE OF BETTINA'S RECIPES: