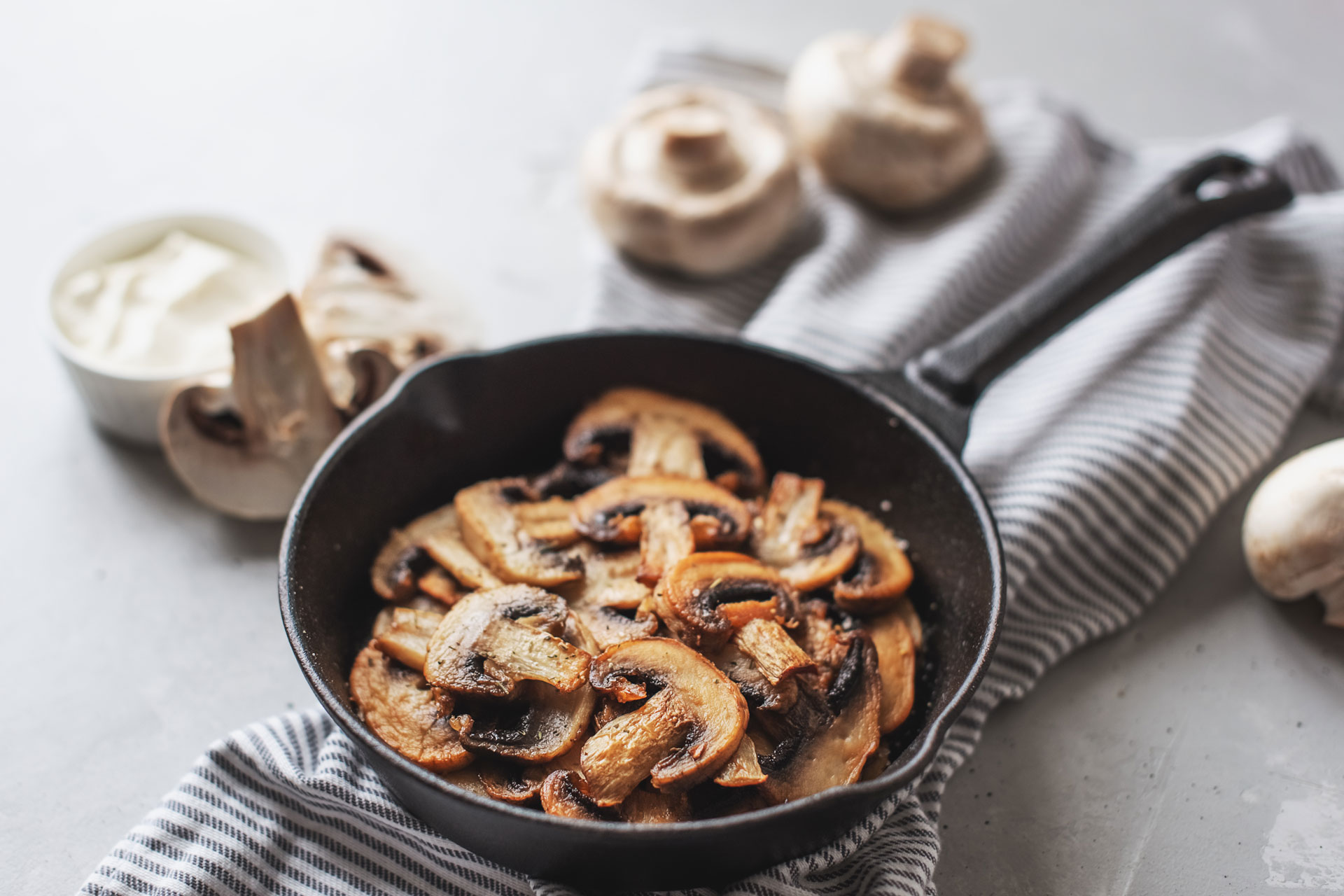 Vegetable of the Week: Mushrooms
---
Each week plant-based cook Bettina Campolucci Bordi, founder of Bettina's Kitchen, gives us the lowdown on a particular seasonal vegetable or ingredient, offering cooking tips and a recipe. This week it's mushrooms.
Did you know that around 27 per cent of all mushrooms that are produced go to waste? Most of this waste happens in the home, but by knowing how to cook these vegetables correctly we can save them from the bin. Mushrooms are an incredibly healthy and versatile food. They have a unique flavour profile called umami – also known as monosodium glutamate – which is one of the core five tastes alongside sweet, sour, bitter and salty. Umami means 'essence of deliciousness' in Japanese, and its taste is often described as the meaty, savoury deliciousness that deepens flavour.
Mushrooms have a great robust texture and are a brilliant meat substitute. When I grew up in Sweden we would often go foraging for them – my favourite thing would be to serve them pan fried with a bit of garlic on toast. All you need to do is heat olive oil in a large saucepan over medium heat, add mushrooms, garlic, cooking wine, teriyaki sauce, garlic salt, black pepper and butter. Wait until the mushrooms are lightly browned, then reduce the heat to low and simmer until they're tender.
The peak growing season for mushrooms varies. While most mushrooms are available year-round, many are at their peak in autumn and winter. They have many health benefits too: unlike most other vegetables, mushrooms contain two important B vitamins, niacin and riboflavin.
This is one of my favourite simple recipes from my childhood – a great way to make mushrooms the hero ingredient of the plate.
Recipe: Mushroom Rice & Dill Yoghurt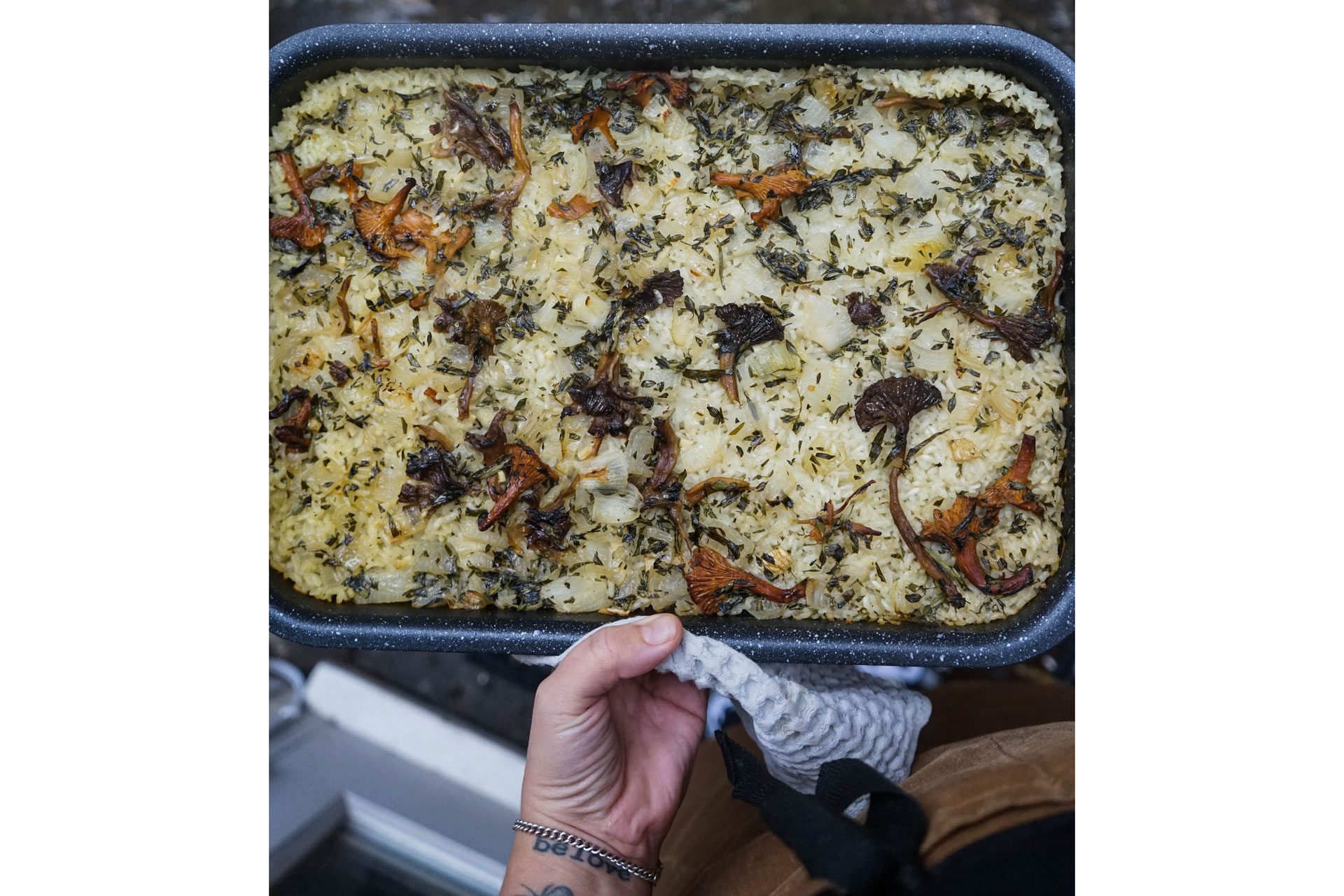 Ingredients
For the oven rice:
1 mug of arborio rice
2.5 mugs vegetable stock
A handful of fresh mixed mushrooms
1 onion, chopped
1-2 cloves garlic, chopped
2-3 tbsp olive oil
20g fresh herbs of your choice, eg tarragon, thyme, rosemary or oregano, chopped
For the dill yoghurt:
200g plant yoghurt
10g fresh dill, finely chopped 1/2 small cucumber, grated 1/2 garlic, grated
Juice of 1/2 lemon
Pinch of salt & pepper
Method
Preheat the oven to 200 degrees.
In a medium sized baking tray, add the mushrooms, onion, garlic and olive oil. Cook in the oven for 15-20 mins until soft.
Take out of the oven and add the rice, boiling vegetable stock and fresh herbs, still well and put back into the oven for 20-30 mins until the liquid has been absorbed and the rice is cooked through.
Meanwhile, mix all ingredients for the dill yoghurt in a bowl and set aside.
Once the rice is ready, take out of the oven and serve up with a dollop of dill yoghurt on the side.
MORE MUSHROOM RECIPES:
Amelia Freer's Mushroom Quinoa Risotto / Gill Meller's Baked Mushrooms