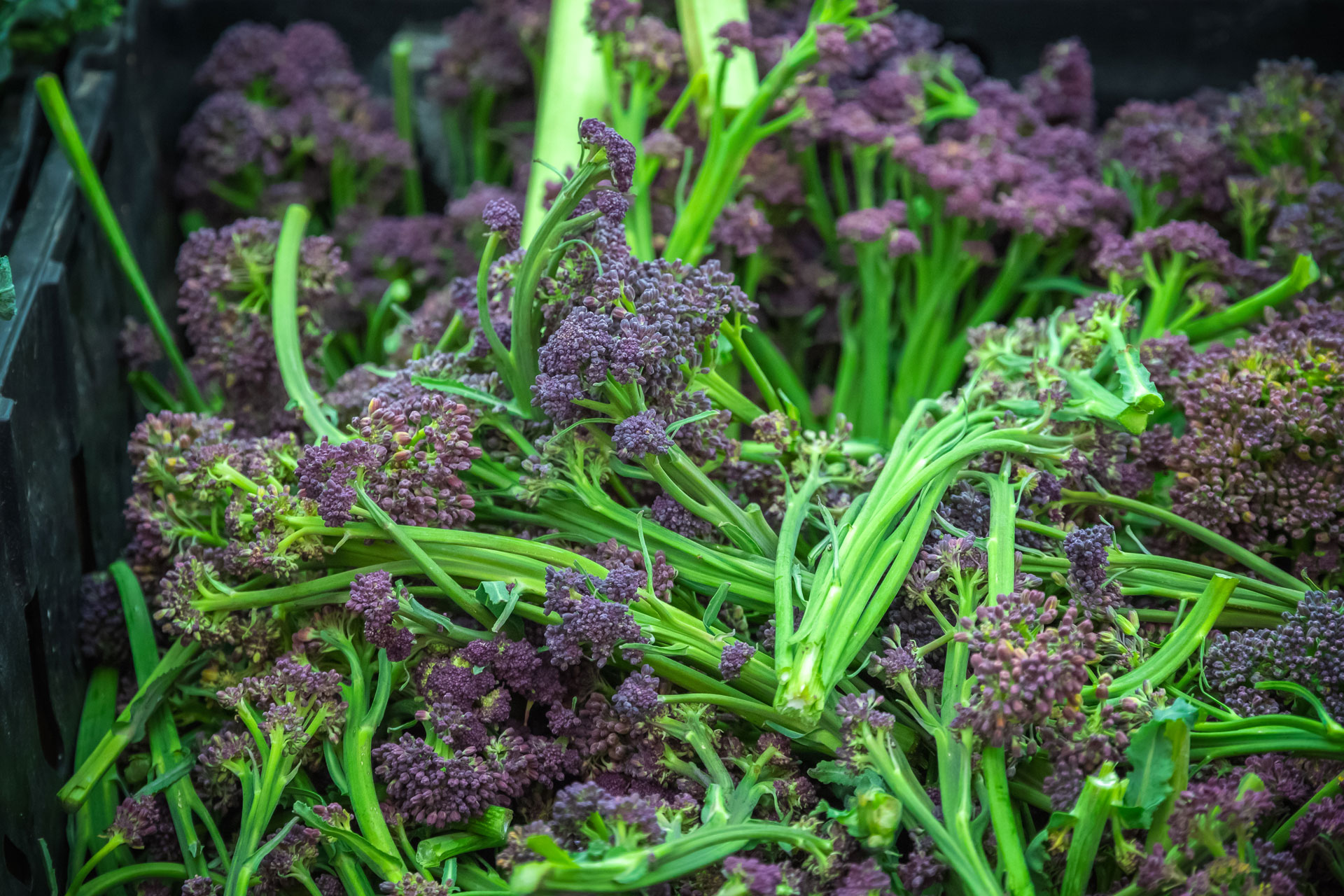 Vegetable of the Week: Purple Sprouting Broccoli
---
Make the most of this short-seasoned veg while you can, says Bettina
Each week plant-based cook Bettina Campolucci Bordi, founder of Bettina's Kitchen, gives us the lowdown on a particular seasonal ingredient, offering cooking tips and a recipe. This week it's purple sprouting broccoli.
There's something so exciting about seeing the first flashes of purple start to appear as we enter March. But you have to be quick if you want to make the most out of purple sprouting broccoli, which is at its best right now – and packed full of gut-friendly fibre and Vitamin C. In terms of preparation and flavour pairings, it's an ingredient that is best done simple but well. Don't overcomplicate it.
All varieties of the broccoli family tend to have a penchant for salty ingredients – anchovies, pancetta, blue cheese, goat's cheese and parmesan all pair well with this sleek vegetable. To keep its dark complexion, opt for quicker cooking methods such as griddling, grilling or stir-frying and avoid any water-based techniques.
Keep the veg intact, only discarding of the stem ends if overly thick or woody and enjoy as an accompanying side dish to any rich and heavy main – like cream-coated pastas, or red meat. Alternatively, make them the star by dressing the dish with red chilli and roasting, each added minute turning the stems sweeter and richer. Don't over-do it though: seven to eight minutes in a preheated oven is normally enough. And make sure to eat straight away as purple sprouting broccoli falls in its ability to hold heat well.
Charring it on the grill is another good shout – just long enough to crisp the outer leaves and tender the stems before lovingly coating them in a good glug of olive oil that seeps through the head and clings to each crevice. Add a touch of Himalayan salt and lemon juice before tossing through the last of the warm winter salad leaves. Or use their long spears as a vehicle for dipping in whole baked melted brie, studded with garlic and rosemary.
To store purple sprouting broccoli, keep it in a paper bag or wrapped in cloth to absorb any additional moisture and pop in the fridge. Aim to use within a few days, but any limp looking leftovers can always be livened up with a gloss of soy sauce and a sprinkling of toasted nuts – pine, peanut or almond work great.
This is such a brilliant recipe to show the purple sprouting broccoli off in all its glory, placed on top of a creamy polenta mash and drizzled with a delicious dressing. This is a winner.
Recipe: Purple Sprouting Broccoli, Polenta & Chives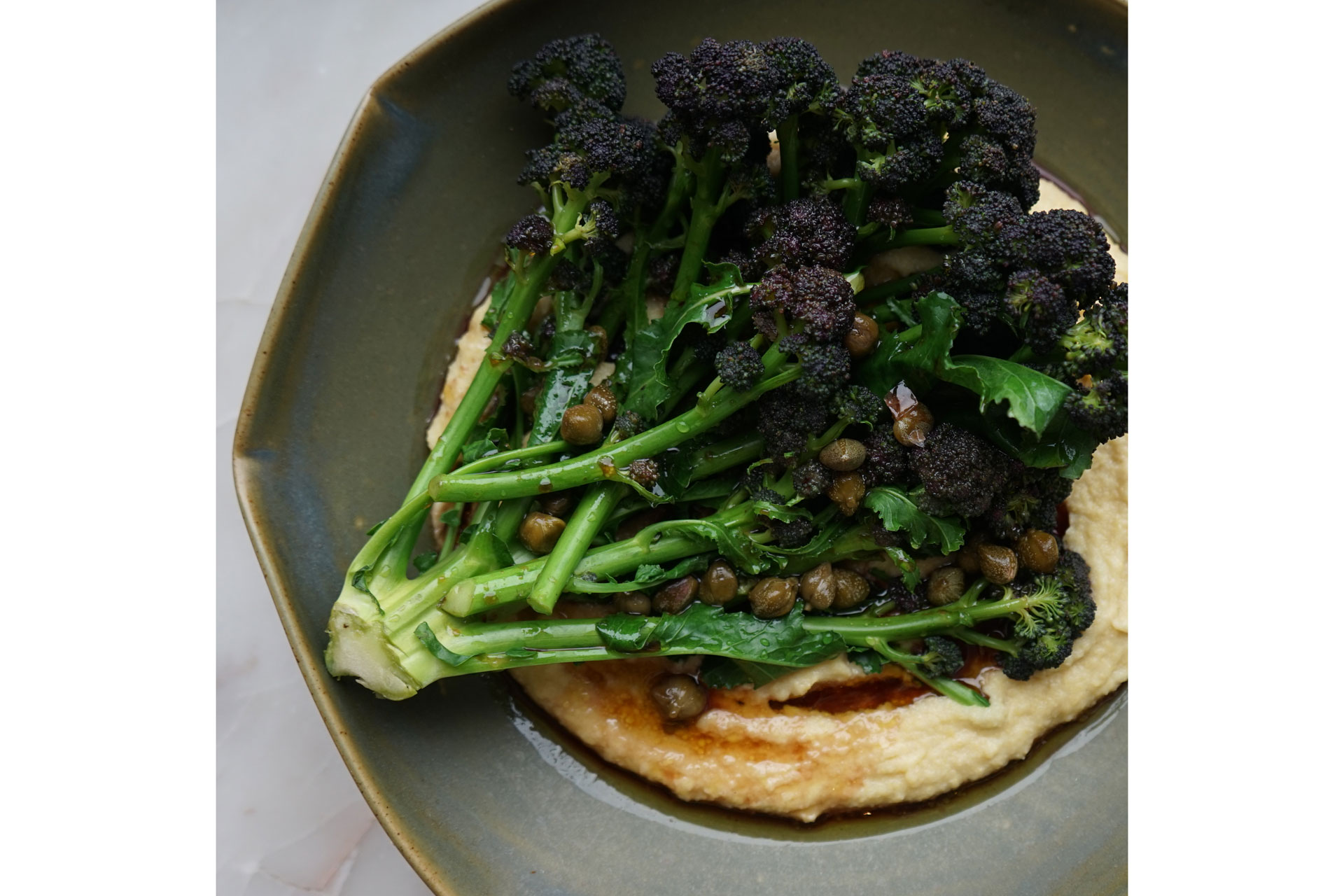 Makes 4 servings
Ingredients:
2 broccoli heads (approx 800g)
1 litre water
4 tbsp tamari
2cm chunk of ginger, grated
2 tbsp sesame seeds
2 tbsp olive oil
For the dressing:
½ small red onion, chopped
1 tbsp capers, chopped
60ml olive oil
20ml apple cider vinegar
Salt & pepper
For the polenta:
160g polenta
960ml water
60ml plant cream
30g dill finely chopped
1 tbsp nutritional yeast
Salt & pepper to taste
Method
Preheat the oven to 180ºC.
Prepare the broccoli by chopping 1cm off the base of the stem and peeling the rest of the stem, but keep the stem and broccoli intact.  Cut each broccoli in half through the top and down the stem.
Line a baking tray with greaseproof paper and lay each broccoli half, flat side down.  Baste the broccoli with olive oil and sprinkle with sesame seeds.
Cook in the oven for 20 mins until golden brown.
While the broccoli is cooking, mix together the dressing ingredients until well combined.  Set aside.
For the polenta, bring the water to the boil and add the polenta.  Keep stirring until it starts to thicken.  Once thickened, remove from the heat, add plant cream, chives, nutritional yeast and salt and pepper to taste, and mix well.
Serve immediately by adding a big dollop of creamy polenta to a plate, place ½ broccoli head on top, and serve with a generous amount of dressing drizzled on top.
MORE VEG OF THE WEEK: