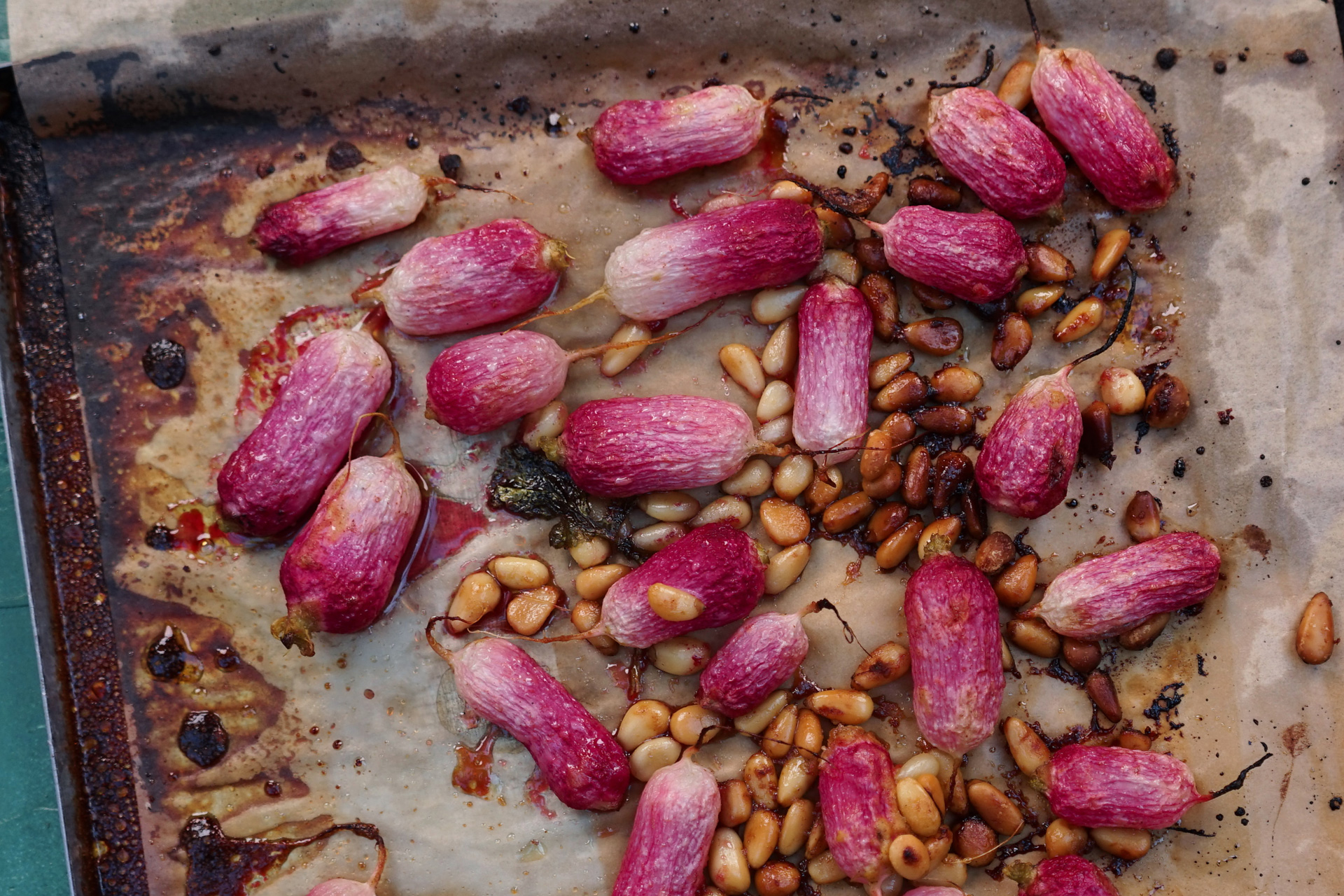 Vegetable of the Week: Radishes
---
Radishes aren't just for eating raw, says Bettina
Each week plant-based cook Bettina Campolucci Bordi, founder of Bettina's Kitchen, gives us the lowdown on a particular seasonal vegetable or ingredient, offering cooking tips and a recipe. This week it's the radish.
The radish is one of the most overlooked veggies of all time. It seems to be stuck a little in the past – but it's time to bring the radish into the 21st century, particularly as it's rich in folic acid, potassium, calcium and Vitamin B6.
Varieties
You are probably used to the traditional radishes: the small round cherry-like type that's bright white on the inside and dipped in a coating of red. There's also the French Breakfast radish whose deep pink skin is marbled white at the roots. Both of the these come in strong with peppery notes and a whole lot of crunch, and pair perfectly with soft cheeses, flaky white fish and hazelnuts.
You can also get black coatings, more commonly known as Daikon Radishes that take after their carrot friends in terms of shape and style. These lend themselves to Asian cookery due to their milder flavour. Then there's the large white mooli found in Eastern Europe –although you'll need to peel these ones first.
Picking the right ones
When picking radishes up at the store or local farmer's market, look for the beauty-prize-winning ones: we're talking firm-skinned and no blemishes. Don't be afraid to pick it up and give it a little squeeze too – if they feel soft, they are overripe, which is perfect for roasting. If you're looking to shave raw or pickle, opt for small, fresh and perky. To keep radishes at their best only prepare them when you are ready to use them, as they have a very short life span once exposed. Keep them whole, wrapped in a moist kitchen cloth in the fridge, with their leaves removed and stored separately.
How to cook
Step away from the raw salads and try julienning (thin matchstick cut), dicing or grating and tossing radishes through a warm pasta or rice dish. Their cool and crunchy interior will add a new fresh dimension similar to that of mint – which also happens to be a perfect pairing partner. One of my favourite ways of eating radishes is actually roasting them. Simply preheat the oven to 200 degrees, de-stem a bunch of radishes, wash and add to a bowl. Add a generous glug of olive oil, maple syrup or honey, a teaspoon of dijon and a sprinkling of pine nuts and mix together. Then pop in the oven for 20 minutes until roasted and include in a salad or just eat as they are.
MORE VEG OF THE WEEK: